Detail from GARY SIMMONS Midnight Marauders, 2004
By Arnold Lehman
In a 2008 alphabetical and somewhat autobiographical glossary, Glenn Ligon wrote for the exhibition catalogue for 30 Americans, the letter H stands for "happens to be black." Ligon expands the interpretation in writing "I happens to be black too, though I don't know how it happened. Because I never felt I was in a position to choose my racial identity, it never occurred to me that blackness was something that could happen to you, like being mugged or winning the lottery. I thought one was just black and that was that."
Almost two decades earlier, however, in his important 1991 series of works entitled I remember the very day that I became colored…, Ligon not only broadcast the continuing question of identity for himself but for the many brilliantly talented and perceptive African American artists to follow.

From that moment forward until today, while differing paths have been taken, including in certain instances the brilliant continued development of abstraction, we are looking at an exciting and increasingly powerful signature of a growing number of American artists who both happen to be African American as well as those who look deeply into their blackness and/or black culture to create exceptional works of art. What we have witnessed in the last three decades is no less than a truly dynamic reshuffling of the American art world. And what we have more recently experienced is an even greater reassignment of the value placed upon these black artists—primarily, but not exclusively, American—by the art market.

Spanning a period of 17 years from 1991's I remember the very day by Glenn Ligon through 2008's America the Beautiful by Mickalene Thomas, these brilliantly articulate artists—also including Kara Walker, Wangechi Mutu, Gary Simmons, Henry Taylor and Julie Mehretu—have produced these eight highly engaging works of art, each of which expresses alternative definitions to anyone's standard art glossary.
They are both post-Basquiat and post-Biggie.
— Thelma Golden
African American artists of the decade bracketing the new century shared a new world. "They are influenced by hip hop, alt rock, new media, suburban angst, urban blight, globalism and the Internet — the felicitous device of international communication and new optimism in the wake of the initial postmodern urge to define the avant-garde as dead. They live in a world where their particular cultural specificity is marketed to the planet and sold back to them," wrote Thelma Golden in the catalogue of her Freestyle exhibition at the Studio Museum in 2001. "As a group, they exemplify the presence of art school training in that they create work that refers to multiple histories of contemporary art and culture — both non-Western and that of the Western modernist tradition...They are both post-Basquiat and post-Biggie. They embrace the dichotomies of high and low, inside and outside, tradition and innovation with a great ease and facility. Like the generations before them, they resist narrow definition. Most importantly, their work, in all of its various forms, speaks to an individual freedom that is a result of this transitional moment in the quest to define ongoing changes in the evolution of African-American art and ultimately to ongoing redefinition of blackness in contemporary culture."

Understanding the nature of the work by three of these seven artists provides both visual and intellectual access to the racial and identity issues with which six of these exceptional artists are purposefully concerned and engaged. The seventh, Julie Mehretu, has gained international recognition in gloriously articulating new abstraction into the 21st century.

Kara Walker's important early work Untitled, 1994, takes the typical 19th and early 20th-century black paper silhouette genre and enlarges and imbues it with the often degrading interaction in the antebellum South between the black slave or slaves and one or more white slaveholders. While Walker was sometimes criticized for this work, she continued with even bolder work, which critic Roberta Smith lauded in her May 2014 review of the artist's phenomenal Domino Sugar Factory Sphinx, writing, "Antic, profane and riveting, these mural-like scenes replayed history as farce and masqueraded tragedy as depraved comedy. They revealed the inevitable psychic corruption of humans owning humans, brought out the sexual component of oppression in any form."

A decade later in 2004, in his powerful painting Midnight Marauders from his Criminal Slang exhibition of that same year, Gary Simmons symbolically examines a different but equally oppressive brutality emanating from urban gang culture and its coordinated result in incarceration and prison culture. This painting's use of the "spade" from the suits of playing cards refers directly to gang insignias and the subculture of violence and drugs that attacks and undermines the black community both internally and externally. From this and later works, Simmons has demonstrated his keen awareness and communication skills as an artist in expressing the tension within racial dynamics.

Mickalene Thomas' 2008 painting America the Beautiful makes a statement about who and what the artist portrays in her work. Is Thomas employing the often discussed "mirror" in her work and the likely images that appear or is it the artist's own demonstrated interest in photography-based Photo-Realism or, by further extension, the Pictures Generation process that has taken over? In the summer 2011 Bomb Magazine, Sean Landers interviewed Thomas about these ideas of "being seen and seeing yourself, and how that relationship is developed." Thomas responded that "We all want to be validated and recognized in some way. This also relates to the power of the gaze in my work. When I take a photograph, that gaze is forcing the viewer to see my subjects—to recognize them." "Who controls the gaze," Landers asked, "the gazer or the gazed upon?" And Thomas answered: "I believe that the sitter has the power (or more power than I have) over what's being presented…." Sean asked one final question for the interview. "Who is in that mirror?" To which, Thomas answered: "It's always me. Sometimes it's also my mother, my grandmother, or my great-grandmother. Sometimes it's a person I've never seen before...Sometimes it's the person I hope to be or someone I haven't become yet. But when I look into the mirror, I say: just be truthful, truthful, truthful."
Featured Lots | 20th Century & Contemporary Art Day Sale | London 26 June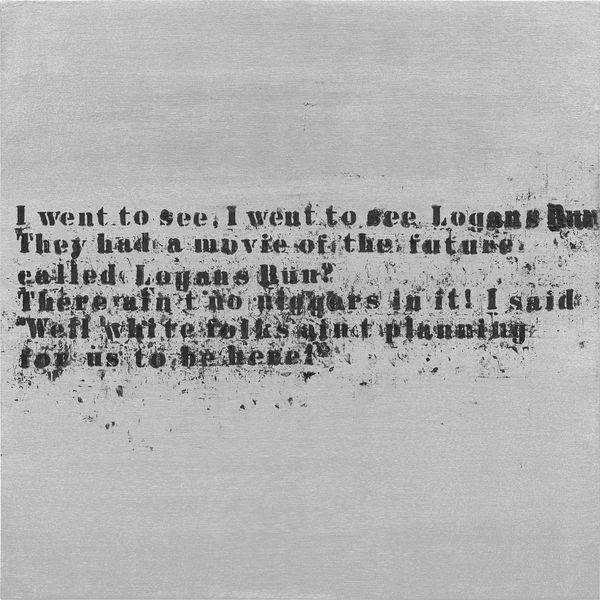 GLENN LIGON The Future #1, 2004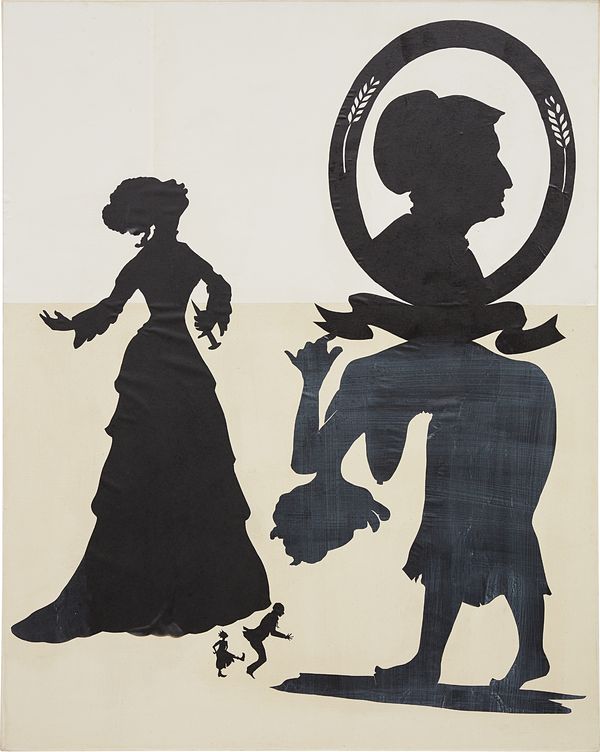 KARA WALKER O! The Pathos of Black Womanhood, 1994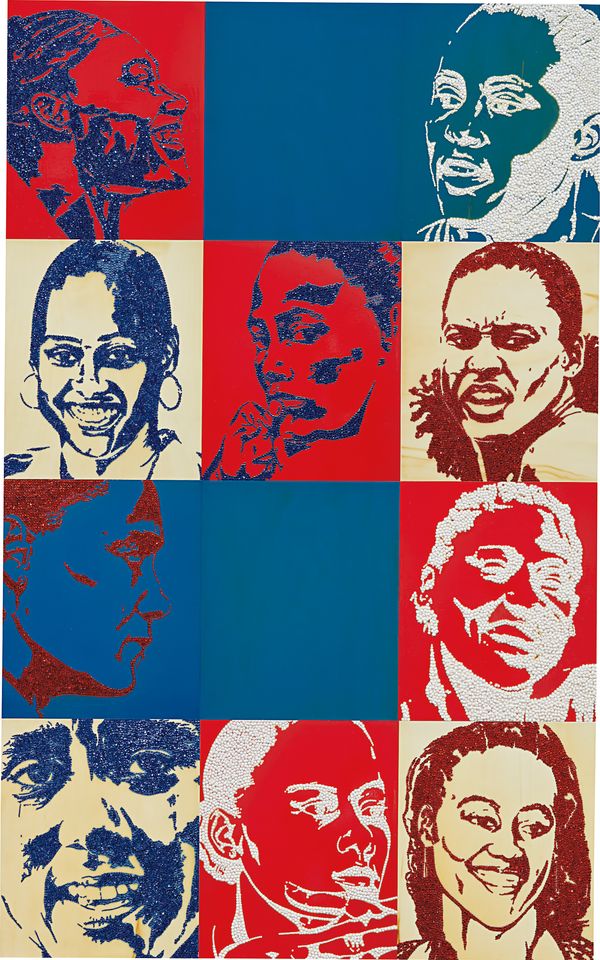 MICKALENE THOMAS America the Beautiful, 2008
JULIE MEHRETU Untitled, 2005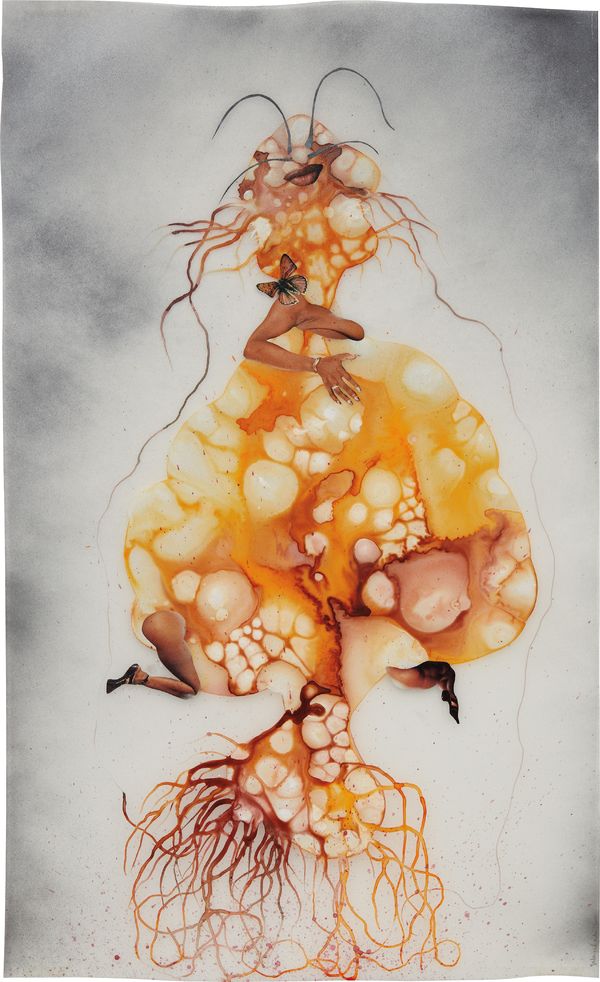 WANGECHI MUTU Mellow Yellow, 2004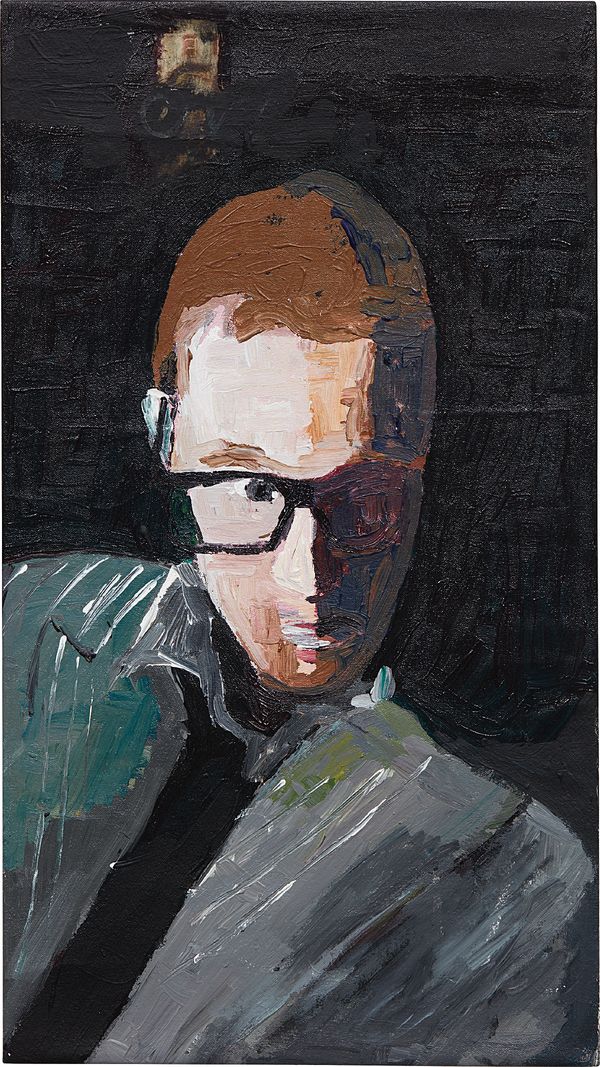 HENRY TAYLOR Armani, 2004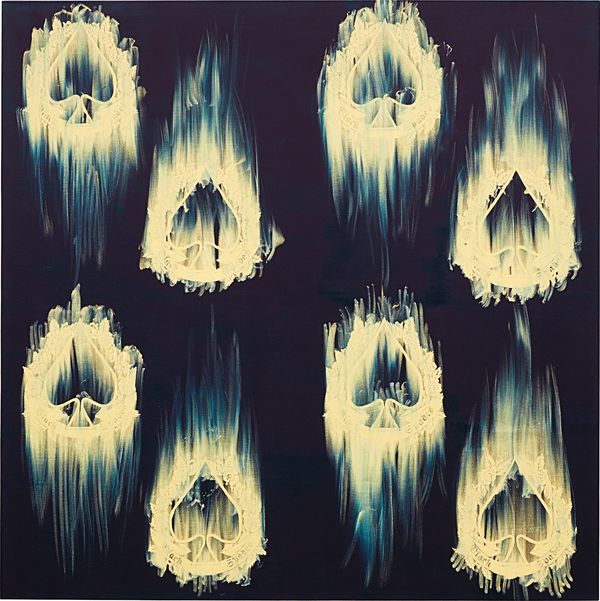 GARY SIMMONS Midnight Marauders, 2004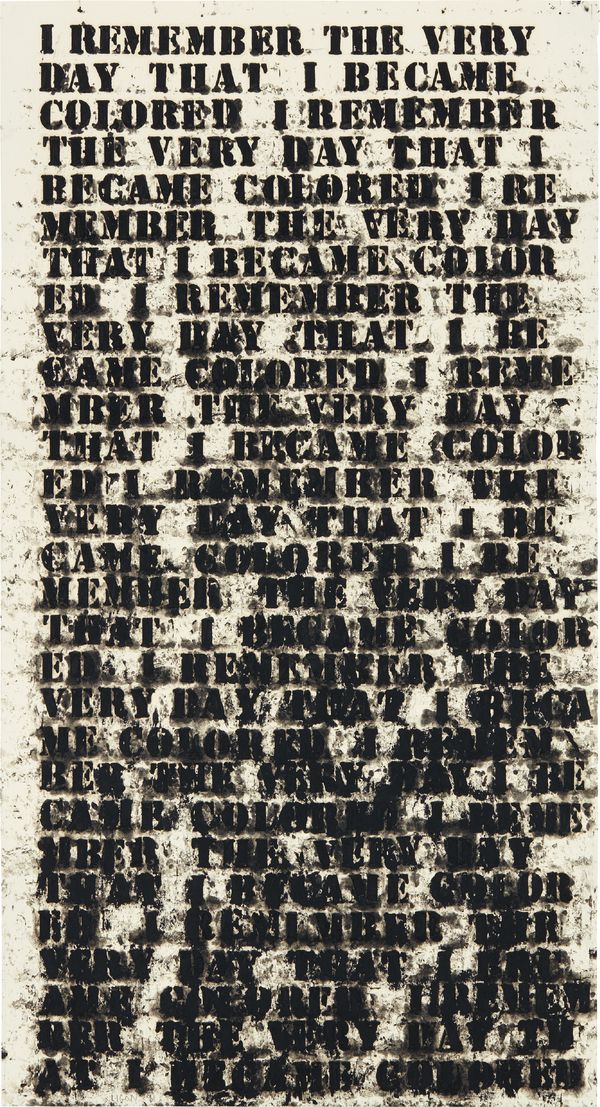 GLENN LIGON Untitled (I remember the very day), 1991