Detail from Lynette Yiadom-Boakye The Ingenuity, 2011
From a novelist's point of view, both the speed and the clarity are humbling. Subtleties of human personality it might take thousands of words to establish are here articulated by way of a few confident brushstrokes
— Zadie Smith, 'The New Yorker', June 2017
Painted in 2011, shortly before Lynette Yiadom-Boakye was nominated for the esteemed Turner Prize in 2013, The Ingenuity epitomizes the artist's quietly understated, albeit powerful accomplishment as a celebrated portrait artist. Returning to the raw, wholesome medium of oil on canvas, Yiadom-Boakye's unaffected compositions are loaded with vitality, character and grace, exploring the very essence of the human condition on canvas. Like the subtle hues underlying her effortless brushstrokes, this work from our 20th Century & Contemporary Art Evening Sale in London evokes the multi-layered complexities of human interaction, displaying two figures engaged in an ambiguous greeting or salutation.
Engaging in the primary, technical concerns of the painting process, Yiadom-Boakye focuses inherently on "a color, a composition, a gesture, a particular direction of light. My starting points are usually formal ones," wrote prolific British author Zadie Smith on the artist forThe New Yorker in June 2017.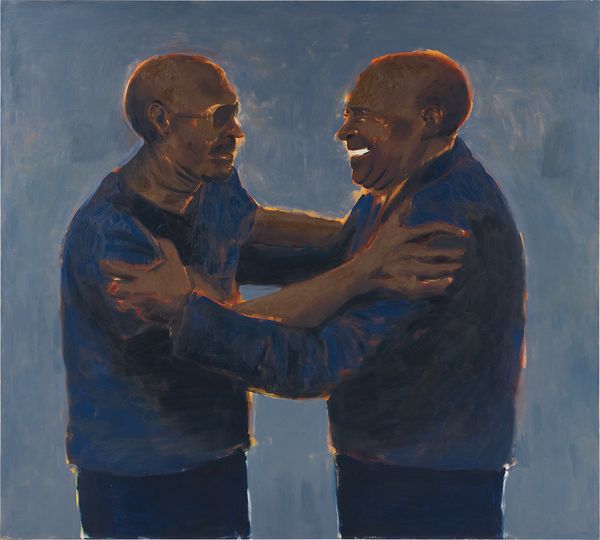 Rendered with her typical spontaneity and elegance, The Ingenuity captures the fleeting, quotidian moment of embrace between two figures, in the briefest glimpse of a moment that exists outside of time or place. The loose, expressive brushstrokes and deftly painted fields of muted but nonetheless opulent color evoke a sense of transience; Yiadom-Boakye works quickly, infamously completing the majority of her works in a single day, preferring to improvise with the malleability of fresh oil paint. Similarly, Walter Sickert — whose work, Yiadom-Boakye has acknowledged, provided elements of inspiration for her own artistic practice — had a gift for painting swiftly on a wet canvas. Like the two men depicted in The Ingenuity, the subject of Sickert's painting Sir Thomas Beecham Conducting, circa 1935, is situated against a monochrome background, dislocating him from a specific setting and allowing his gesture and countenance to command the viewer's full attention.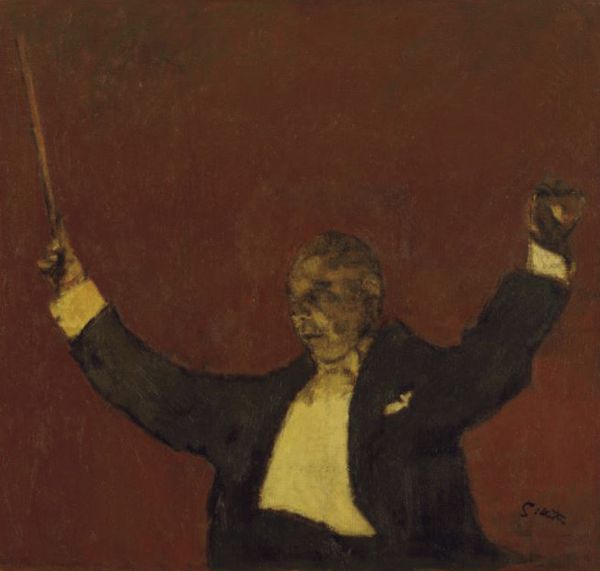 Walter Richard Sickert Sir Thomas Beecham Conducting, circa 1935. Museum of Modern Art, New York.
Yiadom-Boakye's technique results in a distinctive sense of creative energy and painterly immediacy, successfully capturing the specific mood of a precise, transient moment in time, evocative of Pablo Picasso's Blue Period portraits, such as Two Sisters, 1902. One can also compare her work with that of Lucian Freud, whose mastery of tone and depth to imbue vibrancy in flesh is also evident in the striking flecks of white-orange heat which provide a translucent sense of movement.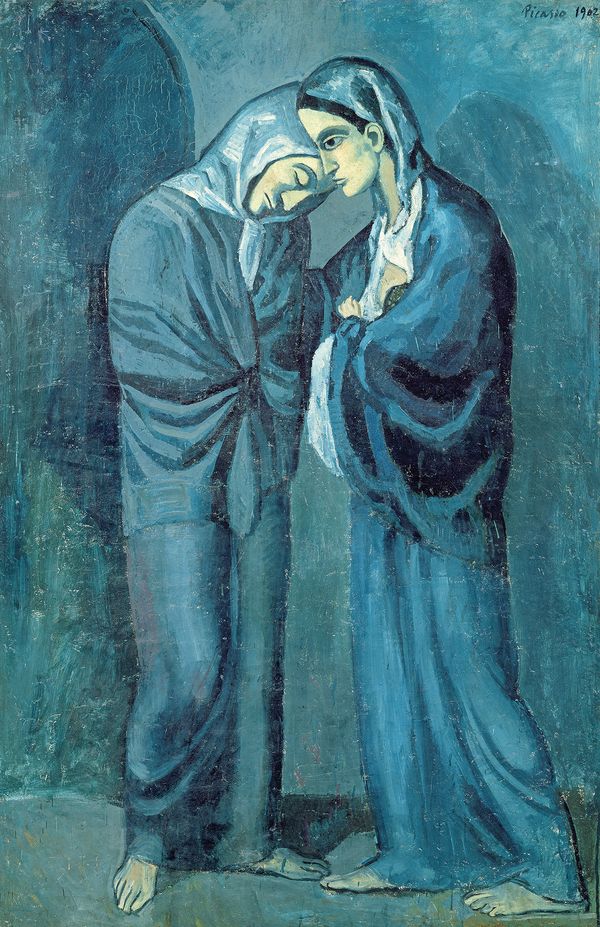 Pablo Picasso Two Sisters, 1902. State Hermitage Museum, St. Petersburg. Image: State Hermitage Museum, St. Petersburg /Bridgeman Images. © Succession Picasso/DACS, London 2018.
Her sumptuous palette and namely her refusal to use black pigment, which can flatten and negate three-dimensionality, creates an extraordinary sense of depth in The Ingenuity, which dislocates the mise-en-scène from a specific location or particular historical time-frame. Instead, the viewer is encouraged to construct their own background to the characters she creates. As Zadie Smith muses, "Yiadom-Boakye has inherited a narrative compulsion, which has less to do with capturing the real than with provoking, in her audience, a desire to impose a story upon an image. Central to this novelistic practice is learning about how to leave sufficient space, so as to give your audience room to elaborate."
Her titles run parallel to the images...the canvas is the text.
Writing poetry alongside her visual work, the artist draws upon language to fully envisage the subjects of her studies as opposed to working from life. In this sense, her characters embody the same ephemeral, fictional quality as literary characters; just enough material is given to prompt us, to spark our interest, and the rest we are allowed to devise ourselves. This is developed in her use of intriguing, elusive titles — in this instance, The Ingenuity leaves us wondering whether we are viewing a moment of triumph, genius or congratulations. As Zadie Smith goes on to say, "her titles run parallel to the images...the canvas is the text."

Continuing a dialogue with traditional notions of portraiture, Yiadom-Boakye draws upon formal painterly techniques evident in her sophisticated use of chiaroscuro and a natural verisimilitude embodied in her characters. However, the artist's decisive rejection of named identities and sitters distinguishes her from other portrait artists. Society or portrait painters such as Thomas Gainsborough depicted the class, status, wealth and identity of their sitter, whereas Yiadom-Boakye creates instead a portrait of society. A beautiful and remarkable figment of her imagination, the two figures in the present work exist in isolation, present only in a shared consciousness between the artist and the viewer.
They are, as the artist explained in Nadine Rubin Nathan's 'Lynette Yiadom-Boakye's Fashionable Eye' for The New York Times Magazine in 2010, "suggestions of people...They don't share our concerns or anxieties. They are somewhere else altogether."