VRAM Echo Ring. 18k yellow gold and sterling silver with demantoid garnets and diamonds.
Vram, Winner of the Debut Award at Couture 2018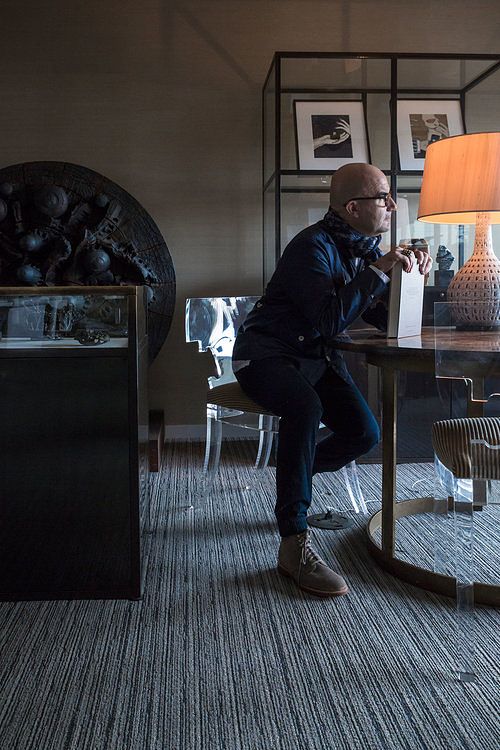 Vram in his Los Angeles studio
Vram Minassian's namesake brand broke traditional jewelry boundaries with his newest collection, Continuum. He reveals himself as a lover of modern sculpture with biomorphic and semi-abstract jewelry forms reminiscent of his favorite artists Constantin Brancusi and Henry Moore.
The Beirut-born designer founded his Los Angeles-based atelier in 1985. Vram's latest collection was inspired by the announcement of his first daughter Elsa in 2015. "Continuum is about the circle of life," says the designer. Elsa's birth marked an especially creative period during which he dreamt of moving forms, void of seams or edges. "As soon as I would wake up, I had to draw," he recalls. Voluminous and three-dimensional, Vram assigned each creation a function of movement in mathematics—Echo, Sine and Sinc, to name a few— thankfully we don't have to understand them to wear them!
"It took a long time, and it took no time, to get here," remarked Vram upon receipt of his award, Best in Debuting at Couture. "The support the last three days has been incredible, and this is the cherry on top." Congratulations Vram, we can't wait to see what you dream up next!
Carolina Bucci, Winner of the Best in Gold Award at Couture 2018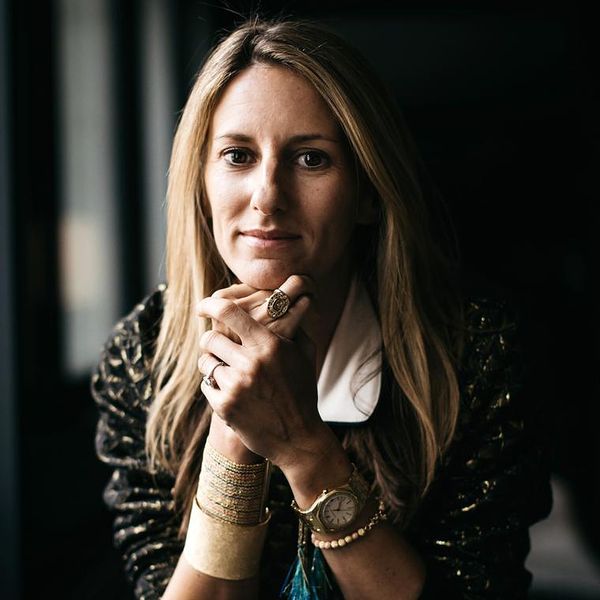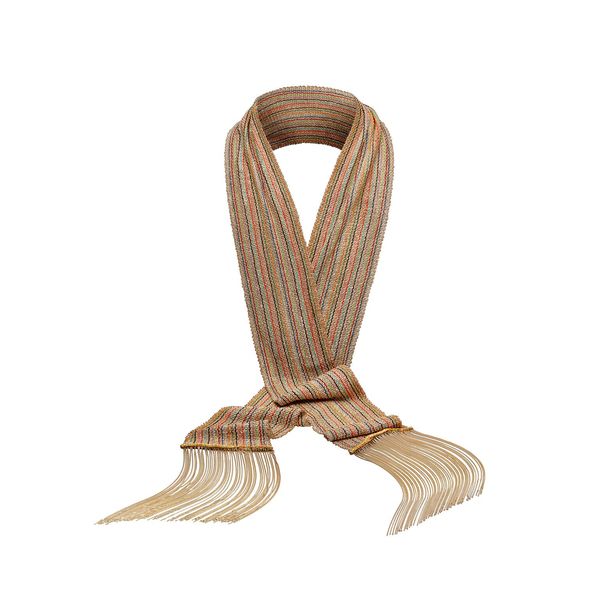 Carolina Bucci Rainbow Woven Scarf. 18k yellow gold and rainbow silk.
A fourth-generation Florentine jeweler, Carolina Bucci's grandfather Ferdinando opened the family workshop in 1885. Located under the famed Ponte Vecchio, the hub of jewelry artisans and goldsmiths, her designs are still handmade there today. Carolina started her own jewelry line in 2003. "I design for myself. It's always fine jewelry, staying true to my background, but I want it to be fun and wearable. Our lives are very different from our parents. We don't wear jewelry to go to the opera, for instance, but that doesn't mean you have to compromise on the preciousness," the designer says.
Bucci's signature woven jewelry, like the award-winning scarf pictured above, is feminine, delicate and moves like fabric.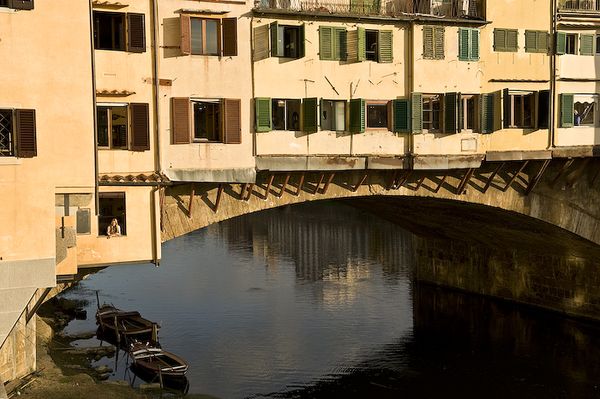 Carolina in her workshop under the Ponte Vecchio
"Our artisans have modernized a centuries-old Florentine loom to weave 18k gold chains and silk threads," Bucci reveals. She states that the ancient technique dating back to the Renaissance era "enables us to create incredible, subtle variations in density and rigidity."
Bucci opened her flagship store on London's Motcomb Street in 2007. Her first commission was a custom wedding anniversary gift for Victoria and David Beckham. From then on, she has been a favorite to the stars.
Fernando Jorge, Best in Editor's Choice Award Couture 2018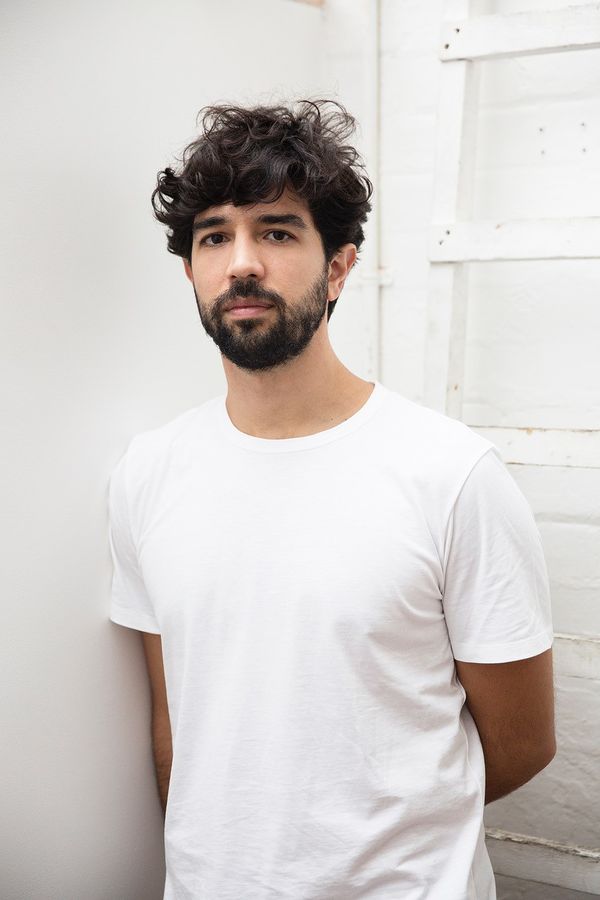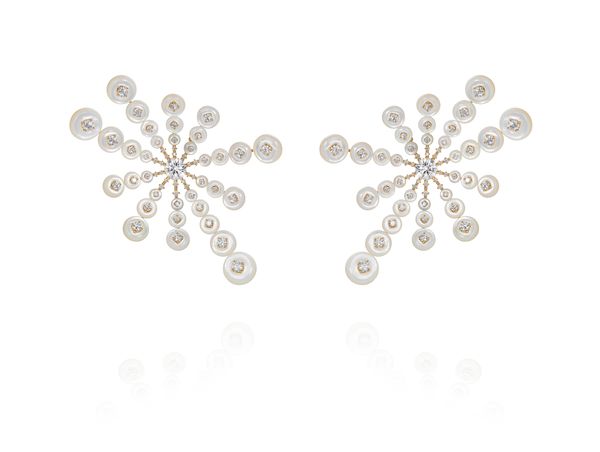 Fernando Jorge Satellite earrings. 18k yellow gold, mother-of-pearl and diamonds.
Brazilian-born jewelry designer Fernando Jorge launched his "Surround" collection at this year's Couture Show, where his Satellite earrings won the Editor's Choice Award. Jorge is influenced by the "attitude and effortless sensuality" of his native Brazil.
Jorge uses gemstones and minerals native to Brazil, often pairing materials such as wood, Brazilian nut seed and mother of pearl with precious stones like diamonds. The outcome is contrasting creations that juxtapose precious and found materials to create unconventional, chic wearable treasures.
In accepting his award for Editor's Choice, Fernando said, "From the editors that have so much knowledge, that we love, that are working hard to promote our works, to open doors and opportunities for us. I thank each of you."
To learn more about pricing information and availability of these award-winning pieces, contact Phillips' New York jewelry team.