Richard Hamilton Polaroid Portrait: William Katz 20.7.71, 1971/2010 (detail)
Richard Hamilton visited Roy Lichtenstein's studio in 1968; when asked, Lichtenstein took a Polaroid photograph of his British friend, sparking a series of portraits that unfolded over the following 25 years. Upon his return to the United Kingdom, Hamilton bought a small Polaroid camera and began carrying it with him all the time. When meeting fellow artists and friends he would ask them to photograph him using this camera.
This collection of portraits of Hamilton, taken by his friends, slowly built to form a directory of great artists from the last half of the 20th century: Andy Warhol, Gerhard Richter, Francis Bacon, Niki de Saint Phalle and David Hockney, among other celebrated names.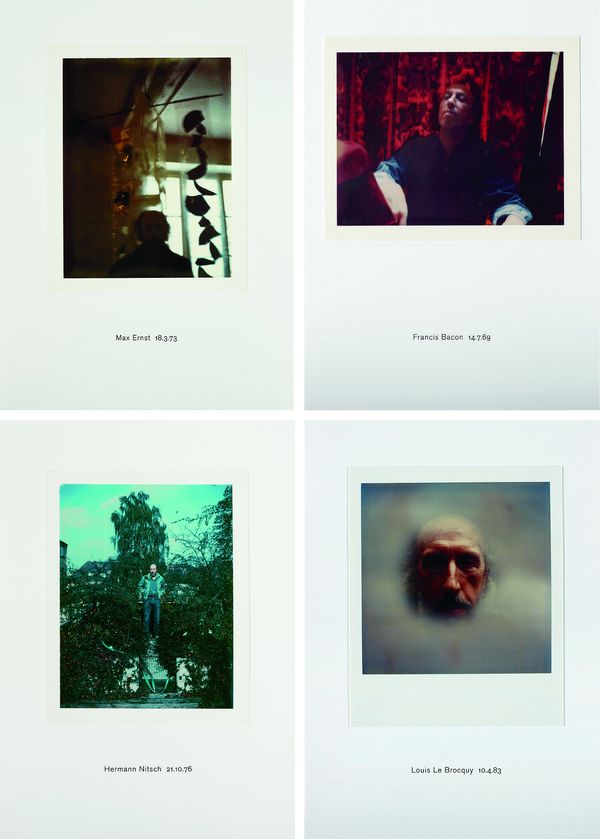 From top left to bottom right: Richard Hamilton Polaroid Portrait: Max Ernst 18.3.73, 2010; Polaroid Portrait: Francis Bacon 14.7.69, 2010; Polaroid Portrait: Hermann Nitsch 21.10.76, 2010; Polaroid Portrait: Louis Le Brocquy 10.4.83, 2010
Looking back over these 128 Polaroid portraits, Hamilton said he realized "how silly, how banal I often look…I submit to the will of the photographer rather than make the more aggressive demand of photographing him or her."
Hamilton began to realize that each photographer's personality and creative sensibility was surprisingly marked in the image they created, despite the apparent automatic or mechanical nature of the camera. Collected and published in four volumes between 1971 and 2001, the Polaroids reveal not only a series of portraits of the artist, but a series of portraits of the photographers; one subject is not depicted, but their presence is very much felt.
One Polaroid, however, introduces a third subject: Hamilton's second wife, Rita Donagh. Hamilton met Donagh in the 1960s when they were both teaching at the University of Newcastle Upon Tyne, and they later married in 1991. Taken in 1971 by their friend, the designer William (Bill) Katz, this intimate double portrait captures an early moment in their relationship, shortly before they moved to North End farm in Oxfordshire.
Not only is this Polaroid a touching tribute to the relationship between Hamilton and Donagh, it also reveals Hamilton's fascination with illusion and image-making.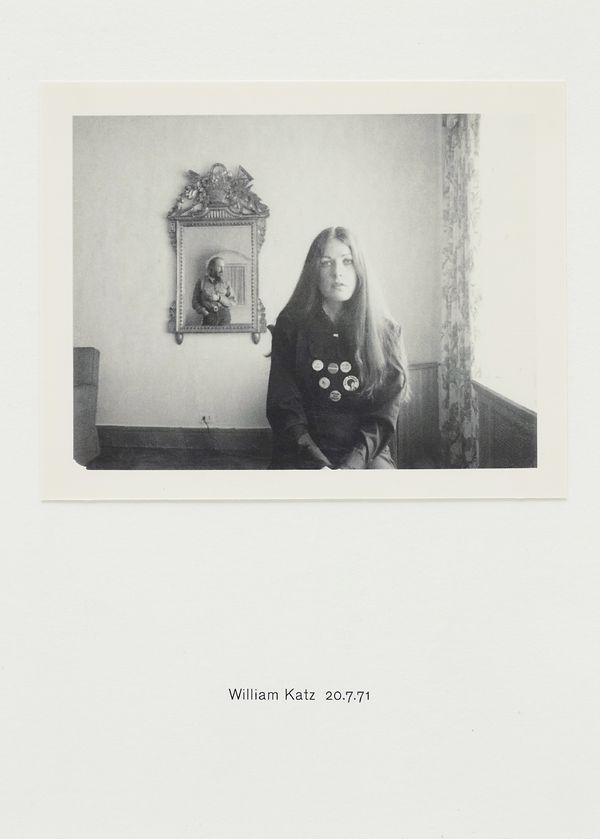 Richard Hamilton Polaroid Portrait: William Katz 20.7.71, 1971/2010 [lot 142]
Hamilton, in the mirror, strikes a Renaissance contrapposto — looking down adoringly upon Donagh as if from a picture frame behind her. The subject of his gaze sits on a bed in front of the camera, adorned with badges supporting the CND and other civil rights causes for which they held a shared concern throughout their lives. Indeed shortly before Hamilton's death in 2011, husband and wife collaborated on their first joint museum exhibition: Civil Rights etc. for the Dublin City Gallery. Paying homage to their lifetime's work investigating political motivation and morality of government, the Dublin show took place exactly four decades after the Bill Katz Polaroid was taken. The enduring nature of Hamilton and Donagh's shared political concerns only heightens the poignancy of Katz' Polaroid, which revealed the inception of their unique bond.
Not only is this Polaroid a touching tribute to the relationship between Hamilton and Donagh, it also reveals Hamilton's fascination with illusion and image-making. Three subjects are depicted in varying degrees of visibility: Donagh as the central subject of the composition; Hamilton in reflection (included by Donagh's side only through illusion); and Katz, the author of the image, referenced only by name and date. By including his own image only in reflection, Hamilton hints at a physical space and pictorial narrative outside the immediate image: a self-conscious self-referencing that draws attention to the construction of the image itself.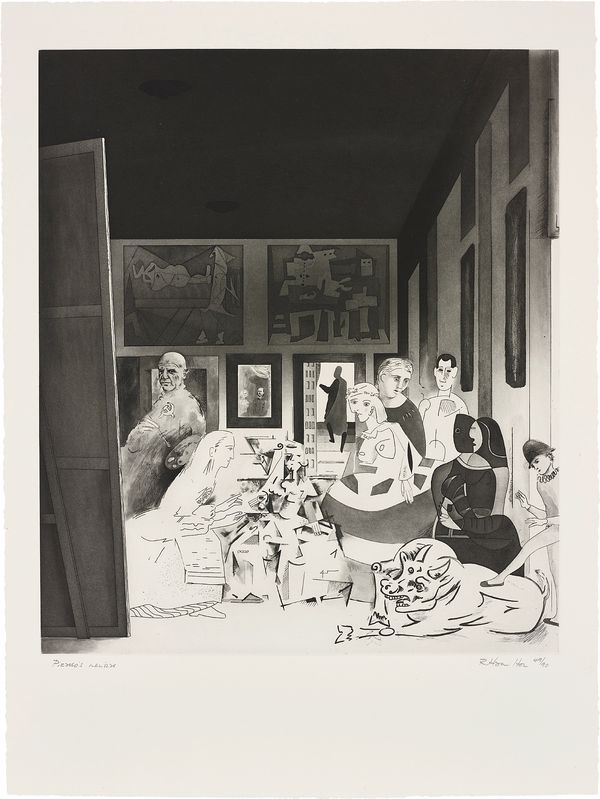 Richard Hamilton Picasso's Meninas, from Hommage à Picasso, 1973 [lot 110]
This was not the last time that Hamilton employed a mirror to depict a double portrait of himself and Donagh. Only two years later, in his homage in etching to Pablo Picasso, Picasso's Meninas, 1973, Hamilton copies Diego Velázquez's famous composition down to the inclusion of the King and Queen of Spain behind the young Infanta. Yet in place of the royal double portrait, Hamilton instead includes himself and Rita — now pictured together in reflection, overseeing the composition below.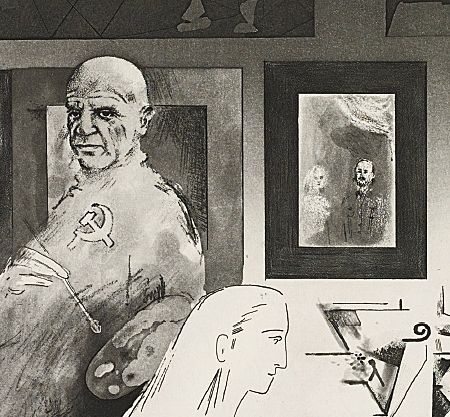 Largely unseen during his lifetime, Hamilton decided to digitally restore the original photographs in 2010 on the occasion of his solo exhibition at the Serpentine Gallery, London. Creating an edition of only two of each image (with one reserved exclusively for the artist's archive), these restored Polaroids are some of the rarest of Hamilton's printmaking.
Unique among them is this enduring double-portrait: signed and dated by Richard and Rita on the reverse.