Cy Twombly Untitled, 1971 (detail)
Printmaking was a sporadic, but richly explored endeavor for Cy Twombly, who tried nearly every traditional printmaking technique, discovering and developing his hand at etching, lithography, screenprint and monoprinting. His output was modest in comparison to his peers Jasper Johns and Robert Rauschenberg — each themselves prolific printmakers — and the majority of the editions Twombly produced were the result of his close friendship with the latter.
Twombly first worked alongside Rauschenberg in the 'etching basement' at Universal Limited Art Editions (ULAE), Long Island, where he enjoyed the expressive qualities of the needle-on-metal hand-drawn line and its unplanned outcomes. He approached these etchings without premeditation, referring to them as 'practice plates' and experimenting with the role of chance. Twombly used open-bite and mezzotint techniques that are impossible to fully control, demonstrating his willingness to include 'error' in the final printed outcome. His work at ULAE revealed his intense curiosity and intelligent exploration of the unique capabilities of a wide range of intaglio techniques.
However, the etching process requires a cognitive translation of form — a series of logical steps in dialogue with the printmaker that involves more reviewing, altering and modifying than Twombly, used to dealing freely and sporadically with materials, was prepared to submit to. Seeking a more expressive form, Twombly once again followed his friend Rauschenberg and engaged with the altogether more direct medium of lithography, as demonstrated in the present lot.
Seeking a more expressive form, Twombly followed his friend Rauschenberg and engaged with the altogether more direct medium of lithography.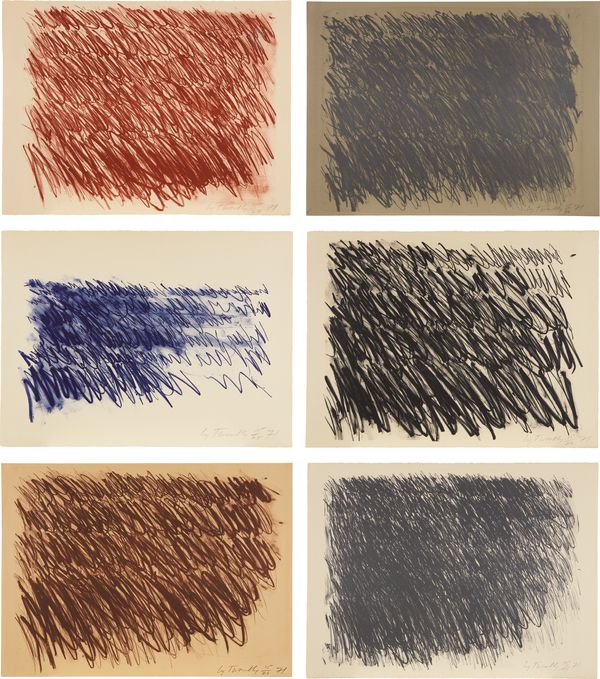 Cy Twombly Untitled, 1971 [lot 26]
These six lithographs, coming to auction in Evening & Day Editions in London on 7 June, were created in 1971 at Rauschenberg's Untitled Press in Captiva Island, Florida — a studio which Rauschenberg had established with the express purpose of working in tandem with visiting artists. With the assistance of Robert Peterson (a printmaker who had previously worked with Rauschenberg at Gemini G.E.L.), collaboration became the bedrock of Untitled Press' short history right from its inception: collating proofing stones given by his neighbor, Maybelle Stamper, lithography stones from Gemini G.E.L. and a restored Fuchs and Lang press. As Rauschenberg explained, "In collaboration, one can accept the fact that someone else can be so sympathetic and in tune with what you're doing that through this they move into depths which might not be obvious if that person had been working alone in a studio with the door shut."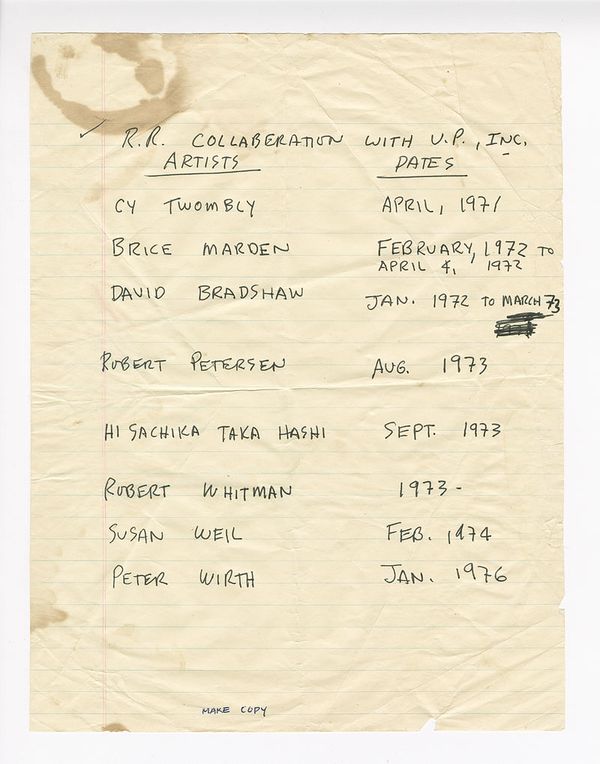 Handwritten list of artists collaborating with Untitled Press, Inc., circa 1976
Cy Twombly was the first to visit Rauschenberg's new print house, benefiting from Untitled Press' ethos of producing small editions, finding specialized handmade papers, hand-mixing inks and supporting experimentation with new processes.
It was here that Twombly explored the planographic technique of lithography during a period that coincided with the development of his breakthrough style of iconic grey-ground, 'blackboard' paintings. Working directly onto the litho stones, he was able to indulge in a more visceral process of mark-making, developing a new script that spoke directly to the relationship between ink and paper.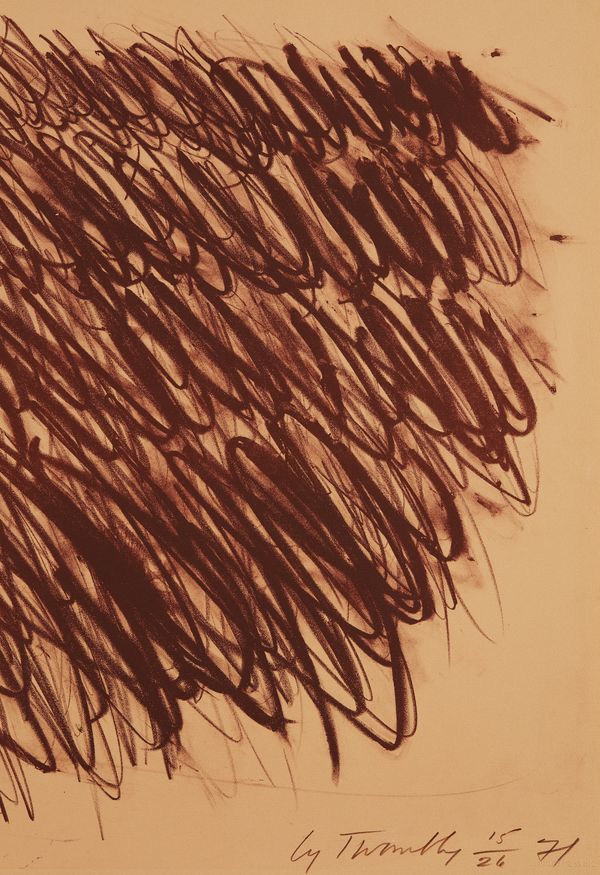 Cy Twombly Untitled, 1971 (detail) [lot 26]
Each of the six lithographs in this series has been printed with a carefully chosen, varying combination of ink and paper: indigo, grey and black each on white Arches, brown on a tan Canson, grey on an olive Canson and russet red on a cream Arches. It is clear that Twombly was carefully working out the resonance or dissonance between these choices, exploring variations on a theme resulting in separate conversations, or parts of a musical score, that coalesce in lyrical meditation.
Twombly seems to revel in the variety of looping ribbons that he could create — with each composition layering smudged and smeared handmarks underneath a fully explored lexicon of heavy impasto coils, sharp scratches and breathily sketched spirals. Simultaneously violent and delicate, the lithographs seem to vibrate with their distinct tonal emotions.
The series encapsulates Twombly's enduring artistic concerns towards mark-making and script, yet also embodies a specific moment of virtuosity under the guidance and collaborative spirit of Rauschenberg's Untitled Press.