Joan Mitchell Hours, 1989
In Joan Mitchell's Hours, 1989, gestural brushstrokes sweep, tumble, crisscross and hover across the white ground, lyrically coalescing into an abstract landscape suffused in ultramarine blues, reds, greens and dappled with flashes of orange. Each line is powerfully laid down with a confidence and intuition that conveys the mastery of line, color and placement Mitchell had achieved after over four decades of painting.
Brimming with energy, Hours epitomizes the unrelentingly creative fervor with which Joan Mitchell embraced radiant color and a looser formal vocabulary in her late oeuvre between 1985 and 1992. Painted just three years prior to the artist's death, Hours belongs to the discrete body of work created in 1989 that debuted at Mitchell's first solo exhibition at the Robert Miller Gallery in New York to rave reviews — the same year as her seminal traveling retrospective at Cornell University, Ithaca, Corcoran Gallery of Art, Washington, D.C., Albright-Knox Art Gallery, Buffalo and the San Francisco Museum of Art.
Some of the most assuredly opulent paintings in Mitchell's oeuvre, the 1980s works have an almost weightless quality to them...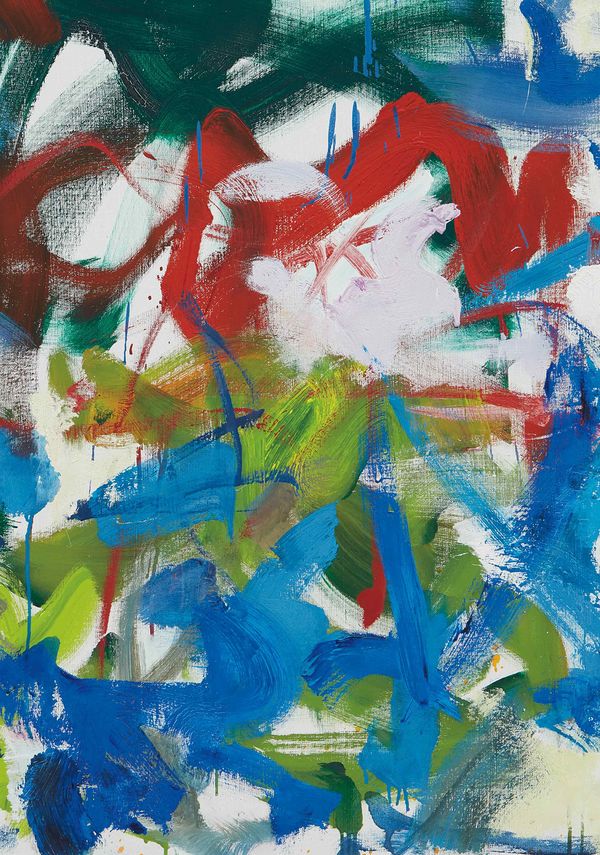 Widely considered as some of the most assuredly opulent paintings in Mitchell's oeuvre, the 1980s works have an almost weightless quality to them that eloquently articulate imagined landscapes or feelings about places Mitchell had experienced. Hours evidences the chromatic exuberance that began to figure in Mitchell's paintings following her move to Vétheuil in the late 1960s, the same river village that had previously inspired Claude Monet. It is as if Hours breathes that very light and air, lushness and bloom, giving rise to the sensation of seeing the sky through a thicket of greenery or perhaps the reflections of nature on a rippling body water. The present work beautifully demonstrates how Mitchell's compositions are never concrete representations, but associative, painterly approximations. As she had already explained in 1958, as quoted in Judith E. Bernstock's Joan Mitchell, "I paint from remembered landscapes that I carry with me — and remembered feelings of them, which of course become transformed..."

The paintings Mitchell began to create from 1985 demonstrated a distinct departure from her earlier pictorial idiom. Employing a palette of primary colors, Mitchell began to explore the tension between the sparseness of the white pictorial ground and the thrumming energy that individual, bold brushstrokes could communicate. While Mitchell's brushstrokes coalesced into all-over compositions in the late 1970s and early 1980s, in works such as the present one they animate the surface akin to torquing waves. This interweaving of varied brushstrokes vividly brings to mind the late abstract landscape paintings of Willem de Kooning, Mitchell's close friend and mentor when she lived in New York. Yet as much as Hours is a nod to Mitchell's Abstract Expressionist predecessors, it is also a joyous homage to the artist's Impressionist and Post-Impressionist forebears, including Paul Cézanne and Vincent van Gogh, but perhaps above all, Henri Matisse in its evocation of such works as Landscape at Collioure, 1905, Museum of Modern Art, New York. Speaking of the way Matisse put white on the canvas, Mitchell indeed acknowledged, "I wanted to put on paint like Matisse."
I wanted to put on paint like Matisse.
— Joan Mitchell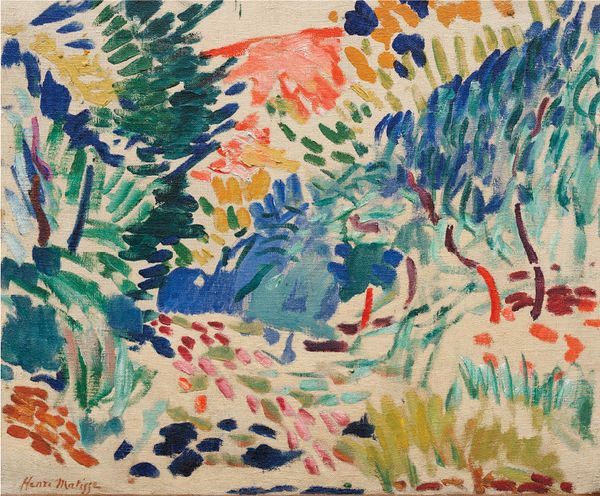 Henri Matisse Landscape at Collioure, 1905. The Museum of Modern Art, New York, Image © The Museum of Modern Art/ Licensed by SCALA/Art Resource, NY, Artwork © 2018 Succession H. Matisse/Artists Rights Society (ARS), New York
Titled Hours, this work from our 20th Century & Contemporary Art Evening Sale in New York points to Mitchell's concern with notions of duration, a theme also alluded to in other work titles from the 1989 series, such as Lapse, Day or Span. "Painting," as Mitchell noted in 1986, is "the only art form except still photography which is without time...It never ends, it is the only thing that is both continuous and still." Her late oeuvre was characterized by a pronounced emphasis of working in discrete series, whereby key stylistic concerns were explored across several canvases. In her 1989 series, too, Mitchell's brush rolls and lashes to convey a sense of continuous movement that goes beyond the confines of the picture plane. This desire for expansion is also conveyed through Mitchell's use of the diptych and triptych format. As Michael Brenson noted on the occasion of their debut at the Robert Miller Gallery, these paintings "suggest scrolls without beginning or end."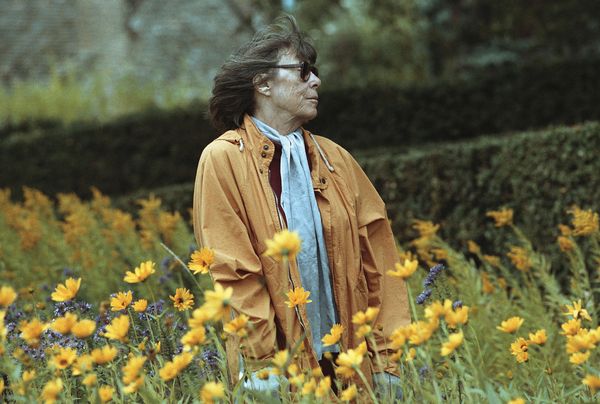 Joan Mitchell in France, 1991. Image David Turnley/Corbis/VCG via Getty Images
The joyous, exuberant and bright paintings Mitchell created in the last years of her life belie what was a period of emotional and physical setbacks. Hours poetically marks the triumph of will over the body. Indeed, despite her waning physical capabilities, Mitchell galvanized her energies in the studio, propelling the full force of her brush onto the canvas which left little margin for error. Hours and its related works, as Sandro Parmiggiani poignantly postulated in 2008, "are the prelude to developments in her final work: the marks and brushstrokes fragment, become shorter and twist back on themselves, as if the last quivers of the artist's life were placed in them."
Distilling color and gesture to its sparsest and most essential expression, Hours is as much of an ode to the joy of painting as it beautifully expresses, through a heightened, dreamlike reverie, Mitchell's remembrances of her natural and felt environment.