Maurizio Cattelan Museums League, 2018. Donated by the artist to benefit the Brooklyn Museum's acquisition fund for young artists
Inspired by Joseph Beuys' quote 'everybody can be an artist', I like to think that 'everyone can be a collector'.
— Maurizio Cattelan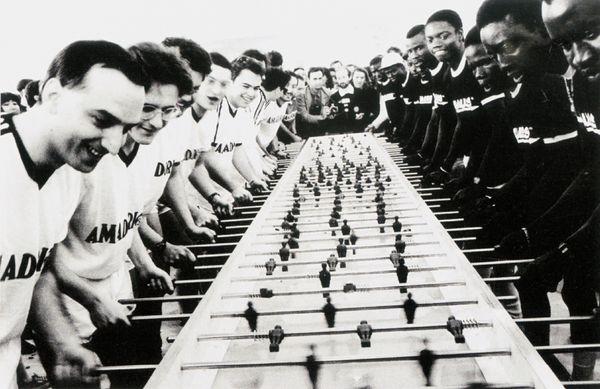 FA Cup Final, Wembley Stadium, 1974. Image Bob Thomas/Getty Images
Maurizio Cattelan has always been the shrink of the art world: through his work, the Vices and Virtues of the art world, and the world in general, are exposed. After declaring his retirement, Cattelan embarked on a series of metamorphosis that placed him in a territory between art and communication. On this special occasion, Cattelan brings his Museums League series altogether for the first time, the scarves suggesting that the art world is, in fact, a land of closet "hooligans" or, simply, very passionate fans of art.
Weaving together the real world with the fictional world of the arts, the football world with the museums' "teams," Cattelan once again shifts his point of view and his artistic practice. This complete series of Museums League scarves acts as tool for recycling the energies within the art world with the proceeds of the sale going to support the Brooklyn Museum's acquisition fund for young artists. Even if retired, the 'YIR' (young Italian rebel) of the art world is not shy to maintain his role as one of the most innovative artists of our time, understanding that beyond the glamour, the arts remain a delicate environment where even a small gesture can help balance its fragile ecology.
— Francesco Bonami
The present work from our upcoming New York Evening Sale of 20th Century & Contemporary Art derives from Catteland's "art for all" project, the first part of his larger Made in Catteland initiative dedicated to supporting contemporary art. Devised by Cattelan in collaboration with design house Seletti, Museums League is a project where the artist has created tributes for contemporary art enthusiasts to support their favorite art institutions. With museums increasingly acting as reference points for communities—places where a sense of identification, passion and faith take place—Cattelan looks to create an object that engages with connoisseurs and dilettantes alike and represents their passion for the arts. With Museums League, Cattelan appropriates the celebratory symbolism of an alternative contemporary space—the football (soccer) stadium.
Inspired by football team scarves, Cattelan's scarves celebrate that same sense of support and belonging with his trademark humor and pop savvy.