Mark Bradford Black Venus, 2005, on view in New York at 450 Park Avenue, May 2018
When Mark Bradford's Helter Skelter I, 2007, was acquired by the Broad Museum in Los Angeles for over $12 million at our London Evening Sale this March, it set a historic benchmark for the 57-year old artist. Not only was it the auction record for the artist, it was also the highest ever price for a living African American artist. Black Venus from 2005 speaks of the moment before it all happened, taking us back in time to when Bradford was at the cusp of his awe-inspiring ascent to becoming one of the most important painters of our time.
Politically and socially, we are at the edge of another precipice. I'm standing in the middle of a question about where we are as a nation.
— Mark Bradford
Evidencing the full, electrifying force of an artist at the precipice of widespread international acclaim, this exhilarating work belongs to a handful of paintings Bradford created in the mid-2000s that include Los Moscos, 2004, Tate Modern, London, and Scorched Earth, 2006, Broad Museum, Los Angeles. While Bradford had already garnered first critical attention when he was included in Thelma Golden's Freestyle exhibition at the Studio Museum in Harlem in 2001, it was with these works that he achieved his major breakthrough.
This group of works signaled a dramatic shift in Bradford's oeuvre: embracing a larger scale, Bradford moved away from working with end-papers found in hair salons to using paper material sourced on the streets of his immediate neighborhood in South Central Los Angeles.
I was cutting up merchant posters for my palette one day and thought, 'I've been walking past this every day, this crisis, and never really seen it. This is the invisible underbelly of the community'.
— Mark Bradford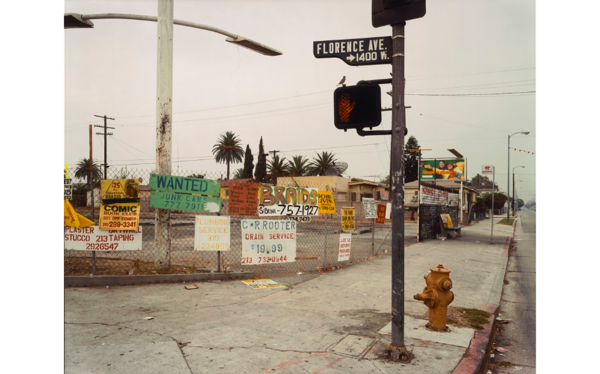 Joel Sternfeld The Northwest Corner of Florence and Normandie Avenues, Los Angeles, California, October 1993 © Joel Sternfeld, Courtesy of Luhring Augustine, New York
Black Venus was the second major painting created from Bradford's now signature technique. While Bradford regards paper as a "metaphor for skin," the printed material utilized conceptually and physically ties Bradford's native Los Angeles into the fabric of these works.
When the esteemed Puerto Rican collectors Diana and Moises Berezdivin acquired Black Venus in the same year of its execution in 2005, they had no way of knowing that Bradford, some 13 years later, would enjoy the stature of being the most important living abstract painter. The Berezdivins' prescience and astute eye at that point had been nearly 30 years in the making, as the pair began collecting in the 1980s.
The Berezdivins first encountered Bradford's work at the inaugural edition of Art Basel Miami in 2002, when he had set up the installation Foxyé Hair, a beauty shop where he and a team did the hair of visitors. They acquired their first work in December 2004 and, just a few months later, added Black Venus to their collection. That year coincidentally also marked the public debut of their collection at Espacio 1414, which they opened in San Juan, Puerto Rico, with the goal of generating interest in contemporary art from abroad.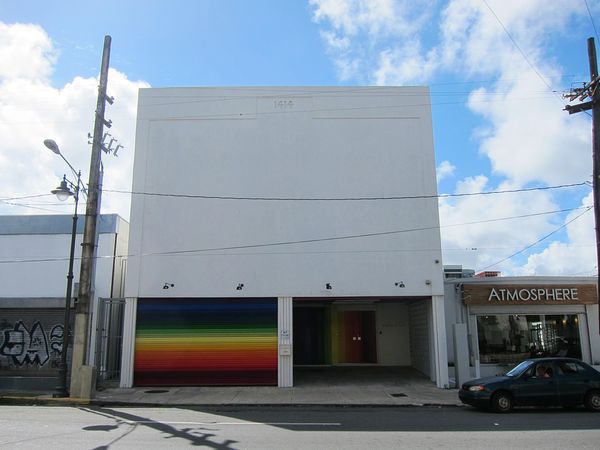 Espacio 1414, home to the Berezdivin Collection. The rainbow door is a work by Michael Linares.
It was around the same time that Bradford began his dizzying ascent in the international art world. Black Venus' related work Los Moscos was included in the 2006 Whitney Biennale which won Bradford the coveted Melva Bucksbaum Award and resulted in his first solo exhibition at the Whitney Museum of American Art, New York, in 2007. The Berezdivins' prescient acquisition of Black Venus was recognized in 2010 when the work was selected for inclusion in Bradford's first major traveling exhibition organized by the Wexner Center for the Arts in Columbus.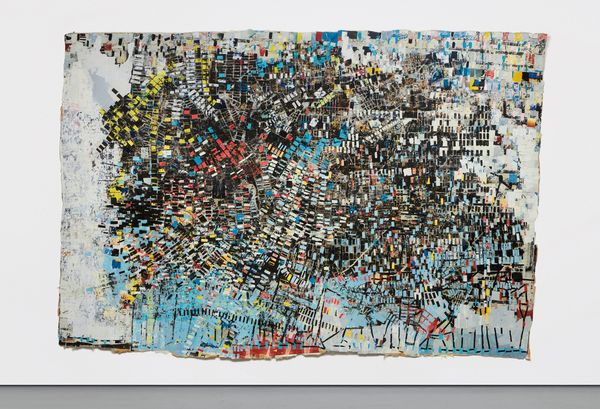 Fast forward seven years later to 2017 and Bradford becomes the first African American artist to represent the United States at the Venice Biennale when he turned the U.S. Pavilion into an incisive commentary on police brutality, slavery and the current state of politics. His largest installation to date, Pickett's Charge, is currently on view at the Hirshhorn Museum and Sculpture Garden in Washington, D.C. until October 2018.
Learn more about Mark Bradford's pioneering practice here, and view the work in person in New York at 450 Park Avenue ahead of our Evening Sale.