Mika Ninagawa earthly flowers, heavenly colors, executed 2018
In our first Evening edition of ULTIMATE, we are thrilled to premiere earthly flowers, heavenly colors, 2018, a unique installation by Mika Ninagawa. The subject sakura [cherry blossoms] is one of the artist's signature motifs. In this dynamic work—seemingly contrasting notions of life and death, natural and artificial—the traditional and contemporary converge. Through this portal, we are invited to enter Ninagawa's distinctive world populated by vivid colors and dense imagery.
In Mika Ninagawa: In Conversation, Phillips' Yuka Yamaji and the artist discussed beginnings, her springtime addiction to sakura and why she photographs.
For over two decades, Mika Ninagawa has walked her own path, becoming the first and only woman photographer to have attained pop icon status in Japan. Daughter of acclaimed theatre director Yukio Ninagawa, she first came to prominence in the late 1990s as one of the leading lights of Japan's 'Girly Photo' movement. Her work was first exhibited outside Japan in 1997 at the iconic Parisian concept store Colette, and in 2001, at the age of 29, she received the 26th Kimura Ihei Award (Japan's most prestigious photography award). Since then, Ninagawa has gone on to set new museum attendance records in Japan with her traveling exhibition Mika Ninagawa: earthly flowers, heavenly colors in 2008-10, as well as in Taiwan with her first overseas retrospective, which was presented at the Museum of Contemporary Art, Taipei in 2016.

Branching out into filmmaking in 2006, Ninagawa has directed two successful feature films to date — Sakuran (2007) and Helter Skelter (2012) — and is set to release two new films in 2019. In 2014, she was appointed to the executive board of the 2020 Tokyo Organizing Committee for the Olympic and Paralympic Games by virtue of her contributions to Japanese art and culture. Ninagawa has published extensively, including nearly 100 photobooks to date, and her work is held in many prominent collections, which include the Tokyo Photographic Art Museum, Huis Marseille, Amsterdam and UBS Art Collection.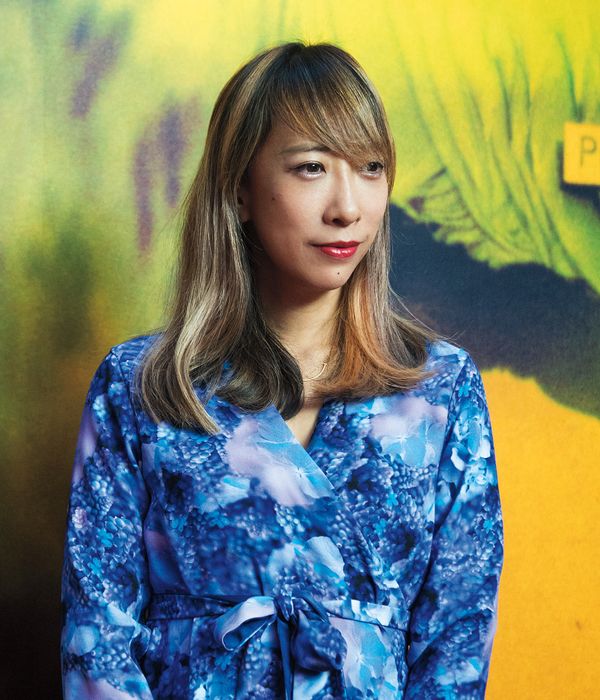 Beginnings.

Yuka Yamaji: When we were walking together in London on your recent visit, we kept losing you whenever something would catch your eye and you would stop to shoot it. When did you first realize that you were addicted to photography?

Mika Ninagawa: I was in primary school. My father was a theatre director and my mother was an actress, so I wanted to become a person who can express something as soon as possible. I think it was a very primitive desire, a feeling close to impatience. I did a lot of things like drawing and crafting, but taking photographs became a special thing.

YY: And what kind of pictures were you taking?

MN: When I was about ten years old, I used an ordinary point-and-shoot camera to photograph my own reflections in the mirror or my much-loved Barbie dolls on top of volcanic rocks, which I also loved! [Laughs]

YY: What drew you to this particular medium?

MN: How emotion and expression are directly connected...my emotions were captured, as if no impurities existed between what I felt and the camera, and that made me become increasingly addicted to photography. Even to this day, when I concentrate, I feel the boundary between what I am shooting and myself gently disappearing.
I wanted to become a person who can express something as soon as possible. I think it was a very primitive desire, a feeling close to impatience.
— Mika Ninagawa on her passion for photography
YY: Tokyo in the late 1990s saw the rise of「女の子写真」[Onnanoko shashin], the 'Girly Photo' movement, which was characterized by images reflecting the personal and the everyday taken by young women photographers, and you were brought into the limelight as one of its stars. What was that like?

MN: Because I wanted to quickly become a person who expressed something, it was a very lucky movement for me. But at the same time, I was in a very dangerous situation of being easily consumed. I was conscious of that from the onset. But I also thought that if I were to be consumed by this then it was just that, so I consciously decided to ride the flow. It was a trend, but it was also a chance for my work to be seen.

YY: Did you identify yourself with this movement and with your contemporaries Yurie Nagashima and Hiromix? Did you feel then that you were part of a shared female experience?

MN: I don't know about the other two, but I think that each of us harbored complicated feelings. And I imagine it was quite difficult to swim without being swallowed by that current as I don't think most of the legions of 'girly' photographers who were there at the time are still working today.

YY: How did 'Girly Photo' begin?

MN: I think it was the same for everyone…they started not because it was a fad, but there was this atmosphere at the time, and many young women incidentally started to photograph. Taking a photograph was somehow seen as something 'sparkly'.

YY: How do you see this experience today, 20 years later?

MN: The experience of being in that whirlpool of craze was a good one. All that I felt at the time — the fear of being consumed, people's desires, the intense envy of the boys, the fact of being a woman — greatly influenced my photographs that followed, as well as the movies I make.
YY: In 2001, you became a recipient of the 26th Kimura Ihei Award together with Yurie Nagashima and Hiromix. It was the first and the only time that the award was given to three photographers — to three young women photographers. How was that experience? You were only 29 at the time?

MN: I thought, 'Why am I not alone?' I felt very dissatisfied. But I wanted to use this experience as a springboard for becoming an unrivaled existence.

YY: Did you see an immediate impact?

MN: My photobook sold well. [Laughs] It also increased name recognition.

earthly flowers, heavenly colors

YY: This is your first installation that has been conceived and executed as a stand-alone work, outside of an exhibition context. What drew you to create this installation?

MN: When I'm focused on shooting, I sometimes feel that I am becoming more and more absorbed into the scenery seen from the viewfinder. For instance, if I'm photographing cherry blossoms, it's as if I'm inside the cherry blossom or I've become the cherry blossom, existing at the boundary between this world and the other world. This feeling of my own contours melting...that nothing else exists in this world besides myself and what is photographed is unique to this process. I started this installation in order to experience this feeling and to share it.

YY: Your installation is called earthly flowers, heavenly colors. What is the meaning behind your title?

MN: The title refers to that boundary between the two worlds where I sometimes find myself when shooting. Heaven and earth are closer than we imagine. Heavenly views can be found in the everyday as long as you can spot them.

YY: In the featured work, you have layered different images, colors, forms, perspective and materials. How did you arrive at the concept of layering in your installations?

MN: When we experience something, a lot of information comes in at the same time and it all becomes one experience. I sometimes show a single photograph but it's more common for me to show a number of images together.

YY: The 'earthly flower' represented in this work is sakura [cherry blossom]. When I read your father Yukio Ninagawa's obituary in The Guardian, it mentioned that his first theatre production in the UK was Macbeth at the 1985 Edinburgh festival, which caused a sensation with its cherry blossom-filled visual imagery. Do you recall when you first saw this production?

MN: My father's Macbeth premiered in 1980, so I was eight years old at the time. In the opening scene, the threatening yet beautiful sakura seems almost alive as it sways in the wind and its petals fall…a frighteningly beautiful image of sakura.

YY: It's clear that you vividly remember the sublime imagery of sakura. Did it somehow inform your own gravitation to sakura in your image-making?

MN: That imagery is likely one of the reasons why I continue to relentlessly photograph sakura.

YY: In Japanese history, culture and art, sakura is richly symbolic.

MN: There is a legend in Japan that corpses are buried under the sakura trees. It comes from the opening line of the short story 'Under the Cherry Trees' by the modernist Motojirō Kajii. Sakura is a flower with mysterious appeal and one is convinced that there should be a reason why they can bloom such frighteningly beautiful flowers.

YY: What meaning does it hold for you?

MN: I photograph sakura every year, and each year, what I capture is surprisingly different, which is one of its distinctive features. For me, photographing sakura is akin to the act of digging out my insides. By photographing the same motif over and over again, I feel that I'm getting closer to my inner self. When spring comes, I have to bear the suspense of wondering when sakura will bloom. During the sakura season, I run around photographing it.

YY: How is this year's sakura?

MN: I've just come back from photographing it. Sakura in Japan is in full bloom right now and I'm shooting it from early morning until evening. I can only imagine that I'm possessed by something. [Laughs] During this time, it feels as if I'm photographing until I collapse. I'm struggling to express in words the sense of unity or the enjoyable sensation of 'I feel good' that can only be experienced when photographing sakura.
Heavenly views can be found in the everyday as long as you can spot them.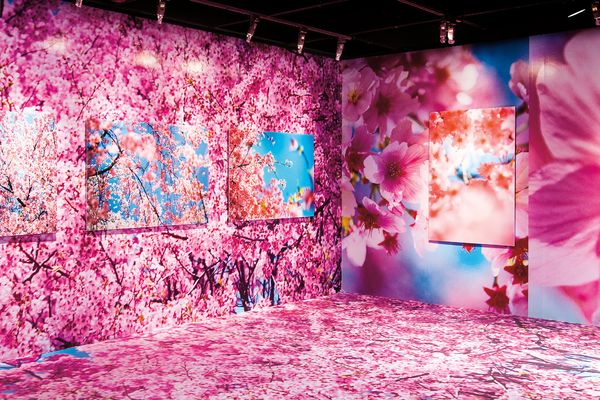 Mika Ninagawa Museum of Contemporary Art Taipei, 2016
Image-Maker

YY: How has being born and raised in Tokyo shaped you as an image-maker? And how does it inform your creative output?

MN: Being born and raised in Tokyo where all sorts of things are mixed and consumed at a tremendous speed has greatly influenced my creations. Human desire is one of my big themes and that to me is a very Tokyo-related theme. As a counterpart to Tokyo's modernity, Japan's traditional sense of beauty, the colors found in woodblock prints and kimonos, for example, are also my inspirations.

YY: You have achieved success in a number of industries, including art, film, fashion and music. For a new audience being introduced to you and your work, how would you describe your creative process?

MN: Photography is my foundation but I don't believe in tying myself down or creating taboos. The idea that something must be a certain way hinders creativity. Even the thought of wanting to take a good picture is a hindrance. My creative process is closely aligned with a more primitive, intuitive and personal feeling…no extra thoughts are needed between the camera and myself.

YY: You are renowned and sought-after for your unique vision and distinctive visual language. Why do you think audiences find your world so alluring and intoxicating?

MN: Why do they think so? [Laughs] I don't quite understand it myself. What I do know is that when I press the shutter, I want to imprint what I am feeling.

YY: Since your debut in the late 1990s, you have continued to photograph on a near daily basis and have published nearly 100 photobooks to date. Why are you so dedicated to creating photographs?

MN: Hmmm, I don't know. But there are many things that can only be obtained through this process. It's a very primitive emotion and I cannot think of the option of not photographing.

YY: Lastly, what does photography mean to you?

MN: It's part of being alive…and a good portion at that.