Diego Giacometti Pair of 'Têtes de Lionnes' armchairs, second version. Conceived 1979, executed 1979-1981. Patinated bronze, wrought iron, leather.
Composed of patinated bronze and wrought iron, the pair of 'Têtes de Lionnes' armchairs from April's Important Design simultaneously features a soft unevenness, revealing the artist's hand, and a structural strength, as historically symbolized by the lion. The highlights of green and gold revealed in the armchairs' patination give the objects a subtle richness while enhancing their sculptural quality.
Evoking forms from ancient Greek, Roman and Egyptian excavations, the present lot reflects Diego Giacometti 's admiration for these civilizations—a lifelong inspiration following a trip to Egypt in his youth.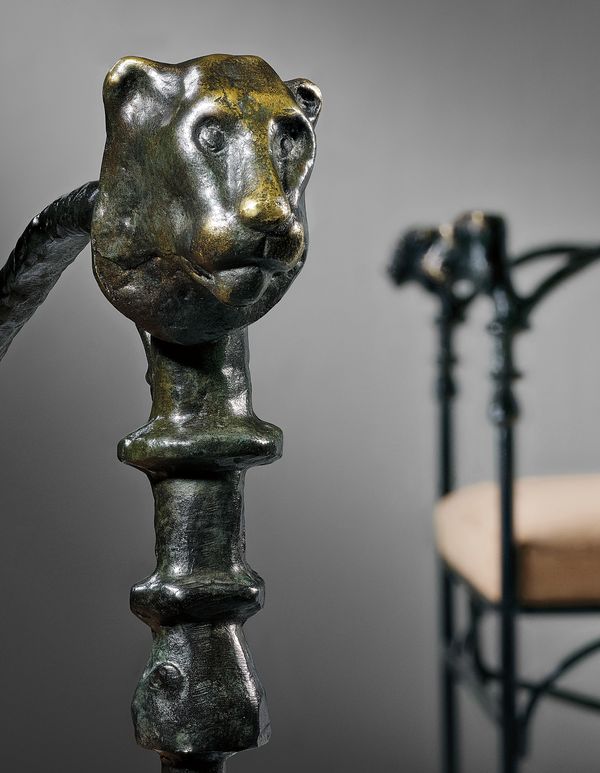 One of Diego's most iconic designs, these armchairs, which each feature two lion busts, pay homage to the client for whom the first version of the armchair was designed. In 1970, four years after the death of his brother, Diego conceived the armchairs for Henrietta Vronsky-Asch, a friend of Alberto's, whose astrological sign was Leo. Following the first version of the armchair, which presented four evenly molded feet, the second version was refined with front feet shaped as lion's paws, as illustrated in the present lot.

The original owner of this pair of 'Têtes de Lionnes' armchairs was part of a noble family, much celebrated in Paris, and notorious for their parties during the 1930s-1940s. Through an introduction by Henri Samuel, one of the most celebrated French interior designers of the twentieth century, the princess met Diego, subsequently giving her the opportunity to acquire these iconic pieces of design.