Jean-Michel Basquiat pictured in his Studio with 'Flexible' © Lizzie Himmel, 1986. Artwork © The Estate of Jean-Michel Basquiat / 2018. Artists Rights Society (ARS), New York / ADAGP, Paris.
Jean-Michel Basquiat painted Flexible during an extended stay in Los Angeles in 1984, on the heels of a highly successful solo show at Gagosian Gallery in West Hollywood.
These kids are selling everything—Jean Michel Basquiat's show sold out in Los Angeles.
— Andy Warhol, 23 March 1983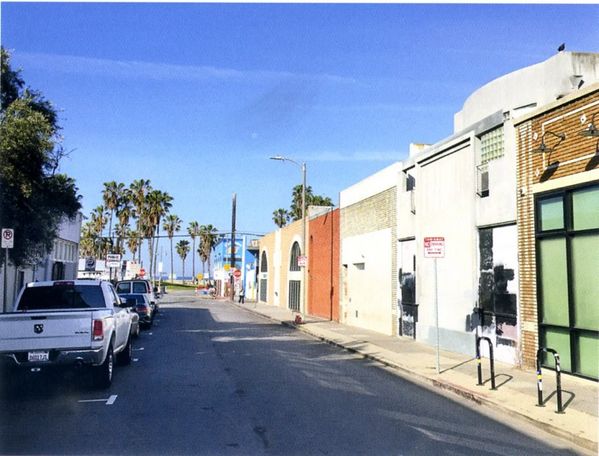 Market Street, Venice, CA, Larry Gagosian Residence, Jean-Michel Basquiat's studio, 1982-1984. Image: Fred Hoffman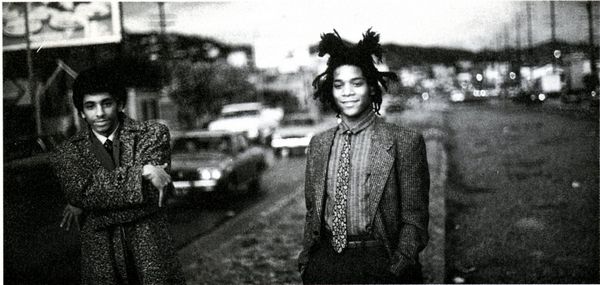 Rammellzee and Basquiat. Los Angeles, 1983. Image Steve Torton
For the Gagosian show that opened in March 1983, Basquiat created paintings from the Venice Beach studio space Larry Gagosian had built below his home. But upon returning to Los Angeles in late 1983, he decided to get his own studio. It was located at the corner of Market Street and Speedway—just a block from the bustling Venice boardwalk—and it was there that he painted Flexible, among numerous other important works. Basquiat became accustomed to the long drive to his studio from hotel L'Hermitage in West Hollywood.
The wooden slats in Flexible illustrate a key epiphany Basquiat had while working from his Venice base. During a break from painting one night, he walked out into the small courtyard attached to the studio and was startled by the presence of a homeless man who had seemingly found a way to slip through the slat wood fence. Basquiat later decided to remove the wood fence and had it disassembled inside his studio, transforming fencing into a unique pictorial structure. In this way, Basquiat brought the street into the studio.
Jean-Michel Basquiat Flexible, 1984
Basquiat created around two dozen paintings with this wood slat fencing material between 1984 and 1986: Flexible is one of the earliest, followed by such works as Gold Griot, 1984. Gold Griot now resides in the Broad Museum, Los Angeles, having been purchased by his ardent supporter Eli Broad just a year after its completion.
Flexible recently returned to the cradle of its genesis from 10-13 April, as part of a wider Los Angeles viewing of auction highlights from our spring sales in 20th Century & Contemporary Art, Design and Watches. The work will be on view at 450 Park Avenue in New York from 4-16 May prior to the 20th Century & Contemporary Art Evening Sale on 17 May.