Yinka Shonibare Ballet God (Poseidon), 2015. Exhibited at Yinka Shonibare MBE: Rage of the Ballet Gods 30 April - 20 June 2015, James Cohan, New York © Yinka Shonibare MBE. Courtesy James Cohan, New York
Executed in 2015, Ballet God (Poseidon) is exemplary of Yinka Shonibare's progressive and multi-layered practice, which offers a biting commentary on current affairs and geopolitics.
With this particular work—which comes to auction on 11 April during our London New Now sale—Shonibare directly addresses the topic of climate change and the resulting human instinct for survival. The artist depicts the iconic Greek god of Poseidon, a symbol of strength and authority, embodied as a slender ballerina wearing a tutu and stretching into an arabesque. Appearing poised and serene at first glance, the present work belongs to the artist's series of ballerina goddesses who are, in fact, dangerous, enraged with humanity's continual destruction of the earth, wielding deadly weapons to smite mankind.
Poseidon brandishes a dagger in one hand and the mythical god's recognizable trident in the other; livid at their displacement, the gods are no longer in control of humanity's fate. Whereas in Homer's Odyssey, the figure of Poseidon punishes Odysseus with violent storms, preventing him from returning home to Ithaca, now Poseidon's manipulation of the weather is no longer solely in her control. Science and myth collide in Shonibare's examination of progress, creating a juxtaposition of the fantastic and the tangible.
They have some things you might associate with gods like the lightning; then a few of them also have guns behind their backs; it's something menacing. And I want deliberately to change their genders…
— Yinka Shonibare MBE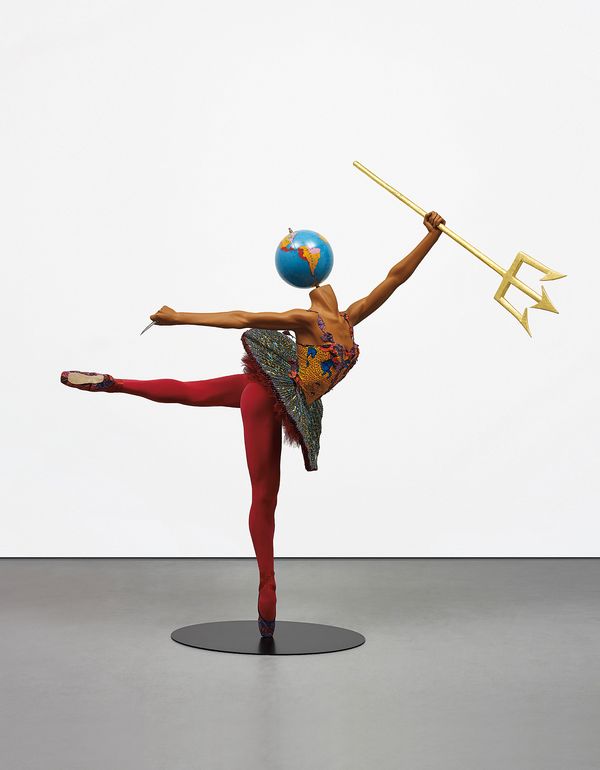 Ballet God (Poseidon) was included in the artist's 2015 exhibition at James Cohan Gallery, New York, titled Rage of the Ballet Gods. The show was divided into two sections, namely Rage and Escape, investigating the paradox between today's progress of rational thought and its underlying scientific advances, forcing humanity closer towards environmental disaster. Evident in the series is Shonibare's use of 'batik', a Dutch wax fabric of complex patterns that highlights humanity's history of colonialism, trade and cultural identity.
Forcing us to confront humankind's destruction of the planet face on, Shonibare plunges the viewer into a complex world of associative connotations.