The unique white gold Rolex Daytona reference 6265
Here's a watch very few people have ever seen — a white gold reference 6265. Acquired eight years ago by John Goldberger, it is the only known white gold manual-winding Daytona ever produced, and it is perhaps the most intriguing example the Crown has ever made. Here's why.
The Story
John Golberger knew he had stumbled upon a very special Rolex Daytona when he picked up this 6265 and immediately felt the weight of its metal. This was no stainless steel Daytona. It was much, much heavier. And that was unexpected, if a little unbelievable at first.
Goldberger is a seasoned collector, a man who has bought and sold many peculiar Daytona examples in his life, some fitted with special dials and/or custom bracelets. But he'd never, ever seen one cased in white gold. He'd heard of one: a rare unicorn whose existence he almost dismissed as all 6265s were thought to have been made either in stainless steel or in yellow.
But this particular white metal example and the 18k hallmark engraved in the lugs at the back told a different story.
Using White Gold In The 1970s

Rolex made plenty of watches in white gold during the 1970s. Or, to be more precise, Rolex made plenty of white gold Day-Dates back then. The use of white gold in the production of the Day-Date shouldn't come as a surprise. This was then the company's most glamorous model after all, so the use of precious metals — including yellow, pink, white gold and platinum — seemed logical.
The decision to use that same metal for a sports watch is a little more surprising, however. Launched in 1963, the Daytona was designed as a robust mechanical chronograph, meant to be worn and used every day. The vast majority were therefore made in stainless steel, which is a little more forgiving than gold when it finds itself on the receiving end of life's little knocks.
Still, yellow gold examples were made, sparingly, either in 18k gold or 14k for the American market, and for a while these were known as the most extravagant examples of a vintage Daytona.
But here we are, looking at a unique white gold Daytona from the early 1970s. The watch also features a black "sigma" dial with white gold indexes, which is consistent with the case metal. Not much else is known, except that the watch was manufactured in 1970 and delivered in 1971 to a German retailer.
Our best guess, based on other unique pieces that have resurfaced, is that it was a special order, placed on behalf of one the boutique's most exclusive clients—someone with means, obviously, and enough influence that Rolex would deviate from its modus operandi.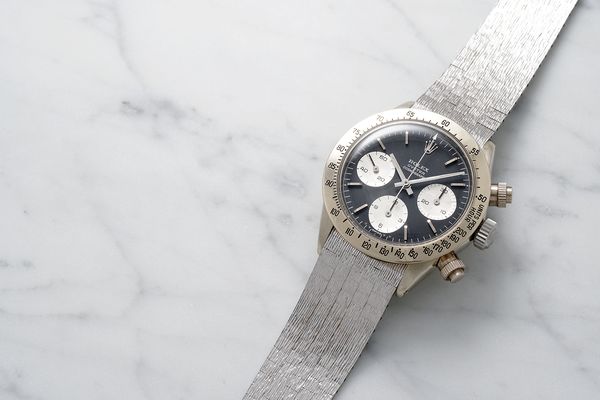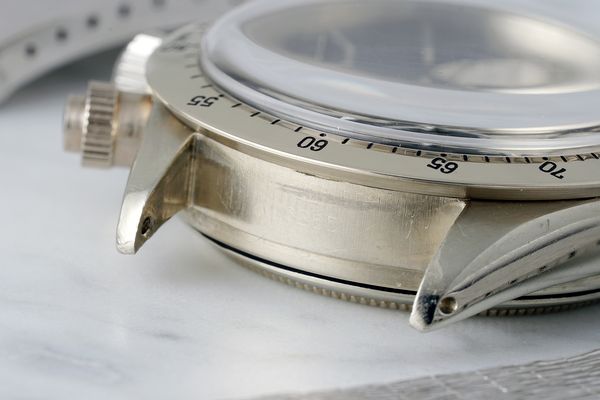 Rolex made this extravagant Daytona in 1970 and delivered it to a German retailer, perhaps as a special order. Before the discovery of this piece, we believed that only stainless steel and yellow gold versions of the reference 6265 existed.
Service marks left on the caseback between 1971 and 2010 suggest the watch returned to Rolex on several occasions, and in some cases, to Rolex Geneva. The rest is left to our imagination.
We don't know why Rolex decided to deliver this piece, or if any others like it exist. But this is the first time such a watch is offered at auction, and it could very well be the last.

The Condition of the Piece
Does condition matter when a watch is unique? Technically speaking, a watch that cannot be compared is simultaneously the best and the worst version of that particular watch, and there is little point debating where it falls on that particular spectrum. But in the case of this reference 6265, it quite clearly falls closer to the former.
The case is preserved in excellent condition, with strong and crisp hallmarks on the bottom of the lugs. The dial is also in great condition, with very little signs of aging or tarnishing.
The bracelet, which is also white gold, is not the bracelet that originally came with the watch. It was added by Goldberger in place of a leather strap, and comes from a white gold reference 1507 Oyster Date. It fits the piece well, is correct for the period, and adds some gravitas to the watch.
Since there is no other white gold Daytona model, it is impossible to say which bracelet the watch was delivered with in 1971. The crown, which is a different color to the case and pushers, is made from stainless steel, not gold.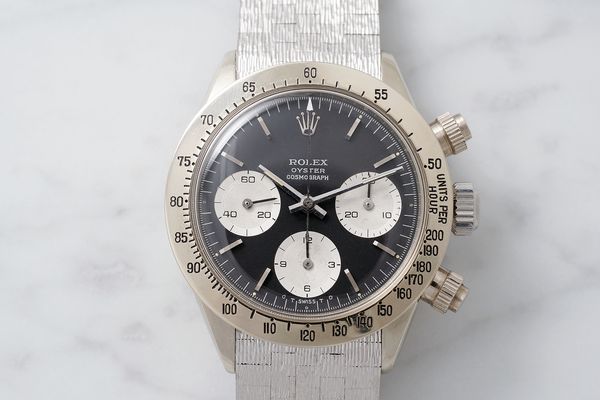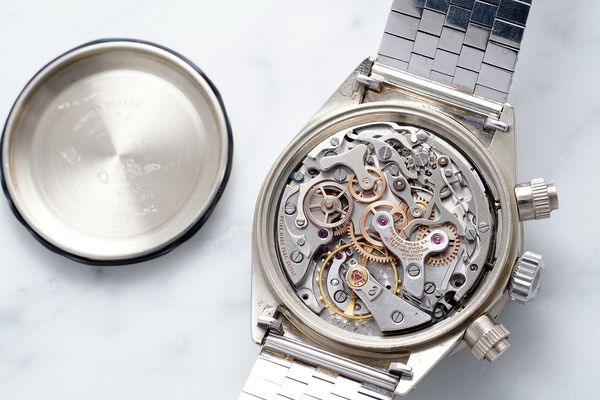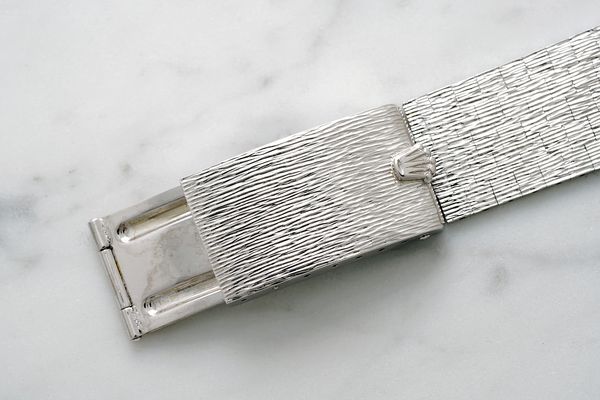 The watch is fitted with a sigma dial with white gold indexes, which are consistent with the case metal. The gold hallmarks found engraved in the lugs confirm the exceptional and precious nature of this unique watch. The watch comes with a white gold bracelet with bark finish, which was added by its current owner following the purchase of the watch.
Why Sell It?
A discreet gentleman, John Goldberger rarely ever speaks of his collection, but it's no secret that the white gold 6265 has resided in his private collection for many years now. Nicknamed "The Unicorn" because of its elusive nature, the watch made its first and most public appearance on a 'Talking Watches' episode on HODINKEE.

As a result, the watch is often brought up in conversation, but whenever it is, so has the caveat that Goldberger would never sell it. Now that's all changed.
In his own words, John Goldberger has decided to sell this watch "to help those who were less fortunate." A simple answer, delivered matter-of-factly during an interview in Rome last month.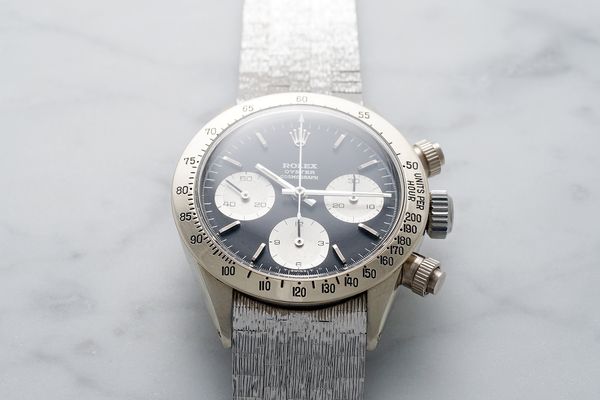 The sale of this watch will benefit Children's Action after its owner decided its sale could help those less fortunate than him.
Goldberger says he woke up one day and realized this watch, which had been the source of so much personal joy, should have a much wider impact on the world. "I like to discover previously unknown watches," said Goldberger. "The search for these pieces is the most enjoyable part of purchasing a new watch."
And that's why he has decided to part ways with this incredible and priceless piece of Rolex history.
The watch will headline 'The Daytona Ultimatum', a thematic sale of 32 of the finest Rolex Daytonas ever made. The watch is expected to make in excess of CHF 3 Million. Proceeds from the sale will benefit Children Action.