Wendell Castle in his studio, 1970s. Courtesy of Wendell Castle Studio.
The 1960s, a decade long associated with radical change, saw its effects ripple through most cultural spheres; bucking aesthetic and technical tradition, artists and designers forged new paths across multiple media and forms of expression. Among the most traditional of media, woodworking experienced a fascinating shift in the 1960s, from which the cultural and aesthetic implications still echo over 50 years later. Among the groundbreaking designers who emerged from this pivotal moment were Wendell Castle and Judy Kensley McKie, two American woodworkers whose divergent interpretation of the craft provided the groundwork for wood's continued exploration.
Following World War II, American furniture design was largely influenced by industry and focused on mass-production. However, the time-honored tradition of hand-making wood furniture had also continued steadily, exemplified by established figures such as Wharton Esherick and George Nakashima on the East Coast and Sam Maloof on the West Coast. While West Coast woodworking curricula favored a self-expressive and sculptural approach, instructors on the East Coast favored traditional cabinetmaking techniques focusing on the virtuosity of skill in creating functional furniture. Highly skilled and virtuosic in their medium, these woodworkers showcased wood's natural attributes of color and grain and created pieces built to endure time. These 'designer-craftsmen' honed their craft to reproduce their own designs as a small-scale industry, sometimes even working in collaboration with industry and larger design manufacturers.
However, by the beginning of the 1960s, this model of craftsperson had fallen out of favor, giving rise to woodworkers who treated furniture as art to create expressive sculptural works by hand. This new woodworker slipped seamlessly between genres, producing works that could be categorized as either furniture or sculpture.
Setting up his studio in Rochester, New York, Wendell Castle, who had studied industrial design and sculpture, began his career just as the decade was starting. The rise of furniture-as-sculpture demanded experimentation with new techniques to allow these more expressive forms to be seen to fruition. In order to realize new shapes and greater scale in his work, Castle turned to stack lamination — the literal stacking and gluing of wood boards — as his medium of choice. Working with a firm block-like stack, Castle carved large forms into the wood, which he then sanded into smooth organic shapes. Departing from traditional furniture forms, Castle bridged the gap between furniture and sculpture in a groundbreaking way, becoming the most influential woodworker of the 1960s and 1970s. In Lee Nordness' seminal traveling exhibition from 1969, Objects: USA, Castle was declared "largely responsible for the recent renaissance of wood as a creative medium."
I believe that furniture should not be derived from furniture…New concepts will arise only when we clear our minds of preconceived notions about the way furniture should look.
— Wendell Castle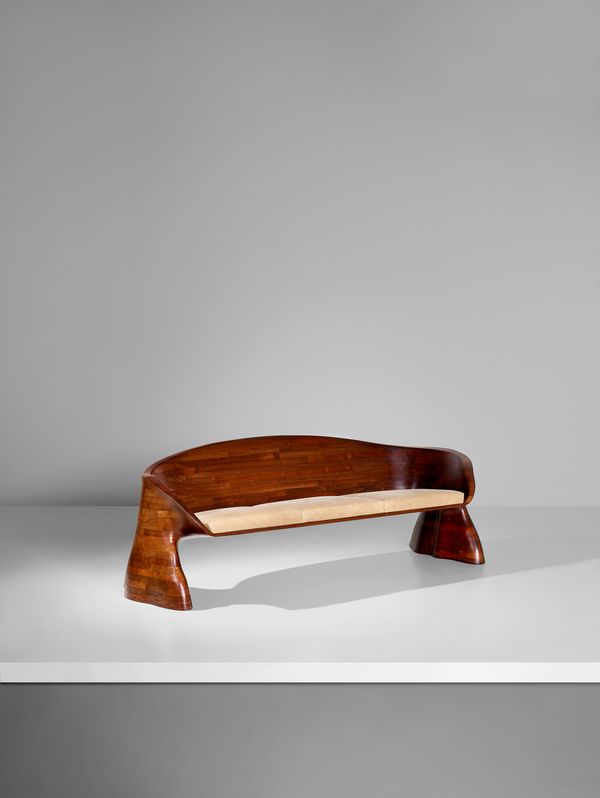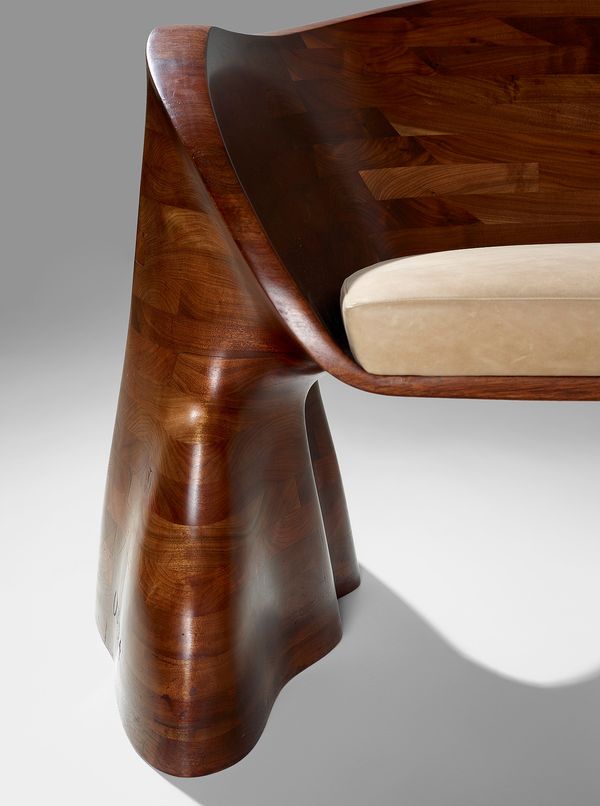 Wendell Castle Unique three-seater sofa, 1974. Featured in our upcoming Important Design auction in London on 26 April 2018.
Executed in 1974, Castle's three-seater sofa exemplifies this peak moment of his early career. The sculptural frame seemingly contradicts the form of a traditional sofa: the fluidity of the frame and its gradual changes in thickness from the large plank-like legs to the impossibly thin seat lend a nearly anthropomorphic presence to a functional design.
Having become a central focus of the studio craft movement, woodworking had gained academic recognition by the 1970s. The practice expanded rapidly at the collegiate level with 150 undergraduate woodworking programs and ten master's degree programs offered within the United States. In 1975, the first issue of Fine Woodworking magazine, one of the most successful craft-focused periodicals of the twentieth century, was published. Major museums across the nation exhibited and acquired wood furniture, and in some cases even commissioned works for their collections. Importantly, wood was evolving.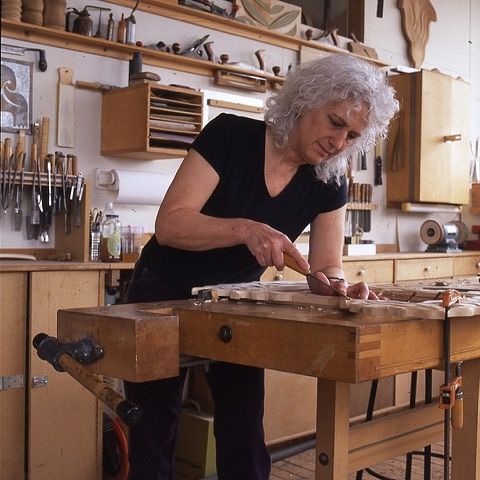 Judy Kensley McKie in her studio, 1980s. Courtesy of Judy Kensley McKie Studio.
Among the woodworkers to emerge during this period was Judy Kensley McKie, working in Cambridge, Massachusetts. Having studied painting at the Rhode Island School of Design, McKie turned to furniture-making when she began building simple, functional pieces to use in her own house, turning her basement into a makeshift studio. She joined the New Hamburger Cabinetworks, a furniture-making collective outside Boston, to further hone her skills, and her furniture designs shifted from boxy forms to more curvilinear, sculptural forms. In 1975, McKie began incorporating highly stylized animal imagery into her designs, inspired by ancient Greek and Egyptian art, as well as imagery of folk and primitive cultures. Instead of stack-laminated wood, she favored woods with simple, unified grains. Such wood types were suitable for carving animal forms in low relief and allowed McKie to add stain or color to complete her imaginative designs.
McKie's work garnered international attention following the 1979 exhibition New Handmade Furniture, which also included works by Castle. The convergence of art with furniture design had thrived, and by the early 1980s, McKie was poised to occupy this critical juncture of its evolution. McKie's style developed to incorporate imagery beyond the surface and into the furniture's structural elements, often integrating the body of the animal into the overall, structural shape of her design.
The most exciting part of working is finding out whether an idea is going to work in three dimensions. You do a drawing, work everything out, cut all the parts and put them together, and then you start carving. As I see the shapes emerge from the pieces of wood, that's the pinnacle of the creative process.
— Judy Kensley McKie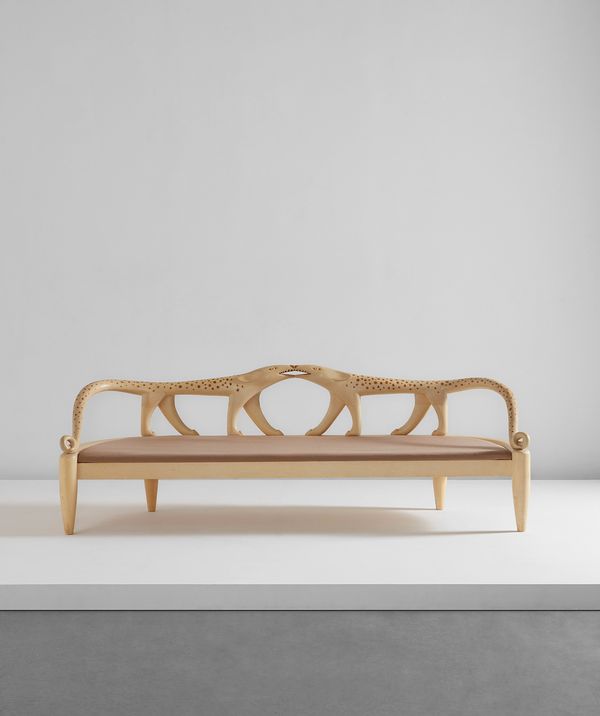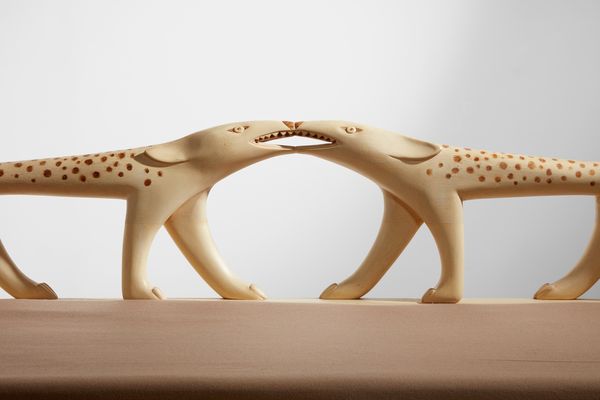 Judy Kensley McKie 'Leopard Couch', 1983. Featured in our upcoming Important Design auction in London on 26 April 2018.
In Leopard Couch of 1983, two leopards join to form the entire backrest structure of the couch—their legs becoming the spindles, faces the center crest and their tails curving around to form armrests. In what would be described as 'faux-naïveté,' McKie's new style fit instantly with the rising aesthetic of the decade's overturn of modernism.
The two very diverse bodies of work of Wendell Castle and Judy Kensley McKie represent a cross-section of the emergence, development and continued inventiveness of the studio furniture movement. Both self-taught woodworkers, their artistic backgrounds would prove monumentally important to the field's growth and exploration, and their contributions to the craft of woodworking immeasurable.
View these works in London from 19-26 April prior to our auction of Important Design at 2pm BST on 26 April 2018.