George Condo Nude Homeless Drinker, 1999
Picasso was always painting Dora Maar or whoever; Bacon's portraits could always be traced to some existing person. But not my portraits. They were all imaginary.
— George Condo
At once visually arresting and amusingly alarming, Nude Homeless Drinker from 1999 is a striking example of George Condo's manifest interest in picturing psychological disturbance, painted in his unique pictorial language that forces viewers to ponder the surreal state of our own humanity.
Since as early as the 1980s when Condo first joined the booming New York art scene, he has been widely considered an "artist's artist," recontextualizing the works of Old and Modern Masters from Ingres and Velázquez to Picasso and Matisse, all while continuing to influence and astonish younger generations of painters such as John Currin, Glenn Brown and Nicole Eisenman. Ultimately, Condo's incredible imagination and his remarkable ability to portray the whole spectrum of human emotions are what has made him an icon of twentieth and twenty-first-century painting. Rendered in brilliant unexpected colors and sensitive brushstrokes, Nude Homeless Drinker is a zany portrait that perfectly encapsulates what are endearingly referred to as Condo's "unedited human disasters."

In the mid-1990s, Condo began to develop a new facial vocabulary in his portraits with bulbous cheeks, bulging eyes and disk-like ears, all discernible in this work from our New Now sale on 28 February. These particular features convey a compelling psychological presence, often immediately recognizable as somehow manic or depressive. Condo refers to these paintings as "antipodal portraits"—renderings of figures on the outskirts of society or in everyday roles, hovering between reality and fantasy. These figures are regularly accompanied by recurring referential symbols, such as bubbles, wine bottles or glasses, cigarettes and carrots. The idyllic blue sky background, whimsical bubble and wine bottle of the present work are also evident in some of Condo's other depictions of determined drinkers, such as The Drinker (1997) and Uncle Joe (2005), a scene of the ultimate hedonist in a peaceful green beyond the reaches of society, aggressive in his inebriation.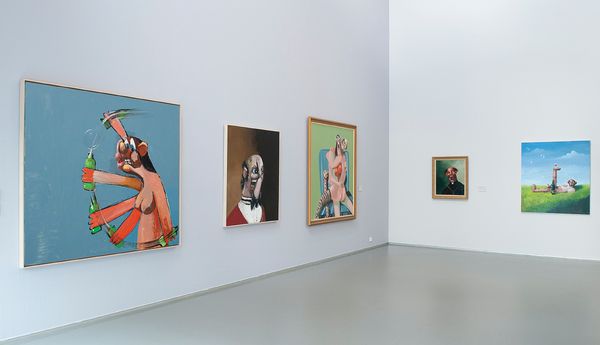 Installation view of 'George Condo: Mental States' at the Museum Boijmans Van Beuningen, Rotterdam, 2011, including the present work hung at left. Image courtesy Museum Boijmans Van Beuningen.
The present work was included in Condo's first major survey exhibition, George Condo: Mental States (2011-2012), which traveled to important institutions including the New Museum, New York and the Hayward Gallery, London. Arranged thematically rather than chronologically, the show displayed the breadth and diversity of the artist's impressive oeuvre with works spanning his entire career. Nude Homeless Drinker is a captivating and humorous example of the theme "Manic Society," a grouping of paintings from the late 1990s and 2000s depicting drunken exhibitionism and figures in the throes of manic delight and unhinged desperation or rage. The teeth-bearing grins or screams of many of these figures recall Willem de Kooning's ferociously smiling, abstracted women, such as Woman I (1950-1952), who parallel Condo's own female forms, transformed into relevant, contemporary images. As scholar Simon Baker described in George Condo: Painting Reconfigured from 2015, "Nude Homeless Drinker usher[ed] in a range of variously outraged and outrageous female forms. While in other work, stock poses from the life room are turned on their heads: the sense of the female form prey to the vicissitudes and arbitrary geometry of posing in a constant theme of Condo's unedited female disasters."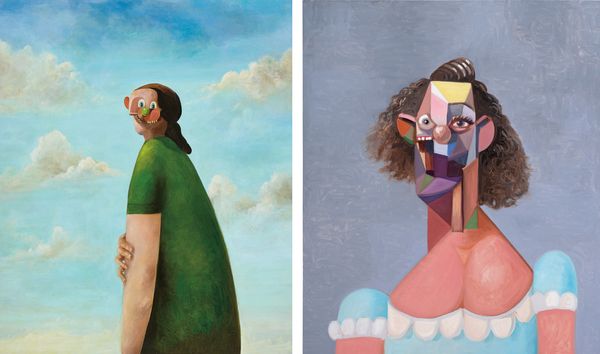 Left: George Condo Interspersion, 2002. Sold for US$605,000. Right: George Condo Young Girl with Blue Dress, 2007. Sold for HK$12,100,000.
Nude Homeless Drinker is one of if not the first instances in Condo's painting in which he explicitly depicts multiple states of physical and mental being. The five arms swinging in frenzied motion imbue the figure with an ambiguity that is completely unlike any of Condo's contemporaneous, carefully posed portraits. Foreshadowing by over a decade the development of some of his more recent series such as the Drawing Paintings or Double Heads, the present work already exhibits Condo's mastery of critic Harold Rosenberg's coined term "action painting," which is here coupled with the artist's incredible painterly treatment of form and character grounded in his understanding and appreciation of the likes of Picasso and Rembrandt. As Condo described, as quoted in The Guardian in February 2014, "It's what I call artificial realism. That's what I do. I try to depict a character's train of thoughts simultaneously — hysteria, joy, sadness, desperation. If you could see these things at once, that would be like what I'm trying to make you see in my art." Nude Homeless Drinker perfectly embodies this multivalent nature of Condo's oeuvre at its finest. A pivotal work that bridges his many thematic and technical achievements, Nude Homeless Drinker is a testament to the undying nature of the primacy of painting and the master of the medium, George Condo.