Detail from Paula Rego Peter Pan: eleven plates, 1992
I turn to etching, and lithography, with a sense of exuberance and relief. In printmaking, you can give your imagination full-range and see the results almost immediately. So one image triggers the idea for the next one and so on.
—Paula Rego
Paula Rego is fundamentally a storyteller. Her love of children's stories, with their strong symbolism and often moralizing undertones, has particularly influenced her graphic work. In series such as Nursery Rhymes, 1989 and Peter Pan, 1992, Rego explores the forbidden and confronts the bizarre—re-interpreting familiar texts with an inventive and subversive eye.
She injects cruelty, fear and desire into the intimately-scaled etchings that fully explore the possibilities of intaglio printing. Her chiaroscuro approach and macabre narratives call to mind the etchings of Francisco Goya's The Disasters of War (1810-20), but the vibrant, biting humor that underpins Rego's works imbue her prints with an exuberant originality.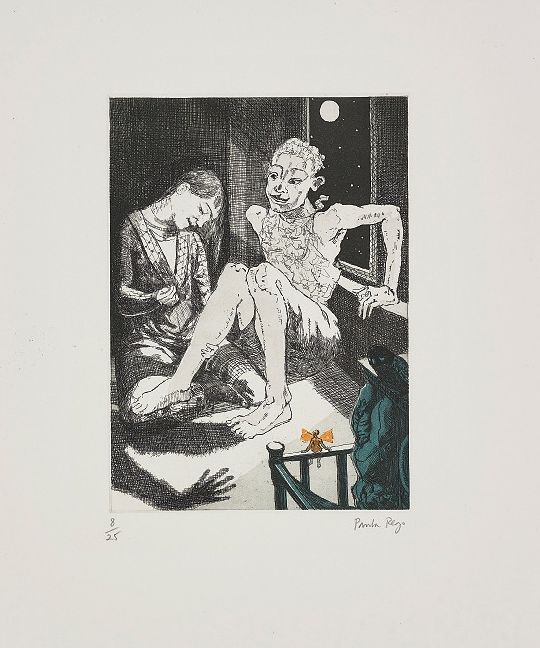 Detail from Paula Rego Peter Pan: eleven plates, 1992
Rego begins each image by freely drawing the general design with gouache onto a copper plate prepared with a wax hard ground. She then works into the wax with etching needles to outline and then deepen the image using line and cross-hatching. The technique allows her to indulge in her primary passion: drawing, and transfers her spontaneous images quickly onto the paper. She has the opportunity to continually re-work sections of the plates as she builds the final image without losing any of the urgency that gives her etchings their evocative directness.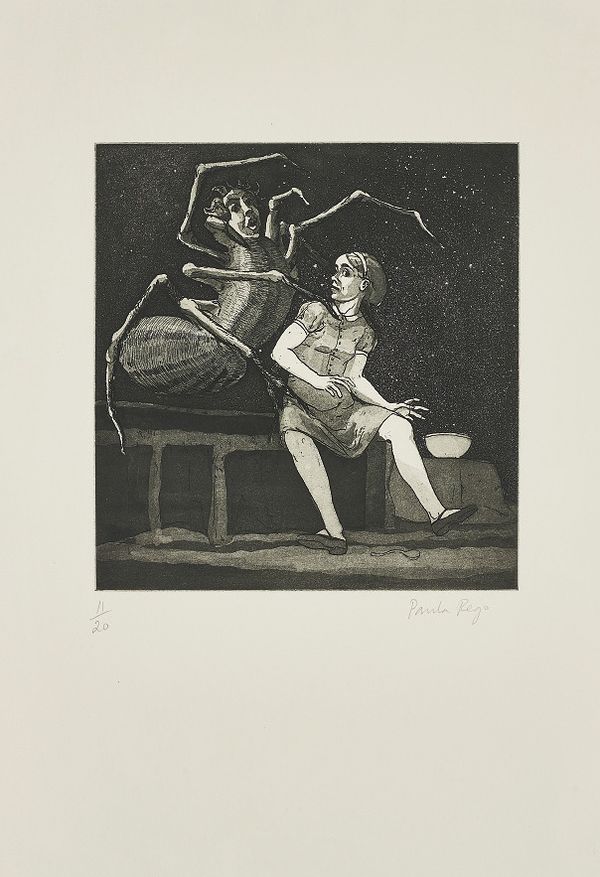 Paula Rego Little Miss Muffet I from Nursery Rhymes, 1989
Rego's explorations with lithography, from the early Dr Dog, Dr Cat and Lessons from 1982 to the Jane Eyre series of 2001-02, demonstrate the artist's insistent curiosity and inventive approach to printmaking. Echoing the pastels she predominantly uses for works on paper, the soft lithographic lines capture the unease and ambiguity of her subject matter. The bright colors and sumptuous, almost crayon-like effect coalesce to form what Rego describes as "the beautiful grotesque."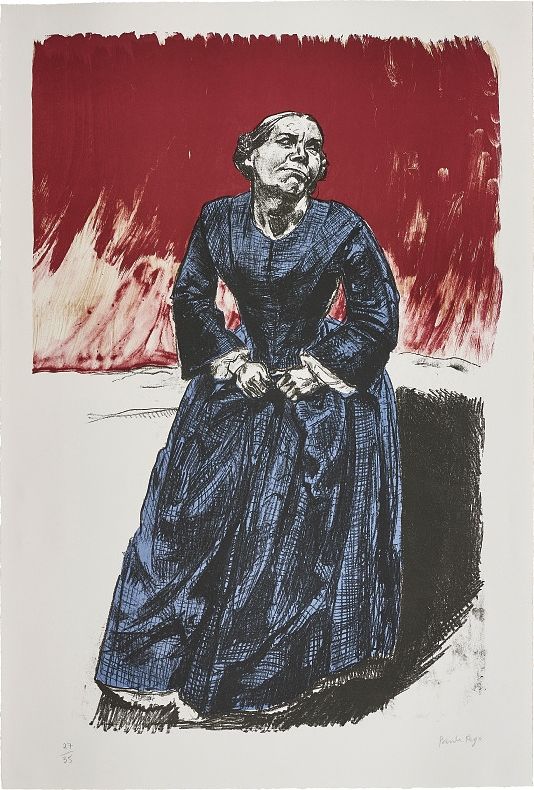 Paula Rego Come to Me, from Jane Eyre, 2001-2002
Printmaking offers Rego the opportunity to pursue bold avenues of creative impulse, bringing to life works that exist in dialogue with her paintings that are nonetheless unequivocally unique.