It was with ambivalence that Donald Judd first approached the woodcut medium in 1953. The physical, messy nature of carving the wood initially caused trepidation for an artist who did not like to work with his hands or fuss with tools. Yet the woodcut medium afforded Judd a crucial moment of artistic experimentation. His drawings and lithographs up to this point had included flowing lines and blended colors, but the hard birch woodcuts allowed only sharp, clean lines. Judd was thereby encouraged to graduate from his initial figurative experimentations of 1953 to briefly engage with the organic, abstract shapes of 1955-1960, before reaching the clarity and power of the parallelograms of 1961.
The straight lines of these shapes, however, are difficult to create in wood, requiring cuts across the grain that surpassed Judd's skills and tools, and so he turned to his woodworking father, Roy, for assistance. Prior to his father's involvement, Judd would carve the wood himself before printing one or two copies. It was a process of thinking with his hands — thinking through doing. Once he had relinquished the labor of cutting the wood, Judd was able to take a step back and isolate the ideas in his head from the making process, which now required translation and became more deliberate.
Together, father and son embarked on a collaborative printmaking venture that would free Judd from the burden of making and allow his woodcuts to evolve into the mature rectilinear forms we present in the following two lots from our January Evening & Day Editions sale in London.
The viewer is invited to choose which rectangle to visually inhabit and to imagine the numerous possibilities of space created by a single color and just a few elegant, precisely carved lines.

Donald Judd Untitled, 1988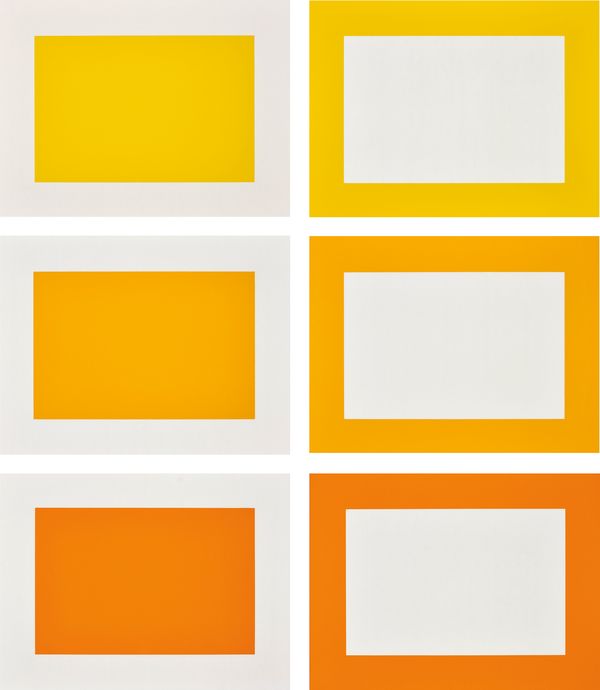 Donald Judd Untitled, 1988-90
No longer limited by his own carpentry skills, Judd worked prolifically throughout the 1960s on a series of geometric woodcut iterations that focused on the binary. He tested various thicknesses of line and modification of shape, with the cut of the wood dictating an either/or situation: either wood (color) or line (blank paper). However, it was not until 1986 with Judd's production of four woodcuts for the portfolio For Joseph Beuys that the artist departed from the series of parallelograms—and with that period, we see a true visual predecessor to the present two lots. These four woodcuts depict a single field of colored ink matching the rectangular shape of the paper.
This series was something of a declaration in its simple-yet-uncompromising celebration of color. As Marietta Josephus Jitta stated on Judd, "In his graphical work, [this] series is continually referred to as the basis for new research on the flat surface."
This continued reference is demonstrated with Untitled, 1988-90, where Judd plays with yellow and orange hues to create positive and negative pairs of this initial rectangle of color. There is a vital physicality to this set of woodcuts, which can be considered analogous to Judd's three-dimensional objects in that an inner volume and an outer frame have been transferred onto flat paper.

Detail of Donald Judd Untitled, 1988-90
With Untitled, 1988, however, Judd pushed his spatial experimentations further, creating a sequence of works that elaborate upon the possibilities for dividing pictorial space. The series itself is formed of five sets of pairs—each one the direct inverse of the other, alternating richly inked solids and paper voids. The pairs are then rhythmically subdivided into halves and thirds, creating numerous possibilities of space for the viewer to inhabit.

Detail of Donald Judd Untitled, 1988
In his 1958 book The Poetics of Space, French philosopher Gaston Bachelard described the lived experience of space, surmising that "it is better to live in a state of impermanence than in one of finality." Despite his choice of medium, Judd's divisions of pictorial space are not hard-edged, prescriptive boxes confining the viewer's eye to the paper surface and the inked borders.
Instead, his meticulous divisions and subdivisions can be read as the start of pattern that hints towards endless repetition. The viewer is invited to choose which rectangle to visually inhabit and to imagine the numerous possibilities of space created by a single color and just a few elegant, precisely carved lines.