Elizabeth Peyton Star, Elliott, 1999
Elizabeth Peyton combines the luxuriant brushwork of 19th century portraiture, the compositional dynamism of geometric abstraction and the bold, emotive color palette of surrealism to impart a dramatic air to her sitters.

Transformed into a small votive image, this intimate icon, Star, Elliott, 1999, throws into relief Peyton's use of devotional portraiture in her treatment of her unambiguously modern subject matter. Star, Elliott, like all of her subjects is androgynous, "pretty," feline, and stylized, glowing with godly incandescence.

This portrait is, of course, of Elliott Smith, a musician known for his ethereal and haunting songwriting whose song Miss Misery won the artist wide acclaim when it was nominated for an Oscar for Best Original Song in Good Will Hunting in 1997. Unfortunately, Smith's depression and substance abuse were only exacerbated by this increased attention paid to the artist, and these personal demons are touchingly reflected in this painting.
There is no separation for me between people I know through their music or photos and someone I know personally.

– Elizabeth Peyton
Peyton holds a unique position among artists of her generation. Her quiet, often small, and cool portraits present a very particular expression of various relational systems. There is something beguiling about Peyton's portraiture. Her subjects have included Napoleon, Kurt Cobain, Queen Elizabeth II, Georgia O'Keeffe, Balzac, Richard Wagner, Klara Lidén, Isa Genzken, Sid Vicious, David Bowie, Keith Richards, and Barack and Michelle Obama, amongst many others.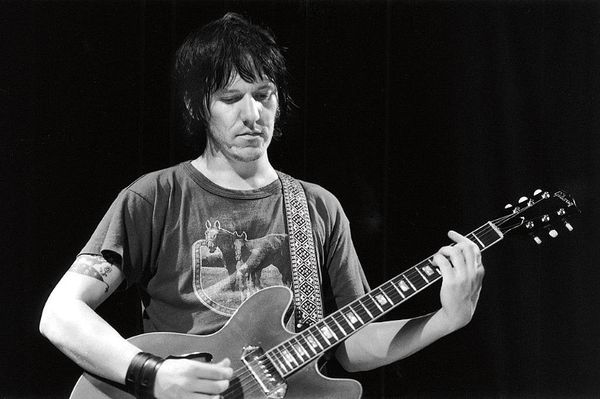 Elliott Smith in concert (Photo by Frank Mullen/WireImage)
Despite its modest scale and deceptively casual manner, Peyton's intimate portrait of Smith draws the viewer like a magnet, condensing emotion into the picture plane. The viewer both understands the beauty of the individual and his creative genius while also glimpsing, however briefy, the pain attendant to his ghostly beauty.