Mike Kelley Entry Way (Genealogical Chart), 1995
Emerging on the Los Angeles art scene in the late 1970s, Mike Kelley is widely considered as of the most influential American contemporary artists. A trailblazing art-world anarchist who imploded the notion of high art from within, he ingeniously combined concepts from art theory, psychology and philosophy with craft art, popular culture and juvenile puns.
His prescient and groundbreaking oeuvre, which was brought to an end with his untimely death in 2012, is currently in the spotlight with exhibitions at Hauser & Wirth Los Angeles, Luhring Augustine and Gagosian in New York.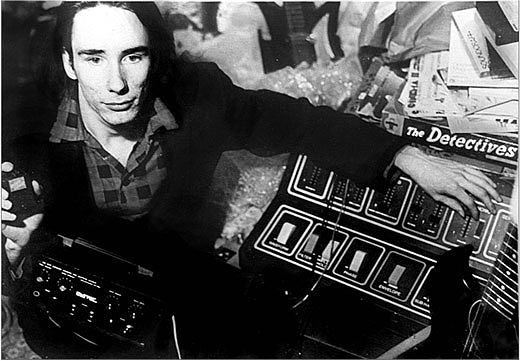 Mike Kelley circa 1970s, photographed as part of experimental band Destroy All Monsters
Entry Way (Genealogical Chart) is a seminal early work that was exhibited in Kelley's landmark exhibition towards a utopian arts complex at Metro Pictures, New York, in 1995, alongside Educational Complex, 1995, a large tabletop sculpture that is now held in the permanent collection of the Whitney Museum of American Art, New York. Heralding a major shift in Kelley's practice, these works were the first to feature the notion of fabricated biography—a theme that would go on to characterize the last decade of Kelley's practice with such epic installations as Kandors, 1999- 2011, and Day Is Done, 2005.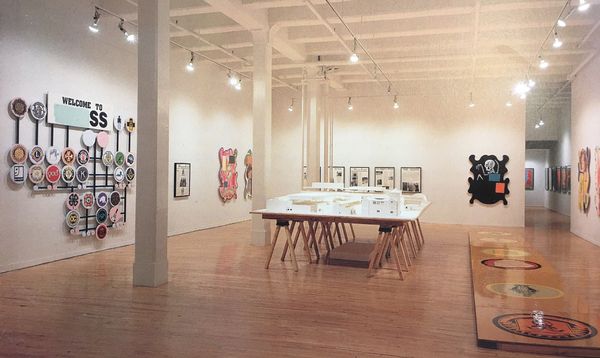 Metro Pictures installation view of towards a utopian arts complex, New York, 1995
Entry Way.
As the title Entry Way (Genealogical Chart) indicates, the work presents a surreal reconstruction of an everyday welcome sign one might find on the outskirts of a small American town. The circular plaques are either covered in gendered blue and pink pastels or with hand-painted symbols synonymous with American culture, including emblems of civic clubs such as 4-H, the Lions, Rotary or Kiwanis Club, but also of more obscure orders such as The Anti-Christ Fan Club.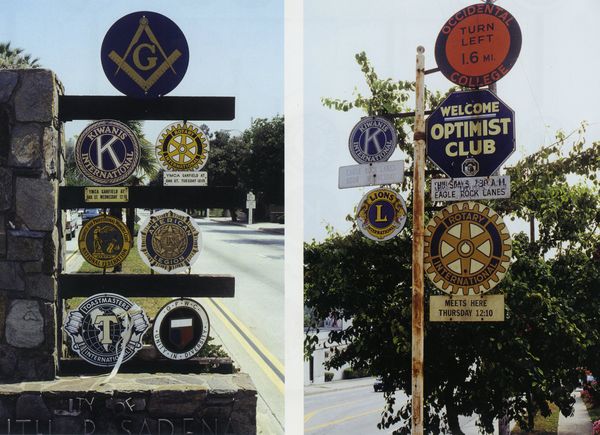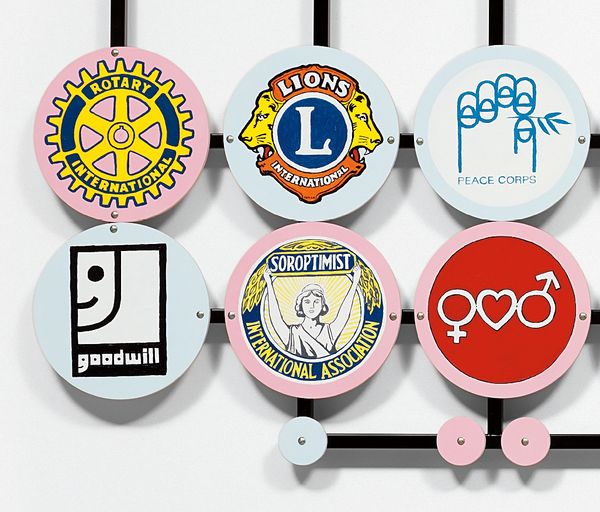 Welcome to TROSS.
The plaques cluster toward an obfuscated welcome sign that marks the entry to the imaginary city of "Tross", which Kelley had referenced in his pun and wordplay-filled poem Goin' Home, Goin' Home: "At the crossroads of life. At Tross City limits."
Read phonetically as "atrocity limits," the phrase references the controversial post-apocalyptic experimental novel Atrocity Exhibition by British writer J.G. Ballard, whose writing Kelley greatly admired.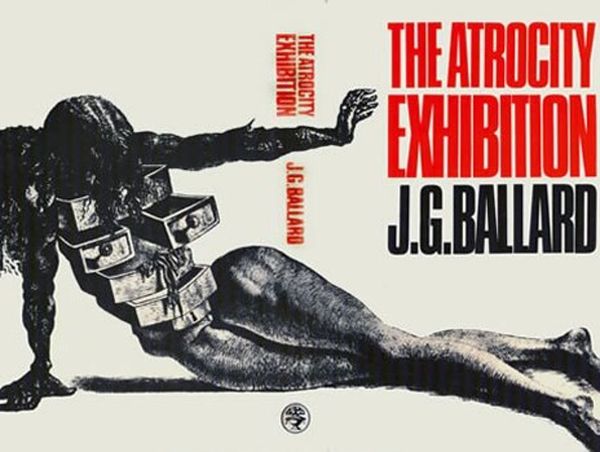 Published in 1970 to widespread controversy, Atrocity Exhibition explored the invasion of the mass media and the splintering of the private mind through a protagonist who experiences a mental breakdown and subsequently surrenders to a world of psychosis. In much the same way, Kelly uses Entry Way (Genealogical Chart) as a platform to perform his own pseudo-psychological reckoning with the traumas of his past.
Genealogical Chart.
The composition is based on the genealogical chart of Kelley's immediate family. Notebook sketches related to this work visualize the complex creative process underlying its formal composition, showing how Kelley recasts his genealogical chart into a pseudo-psychological mapping of his family. Starting with his maternal and paternal grandparents at the very top, each circular plaque correlates to a relative and vary between blue and pink color on gender.
At first, Kelley refers to each relative by name and with regard to their relationship to the artist. Kelley himself features on the bottom left as "Mike". In a later drawing, he recasts individuals with regards to their "pure qualities" — often using derogatory qualities, such as "repressed", "destructive", or, in his own case, tellingly, "victim".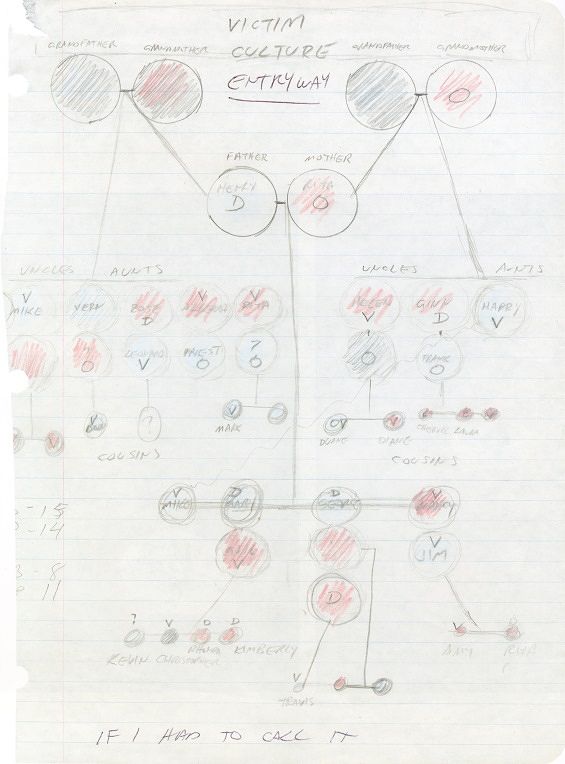 While building his biography into the very structure of the work, Kelley ultimately denies the viewer full access to its latent biographic history by either covering the plaques with appropriated emblems and monuments of specifically American culture or leaving them blank — most notably, those plaques representative of his parents.

As Kelley himself noted, "The blank sections are supposedly the result of some 'trauma' that occurred in those spots, which has caused me to repress them. However, it's obvious that there are formal considerations at play in the organization of these blank areas – these point towards my formalist education itself as the possible 'trauma'."
Fabricated Biography.
While Entry Way (Genealogical Chart) importantly alludes to backstories and scenarios that could realistically serve as explanations of his artistic motivations, it also brilliantly encapsulates Kelley's manipulation of the constructed nature of his biography to draw attention to the pervasiveness of repression in contemporary culture.
All the works created for the Metro Pictures exhibition in 1995 stemmed from the concept of Repressed Memory Syndrome, a now widely contested psychological theory that maintained the existence of repressed memories related to severe trauma, especially those experienced during childhood.
Kelley began incorporating the implied notion of psychic trauma into his practice after experiencing what he perceived to be a misguided psycho-pathological critical interpretation of his earlier found stuffed animal sculptures from his Half a Man series.
I decided…to embrace the social role projected on me, what people wanted me to be: a victim.
Entry Way (Genealogical Chart) marks the very moment in which the autobiographical dimension would begin to take center stage for the last decade of Kelley's short life. Demonstrating the unprecedented conceptual complexity of his idiosyncratic mature practice, Entry Way (Genealogical Chart) is testament to an artist who unapologetically exposed the systems of belief underlying the self and society at large.