Artist Jasper Johns in his studio, 1958. Photo by Peter Stackpole / The LIFE Picture Collection / Getty Images. Art © 2017 Jasper Johns / Licensed by VAGA
In 1958, Jasper Johns' first solo exhibition at the Leo Castelli Gallery in New York took the art world by storm and changed the course of art history forever. Now, nearly 60 years after that legendary exhibition, Johns' revolutionary oeuvre is being celebrated in London's Royal Academy of Art's colossal Jasper Johns: 'Something Resembling Truth' retrospective, which travels to The Broad Museum, Los Angeles, in February 2018.
As one takes a survey of Johns' over six-decade-long career, it's all too easy to forget the impact of his work in the late 1950s. At a time in which the New York art world was still in the thrall of Abstract Expressionism, Johns radically advanced a wholly novel paradigm of the picture. Destroying all of the artworks that remained in his possession in the autumn of 1954, Johns began creating his first paintings of flags, targets and Arabic numerals, the last of which features as a key motif in the drawing 0 through 9, 1979, on offer in our upcoming the 20th Century & Contemporary Art Evening Sale.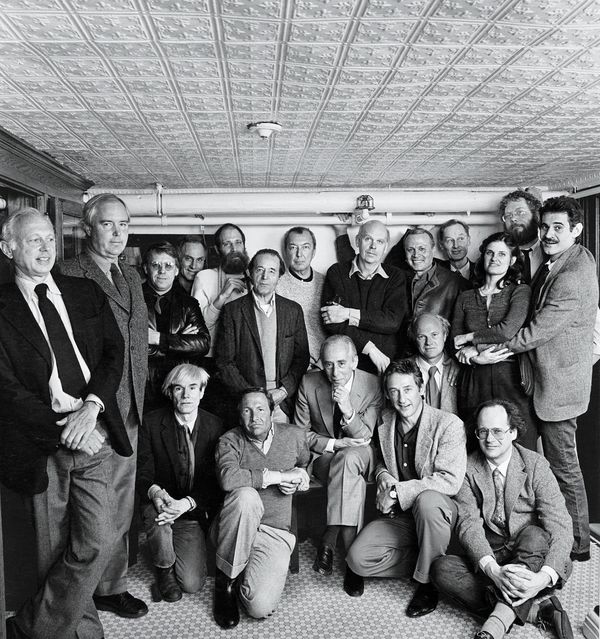 Leo Castelli and gallery artists at the Odeon restaurant, in New York City, for the 25th anniversary of the Castelli Gallery, 1982, including Jasper Johns (eighth from left), Andy Warhol, Robert Rauschenberg and Richard Serra, among others. Photograph by Hans Namuth/Courtesy of the Center for Creative Photography, University of Arizona/©1991 Hans Namuth Estate.
When art dealer Leo Castelli discovered Johns' work in 1958, he immediately gave the 28-year-old artist his first solo exhibition, in which all but two of 18 works sold. Alfred H. Barr Jr., the founding director of the Museum of Modern Art, New York, purchased three works for the museum's permanent collection. And just five years later, Newsweek announced: "Jasper Johns at thirty-two is probably the most influential younger painter in the world." Fast-forward some 50 years later and his work achieved the highest price ever paid for a painting by a living artist when Kenneth Griffin acquired False Start, 1959, for $80 million in 2006, and then, in 2010, Johns received the Presidential Medal of Freedom.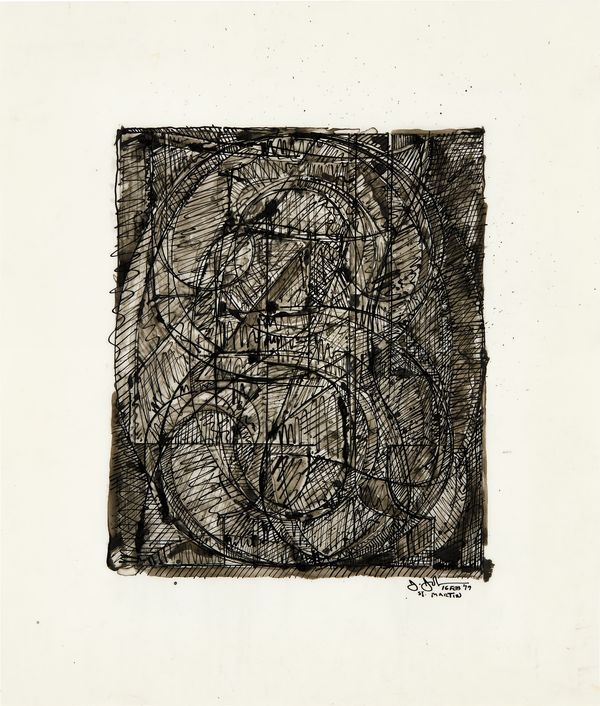 Jasper Johns 0 through 9, 1979
0 through 9 is a quintessential example of Johns' iconic series of superimposed numerals, which was instigated in 1960 as a development from his early Arabic numeral paintings. The present work is considered to be one of fewer than ten 0 through 9 drawings executed between 1960 and 1995. It was created in February 1979 at Johns' residence on the Caribbean island of Saint Martin as the first of most likely only three 0 through 9 drawings he would make that year. One of these works—slightly smaller—is currently on view at the Royal Academy of Arts' Jasper Johns: 'Something Resembling Truth' retrospective in London.
The title of the 0 through 9 series offers an enticing double entendre: it describes both its numerical subject, as well as the compositional device that encourages the literal act of seeing each number through the other. In this black ink drawing, Johns has drawn the enlarged outlines of the numbers, from zero to nine, within a central rectangular frame on the translucent plastic sheet. The interweaving of these outlines results in an enticing, semi-abstracted and monochromatic image. In this work we also recognize Johns' use of "crosshatching," a pattern he had first explored in 1972 and which would come to characterize his Cicada series from the mid-1970s.
I was in Saint Martin at the time, and when I would go to sleep fragments of thought would run through my head at 90 miles an hour. One thought wouldn't connect to the next thought, it was almost like images flashing.
— Jasper Johns
An exquisite example of Johns' inventive graphic draftsmanship, 0 through 9 was notably selected by Johns and Leo Castelli for inclusion in the 1981 exhibition Jasper Johns: Drawings 1970-1980 at the Leo Castelli Gallery in New York that later traveled to the Margo Leavin Gallery in Los Angeles. It is testament to the significance of the present 0 through 9 drawing that it was acquired directly from the artist by the eminent collector Leonard Lauder, who subsequently gifted it to the present owner.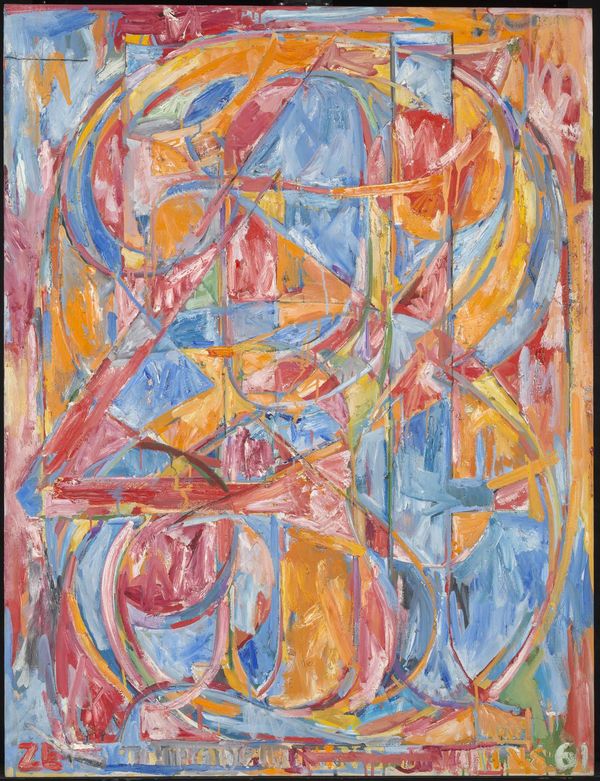 Jasper Johns Zero through Nine, 1961, Tate London
As the Royal Academy of Art's retrospective highlights, Johns approached media in a non-hierarchical way. In his practice, draughtsmanship is elevated to a medium worthy in its own right to explore the artist's conceptual pursuits. In fact, his drawings frequently followed his paintings, rather than serving as a preparatory stage as was common in the traditional art canon.
0 through 9 is an exquisite example of Johns' experimentation with material and technique to investigate the habits of perception. While the intricate cross-hatching and layering of line in 0 through 9 suggests pictorial depth, the unconventional use of the translucent plastic sheet reveals it to be an utterly flat, nearly non-existent, one.
As with Johns' trademark subjects of flags, targets and alphabetical letters, the motif of the Arabic numeral allowed the artist to explore how meaning in art is constructed. The superimposition of the numerical progression in the present work injects the pictorial space with a sense of time that performs the very process of its making and at the same becomes a metaphor for the multiplicity of meanings inherent in the singular image.
Any meaning we give to [an art object] comes through our looking at it.
— Jasper Johns
0 through 9 essentially continues the same overarching conceptual notion that has driven Johns' painterly practice, namely that the very act of mark-making carries as much meaning as an artwork's iconography. As such, it brilliantly exemplifies Johns' notion that the artist's single creative act does not solely give rise to meaning, but it, in fact, arises through the spectator's act of deciphering and interpreting the work.
Taking the legacy of Marcel Duchamp to conceptual new pastures, Johns, alongside Robert Rauschenberg, took as his subject those familiar, depersonalized and factual signs that, as he observed, are, "seen and not looked at," but "not examined." His use of cultural signs and insistence on painting as an object crucially precipitated both the Pop Art and Minimalism movements in the 1960s.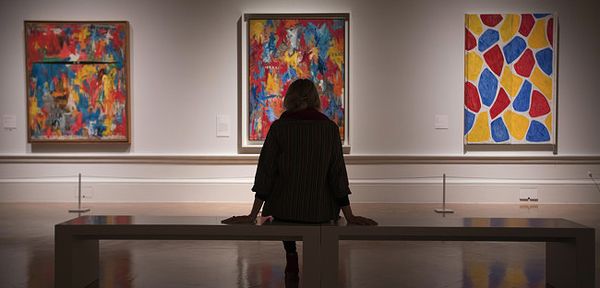 Installation view of Jasper Johns: 'Something Resembling Truth', now on view at the Royal Academy of Arts, London.
Jasper Johns: 'Something Resembling Truth' is on view at the Royal Academy of Arts, London, through 10 December 2017. It will travel to the Broad Museum, Los Angeles, in February 2018.