Adriana Lestido Estela from Mujeres presas, 1991-1992
Phillips is proud to present another high-calibre selection of works by important Latin American artists. All of the featured works are fresh to the market, including a number of rare prints from the 1970s and '80s. Spanning nearly four decades of image-making, these works represent the widely different ways in which these photographers responded to the complexities of life in the region.
Highlights range from Colombian artist Fernell Franco's experimental photomontage from his first series Prostitutas and Argentinian artist Adriana Lestido's highly emotive portrait of an imprisoned woman to a provocative portrait of a transvestite prostitute by Chilean artist Paz Errázuriz. Recent works include Mexican artist Pablo López Luz's aerial image of Mexico City's urban sprawl. Both Errázuriz and López Luz are appearing at auction for the first time.
Decades of uncovering photographic work from this region culminated in two groundbreaking museum shows in 2013 to 2014: América Latina 1960-2013 at Fondation Cartier pour l'art contemporain, Paris and Museo Amparo, Mexico and Urbes Mutantes: Latin American Photography 1944-2013 at Museo de Arte del Banco de la República, Bogotá and the International Center of Photography, New York. Works by the Latin American artists featured in our selection reside in a number of public collections, including Fondation Cartier pour l'art contemporain, Paris and Tate Modern, London. We are excited to offer collectors a unique opportunity to acquire these museum-quality works as the Latin American photography market unfolds.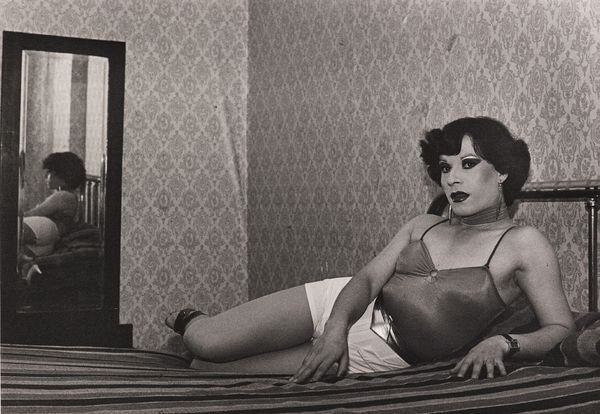 Paz Errázuriz Evelyn, Santiago from Adam's Apple, 1988
Between 1982 and 1987, Paz Errázuriz collaborated with journalist Claudio Donoso on the series Adam's Apple, documenting male sex workers and transvestites in brothels in Santiago and Talca. Through Errázuriz's photographs and Donoso's transcription of their stories, the life of this community and the ways in which these individuals maintained control of their bodies in the shadow of the Pinochet dictatorship were revealed. Evelyn, the subject of the present work, features prominently in the series. Museo Nacional Centro de Arte Reina Sofía in Madrid holds another early print of this image, and later prints reside in the collections of Museum of Modern Art, New York and Tate Modern, London.
Paz Errázuriz began taking photographs in the 1970s during the Pinochet dictatorship and continued documenting the social landscape of her native Chile in subsequent decades. She is known for her ability to capture the resoluteness of the regime's marginalised victims in intimate portraits. Errázuriz was the first Latin American woman photographer to be offered a Guggenheim Fellowship in 1986 and was awarded the Prix Madame Figaro at the Rencontres d'Arles in 2017.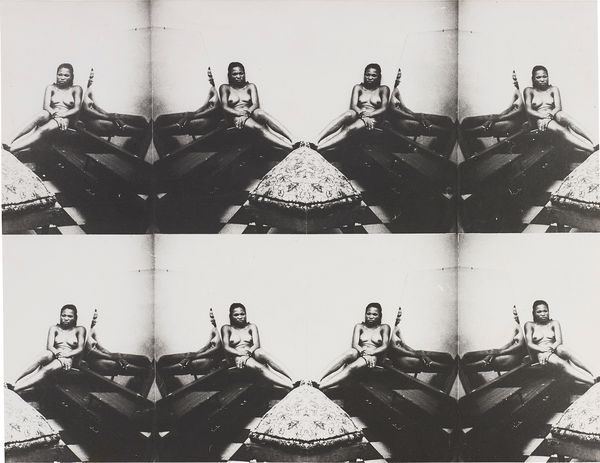 Fernell Franco Prostitutas, 1970-1972
Fernell Franco's first major series Prostitutas (1970-72), comprised of 16 photographs of sex workers in brothels in Buenaventura, was first exhibited in March 1972 in his hometown of Cali at Casa Cultural Ciudad Solar. Inspired by cinema, Franco was interested in expressing a narrative in his photographs, which he often achieved through experimentation, as seen in the present work. This photomontage was created by exposing and mirroring the negative in the enlarger multiple times while moving the sheet of photographic paper.
Fernell Franco, one of Latin America's preeminent photographers, was a leading figure of the Cali Group (named after the city where he lived most his life). He first encountered the urban underbelly of Colombia as a teenager while working for a photographic studio as a bike messenger. He later pursued photography in the field of journalism then advertising before turning to his first series Prostitutas in 1970. Franco's other projects include Interiores (1970s), Demoliciones (1970s-90s), Amarrados (1980-95), Billares (1985) and Retratos de ciudad (1990s). In 2016, a major retrospective of his work was shown at Fondation Cartier pour l'art contemporain in Paris and Centro de la Imagen in Mexico City.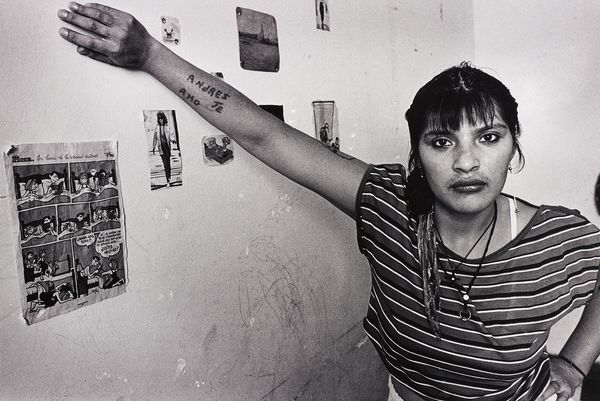 Adriana Lestido Estela from Mujeres presas, 1991-1992
While working as a photojournalist in the 1980s, Adriana Lestido became fascinated by the theme of emotional and affective ties. For the series Mujeres presas (1991-93), she captured intimate moments in her portraits of imprisoned women. In 1995, she was the first Argentinian photographer to be awarded a Guggenheim Fellowship. Her work has been exhibited in many institutions worldwide, including Museo Nacional de Bellas Artes, Buenos Aires; Museum of Fine Arts, Houston; and Hasselblad Center, Gothenburg. Fondation Cartier pour l'art contemporain in Paris holds another early print of this image, which is smaller in size.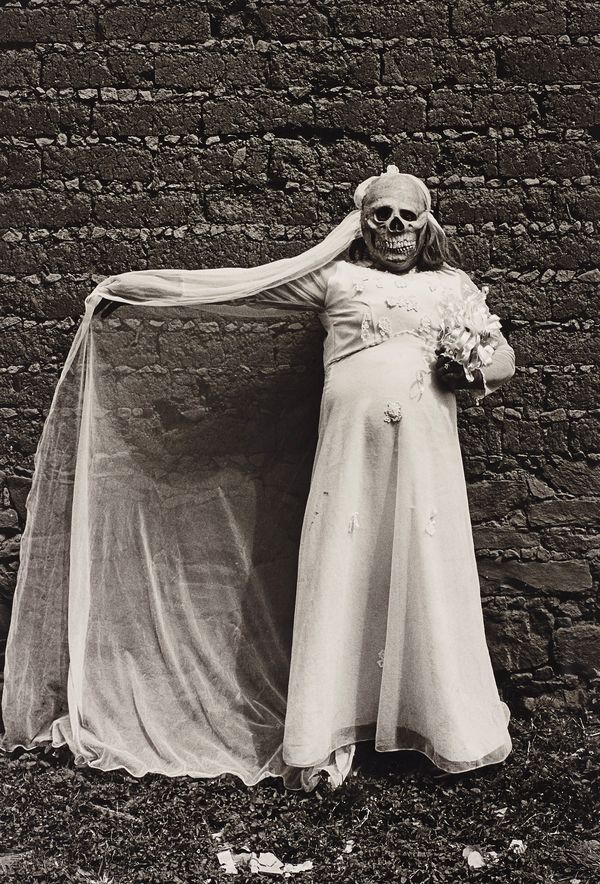 Graciela Iturbide Novia Muerte, Chalma, Mexico, 1986
One of Mexico's foremost living artists, Graciela Iturbide explores everyday life in Mexico through photography. She has repeatedly visited the Mexican town of Chalma, famous for its religious festivities, to document traditional rituals, often involving elements of death and the grotesque. Iturbide studied under Manuel Álvarez Bravo at the Centro Universitario de Estudios Cinematográficos, part of the Universidad Nacional Autónoma de México, and later worked as his assistant. She received the Hasselblad Award in 2008 and has exhibited at the J. Paul Getty Museum, Los Angeles; Fundación Mapfre, Madrid; and Tate Modern, London. Fundación Mapfre, Madrid; Tate Modern, London; and Museum of Fine Arts, Houston hold later prints of this image.
Facundo de Zuviría La Tregua from Siesta Argentina, 2003
Facundo de Zuviría lives and works in Buenos Aires, exploring the urban landscape in his photographs. The series Siesta Argentina – created in the period following the Argentinian crisis at the end of 2001 – illustrates a city devoid of people and activities during mid-afternoon siesta. These images of storefronts in Buenos Aires draw attention to the differing patterns found on the building facades. De Zuviría has received multiple awards, including the prestigious Konex Award for his contributions to Argentinian visual arts in 1992 and again in 2012. His work has been exhibited at institutions worldwide, including the Fondation Cartier pour l'art contemporain, Paris and the International Center of Photography, New York. Museo Nacional de Bellas Artes in Buenos Aires holds a later print of this image.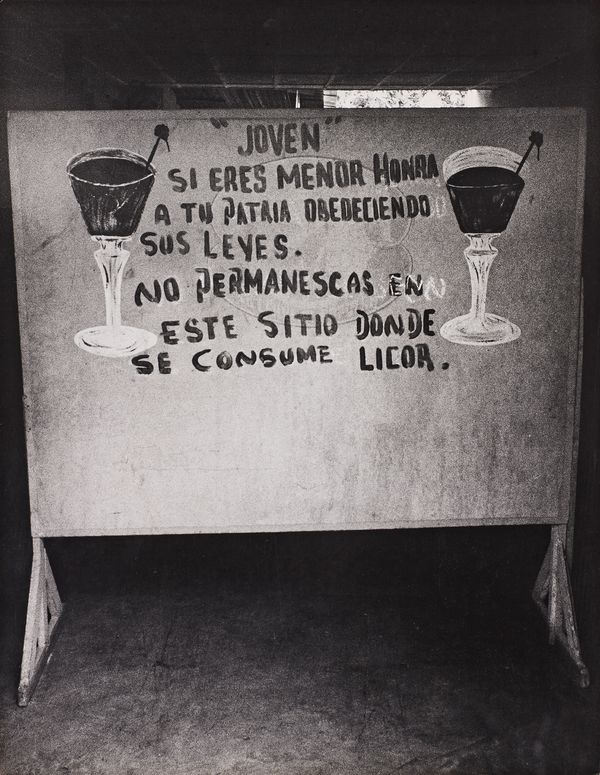 Vladimir Sersa Letreros que se ven, circa 1979
Vladimir Sersa was part of the photography collective El Grupo, whose motto 'we do not make pretty photos' inspired work that combined criticism and humour. Sersa travelled extensively around Venezuela on documentary projects. For his series Letreros que se ven [Billboards on Display] (c. 1979), he photographed graffiti, billboards and posters he found in working-class Caracas. The print offered here was used to illustrate this work in Vladimir Sersa's book Letreros que se ven (1979). The sign in the present work reads, 'Young man if you are less honourable to your homeland by obeying its laws. Do not stay in this place where you can consume liquor.'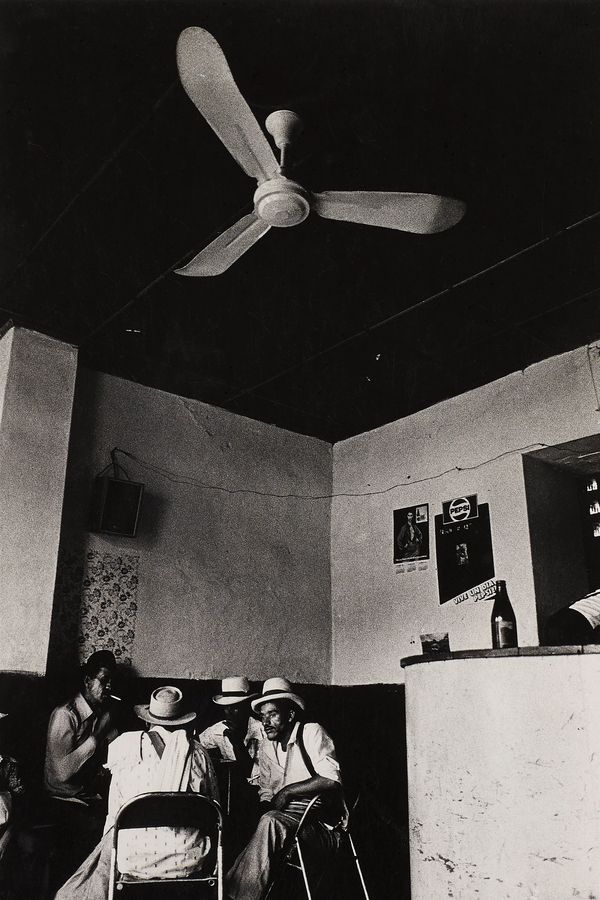 Gertjan Bartelsman No title (Men in bar), circa 1980
Dutch-born photographer Gertjan Bartelsman has lived in Colombia since 1950. In the 1970s, he worked as a photographer in advertising and journalism before pursuing his own projects. Travelling around Colombia, Bartelsman photographed his subjects on buses and trains, in bars, cantinas and at work. The resulting images showcase his ability to capture intimate moments in urban life. Bartelsman has exhibited internationally, participating twice in the Venice Biennale.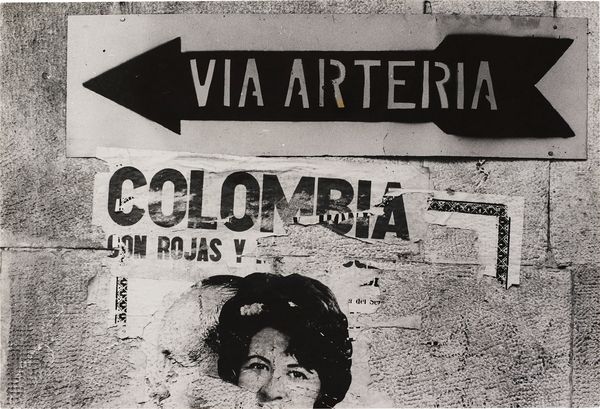 Sergio Trujillo Muros Colombianos, 1972-1979
Sergio Trujillo began working with photography in the 1960s. His series Muros Colombianos (1972-79) illustrates the beauty found in debris, capturing Colombian society through photographs of torn posters on walls in public places. Trujillo has made several films and has taught photography, design and visual expression at the Universidad de Bogotá Jorge Tadeo Lozano. Since 1983, he has managed Sergio Trujillo Dávila y Cía, designing audiovisual programs in video and multi-image systems.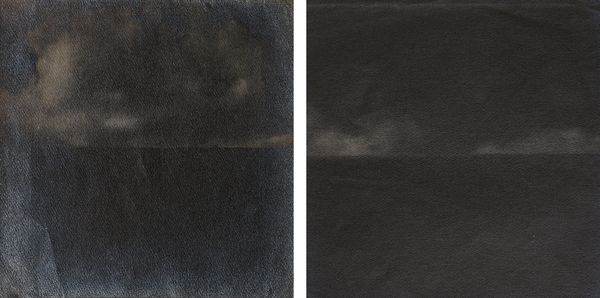 Jorge Ortiz Boquerón, 1979-1981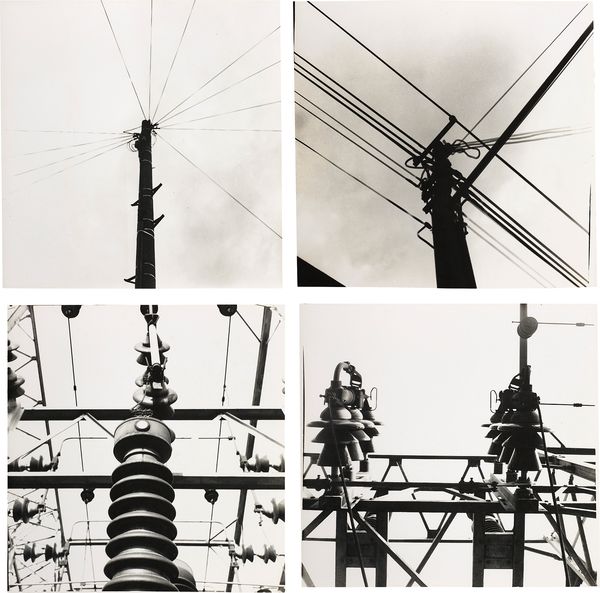 Jorge Ortiz Cables, 1977
A pioneer of Colombian conceptual photography, Jorge Ortiz explores urban landscapes, often using light and time as his primary tools. In the 1970s, he began to experiment with light and developing processes, which resulted in his early black-and-white series Cables (1977) and Boquerón (1979-81). In Boquerón, shooting in five-minute intervals, he systematically photographs the celestial changes in the horizon near Medellín, meticulously documenting the time and place between each shot and noting the differences and similarities along the horizon line. In Cables, Ortiz continues with his visual analysis, but this time, he turns his camera up, shooting the lines of the power cables that crisscross above Bogotá. Ortiz's work has been exhibited internationally, including Havana Biennial, Bienniale of Sydney and Museo de Arte Moderno de Bogotá.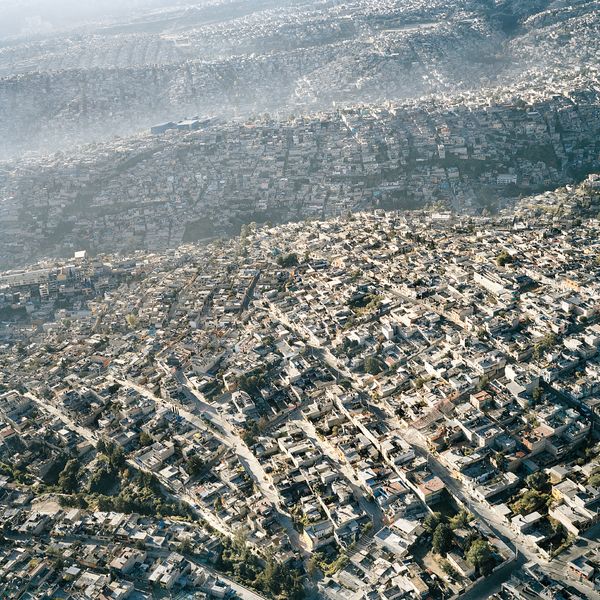 Pablo López Luz Vista Aérea de la Ciudad de Mexico XIII from Terrazo, 2006
Pablo López Luz explores the relationship between humans and their environment in his landscapes with a focus on his hometown of Mexico City. His experimentations with vantage points and framing challenge our way of engaging with a landscape. López Luz has exhibited at a number of institutions, including the International Center of Photography in New York and Fondation Cartier pour l'art contemporain in Paris and the San Francisco Museum of Modern Art holds another print of this image.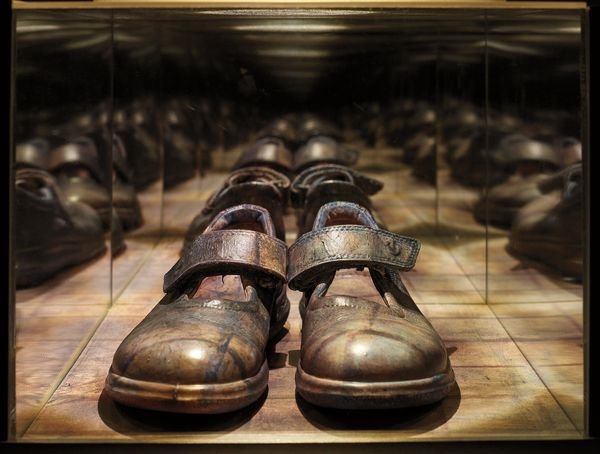 Graciela Sacco M² Infinite: How much is a square meter of waiting?, 2009
'It is centred on movement, on displacements, including those made in order to reach that place that one thinks is his/her own. And it is that small place, that square meter that has generated a thousand migrant stories that populate the world in all directions. The images from this period were conceived as signs and metaphors of the man in transit.'
— Graciela Sacco
In the present work, Sacco uses a self-developed photographic process, which she calls 'heliography'. This technique, involving light-sensitive chemicals, a handmade apparatus and sunlight, was applied to imprint the shoes and the wooden bottom of the cube with a gridded pattern, reminiscent of tiles. These are encased within a mirrored cube with metal sides and a light is affixed to the top. The installation is best viewed at eye level, in a darkened room with the overhanging light illuminating the shoes below. Looking into the box, the result is a captivating illusion of infinitely repeating shoes.
Graciela Sacco addresses some of contemporary society's biggest problems – famine, displacement, homelessness, violence and corruption – in her photographic, video and installation work. Sacco represented Argentina at the 1996 Bienal de São Paulo and the 2001 Venice Biennale. She has exhibited at the Museum of Fine Art, Houston; Museo de Arte Moderno, Buenos Aires; and Maison de l'Amérique Latine, Paris.