Laurent Maous Jean Cocteau, Annabel and Bernard Buffet in Paris, February 1, 1962 © Laurent MAOUS/Gamma-Rapho via Getty Images
The French do really have one good painter, Buffet.

— Andy Warhol
Almost 60 years ago, in January 1958, the drab mood of Paris in winter was enlivened by an event that galvanized a city still bearing the physical and emotional scar tissue of the Occupation. Beyond "visits by the Queen of England and the Liberation of Paris, I have rarely seen so many people in one place in our capital," ran one newspaper report. "Neither Brigitte Bardot, nor Françoise Sagan nor la Callas could have hoped for more" observed another. Traffic was solid from the Elysée Palace to the Rue de la Paix, as thousands gathered in the center of the French capital.
But this was no state visit. Nor was it a public appearance by a film star. It was the opening of a retrospective of the work of a young artist not yet thirty. A painter known, according to the journal Arts, as "the most talked about artist in France after Picasso"; he was part of the constellation of young talent The New York Times named "France's Fabulous Young Five" along with Bardot, Vadim, Saint Laurent and Sagan. He lived in a castle in the South of France and was driven in a Rolls Royce.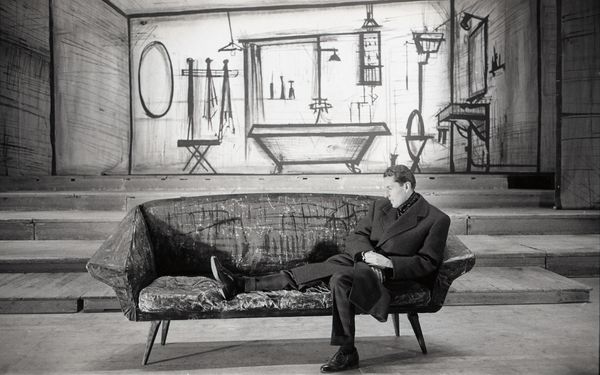 Loomis Dean Bernard Buffet sitting on the set of Françoise Sagan's ballet 'Le rendez-vous manqué', February 1958 © Loomis Dean/The LIFE Picture Collection/Getty Images
Today it is difficult to imagine the scale of the impact that Bernard Buffet had on mid-century France. He came to prominence in the years of post-war austerity, capturing the harshness of those times with still lives of the mean objects that were part of Parisians' lives: stumps of candles, etiolated cutlery, coffee grinders, desiccated scraps of food, empty bottles, forlorn gas stoves — representing a world ordinary people could relate to.
By the age of 20 he was famous as the joint winner of the Prix de la Critique. By the age of 27 he had been named France's most important post-war painter by Connaissance des Arts. He had the good fortune to be discovered early by two of the great collectors of pre-war France: Maurice Girardin and Roger Dutilleul, who had bought Picasso, Modigliani, Braque, Utrillo, Léger and Miró when they had been affordable, and who, in their final years saw in Buffet something similar to what they had seen in Picasso.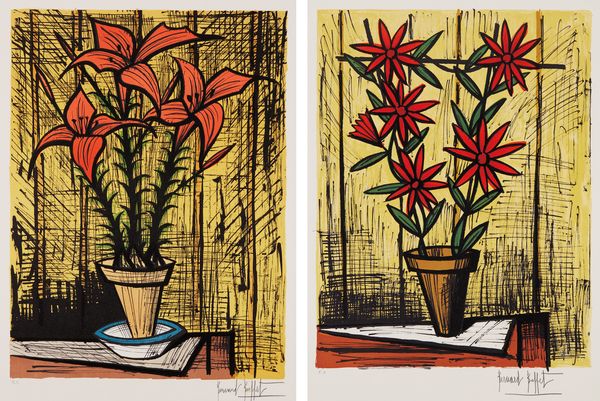 Bernard Buffet Marguerites rouges (Red Daisies), and Fleurs oranges dans un pot (Orange Flowers in a Pot), 1983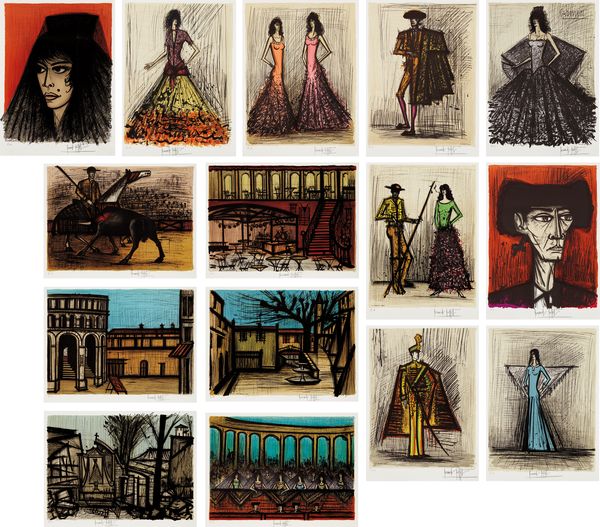 Bernard Buffet Carmen, Decors et Costumes (Carmen, Decorations and Costumes), by Charles Sorlier, 1981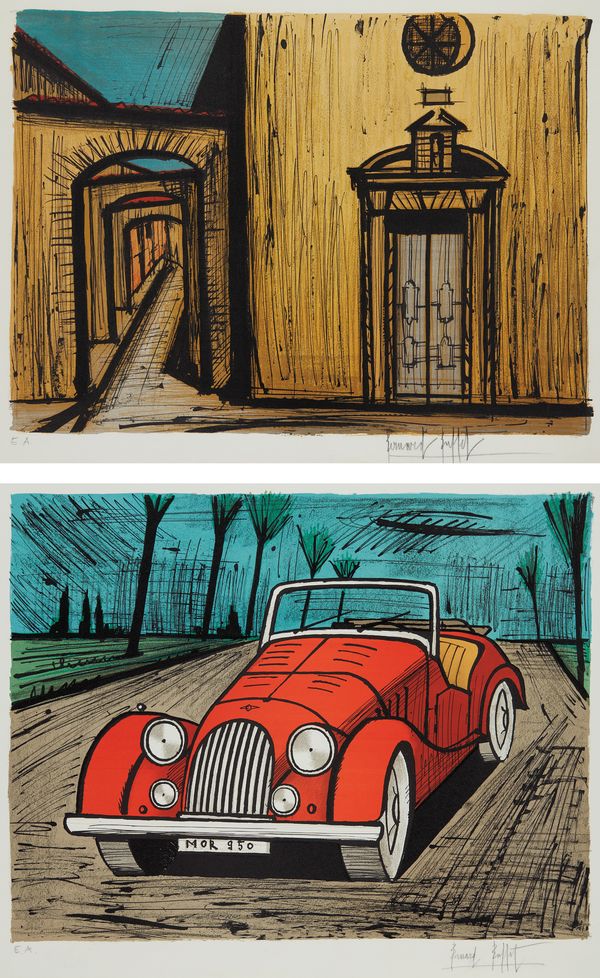 Bernard Buffet La rue et l'eglise de la Miséricorde (The Street and the Church of Mercy), from St. Tropez; and Morgan, 1979 and 1985
As well as popular appeal and critical validation, he had the backing of leading intellectuals and writers: Aragon, Mauriac and Cocteau. He was as productive as he was precocious. His lover for most of the 1950s, Pierre Bergé, recalled how he could finish twenty or thirty drawings in a day. His talent as a draughtsman and his stark line can be particularly appreciated in his engravings and lithographs.
It was a skill that never left him, his series of works interpreting Dante's Inferno are masterpieces of emotionally expressive anatomical drawing: the twisting muscles of a neck; a bared row of teeth; a head arched back in agony until it is an almost abstract depiction of sternocleidomastoid tension: all these manifestations of mental and physical agony are perfect for the harsh, unforgiving technique of Buffet the engraver, with his mastery of light and shade.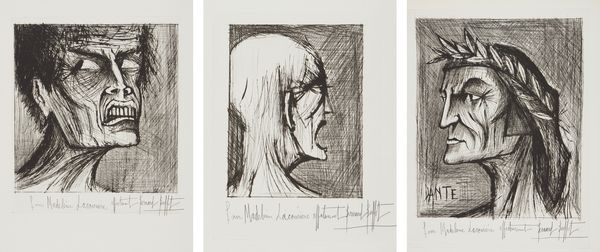 Bernard Buffet L'Enfer de Dante (Dante's Inferno); L'Enfer Angelo (The Angel of Hell); and L'Enfer damned ricanant (The Damned Hell Laughing), from L'Enfer de Dante (Dante's Inferno), 1977
His Inferno was created two decades after his moment of apotheosis in 1958 and his subsequent fall. His sin was to be young, successful and rich. When Bergé left him, he married a fast-living Saint-Germain, chanteuse, novelist and fashion model named Annabel Schwob.
With her at his side, he became a part of the Paris Match society of millionaires and glossy vedettes seen at Maxim's and Castel. The cultural elite never forgave him and he paid with his reputation; a reputation that is only beginning to be reassessed today.
Nicholas Foulkes is the author of over 20 books including 'Bernard Buffet: The Invention of the Modern Mega-Artist' in addition to a critically-acclaimed series of early 19th century histories. He is also an internationally recognized authority on luxury travel, material culture, timepieces and the arts.