Eduardo Sarabia: Drifting on a Dream at The Mistake Room
This month marked the launch of Pacific Standard Time LA/LA, an ambitious initiative spearheaded by The Getty that features exhibitions at over 70 arts institutions across Southern California. Unlike the first edition of PST, which focused on the Los Angeles art scene from 1945-1980, this latest iteration takes a more international approach by looking past the southern border of the United States to explore LA's relationship with Latin American and Latino Art.
The roots of Los Angeles are inextricably intertwined with Latin America, both historically and in modern-day demographics, and this exciting series of exhibitions and events will engage citizens from the region—as well as the greater art world—in a dialogue about the past and future of Latin American Art. As Michael Govan, director of LACMA, said at an event in Mexico City in February, "We have so much to do to make everyone understand how connected our cultures are—how connected we are. There is no us and them. There is just us and us."
This September, Kaeli Deane, Head of Latin American Art, traveled west for the launch of PST LA/LA to experience the range of ambitious projects and explore their impact on the world's view of Latin American Art. Below, browse her highlights and insights to help you navigate the expansive initiative from San Diego to Santa Barbara, and everywhere in between.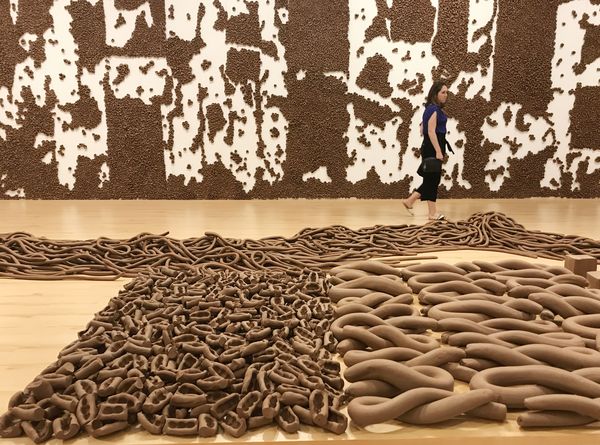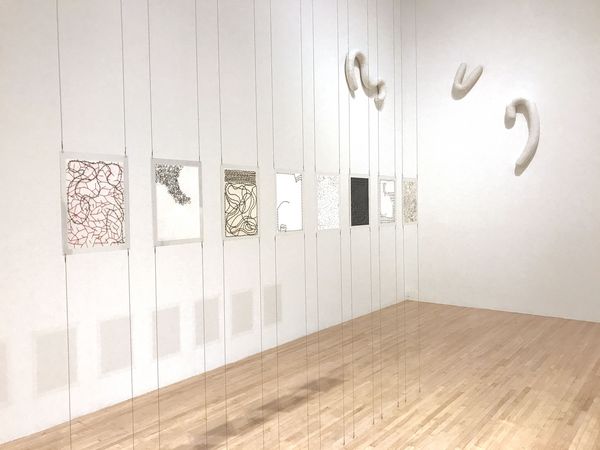 Anna Maria Maiolino at MOCA
It's hard to believe this is Anna Maria Maiolino's first major museum retrospective in the United States. Curated by Bryan Barcena and Helen Molesworth, this exquisitely-installed exhibition surveys the artist's career from the 1960s to present, including a massive installation created specifically for this show.
The Italian-born Brazilian artist left her home during the thralls of World War II, traveling first to Venezuela before eventually settling with her family in Rio de Janeiro as a young woman. Much of her early work deals with themes of hunger and language, often focusing on the mouth as her subject and demonstrating the difficult journey that Maiolino took from a war-torn Europe to foreign countries where she was forced to learn new languages and consume new cultures. During the 1960s, she also utilized the style of Brazilian Pop, which, unlike its American counterpart championed by Andy Warhol and Roy Lichtenstein and centered on consumerism, was used by Brazilian artists to criticize the military dictatorship in place. This show presents Maiolino's process-based work, which employs materials including concrete and unfired clay to explore both female identity and the role of mothers in society. This show is an absolute 'must-see' on a trip to LA during PST.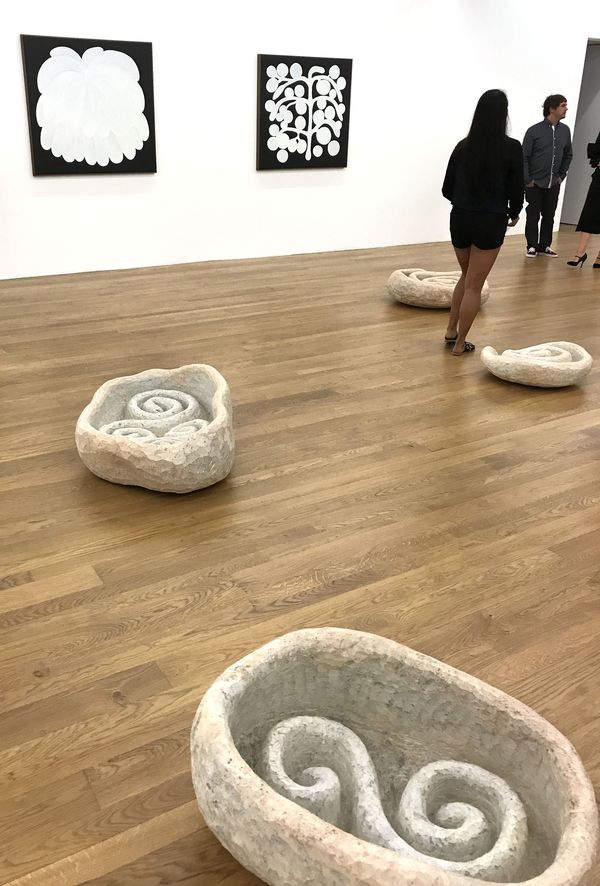 Solange Pessoa at Blum & Poe
After MOCA, I would recommend visiting Blum & Poe to see Solange Pessoa's brilliant exhibition, which has many interesting ties to Maiolino's work. A generation younger than Maiolino, Pessoa creates art inextricably linked to Brazil's heartland, her home state of Minas Gerais, a place with many important spiritual and cultural associations. Pessoa's use of materials like soapstone, bird feathers and human hair imbue her practice with an ancient, otherworldly quality that is deeply personal but also powerfully engaging.
Her work often mimics biological forms, and certain sculptures even include living plants, which Blum & Poe smartly installed in a beautiful outdoor exhibition space. The show has a primordial energy that is intoxicating and allows for a moment of respite during a busy day traipsing around Los Angeles.
Many of the names in the Hammer exhibition are almost entirely unknown internationally, showing just how often female artists are left out of the art historical canon...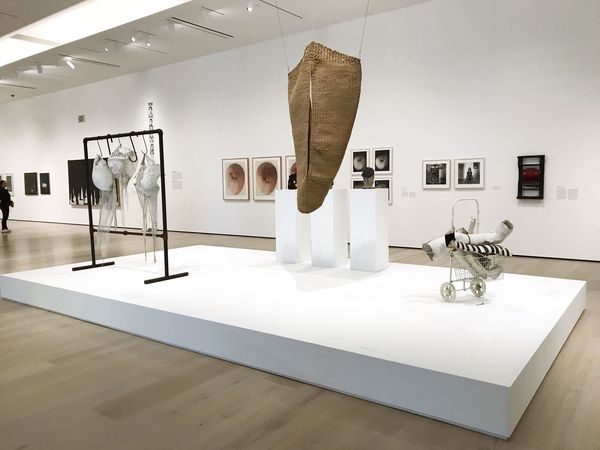 Radical Women, Latin American Art, 1960-1985 at the Hammer Museum
One of the most ambitious and enlightening exhibitions included in PST LA/LA, Radical Women was in development for six years before finally coming to fruition at the Hammer Museum. The show features 260 artworks by over 100 artists from 15 countries throughout Latin America. Many of the names in this exhibition are almost entirely unknown internationally, showing just how often female artists are left out of the art historical canon despite their presence in society.
This is a dense but entirely rewarding show in which you will want to spend significant time watching videos and reading informative wall texts. It quickly becomes evident that the research from this show will be a much-needed catalyst for propelling many of these artists from the shadows to the forefront of the art world. Photography, video and performance art dominate this exhibition, which co-curator Cecilia Fajardo-Hill explains resulted from the fact that women were rarely able to compete with their male counterparts in traditional mediums like painting and sculpture. Don't miss this groundbreaking show and be sure to pick up a copy of the catalogue as you exit, as you will be compelled to learn more.
This is the show that will inspire curators and collectors alike for generations to come.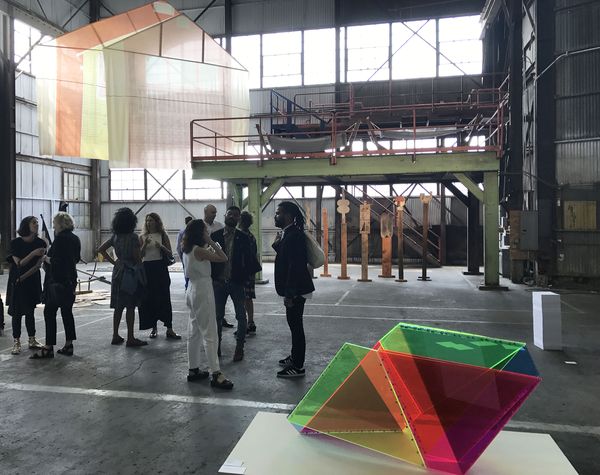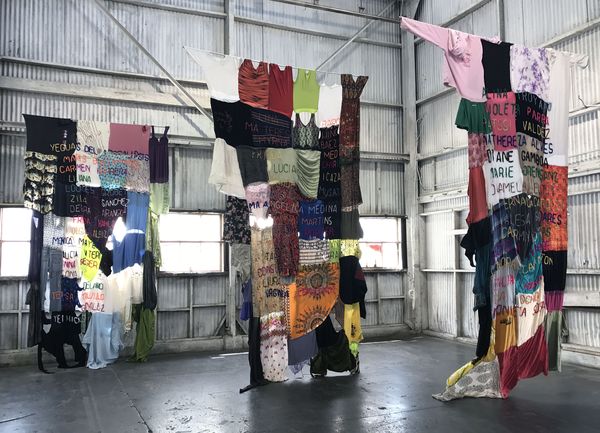 proyectosLA at Werkartz
An exciting alternative to the traditional art fair, proyectosLA features 19 galleries from Latin America and the United States presenting over 60 artists in a giant 20,000 square-foot Chinatown warehouse. Curated by Luiza Teixeira de Freitas and Claudia Segura, proyectosLA is an exhibition "without walls" that promotes dialogues between these diverse galleries and the various artists they represent, blurring traditional boundaries and showcasing both modern and contemporary Latin American art in a progressive new way. Galleries include OMR from Mexico City, Cecilia de Torres from New York and Instituto de Visión from Bogota, among others, and artists range from Carlos Cruz-Diez to Carmen Argote. By extending the exhibition to six weeks rather than just a few short days, these galleries are able to connect with collectors and curators in Los Angeles, creating a foothold in the city that will help them bond with the vibrant LA art community.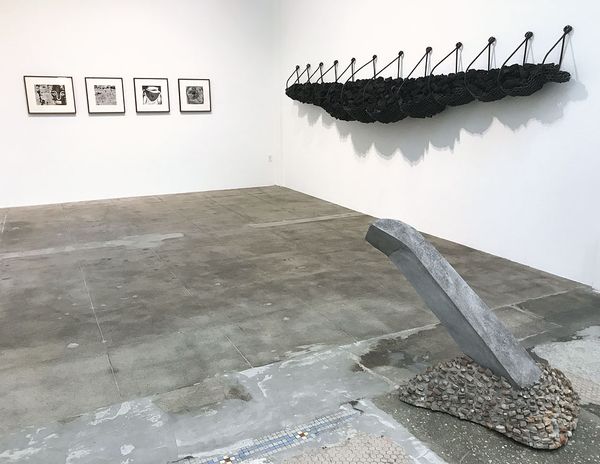 Works by Geraldo de Barros and Ivens Machado in Building Materials: Process and Form in Brazilian Art at Hauser & Wirth
Hauser & Wirth's massive Arts District gallery is the perfect place to mount their new group show of process and material-based Brazilian art from the 1950s to today. The exhibition takes early Concrete works by Geraldo de Barros as the basis for an exploration of the ways in which future generations of Brazilian artists have blossomed from this fundamental movement. De Barros' silver gelatin photographs are the real stars here, where grids composed of everyday objects are elegantly layered in subtle tonalities of black and white.
It's particularly exciting to see 1980s-generation artists like Nuno Ramos and Ivens Machado, whose careers flourished in Brazil yet are relatively unrecognized internationally, prominently exhibited as the essential bond between Concretism and a number of contemporary artists today. Younger artists also shine here, such as Rodrigo Cass and Lucas Simões, both of whom incorporate concrete into their multimedia works and offer an accessible price point for younger collectors.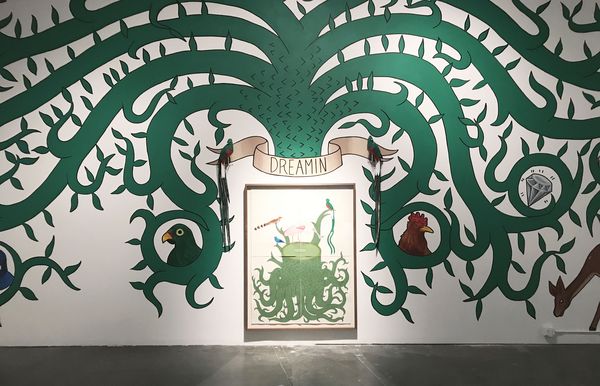 Eduardo Sarabia: Drifting on a Dream at The Mistake Room
Eduardo Sarabia's show at The Mistake Room feels particularly relevant in the context of PST LA/LA. Sarabia straddles the intangible border between Los Angeles and Latin America as an LA-born artist now based in Guadalajara. This survey upends the traditional chronological format, instead choosing to focus on recurring themes through Sarabia's work, such as narco-trafficking and mythical treasure hunting.
His work is undeniably narrative, making it easily approachable, but his meanings are often two-fold. The colorful murals and beautiful talavera-style pottery that immediately greet viewers as they enter the space are interspersed with images of sex, violence and drugs that complicate our understanding of Mexico's economy and class structure.
Based in New York, Kaeli Deane is Specialist and Head of Department, Latin American Art at Phillips.