Andy Warhol Knives, 1981
Monumental in scale and pulsating in repeated bands of red and black, Knives, a dramatic and poignant composition by the master of American Pop Art, presents an eminently recognizable symbol: the commonplace kitchen knife. Astutely identifying the more sinister themes in the American consciousness, Andy Warhol saw the kitchen knife as a symbol for the underbelly of popular culture.
A form of memento mori, this Warhol screenprint from our London Evening Sale highlights the disparity between symbolic connotations and artistic aesthetics. By using the silkscreen as a means to mechanically repeat the lurid image of the knife across the broad swathe of canvas, Warhol not only delves into the domain of mortality but also seamlessly intensifies the painting's menacing undertone into a compelling aesthetic experience.
Following the multiple-gunshot attempt on his life by writer Valarie Solanas in 1968, Warhol became concerned with the depiction of violence, confronting the morbidity of everyday life. First exhibited as part of his show at Castelli-Goodman-Solomon Gallery in New York in 1982, Knives created an unsettling and profound contrast between the extravagant venue and the morbid and cynical subject matter of the somber works on display. The show presented three prominent symbols: knives, guns and dollar signs. With this unholy trinity of images taken from unremarkable, everyday objects, Warhol produced a brutal and unsettling portrayal of American consumerist culture.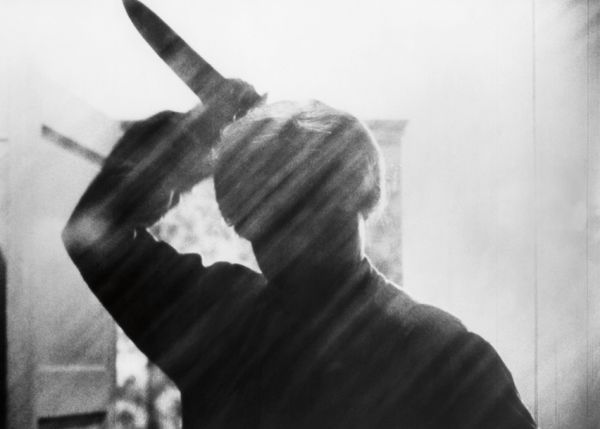 Still from the film Psycho, 1960 directed by Alfred Hitchcock
Warhol had spent decades attempting to replicate the blunt and bloody truths of capitalist society and found himself compelled by the terrors of American crime. The artist began his preoccupation with the darker side of contemporary culture with 129 Die, his 1962 work depicting a plane crash. He also considered his depictions of Marilyn Monroe, Jackie Kennedy and Elizabeth Taylor as intrinsically tied to the theme of death through their respective severe illness, relation to the assassination of John F. Kennedy and attempted suicide. The long, burgeoning but also unseen struggle of the civil rights movement, for instance, is encapsulated in Warhol's silkscreen of the race riots in 1963, encapsulating an ingrained violence of the time.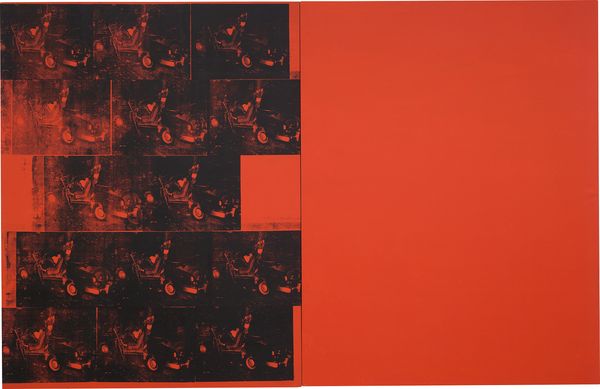 Andy Warhol Orange Car Crash Fourteen Times, 1963. Museum of Modern Art, New York © The Andy Warhol Foundation for Visual Arts, Inc./ DACS 2017. Image: Bridgeman Images
Just like Knives, this unsettling silkscreen reveals the power of a photographic image and how the same image can be employed, as in advertising, to manipulate but also disturb an audience. Yet the orderly rows of carefully composed blades in Knives reveal an innate and disturbing vacancy; focusing primarily upon the instrument rather than the act of violence, Warhol universalizes moments of inhumanity, focusing on the terrible capability of harmful materials.
Silkscreening his Knives in bold tones of fiery red, commanding a sinister respect, the normal, utilitarian function of these eight-inch kitchen knives suddenly becomes ambiguous, even malevolent. Akin to prints of photographic evidence or the remnants of a criminal investigation, the knives are arranged in careful and clinical clusters, and the metallic surfaces of the blades become larger as each progressive knife is placed one on top of the other. Contrasted against a cavernous black background, the graphic red knives evoke an ominous palette of foreboding.
[Warhol] chooses the common object, considered by most of us as nothing special, and elevates it to art. Kitchen knives never looked more interesting and beautiful.
— Vincent Fremont
In comparison to his choice of color in his retrospective series, in which Warhol had tried to avoid using the vibrant and garish Pop colours in favour of more muted tones, in Knives, Warhol employs a particularly saturated, blood-red hue. Invoking a dark, forbidding warning suggestive of bloodshed, the stark crimson blades startle the viewer. The theme of the knife functions in much the same way as Warhol's portrait of the electric chair: it simultaneously frightens, warns and impacts the viewer.
Commenting on the ubiquity of death in mass media, his depictions of seemingly violent subjects remark on the ease with which distressing imagery is distributed. Dissecting the proliferation of violent imagery, the artist questions the impact of shock, having asserted in 1963, as quoted in ARTnews, "when you see a gruesome picture over and over again, it doesn't really have any effect."
While experimenting with the photography of rare knives and daggers in the 1970s, Warhol asked his assistant to source more ordinary utensils from a restaurant supply shop in New York; he returned with a selection of "Galaxy 8-inch Slicer's." For Andy Warhol: Knives Paintings, Cologne in 1998, Robert Rosenblum and Vincent Freeman wrote that the artist was captivated by "the common object, considered by most of us as nothing special." Warhol's layered images of the knives with their positive and negative outlines make them appear like ghostly apparitions, suspended in mid-air. Wrote Rosenblum and Freeman, "Kitchen knives never looked more interesting and beautiful."
The Guns and Knives works from 1981-1982 mark the artist's dominant return to full-time painting in his studio.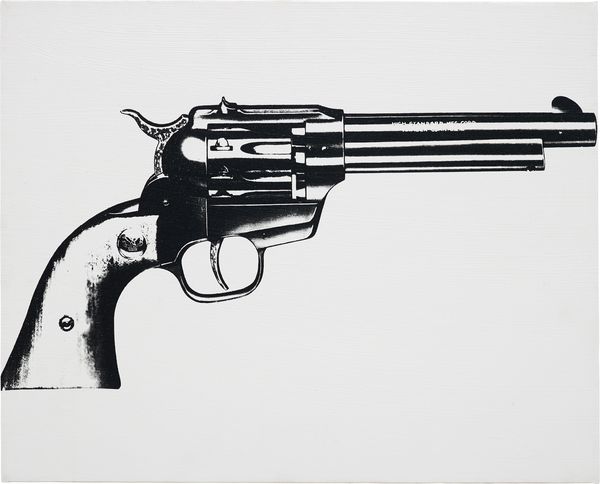 Andy Warhol Gun (Cowboy six shooter), 1982
In a similar vein, we find the subject of Warhol and guns. Having already established his own stature within the world of contemporary art, Warhol survived an attempted murder at the hands of feminist author Valerie Solanas in 1968. He was quoted in Andy Warhol and Pat Hackett, POPism: The Warhol Sixties, Orlando, 1980, explaining how the incident unfolded: "... as I was putting the phone down, I heard a loud exploding noise and whirled around: I saw Valerie pointing a gun at me and I realized she'd just fired it. I said "No! No, Valerie! Don't do it!" and she shot at me again. I dropped down to the floor as if I'd been hit I didn't know if I actually was or not. I tried to crawl under the desk. She moved in closer, fired again, and then I felt horrible, horrible pain, like a cherry bomb exploding inside me."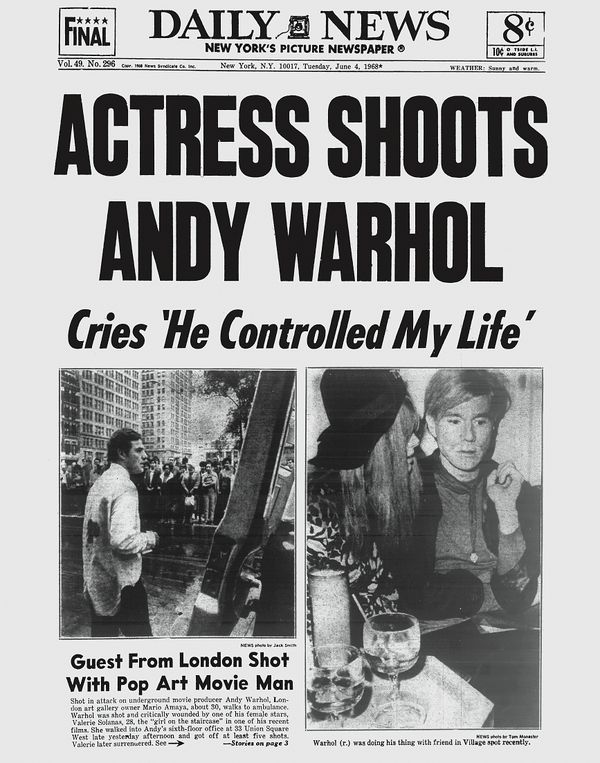 Daily News front page 'Actress shoots Andy Warhol', 4 June 1968 © 2017 The Andy Warhol Foundation for the Visual Arts, Inc./ Artists Rights Society (ARS), New York and DACS, London. Photo by: NY Daily News via Getty Images
A Factory outlier, Solanas shot and severely wounded Warhol. Gun (Cowboy six shooter), another important work that features in our upcoming evening auction in London, was painted 13 years after the shooting and represents a turning point in Warhol's artistic sensibility, not only offering a deeply personal exploration into Warhol's encroaching sense of mortality but exhibiting his all-consuming obsession with the events that both psychologically and physically scarred him. In Gun (Cowboy six shooter), the artist presents the viewer with a silkscreened silhouette of the same model of pistol that so nearly claimed his life. Starkly brandished against a cool, monochromatic background, the slick outline of a pistol dominates the expanse of canvas. Rather than saturating his object with the bold, tonal colors typical of his earlier works, such as the Marilyn Monroe portraits, Warhol reveals the cold, harsh edges of the realistic gun, glinting sinisterly at the viewer. Seemingly devoid of emotion, the inherent phallocratic nature of the gun is suggestive of an overt declaration of power, ownership and authority — a visual symbol that naturally begets violence and machoism.
The inherent phallocratic nature of the gun is suggestive of an overt declaration of power, ownership and authority.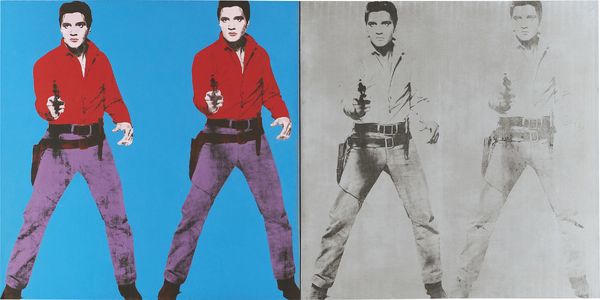 Andy Warhol Elvis I and II, 1963-1964. Art Gallery of Ontario, Toronto © 2017 The Andy Warhol Foundation for the Visual Arts, Inc./ Artists Rights Society (ARS), New York and DACS, London. Image: Art Gallery
There is a paradoxical air to the work; the seemingly shiny glint of the gun could almost be suggestive of a desirable commodity, a status symbol in a glossy advertisement. Yet Warhol's unremitting preoccupation with the loaded reputation of the gun reveals something of the artist's own anxiety and fear in facing death. Refusing to let go of the image of the weapon, Warhol became consumed by its violent and macabre underside. This obsession continued to dominate his artistic output, as also seen in his Death and Disaster series and Knives paintings. The dread appears to mount in the specatular images of American violence that submitted knives and guns to Warhol's canon alongside the Campbell's soup cans.
The Guns and Knives works from 1981-1982 mark the artist's dominant return to full-time painting in his studio and assert his increasing concern with the immediacy of death and violence. Similarly to how he captured and monumentalized themes of celebrity or commerce, the artist has appropriated a household object and placed it into his iconic strata. It was not until the early 1980s that the artist came to single out these violent instruments with the kind of isolated scrutiny with which he had earlier transformed supermarket products as emblems of American culture.