Hurvin Anderson Peter's Series: Back, 2008 (detail)
Peter's Series: Back is a pivotal work from Hurvin Anderson's esteemed Peter's Series, a group of eight dynamic paintings and over fifteen works on paper, which firmly established the artist's practice on an international platform.
Anderson's work has been celebrated [for its] representation of British and Caribbean culture, captured through a nostalgic lens.
Nominated for the 2017 Turner Prize, Anderson's work has been internationally celebrated thanks to his profound representation of British and Caribbean culture, captured through a nostalgic lens, his canvases expertly traversing the lines of abstraction and figuration. Reducing the domestic attic space to a geometrically abstract setting, Anderson introduced the figure as the main focus of the canvas in his last three works within the series. With its centrally seated figure and exquisitely rendered interior, Peter's Series: Back encapsulates Anderson's development of his composition, where figure and background converge in a harmonious marriage of geometric planes, enriched colors and evocative intimacy.
Emigrating from Jamaica after the Second World War, Anderson's parents were part of the Windrush generation of Caribbean migrants who arrived in Britain from the late 1940s to the mid-1960s. Growing up in Birmingham, his oeuvre reflects on his cultural experience being British-Jamaican and explores his "own relationship to the Caribbean," as he explained in conversation with Thelma Golden for Tate Britain, London in 2009.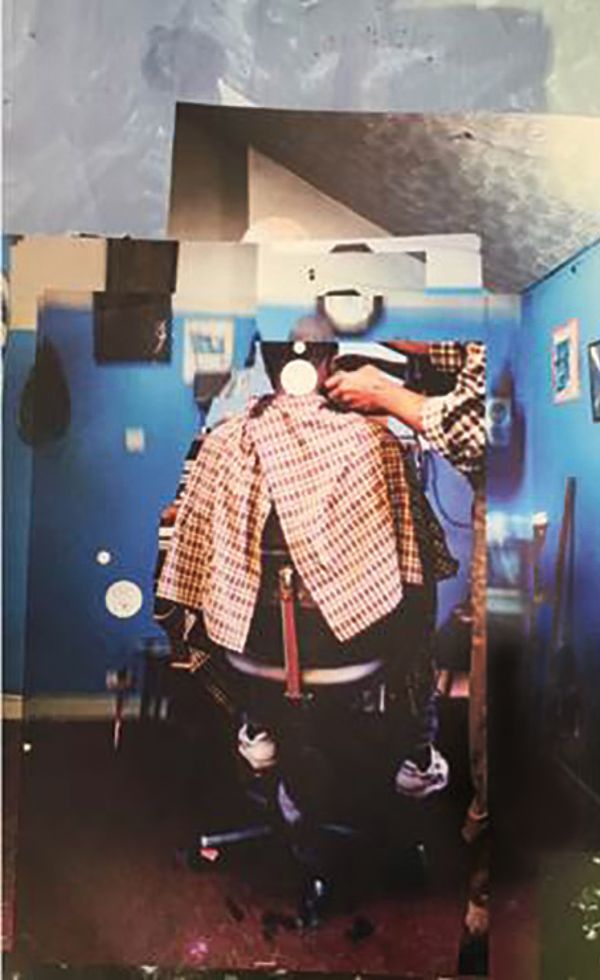 Hurvin Anderson's original photograph of Peter Brown's attic © Hurvin Anderson
On arrival, the Caribbean migrants faced an unwelcome reception from their fellow British citizens, soon creating their own support networks inside community members' houses. Establishing small churches, blues parties and Black salons or barbershops in domestic spaces, public social hubs for the Black community, such as dancehalls, were few and far between. A space to both socialize as well as have a haircut, black barbers became a convivial arena to relax and discuss politics, sport and current affairs. Anderson's father would take the young artist to his friend Peter Brown's attic room, which he had converted into a barbershop.
On picking his father up one day, Anderson took a number of photographs to document the space. He explaned in conversation with Golden in 2009, "At first it was the physical space itself that intrigued me, the attic seemed to have a presence; it seemed like somewhere that had been forgotten, some sort of secret meeting hall. I realized that there was something about the figure in the chair and the whole nature of that intimate but shared space that was compelling and that I wanted to paint." He retrospectively studied his photographs of the room, which he amalgamated from multiple memories of the space and imagination, to construct this dynamic, varied series.

Painted in January 2008, Peter's Series: Back gracefully transcends both the figurative and abstract, depicting an unknown sitter pre- or post-haircut. The series provided Anderson with an aesthetic playground to explore the realms of detail, texture and abstraction. In his initial paintings, Peter's I and Peter's II, Anderson rendered figurative interiors, focusing on selected objects to record the space. By Peter's III, however, the artist's shapes became flattened, reduced to their formal essence to promote their momentary physicality as if glimpsed or recalled from memory. In the last three canvases from the series, Anderson transports the figure to the forefront of the paintings. As he stated in 2009, "After dealing with the complexities of representing the barbershop itself, the last three paintings focus on the client and the viewer's relationship to him." Mathematically calculated and meticulously planned, Anderson's interior compositions display a sense of perspectival complexity, also evident in the work of Richard Diebenkorn, whereby the viewer feels as if they may be viewing the scene "slightly outside of things," as stated in the 2013 exhibition catalogue for Ikon Gallery, Birmingham, while also assuming the dominant visual position. In Peter's Series: Back, subject matter, perspective and abstraction visually converge to produce a sumptuous energised scene, coursing with the tempo of daily life.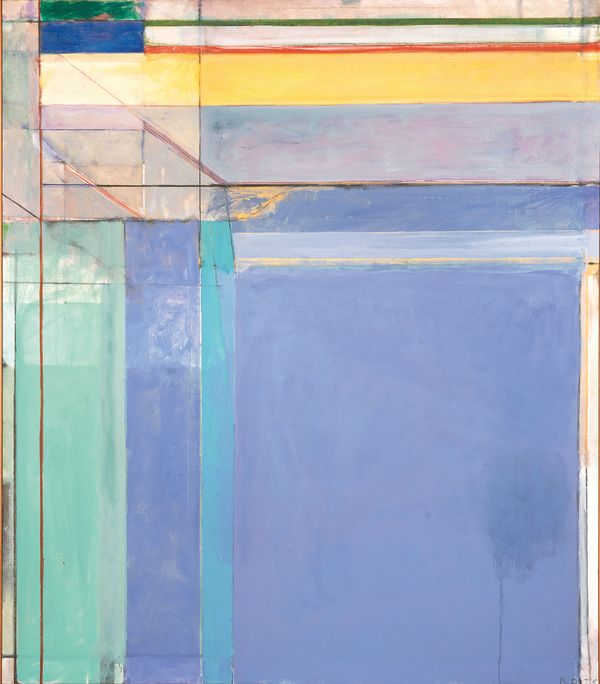 Richard Diebenkorn Ocean Park No. 79, 1975, oil on canvas, Philadelphia Museum of Art © Richard Diebenkorn Foundation 2017. Image: Scala, Florence
While pioneering uniquely refreshing experimentations with perspectival composition, this important work from our London Evening Sale continues a painterly dialogue with some of the most prolific artists of the twentieth century. The influence of Henri Matisse's dissonant colors, naïve brushstrokes and geometric interiors are evident in Peter's Series: Back, as well as the intimate treatment of the figure, as seen in David Hockney's canvases. Turquoise blue floods our eye line, deep and tropical like the Caribbean Sea, contrasting with the geometric sections of brown floor, adorned walls and white ceiling overhead. Light accents highlight areas of the floor, while the central figure sits poised on an office chair ready for his cut, emphasizing the homeliness of the scene.
...the barbershop became such a complex and ambiguous place that I felt compelled to return to it again and again...In the back of my mind I also knew that the figure from my photographs would eventually have to make an appearance.

— Hurvin Anderson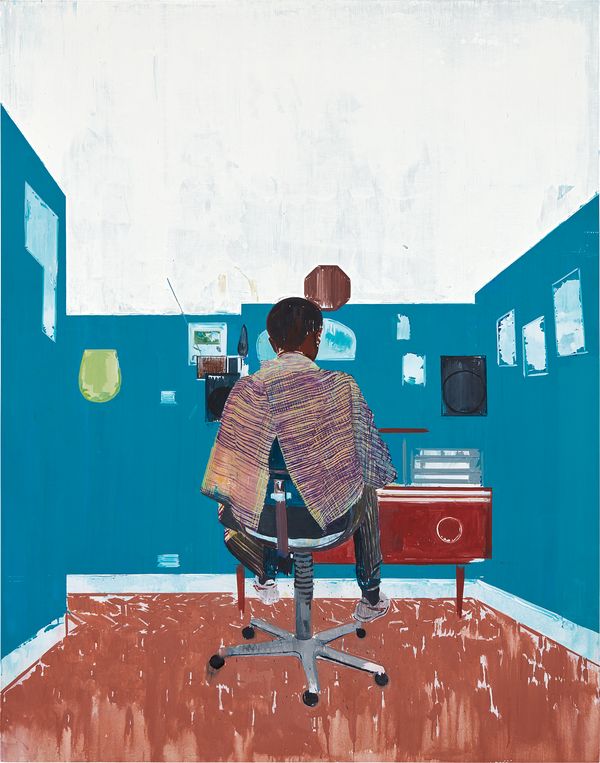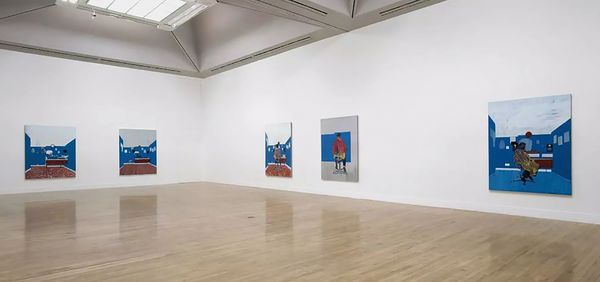 Peter's Series: Back (above) exhibited at Art Now: Hurvin Anderson. Peter's Series 2007 - 2009, Tate Britain, London, 3 February - 19 April 2009. Image courtesy Tate, London, and Thomas Dane Gallery
Also depicted in the painting is a radiogram, which holds particular cultural resonance for the contemporary Afro-Caribbean community, occupying "a space like a religious object. It was not just a tool, but tremendously important because it was a way of bringing back home into the new place through Caribbean music…it was a subversive machine because it was carrying a different message: a message about the past, about memory, about home, about a new generation, about making a life in this rather inhospitable cultural climate."
Imbued with social history, the canvas oscillates between the past and present, the near and far, like a radio tuning in and out of reception.

Peter's Series: Back conveys a timeless quality where the viewer is suspended in Anderson's architectural microcosm, our viewpoint commanding the picture's perspective. On inspection, however, the walls and ceiling in the attic room seem to shift as if in motion. There is an uncanny sense of dream-like dislocation where the colored planes slide together in a transitory puzzle. Working primarily from photos, as well as his own personal thoughts, Anderson's Peter's Series explores the intangibility of memory and how it's informed by various experiences, life events and visual signifiers.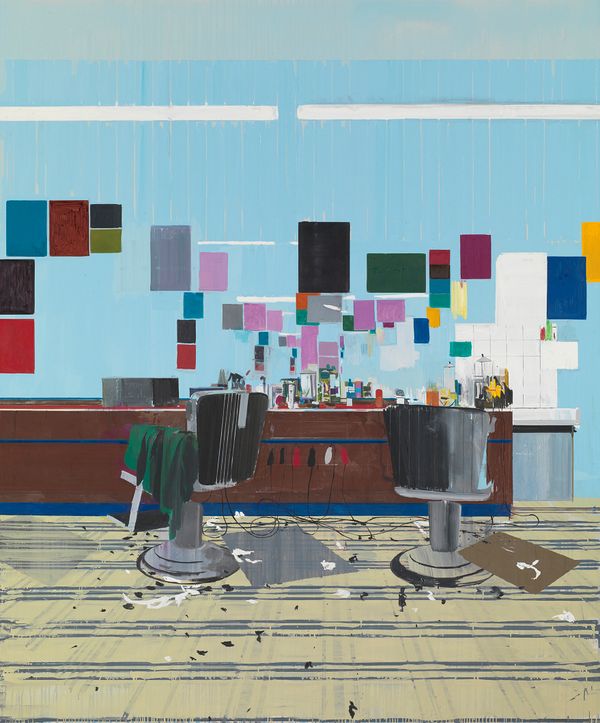 Hurvin Anderson Jersey, 2008, oil on canvas, Tate, London © Hurvin Anderson / Tate, London 2017
A formalization of numerous recollections, his panelled pictures also introduce the idea that the harmony of an image is comprised of a choir of different voices. Opening the pictorial space as an inclusive realm, Anderson invites the viewer to bring their own cultural experiences and memories to the canvas, thus creating a visual tension where viewer and artist are connected in their contextualization of the imagery presented to us. It is this evocative quality, as well as its poignant subject matter and rich palette, which makes Peter's Series: Back a charming rarity in British contemporary painting.