"Carsten Höller: REASON", installation view. Artworks © Carsten Höller. Photo by Rob McKeever
Keeping in tandem with recent large-scale and immersive institutional shows, such as Yayoi Kusama's blockbuster at the Hirshhorn Museum & Sculpture Garden and the installations at this year's edition of Art Basel Unlimited, New York galleries brought multimedia to their summer programs. Phillips editors look at three shows across two boroughs that trended big.
'Leo Villareal'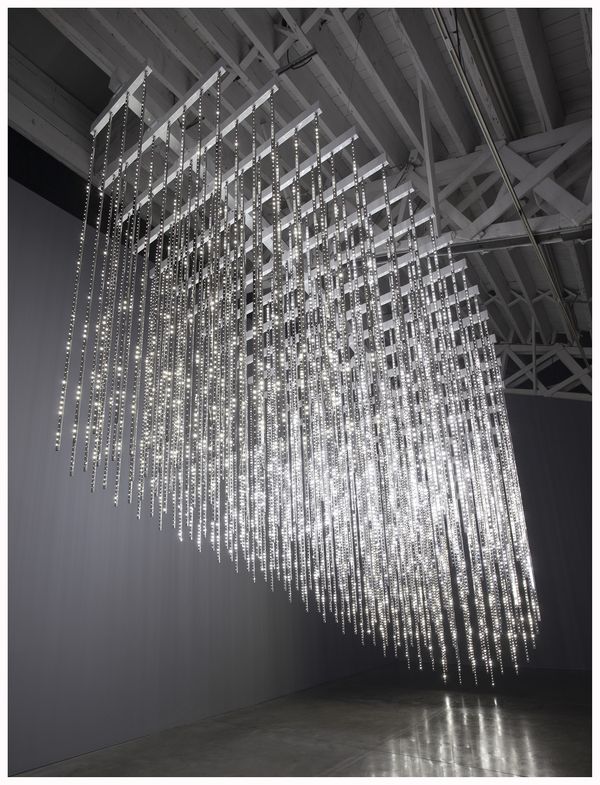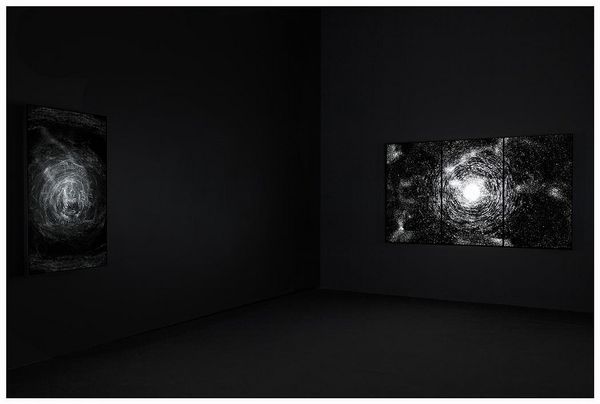 Installation view of Leo Villareal, photography by Kerry Ryan McFate, courtesy PACE Gallery
One of the most Instagrammable shows of the summer, PACE Gallery's solo exhibition of New York-based light artist, Leo Villareal, brings the artist's large-scale installations to the fore. Villareal is known for using LED lights to create complex, rhythmic artworks for both gallery and public settings. Interested in pixels and binary code, Villareal creates custom, artist-created code that produces constantly changing frequency, intensity and patterning of lights. While seemingly whimsical, abstract and effortless, Villareal's installation work is helmed by complicated algorithms.
A background in technology and former life in Silicon Valley helped to steer Villareal towards working with lights. This current exhibition uses a mix of LEDs and projections to create an ethereal and abstract environment. Leo Villareal is part exhibition, part immersive experience.
For me, art has always served as a portal – something that takes the viewer to another place.
Giving the artist's pieces an even greater sense of depth and motion is his custom-developed software which operates in an extremely high resolution. Each work in the show employs its own sequence, creating an individual viewing experience. Through his use of ambiguity, Villareal allows for a uniquely personal interpretation of his work, transporting the gallery-goer to another place altogether.
Leo Villareal is on view at PACE Gallery through 11 August.
'Carsten Höller: REASON'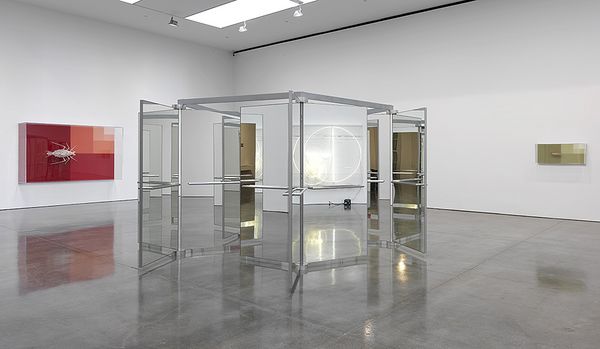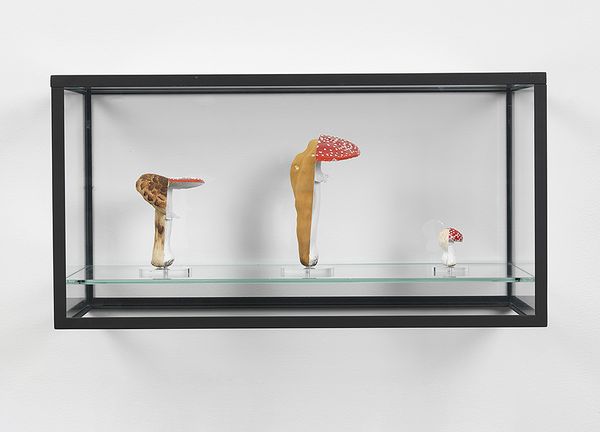 Carsten Höller Double Mushroom Vitrine (Threefold), 2015 Artwork © Carsten Höller. Photo by Rob McKeever. Courtesy Gagosian
Gagosian's Chelsea outfit on 24th Street presents German artist Carsten Höller's most recent work in Carsten Höller: REASON this summer season. This is the artist's first solo-exhibition since his critically-acclaimed, experiential New Museum exhibition in 2011, which featured, among other highlights, a three-story slide. Höller is invested in large-scale installations and applies his training as a scientist to his practice, concentrating particularly on the nature of human relationships. His projects invite viewer participation and interaction while questioning the logic behind the art they're experiencing.
I start with a formula to get a process going, then the formula takes over and continues into infinity on its own. It is not about creative decisions anymore; there is no choice, only reason.
Filling Gagosian's galleries are giant mushrooms, mirrored revolving doors, abstract paintings, little fishes and one very large dice. Höller unites art and play to transform Gagosian into a laboratory that is equally rational as it is irrational. Höller has been fascinated by research and the methods used to understand the world, human behavior, fungi, insects and animals; his The Giant Triple Mushroom sculptures, which combine three different fungal species, demonstrate this detailed appreciation of science — thus emphasizing the empirical and the surreal while continuing to be both formally and conceptually captivating.
Carsten Höller: REASON is on view at Gagosian through 11 August.
'Miguel Calderón: Caída Libre (Free Fall)'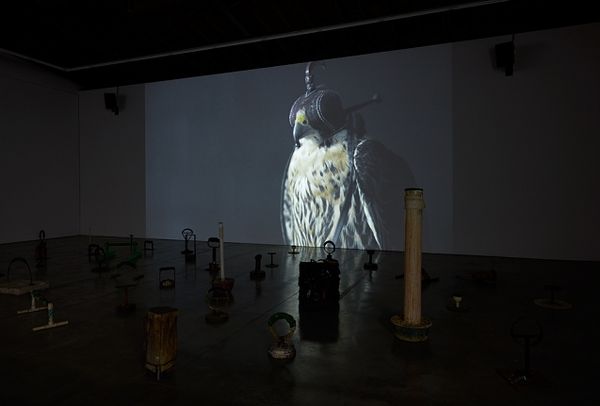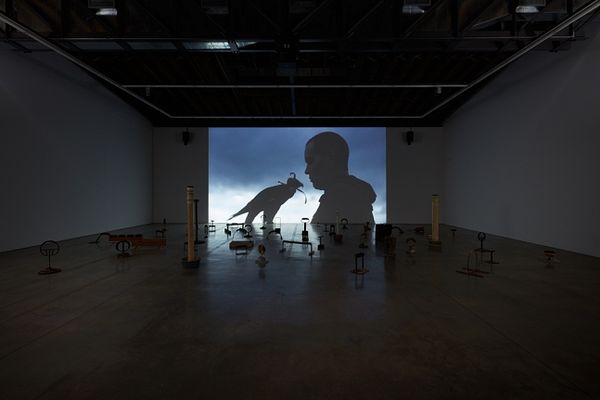 Miguel Calderón Caída Libre, Installation view. Courtesy of Luhring Augustine, New York
Across the river in the burgeoning Bushwick, Luhring Augustine brings contemporary art to Brooklyn. A refuge for working artists looking for affordable studios, Brooklyn has emerged as an integral player within the New York gallery scene. Luhring Augustine leads its summer contemporary program with Caída Libre (Free Fall), an exhibition in partnership with kurimanzutto. Mexican artist and writer Miguel Calderón is known for constructing narratives around everyday situations that encompass the cultural landscape of his native Mexico City. His work covers a range of themes from violence and corruption to youth and family dynamics.
Caída Libre features a film and sculptural installation centered on the theme of falconry. According to Calderón, falconry presents an interdependence between man and animal. His interest towards the subject originates from his personal experience of having a hawk as a young boy. Struck by the years of discipline it takes in training one's bird, Calderón became fascinated with the obsessive, compulsory fixation he developed in maintaining this relationship. The installation's film at Luhring Augustine illustrates this relationship through the artist's fictional story, of a bouncer at a nightclub in Mexico City who takes his falcon out hunting every morning. Filling the room are empty falcon perches, emphasizing the falconer's greatest fear -- the loss of his bird of prey.
Caída Libre was on view at Luhring Augustine.