An example of Fascia III, exhibited at ILLUMInations, 54th Venice Biennale, Venice, Italy, 2011, illustrated far left. Image courtesy of Maureen Paley Gallery, London
From a series exhibited at ILLUMInations during the 54th Venice Biennale in 2011, Fascia III is monolithic in presence, unyielding in both its celebration of femininity and confrontation of sexualized female stereotypes. Throughout her sculptural oeuvre, Rebecca Warren draws on common gender tropes which have permeated pop culture and art history, presenting her feminine figures as timeless totemic beings that stand tall and strong amidst ever-shifting cultural and societal change.
Multi-layered in meaning, the work below from our London Evening Sale is exemplary of the artist's exploration of material and form, encompassing and exploring fetishism and sexuality from a contemporary female perspective.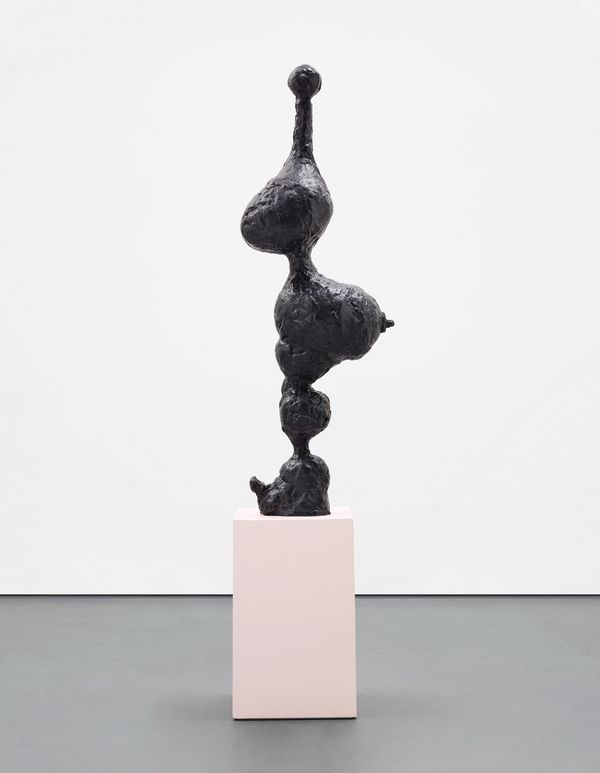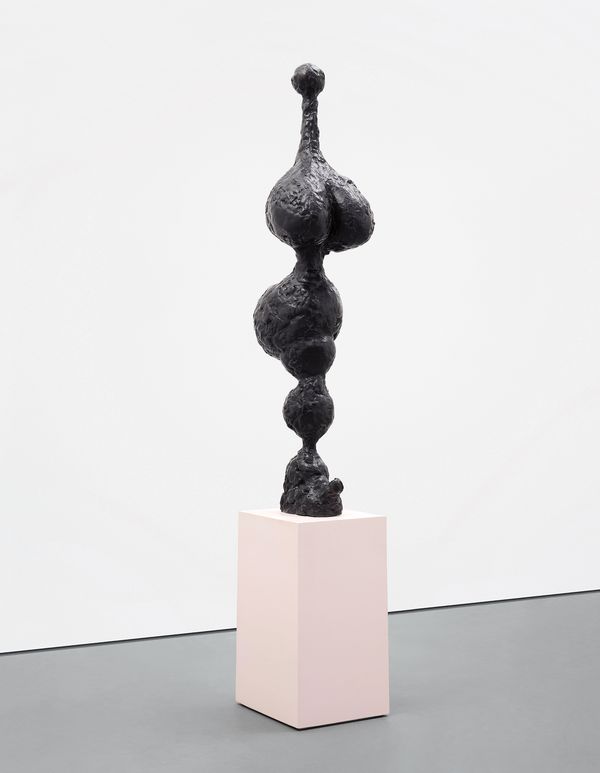 Rebecca Warren Fascia III, 2010
Warren, a contemporary of London's Young British Artists, has forged her own artistic inquiry into gender roles, generating a uniquely progressive sculptural aesthetic. From virginal earth mothers to sexualized provocative vamps, the female form has been explored and revisited as subject matter throughout art history. Rather than negating the creative output from such male predecessors as Pablo Picasso, Alberto Giacometti and Joan Miró, Warren seeks to continue the sculptural dialogue; traces of Modernist curved, exaggerated forms and delicate necks are clearly visible. Placed on plinths and elevated, her bronzes are presented like deities, referencing a sculptural tradition spanning from antiquity to modernity.
However, citing the illustrative works of Robert Crumb and the fashion photographer Helmut Newton as sources of inspiration, Warren's sculpture attacks these depictions with a biting wit. Almost cartoon-like in conception, the figure's protuberant breasts, bulbous legs, pointed nipples and curved buttocks are balanced in a parody of symmetry. A caricature of femininity and a celebration of the female form, these works provide a satirical stance while also drawing upon the organic and natural, as seen in the sculpture of Barbara Hepworth and Henry Moore. It is through her multi-faceted practice that Warren succeeds in translating the nuances of her associations into a progressive and forceful new reading of the female nude in art.
Behind exteriors of folded skin, projecting body parts, sensual bulges and the cavities of burst fruit, these sculptures have an inner life. Many are twisted, turned like a screw, full of internal movement and yet entirely at rest within themselves.

— Bice Curiger, Author
Referencing the anatomical under-layer of our skin mainly composed of collagen, Fascia III also refers to architectural framework and support; Warren seeks to ally and contrast the very fibers and flesh that make up our body, in comparison to the parameters that define us. Pitted with bumps and grooves, Fascia III bears the finger-marks and thumb imprints of the sculptor's hand, portraying the external force needed to construct this vision of femininity.
The curvilinear and ovoid shapes of the figure's body promote movement through the monumental form, forcing our eye to voyeuristically scan the ridges, dips and projections of the voluptuous shape, while the swan-like neck and neat head sit serenely erudite above the swollen form.