Gio Ponti and Piero Fornasetti Rare "Madrepore" dining table and set of four armchairs, circa 1950
The architect Giò Ponti (1891–1979) first became aware of the work of the talented painter and designer Piero Fornasetti (1913–1988) at the Fifth Milan Triennial in 1933 and praised it in an article in the design magazine Domus. Besides mutual admiration, Ponti and Fornasetti shared a deep respect for Italy's visual heritage, a passion for Renaissance and neoclassical motifs and architectural vocabulary, and a refined taste for decorative pattern and bright color. Late in his career, Ponti looked back upon his relationship with Fornasetti: "If it were worthwhile to chronicle my life as an architect a chapter (beginning in 1950) could be: 'Passion for Fornasetti.' What does Fornasetti give me? With his prodigious printing process...an effect of lightness and evocative magic."
They began working together in 1940 on furniture for the Italian glass company Fontana Arte, but it was in the following decade that their symbiotic relationship truly blossomed. Together they created numerous exuberantly decorated interiors for private homes, offices, shops, and ships of the Italian Finmare cruise line, as well as many individual pieces of furniture, including desks, tables, chairs, bookshelves, and headboards.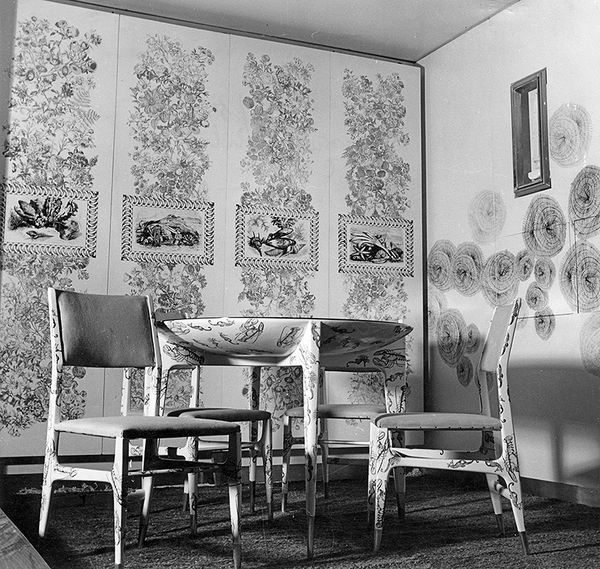 "Fish, Seahorses, and Crayfish" ("Pesci, cavallucci, marini e astici") installed in the exhibition "Italy at Work," Brooklyn Museum © Salvatore Licitra, Gio Ponti Archives
Designed by Ponti, made by the master cabinetmaker, Giordano Chiesa, and decorated by Fornasetti, the rare "Madrepore" dining table and four armchairs are an outstanding example of their highly successful collaboration. The elegant proportions of the wood table, its slender, elongated legs, and brass sabots are characteristic features of Ponti's furniture designs.
Typical of Fornasetti's decorative approach, he applied lithographic prints to the brightly painted surfaces of the furniture. In this instance, he scattered large black and white images of different varieties of stony coral (madrepore in Italian) over the top, sides, and legs of the table. Silhouetted against the deeply saturated turquoise background, the decoration brings to mind the coral reefs found in the coastal waters of tropical islands. The wonderfully imaginative theme of the ensemble is further enhanced by the fact that the top of the table is concave and covered with glass, thereby creating the illusion of a tidal pool.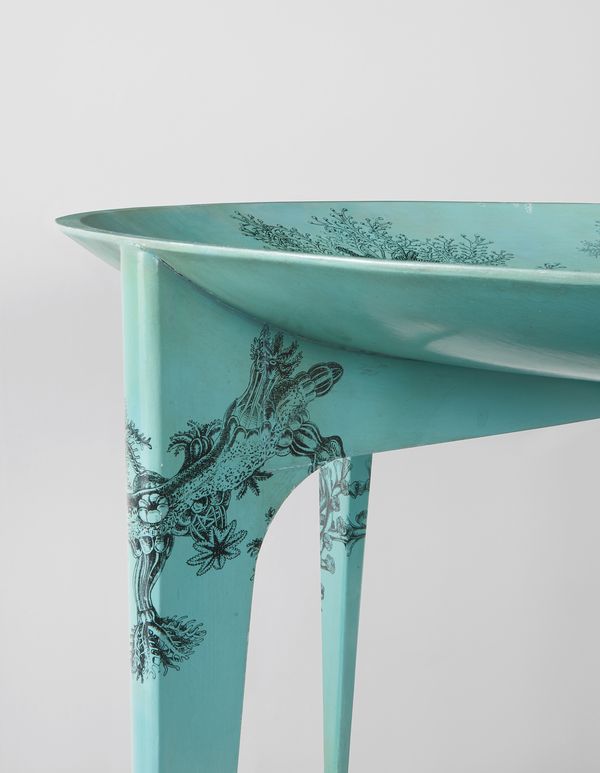 Gio Ponti and Piero Fornasetti Rare "Madrepore" dining table and set of four armchairs, circa 1950 (detail)
In the 1950s Ponti and Fornasetti collaborated on a great number of chairs, most of which were made by the family workshop of Figli di Amadeo Cassina in Meda, Italy. The armchairs that accompany the "Madrepore" table feature a slanted backrest intended to increase the sitter's comfort. Ponti introduced this distinctive design element around 1949 and later incorporated it into the design of his famous "Superleggera" chair. The original upholstery of the armchairs has not survived, but they have been recovered with a modern reproduction of the hand-printed fabric designed by Fornasetti, featuring coral motifs comparable to those decorating the surfaces of the table.
Marine themes first appeared in Fornasetti's decorative repertoire in 1947, in his decorations for the first-class bar area of the Conte Grande cruise ship that incorporated ocean-foor scenes of fish, algae and coral reefs. In the 1950s, Fornasetti employed images of fish, shells, coral, and algae for a half-dozen projects, including a rectangular table top, the back of a fireplace, and round wood and metal table tops. One of the tables, "Fish, Seahorses, and Crayfish" ("Pesci, cavallucci, marini e astici") was created as part of the dining room installation by Ponti and Fornasetti for "Italy at Work," a landmark exhibition of design and craft which traveled to twelve museums across the United States from 1950 to 1953.
Perri Lee Roberts is the curator of "Modern Living: Giò Ponti and the 20th-Century Aesthetics of Design," Georgia Museum of Art, University of Georgia, June 10–September 17, 2017.