Yoshitomo Nara Last Warrior / The Unknown Soldier, 2000 (detail)
Fortunately nowadays it's no longer forbidden to be into kitsch and kid's stuff, and only people who want to be 'very' grown up can't relate to such things.

— Yoshitomo Nara
The girl in Yoshitomo Nara's Last Warrior / The Unknown Soldier gazes at us with a fixed, determined stare that belies her age. The cutesy charm of this doll-like figure is undercut by her downturned mouth, pursed lips, clenched fist and frowning eyes, fixing us viewers on her piercing gaze. She is shown at an angle that emphasises the act of a child looking up—and in this case, confronting her audience.
With this steely attitude, the girl well deserves her title of Last Warrior. She also clearly deserves her place within the extensive cast of bellicose youths who have become so iconic in Nara's work, leading to his becoming one of the most celebrated Japanese artists of our age.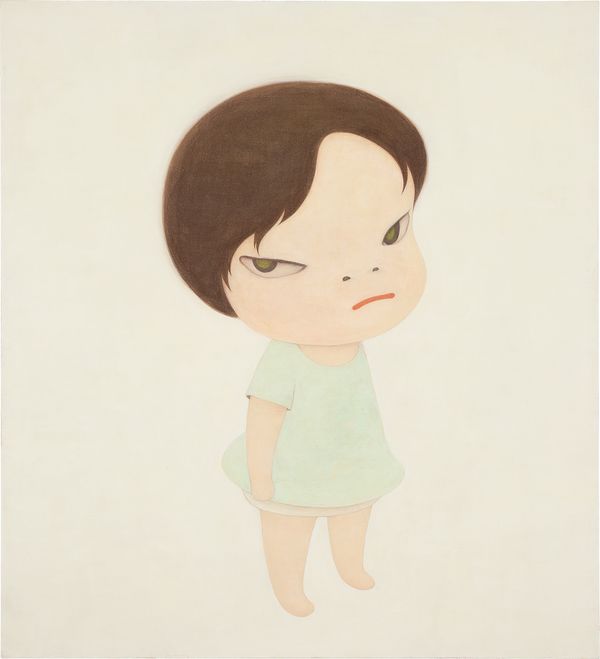 Dating from 2000, this picture perfectly demonstrates the intoxicating allure of Nara's paintings and subjects. This is a subversive sweetness, tapping into the kima-kawaii wave that had emerged in the 1990s, shortly before Last Warrior / The Unknown Soldier was painted. Kima-kawaii is cuteness with an edge, often with a hint of either ugliness or, as here, violence. In Last Warrior / The Unknown Soldier, it simmers beneath the surface, percolating through the girl's rigid glare.

Last Warrior / The Unknown Soldier was painted at a pivotal point in Nara's career, when his engaging paintings of subversively adult children were garnering him increasing international attention and acclaim. Only the previous year, his images had been used for a book by the celebrated author Banana Yoshimoto, as well as on album covers. In 2000, he was granted his first one-man show at an American museum, at the Museum of Contemporary Art in Chicago. It was also in 2000 that Nara moved away from Cologne in Germany, which had been his base since 1988.
Kima-kawaii is cuteness with an edge, often with a hint of either ugliness or, as here, violence.
Yoshitomo Nara Missing in Action, 2000. Sold at Phillips, London, 14 October 2015 for £1,986,500 (HK$ 19,865,000) against a pre-auction estimate of £700,000 – 1,000,000. At the time of the auction, this represented a world auction record for the artist.
The artist's time studying and then teaching art in Germany—in Western Europe, rather than Japan—is evident in the sheer craft and skill that have gone into making Last Warrior / The Unknown Soldier, as a closer inspection of its surface will attest. While the visual language of Nara's paintings mimics anime, manga and children's illustrations, explaining why he is so often associated with Japanese Neo Pop, Last Warrior / The Unknown Soldier and many of its sister-pictures are painstakingly created using layers of oil on canvas in techniques that echo those of the Old Masters and 20th-century painters. The essentially monochrome background of Last Warrior / The Unknown Soldier is deliberately made to resemble a sheet of paper left in reserve, or a page, the figure floating against it. At the same time, it fills the picture with a luminosity that recalls European frescoes painted in tempera on plaster.
The figure itself has been rendered with an eloquent economy of means, deliberately mimicking the appearance of print media and cartoons despite the sheer effort that has gone into painting it. Unlike many of his contemporaries, Nara insists on this direct involvement with his pictures, employing no studio assistants, but instead painting with a single-minded determination.

This reveals the wide panoply of influences at work in Nara's pictures. While manga, anime, The Little Prince and Disney may be more obvious references, Nara is also touching upon the history of art in both the East and the West—and of course their crossover. After all, born in the 1950s, Nara was raised in a Japan that had been flooded with Western, and particularly American, culture, and which had responded by assimilating elements of it, co-opting it to its own purposes, for instance in anime series such as Speed Racer. Nara himself has discussed how his upbringing in a rural area of Northern Japan had an influence in the way that he responded to all these influences. As quoted in Stephan Trescher's 'My Superficiality Is Only a Game: A Conversation between Stephan Trescher and Yoshitomo Nara', the artist explained, "In the area I'm from there was no museum — and there still isn't. I received my visual stimuli more from television, from Japanese and American comic books, and from European children's books. That's why comic books have a greater reality for me than the European painting that I later came to know and study intensively."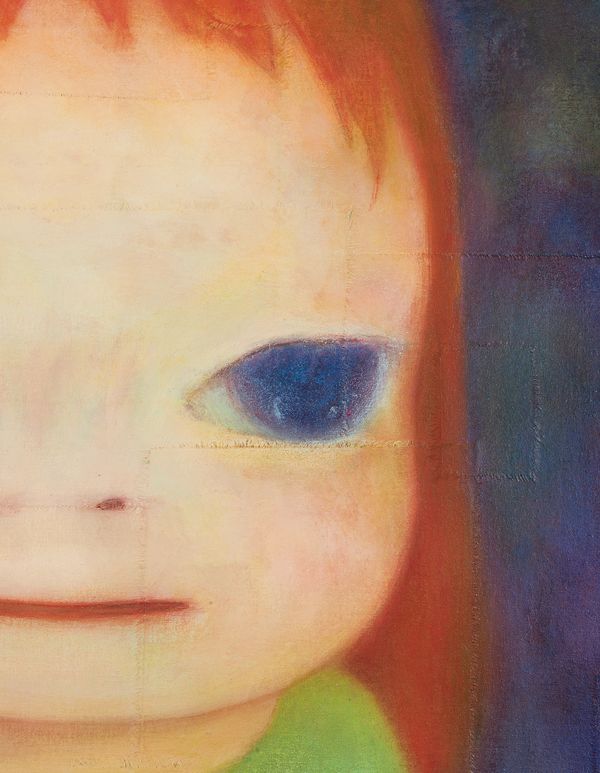 Yoshitomo Nara Missing in Action, 2005. Sold at Phillips, London, 8 March 2017 for £1,445,000.
Likewise, punk and folk music would have an impact on Nara — the girl's pose and haircut in Last Warrior / The Unknown Soldier recalls pictures of the Ramones, the band he revered.

During his childhood, Nara was largely isolated and left to his own devices. The solitude and independence he experienced have filtered into his pictures of defiant girls shown smoking, holding weapons or scowling as in Last Warrior / The Unknown Soldier.
After all, as he explained in a 2006 interview with kultureflash, "They are all self-portraits in a way. But the emotions that I feel can, of course, be universal."