Daum Frères and Louis Majorelle, "Magnolia" table lamp, circa 1904. Design New York.
Photography by Clément Pascal.
Discover the E-Catalogue: Important Art Nouveau Lighting and Furniture from a Private Collection >
---
—Written by Luke T. Baker
On the cusp of the 20th century, designers in France, Belgium, Great Britain and beyond brought together two complementary and dynamic developments that would come to symbolize the progressive home: electric lighting and the emphatically forward-thinking Art Nouveau style. These six exquisite table lamps by French Art Nouveau masters Émile Gallé, Louis Majorelle, Maurice Boval, and the Daum glassworks assert a newfound sense of aesthetic freedom made possible by the advent of electricity. Each work embodies a highly unique reflection of the ways these artists, craftsmen, and glassworkers defined the new artistic forms that gave shape to this thoroughly modern mode of illumination.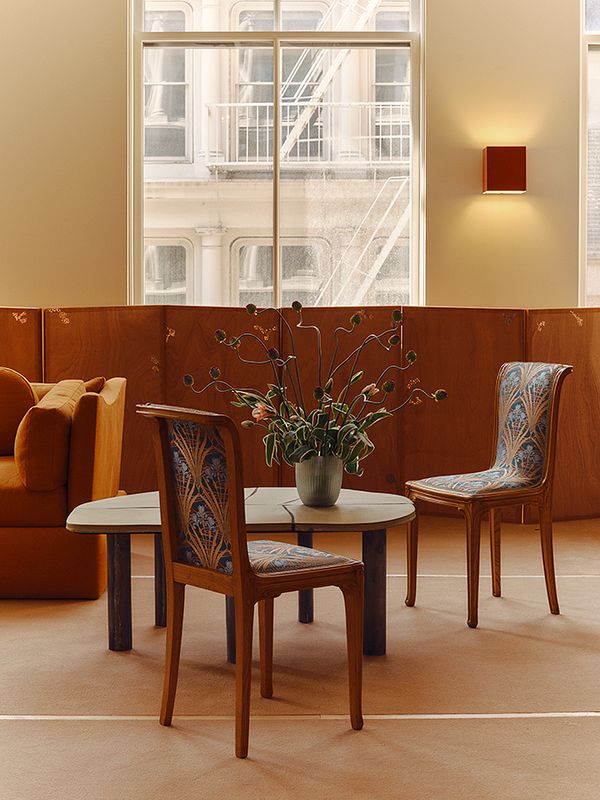 Georges de Feure, Pair of side chairs, circa 1900. Design New York.
Photography by Clément Pascal.
No modern-era innovation has been as transformative on the domestic interior as the introduction of electric lighting. After tens of thousands of years of relying on smoky candles, finicky oil lamps, and dangerous gas jets to stave off the darkness, electric-powered light began to enter our homes (and workplaces, schools, and public places) beginning in the 1880s. While early examples of electric lighting emerged in the first decades of the 19th century, it wasn't commercially viable until the introduction of the vacuum-sealed incandescent bulb, perfected almost simultaneously by British chemist Sir Joseph Swan (1878) and American inventor Thomas Alva Edison (1879). The electricpowered incandescent lamp marked a sea change from the prevailing paradigm of combustion lighting, delivering clean, safe, and reliable illumination at the touch of a button. For those early adopters who could afford such a novelty, it was a life-changing — if still mysterious — means of bringing brightness into the home without the maintenance, mess, and hazard of fuel-burning lamps.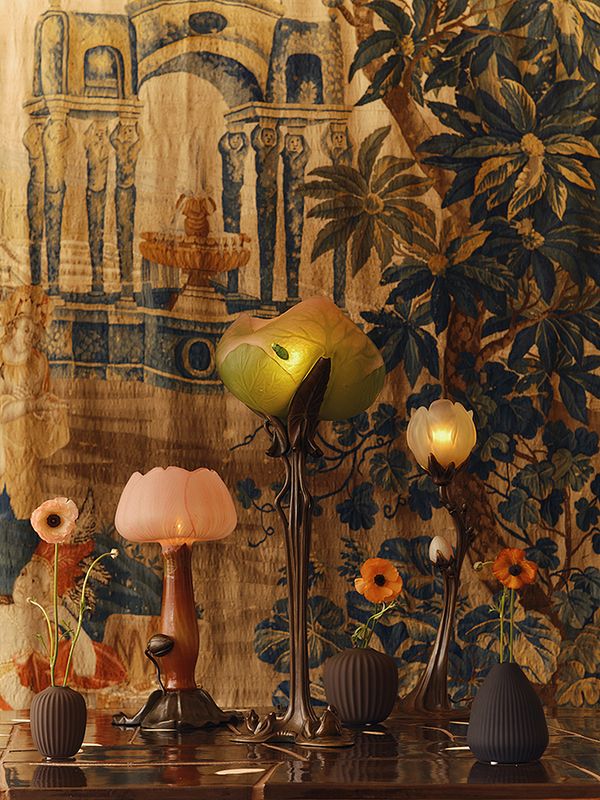 Left to Right — Émile Gallé, Lotus table lamp, circa 1900, Daum Frères and Louis Majorelle, "Nénuphar" table lamp, circa 1903, and Daum Frères and Louis Majorelle, "Magnolia" table lamp, circa 1904. Design New York.
Photography by Clément Pascal.
Before this point, the design of domestic lighting was, in large part, governed by the practical requirements of the format. Open flames, fuel reservoirs, glass chimneys, drip collectors, and connection to gas lines dictated what lamps could look like, and often, where they could be located. Electric lamps, conversely, needed only a cord, bulb, and optional shade, enabling designers to divorce form from function and take lighting to new levels of artistry and abstraction. In the hands of designers like Gallé and Majorelle, lamps assumed Art Nouveau's signature linework and organic motifs, becoming domestic sculptures resembling flowers and plants. Their intricate metalwork bases evoked vining tendrils or naturalistic stems, supporting art glass shades (a French specialty) that emphasized color and texture and revisited ancient glassworking techniques with new vitality. Lighter and more sculptural than the ornately decorated combustion lamps that preceded them, these stylized electric lamps could be easily moved from room to room to bring visual interest and focused lighting to tablescapes, fireplace mantels, and writing desks.
The gorgeous Nénuphar lamp, produced by Majorelle with the Nancy-based Daum Frères studio around 1903, exemplifies Art Nouveau's rejection of historicist styles and intense interest in nature. This water lily-inspired lamp is perched on a patinated bronze stalk, as though emerging from a pond flanked by a trio of frogs. The flower-shaped glass shade exhibits the beautiful effect of colored glass, carefully layering the petals' soft pink with the translucent green veining of a naturalistically rendered leaf. A tiny insect of jewel-like applied glass adorns the blossom on each side. Majorelle and Daum's design introduced the novel artistic possibilities of Art Nouveau lighting to audiences at both regional and national exhibitions, and today, variant examples of this important work can be found in the collections of the Musée D'Orsay and the Museum of Modern Art.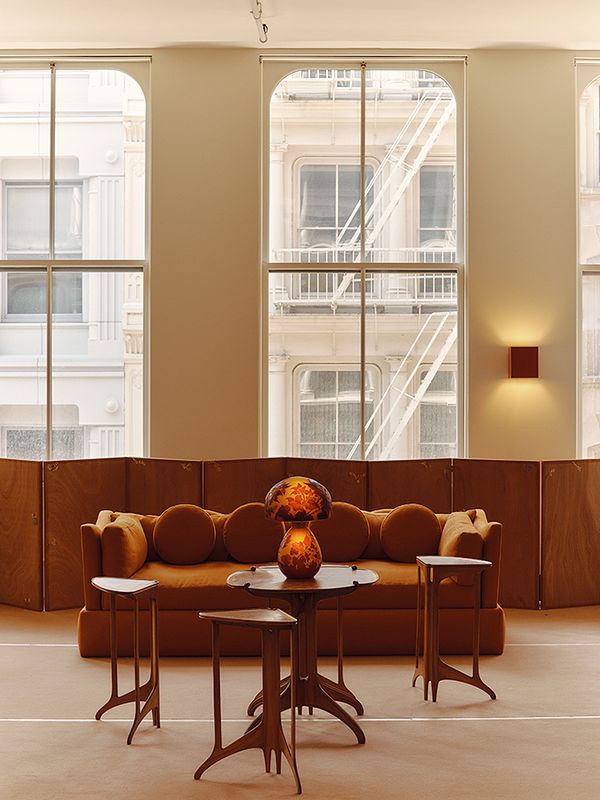 Établissements Gallé, Flowering maple table lamp, circa 1920 and Eugène Gaillard, Set of nesting tables, circa 1913. Design New York.
Photography by Clément Pascal.
The flower-inspired electric lamp was ideal for showcasing the marvel of the incandescent bulb, unlike many combustion-fueled contemporaries that sought to conceal the burning gas jet or the mantle mechanism of an oil lamp. In Majorelle's alluring Magnolia lamp from 1904, the bare, clean-burning bulb is nestled within the open petals of the namesake bloom, masterfully rendered in opalescent glass by Daum Frères and perched on a stylized bronze branch complete with buds. The distinctive Chardon lamp also shows off the aesthetic possibilities engendered by the small, smokeless bulb. An elongated and highly naturalistic bronze stalk created by Maurice Bouval cradles a glowing purple thistle head made from translucent etched glass (also by Daum Frères) — a precious glass globe within a precious glass globe. (The thistle, or chardon in French, is significant as a symbol of the Lorraine region, home to the Daum studio, and the École de Nancy, both prolific centers for Art Nouveau design.)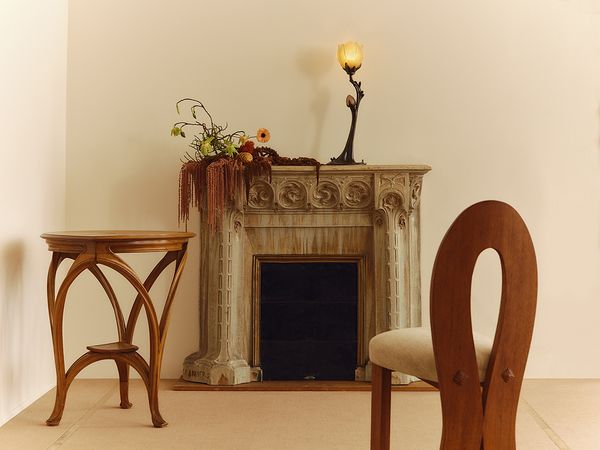 Daum Frères and Louis Majorelle, "Magnolia" table lamp, circa 1904 and Louis Majorelle, Gueridon, circa 1902. Design New York.
Photography by Clément Pascal.
Two examples by Gallé, the colorful Lotus table lamp from c. 1900 and the spectacular mushroom-shaped Ombelle lamp from about 1903 both sit atop elegant decorative glass bases with bronze or wrought iron supports. With only a thin cord bringing steady power to the light source, Gallé's graceful, stem-like natural forms are unencumbered by bulky fuel reservoirs, fill spouts for replenishing oil or kerosene, knobs for controlling the flame height, or complex clockwork and spring-loaded mechanisms for bringing the fuel to the wick.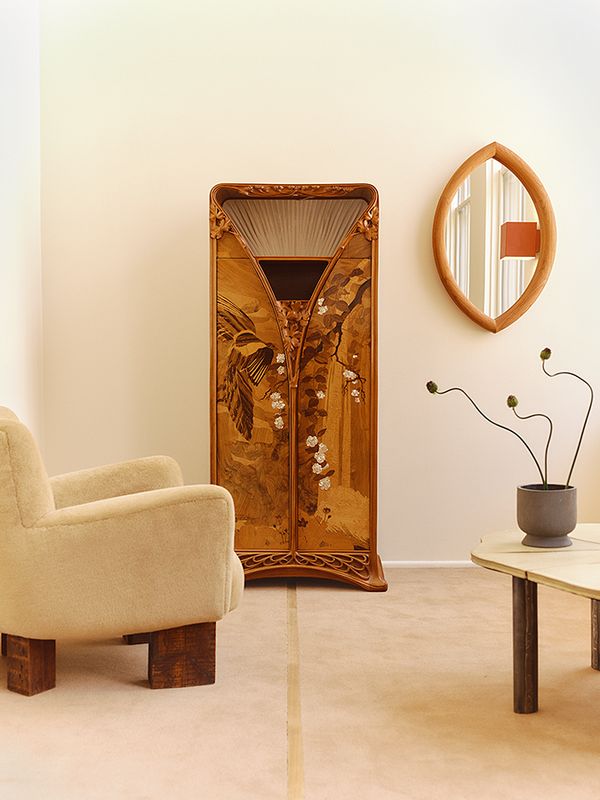 Louis Majorelle, "La Cascade" cabinet, circa 1899. Design New York.
Photography by Clément Pascal.
A flower-inspired circa 1900 metal and glass table lamp, also by Gallé, compellingly captures one of the most significant design opportunities designers exploited with new flameless electric lighting. Whereas the light source in a combustible lamp always needs to be oriented upright with the direction of the flame, the electric bulb is uniquely able to function flawlessly and direct light at any angle, even when pointed straight down. The Gallé lamp features a sinuous, patinated bronze base perched on coiling tendrils and a realistically modeled leaf, but its most striking feature is the red shade of cased and etched glass, which hangs downward like a bell-shaped flower to cast its light upon a desk or table. These six Art Nouveau table lamps are charged with a vivacious spirit that captures the energy and excitement of the electric age. The invisible, abstract concept of electricity and the unique properties of the incandescent bulb invited Art Nouveau designers to look to the natural realm for organic inspiration. Liberated from the functional mandates and historic precedent of the combustion flame, each lamp expresses a modern reimagining of the form, fit for illuminating our modern new world.
---
Recommended Reading
Double Coded: Writer and curator Glenn Adamson explores a "Sculpture Front" screen by Paul Evans >