Paul Evans, Rare two-sided "Sculpture Front" screen, 1966. Design New York.
—Written by Glenn Adamson
A fascinating fact: forty years ago, Paul Evans founded a company called Zoom, Inc. The venture, a collaboration with his son Keith, was devoted not to telecommunications but to newfangled, electronically-activated furniture, which bore a strong resemblance to contemporaneous kinetic sculpture. The enterprise was not ultimately a success, but it certainly attests to this designer's restlessly inventive nature. Throughout his long career, he wondered what the Home of the Future might look like, and then actually set out to create it, using all the technical and artistic possibilities at his command.
No work from Evans' oeuvre demonstrates this better than the present screen, made in 1966, when he was at the zenith of his creative powers. It is a masterwork of his widely admired Sculpted-Front idiom, which he had begun five years earlier, initially for a two person show with Philip Powell at America House in New York City. The works in the series have rectilinear façades that are sub-divided into discrete compartments, each of which holds a unique geometric motif. These elements, suggestive of some code or rebus, are incredibly varied — some forged, some cast, either polished or matte, massive or linear — a fully developed lexicon, with the graphic character of an ideographic language.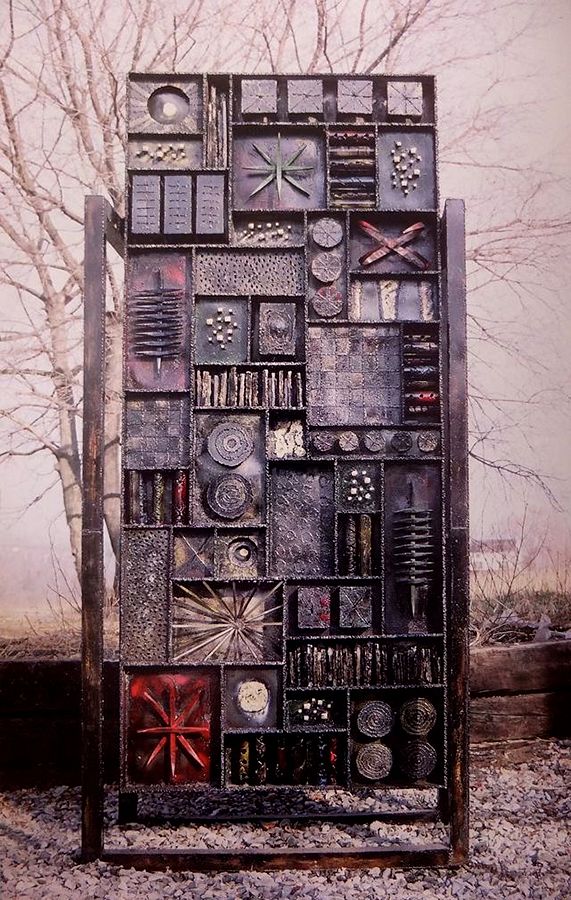 The present lot, photographed in Paul Evan's garden, circa 1966.
The screen, then, is a syllabary of metalwork, literally bursting with ideas. It is also exceptional within the series due to its large scale, all the more impressive because it is double-sided. The original client is unknown, but the work was obviously a major commission, presumably intended to serve as a room divider. A period photograph, taken in the garden outside Evans' home and shop on Aquetong Road in New Hope, shows that it once hung in a steel frame; the great, articulated monolith would have hovered in free space. One thinks, perhaps, of Stanley Kubrick's 2001 — which was in production in London, as the screen was being made — and the comparison points up just how futuristic Evans' furniture would have looked at the time. Like so much good science fiction, he pushed at the boundaries of the known, reframing ideas from the past to forge new, speculative possibilities.
Continue Reading Glenn Adamson's Double Coded: A Sculpture Front Screen by Paul Evans >
---
Recommended Reading
Discover the E-Catalogue: Important Art Nouveau Lighting and Furniture from a Private Collection >