A celebration of the avant-garde and the exceptional, this curated collection pays homage to those who dared to redefine boundaries, to disrupt the status quo, and to shape the world we live in through their indelible contributions across the realms of Art, Design, and Watches.
From Yayoi Kusama's 2009 masterpiece I Who Sing in Celebration of Humanity, to Ron Arad's "Big Easy Volume 2" armchair and Charlotte Perriand and Pierre Jeanneret's Bookshelf with cabinets from the 'L'Équipement de la Maison' series, this special selection speaks volumes of the creative audacity and visionary brilliance that the 20th and 21st centuries have borne witness to, each an exemplar of their disruptive approach to art, form, and function.
Kusama — A Beacon of Unapologetic Individuality and Creative Vigor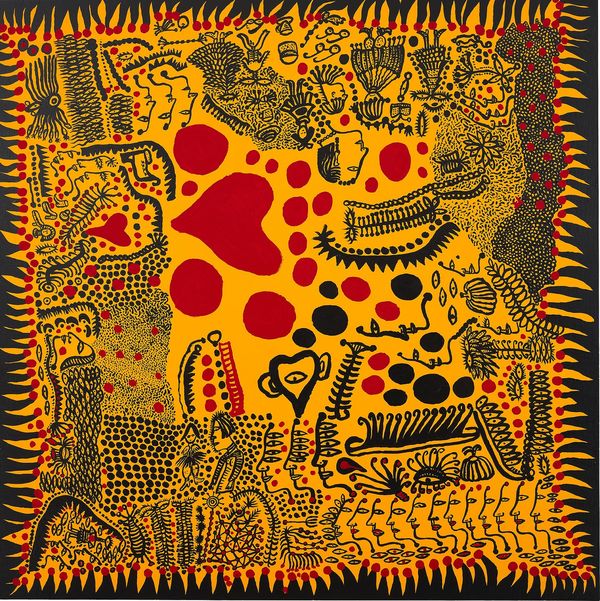 Born into a conservative family in 1929, Yayoi Kusama navigated societal constraints and familial disapproval, pushing past the margins to etch her name in the annals of art history. Raised amid escalating nationalist fervor in pre-war Japan, Kusama faced an oppressive environment that sought to stifle her artistic inclinations. Undeterred, she channeled her experiences into her art, her works reflecting her personal struggles and becoming an outlet for her auditory and visual hallucinations that have marked her life since childhood.
In a time when female artists were often relegated to the background, Kusama's bold incursions into the avant-garde signalled her unwavering resolve to redefine the contours of artistic expression.
Kusama's commanding 2009 work, I Who Sing in Celebration of Humanity, juxtaposes an ochre field with dense black brushstrokes. Its frenetic tentacles stretch out in a terrifying dance, combating a dot swarm. This dramatic piece draws viewers into its absorbing core, offering a tranquil oasis amid the composition's bustling energy. Anchoring the scene, a red heart provides a reassuring touch from Kusama herself.
This work, like so many of her others, defies convention and invites viewers into an immersive experience that is simultaneously intimate and universal. It showcases an ongoing dialogue between the artist and her audience, a dialogue that challenges, provokes, and inspires.
Until today, Kusama's legacy extends far beyond her own work, inspiring countless artists of subsequent generations to test the boundaries of artistic possibility.
Kapoor — Audacious Exploration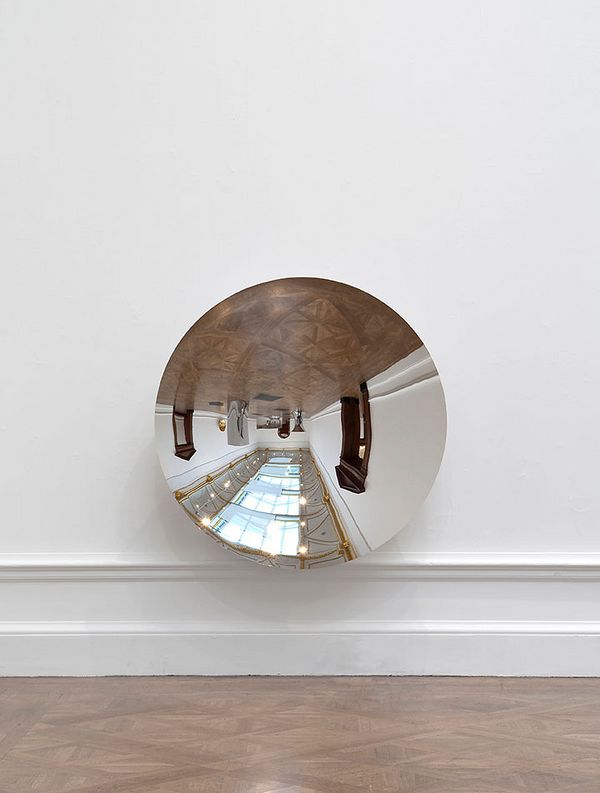 One of the first artists to experiment with large-scale concave mirrors, Anish Kapoor is renowned for his audacious exploration of form and perception. He has persistently pushed the boundaries of artistic convention, experimenting with unconventional forms and materials such as reflective stainless steel.
In Non Object (Mirror), he employs a concave mirror that compels viewers to confront distorted reflections of themselves and their surroundings. His work is not a passive spectacle, but an active engagement, inviting onlookers to interact with the piece by navigating around it, peering into it, and experiencing it from multiple perspectives. It presents an immersive encounter that challenges our perceptions of reality.
Exhibited at his pivotal solo show at the Royal Academy of Arts in London in 2009, Non Object (Mirror) underscores Kapoor's ingenuity and daring, encapsulating his transformative impact on contemporary art.
Trailblazers in Contemporary Art, Fashion, and Pop Culture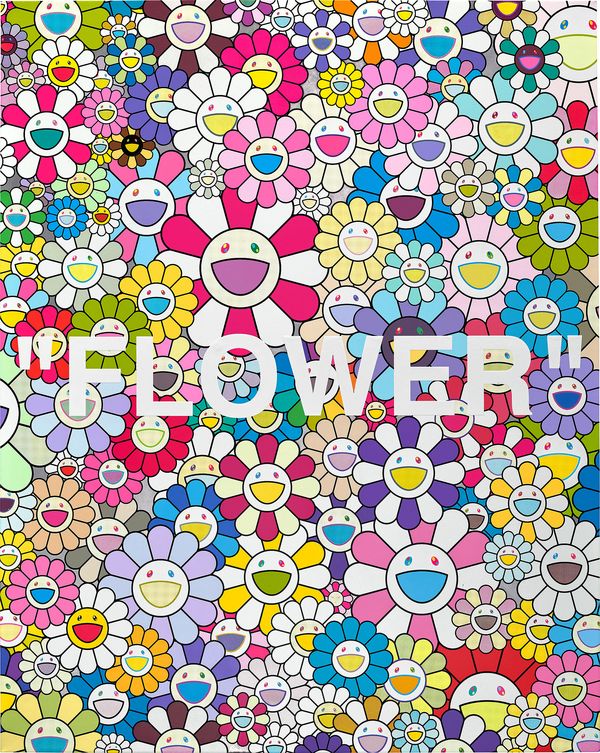 The confluence of two pioneering artists, Takashi Murakami and Virgil Abloh, resulted in a unique symbiosis of pop culture, streetwear aesthetics, and contemporary design. The shared vision of the duo, each hailing from distinct creative domains, has given rise to a unique, disruptive artistic language that pushes the boundaries of their respective fields.
Takashi Murakami, a vanguard of the Superflat art movement, has been instrumental in thrusting Japanese culture into the global spotlight. His art, imbued with vibrant colours, whimsical patterns, and iconic characters, bridges the gap between high art and mass culture.
Virgil Abloh, an American fashion designer and entrepreneur, is celebrated as one of the most influential and respected figures in the world of fashion. His unique vision blurred the lines between luxury and streetwear, embodying a transformative ethos that redefined fashion norms.
Their collaborative piece, "FLOWER", encapsulates the striking interplay of the two artists' shared aesthetics. It combines the familiar with the commercial, inviting the viewer to question the nature of the artwork itself. This piece stands as a testament to their mutual desire to dismantle and re-examine existing frameworks, making their partnership one of the most influential art collaborations of contemporary times.
KAWS — Refashioning the Familiar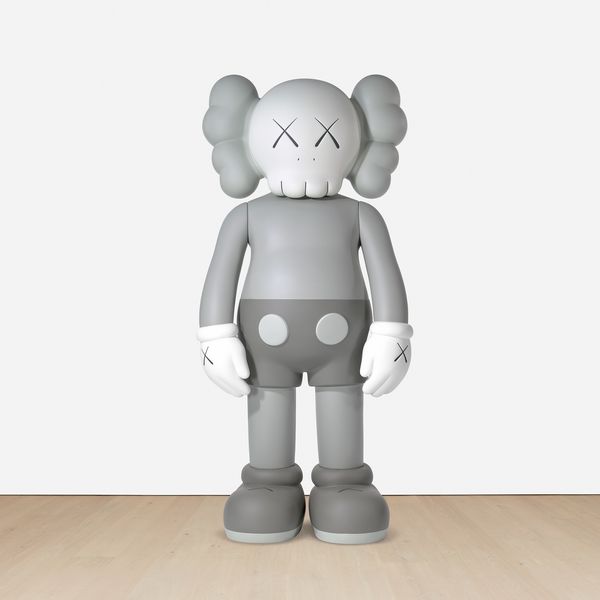 Known for his distinctive approach of refashioning familiar symbols from pop culture, the American artist KAWS employs cartoon imagery to highlight the inherent malleability of cultural icons. His works, while rooted in their source imagery, transcend mere appropriation of specific animated narratives. Instead, they engage in a broader dialogue, evoking universal human emotions and experiences.
Standing at a towering two metres tall, COMPANION is the crowning achievement of the esteemed art world icon's multidisciplinary oeuvre. KAWS first introduced the COMPANION figures in 1999, and since then, they have been highly sought after across the globe. The figures are instantly recognizable with their signature "XX" eyes and skull-shaped heads adorned with crossbones.
The COMPANION figure has taken numerous forms in his practice throughout KAWS's career, from eight-inch toy figures to floating in Hong Kong's Victoria Harbour, napping at the foot of Mount Fuji, holding court in Drake's "Toosie Slide" music video, or featuring in augmented realty. The present work is exclusive in that it stems from a small series of only three, with another work from the same series having been exhibited at the artist's solo show at the Pennsylvania Academy of the Fine Arts from 2013 – 2014.
The Epitome of Horological Excellence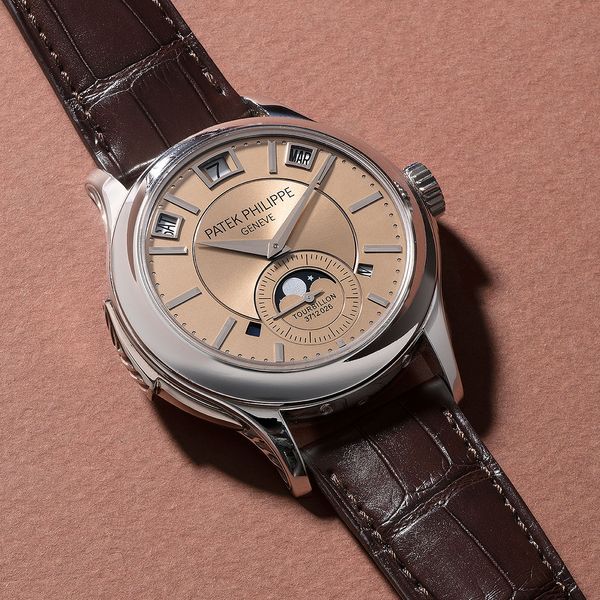 Patek Philippe — renowned for impeccable craftsmanship and innovative complications — offers a testament to the zenith of haute horology with the ref. 5207P-001. It boasts grand complications that interweave a minute repeater, a perpetual calendar, and a tourbillon within a single timepiece. This watch is a marvel of mechanical wizardry that demonstrates the brand's commitment to precision, functionality, and aesthetic finesse.
The watch's patented instantaneous perpetual calendar mechanism is a marvel of precision and sophistication. It accurately displays the day, date, month, leap year, and moon phases without requiring adjustments until the year 2100. The minute repeater, a feature that strikes the hours, quarters, and minutes on demand, produces exquisite chimes of unparalleled clarity and resonance, facilitated by specially designed gongs and hammers.
A Name Synonymous with Timeless Elegance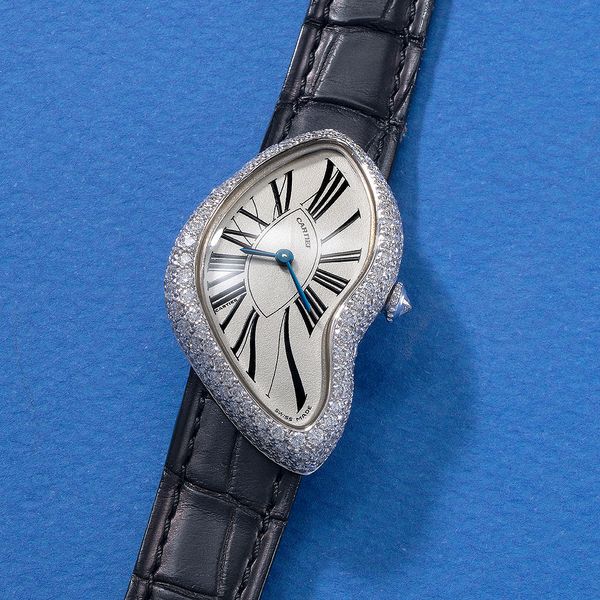 Debuted in 1967, the Cartier Crash emerged as a defiant disruptor amid traditional watchmaking norms with its unconventional, distorted shape, which immediately distinguished it from the rounded timepieces of its era.
The brainchild of Jean-Jacques Cartier, who steered the Maison's London branch from the 1940s to the '70s, the Crash was a daring venture that catered to the adventurous clientele of the Swinging Sixties. Cartier, along with watchmaker Rupert Emmerson, dared to experiment with Cartier's iconic aesthetic, resulting in a bold and eccentric design that has become a legendary piece in the realm of horology.
Cartier Crash models rarely appear at auction, making the opportunity to acquire one in exceptional condition, complete with original accessories, a thrilling prospect for collectors. The present example boasts a stunning white gold and diamond-set case, which beautifully complements the distorted dial. The incomplete printed signature on the dial adds a touch of human charm to this unique piece, reminding us of the human craftsmanship behind these masterpieces.
A Fearless Design Virtuoso: Masterfully Fusing Artistic Expression with Cutting-Edge Materials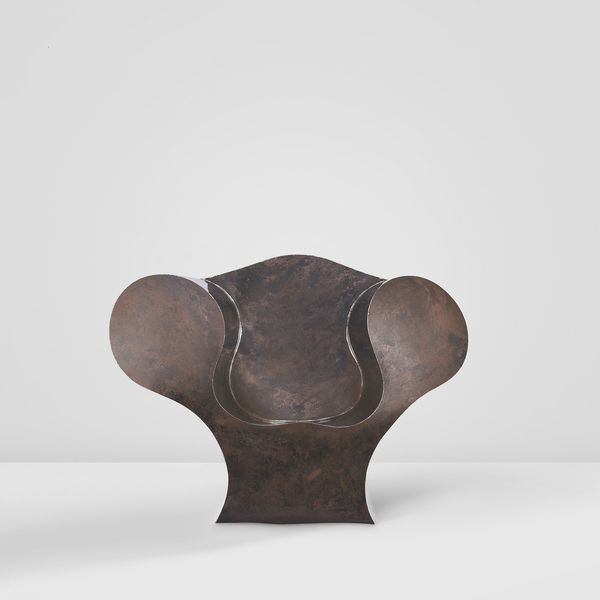 Born in Tel Aviv in 1951, the British-Israeli architect and designer's illustrious career spans from architecture and furniture design to art.
Arad's signature design language is rooted in a relentless pursuit of experimentation and a penchant for subverting conventional norms. By challenging the limitations of materials and manufacturing techniques, he creates innovative, thought-provoking pieces that command attention in any interior space. The "Big Easy Volume 2" armchair, with its harmonious balance of curves and angles, and a generously proportioned seat and backrest, perfectly encapsulates Arad's knack for seamless integration of diverse materials — a testament to his studio's technical prowess and creative vision.
Crafted from polished stainless steel and patinated mild steel, this limited-edition masterpiece is a striking exemple of Arad's ability to meld raw materials, form, and functionality into a design that is as compelling as it is unique.
Pioneers of 20th Century Design Who Wove the Threads of Minimalism, Functionality, and Material Innovation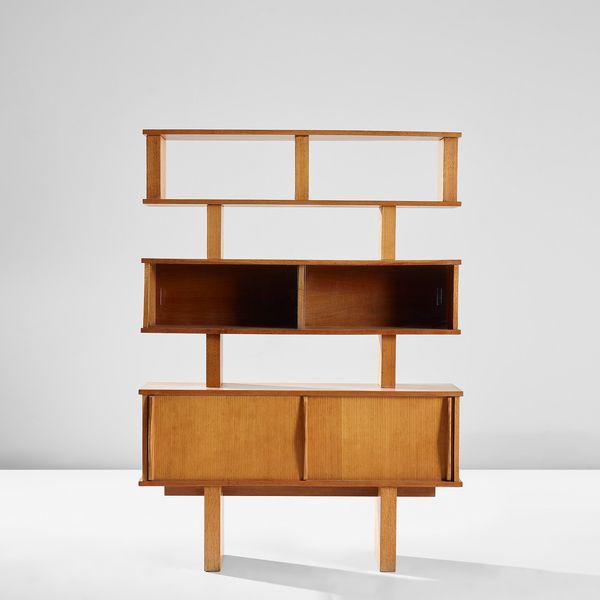 Bookshelf with cabinets, model no. 14 was designed by Charlotte Perriand and Pierre Jeanneret, two of the most influential figures in 20th century design.
Perriand, a French architect and designer, made her mark in a male-dominated design world. She championed a minimalist aesthetic, deeply influenced by her travels to Japan in the early 1940s, where she encountered a powerfully simple design language that would permeate her creations in the years that followed.
Jeanneret, a Swiss architect, painter, and designer, was known for his minimalist projects and constructions.
Their collaboration culminated in this Model no. 14 Bookshelf with cabinets, primarily composed of oak and oak-veneered wood. This robust material lends the piece an enduring elegance and timeless appeal. The glass doors in the central cabinets contrast beautifully with the wooden frame, infusing the piece with a sense of transparency and lightness. Constructed on three levels, it showcases a thoughtful interplay of positive and negative space.
The timeless allure and thoughtful design encapsulate the innovative spirit of its creators, making it a standout addition to any space.

---
Disruptors: Evening Sale of 20th Century & Contemporary Art, Design and Watches
Hong Kong 25 May 2023
Click here for more information.