Terry O'Neill, Brigitte Bardot, Spain, 1971. Photographs London.
Works from an astonishing private collection are on offer in the Phillips London Photographs sale this May. This collection turns a spotlight on people and events that have left an indelible mark on contemporary pop culture from icons of fashion, film, music, and art to generation defining moments. These images also spotlight the expressive power of the medium and its ability to transcend its cultural sources, be they fashion shoots, film sets, or stadiums. In turn, the photographs rise to the realm of fine art, so resonant are the images' imprint on global culture. Furthermore, six prints in the collection are not only signed by the artist, but by the subject as well, offering a meaningful opportunity for discerning collectors.
---
A Look Back
Let's begin in 1950. The war had recently ended, and global culture had woken up. It was the age that spawned the jet-set and a freshly optimistic approach to lifestyle. These factors gave rise to a new golden age of film and fashion icons. We turn to one such idol published in the pages of the February 1951 issue of Vogue in Irving Penn's 1950 photograph Dior Fur Scarf (Jean Patchett, New York).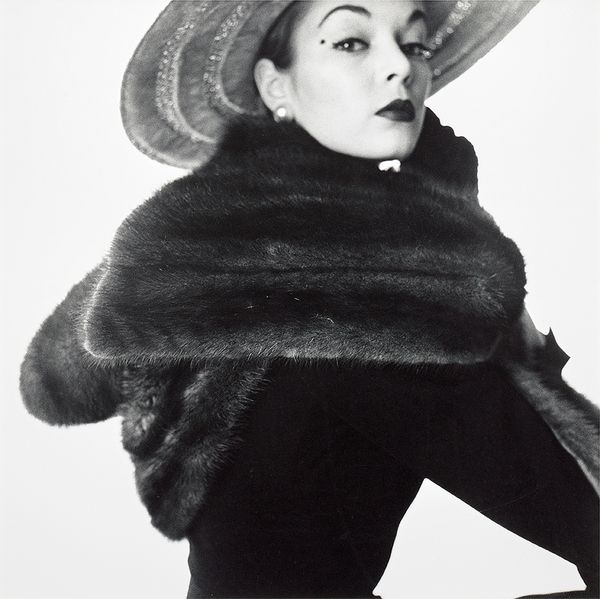 Irving Penn, Dior Fur Scarf (Jean Patchett), New York, 1950–1951. Photographs London.
This photograph, at once austere and intimate, captures Penn's hallmark use of an elegant compositional simplicity to highlight supreme beauty (in this case that beauty being the legendary Jean Patchett and the design of Christian Dior). Penn's work during this era elevated the field of fashion photography as Anna Wintour later noted, "He was there to set the standard of excellence, to make that breath-taking image that stops you in your tracks." The collection also highlights Penn's humorously subversive 1966 masked portrait of the important artist Saul Steinberg whose illustrations for The New Yorker helped define the magazine's immediately recognizable visual aesthetic.
The synergy of a well-matched photographer, model, and designer is further explored in the collection through Richard Avedon's 1955 portrait of Dovima, originally featured in a 1955 issue of Harper's Bazaar that focused on Parisian fashion. Avedon took this portrait at Cirque d'Hiver, later recalling, "I saw the elephants under an enormous skylight … I then had to find the right dress and I knew there was potential here for a kind of dream image." That "right dress" was the first design for the House of Dior by a 19-year-old Yves Saint Laurent.
Further works by Avedon include a charming portrait of Marilyn Monroe and Arthur Miller, taken during a session at the photographer's New York studio in May 1957. Arthur Miller, a well-known playwright and screenwriter (Death of a Salesman, The Crucible, et al.) met Marilyn in 1951 and the two began an affair that culminated in their 1956 marriage. This photograph comes just a few years before the couple collaborated on the 1961 film The Misfits, which starred Monroe alongside Clark Gable and Montgomery Clift.
Dennis Stock, Audrey Hepburn during the filming of 'Sabrina' by Billy Wilder, 1954. Photographs London.
Dazzling images of legendary actors permeate the collection, including a striking 1954 portrait of Audrey Hepburn by Dennis Stock. The photograph was taken on the set of Billy Wilder's Sabrina where Hepburn shared the screen with Humphrey Bogart and William Holden — just a year after her rise to fame as Princess Ann in the film Roman Holiday. Encapsulating the 1960s is David Bailey's stunning portrait of his then wife Catherine Deneuve for British Vogue. Taken in 1966, Bailey captures her unique spirit here with a tasteful mix of humor and glamour. Of their relationship, he later recounted, "…with Deneuve, it wasn't sad. We just drifted apart." He continues, "She phoned me once and said, 'Oh, Bailey, it's great.' 'What's great?' 'We got divorced today.' I said, 'Is that great?' She said, 'Yes, it means now we can be lovers.'"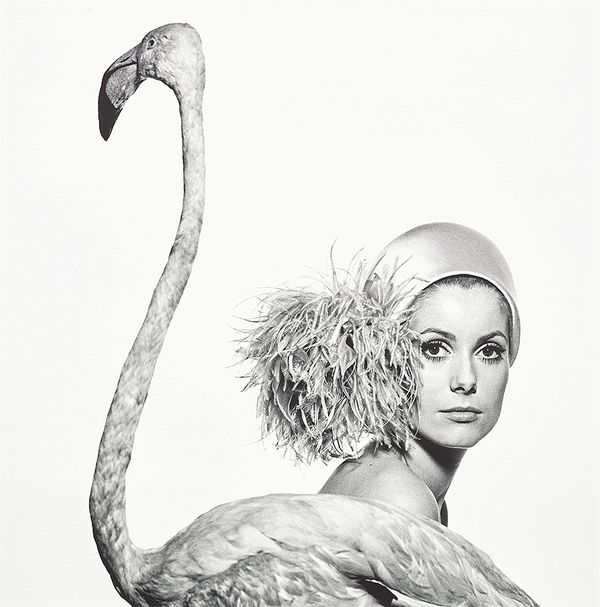 David Bailey, Catherine Deneuve, Flamingo, 1966. Photographs London.
Two lauded portraits of Paul McCartney and John Lennon by Bailey are also on offer alongside further defining images of musicians, among which are William Claxton's Chet Baker (at the Piano), Hollywood, Brian Duffy's instantly recognizable portrait of David Bowie (used as the cover art for the 1973 Bowie album Aladdin Sane), and Terry O'Neill's photographs of Elton John performing at Dodgers Stadium (in uniform no less).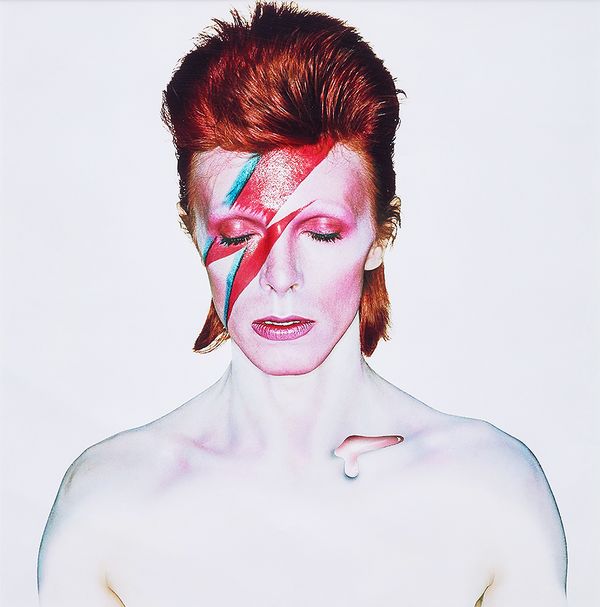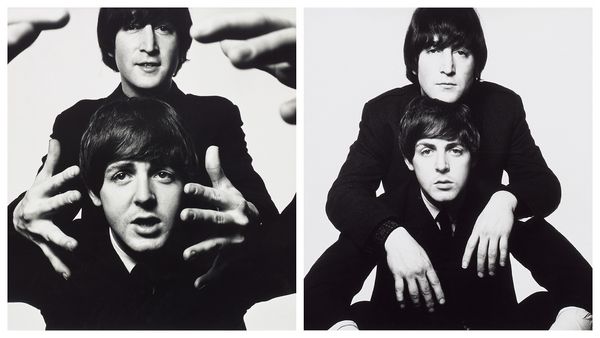 (Left) David Bailey, John and Paul, 1965. (Right) David Bailey, John and Paul, 1965. Photographs London.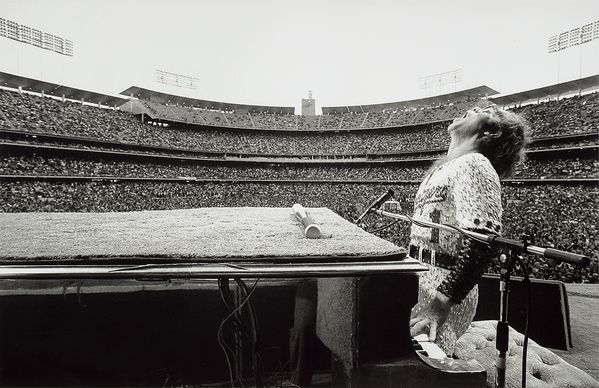 Terry O'Neill, Elton John Performing at Dodger Stadium, 1975. Photographs London.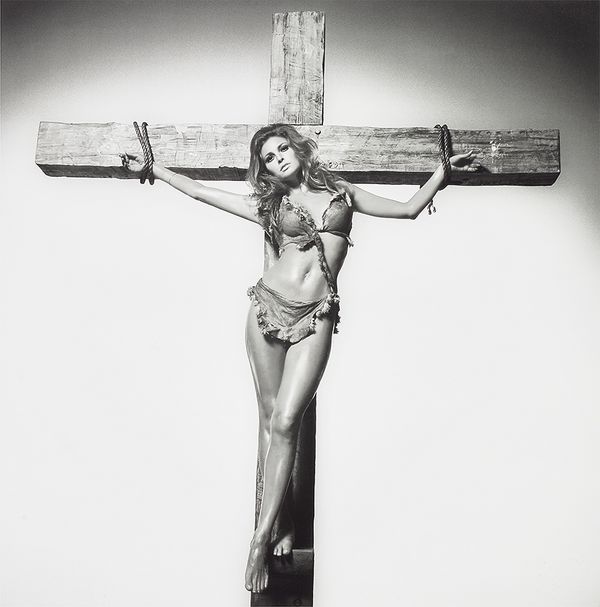 Terry O'Neill, Raquel Welch on the Cross, 1966. Photographs London.
O'Neill's arresting images of Brigitte Bardot and Raquel Welch on the respective sets of Les Pétroleuses in Spain and of One Million Years B.C. are also present. The 1966 image of Welch was not published for nearly 30 years as the actress was initially apprehensive about the wardrobe on the shoot. O'Neill later recalled, "She told me she thought she'd be crucified by the press for it. And I thought, 'That's it!'" He went on to note, "They are beautiful shots but we both looked at them once the film was developed and we both got a little nervous. I feared people might think the wrong thing, so I decided not to publish the photos."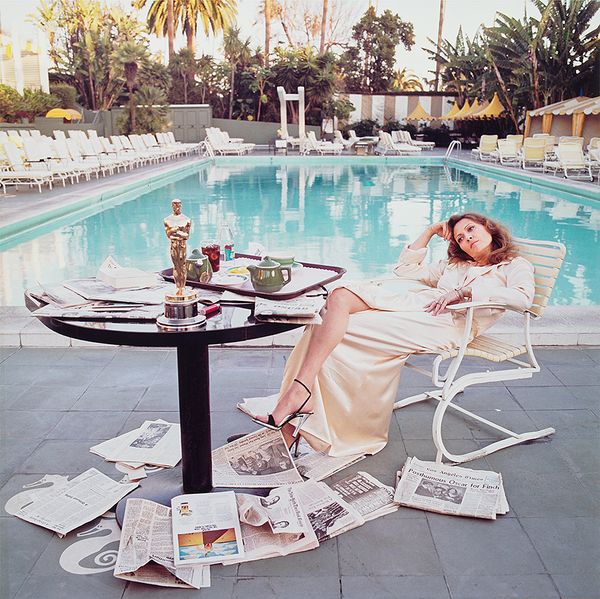 Terry O'Neill, Faye Dunaway, Hollywood, 1977. Photographs London.
The collection would not be complete without one of O'Neill's most famous images — a magnificent shot of a weary Faye Dunaway relaxing poolside with her Oscar trophy and the day's newspaper the morning after winning 'Best Actress in a Leading Role' for the film Network. Dunaway as strikingly captured by Jerry Schatzberg is also on offer. The photographer had a comforting and collaborative approach with his sitter as Dunaway later noted in her memoir, "Jerry somehow managed to reach me, to let me know that in this I could trust him, that the photos would be wonderful, that it would be okay."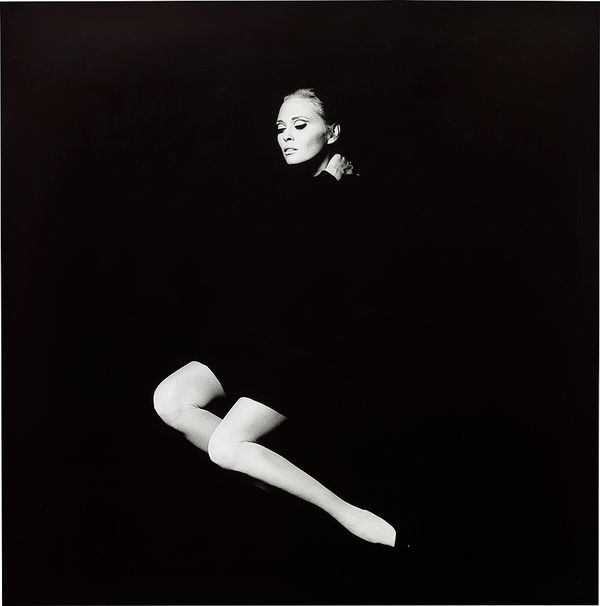 Jerry Schatzberg, Faye Dunaway, 1968. Photographs London.
Toward the Present
A cultural shift is felt as we move toward the collection's works from the 1980s. As the technologies, values, and norms of society began to change, MTV, punk, heavy metal, and hip-hop entered mainstream culture alongside empowering, increasingly sensual depictions of models.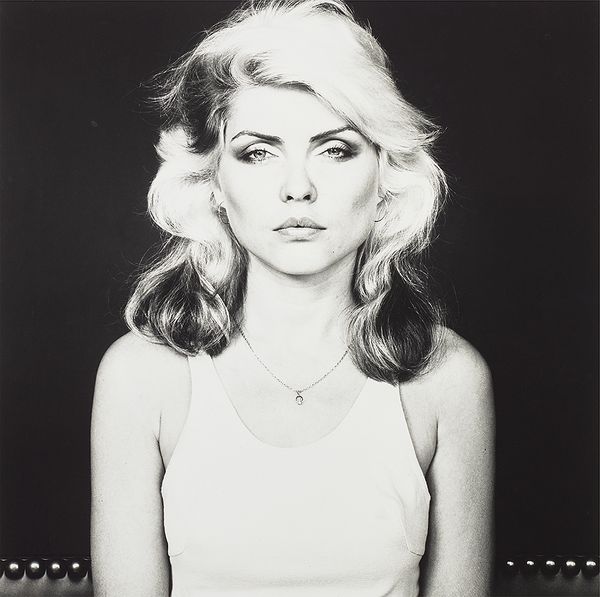 Robert Mapplethorpe, Deborah Harry, 1978. Photographs London.
Reflected in the collection are Robert Mapplethorpe's photographs of the pivotal female bodybuilder Lisa Lyon from the early years of the decade as well as his 1978 portrait of punk icon Debbie Harry, lead singer of the band Blondie. Harry, whose glamorous image was also immortalized in silkscreen portraits by Andy Warhol, had achieved a number one hit with the Blondie song "Rapture" in 1981. The music video for the song was set in New York's East Village and featured a cameo appearance by Jean-Michel Basquiat playing the role of Grandmaster Flash.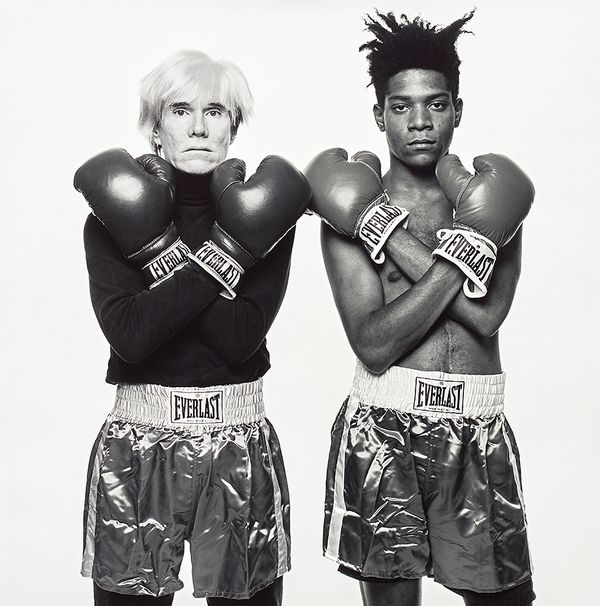 Michael Halsband, Andy Warhol + Jean-Michel Basquiat #143, New York City, 1985. Photographs London.
Warhol and Basquiat as cultural icons can be seen together, wearing boxing kit, in Michael Halsband's famous portrait offered here. Halsband and Basquiat grew close on the shoot as the photographer told The Art Newspaper, "The life of these pictures has really become something where I feel like I'm still connected to him [Basquiat] in this crazy way. And I do feel that there isn't a day that goes by where I don't look at him and Andy."
Equally definitive of '80s culture is the impression of sex, glamour, and female power that resonates from Helmut Newton's works in the collection — Sie Kommen, Paris, 1981, Diving Tower, Old Beach Hotel, Monte Carlo, 1981, and the later Cyberwoman 1-7, 2000. In Sie Kommen, first featured as part of a 1981 two-page spread in French Vogue, Newton left behind the lush interiors and streets of Paris that he frequently used in his earlier works and shot his subjects in the empowering and boundless white space of a studio. The models in the photograph embody a subversive power with Karl Lagerfeld noting that for Newton, "there is no 'weaker sex' … his women are part of a 'strong' sex."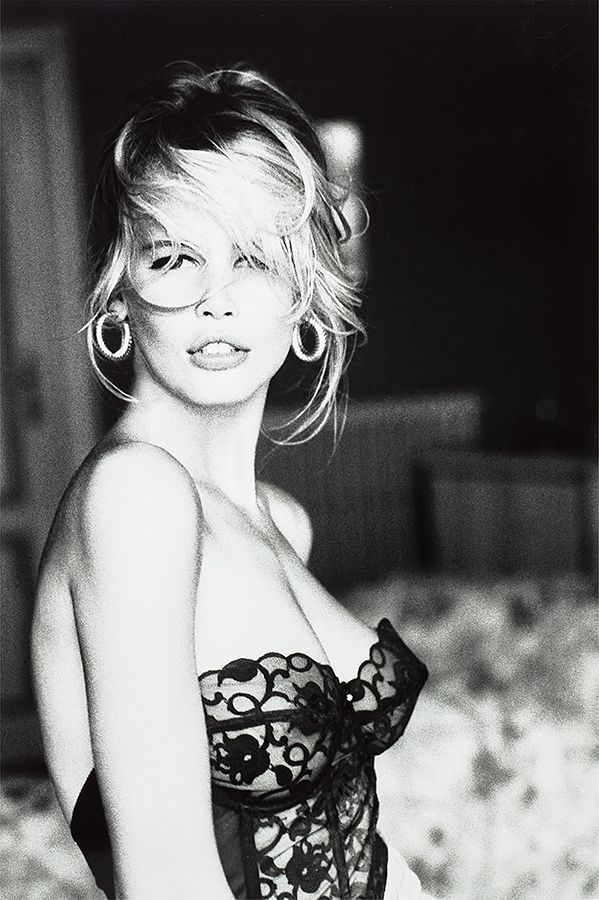 Ellen von Unwerth, Claudia Schiffer for Guess, Morocco, 1989. Photographs London.
Newton's bold and suggestive images introduce a further aspect to this collection as we move closer to the present moment, featuring a desirable selection of photographers and subjects. Ellen von Unwerth's signature ability to put her models at ease is on display in portraits of Claudia Schiffer and Rihanna (taken during the shoot for Rihanna's Rated R album cover). Albert Watson's amorously noir portrait of Christy Turlington meets powerfully seductive photographs of Cindy Crawford by Herb Ritts, Santa D'Orazio, and Patrick Demarchelier — each from the early '90s. Mario Testino's indelible photograph of Kate Moss for Harper's Bazaar and Mario Sorrenti's intimate nude depiction of Léa Seydoux bring this collection's spotlight on popular culture squarely to the present.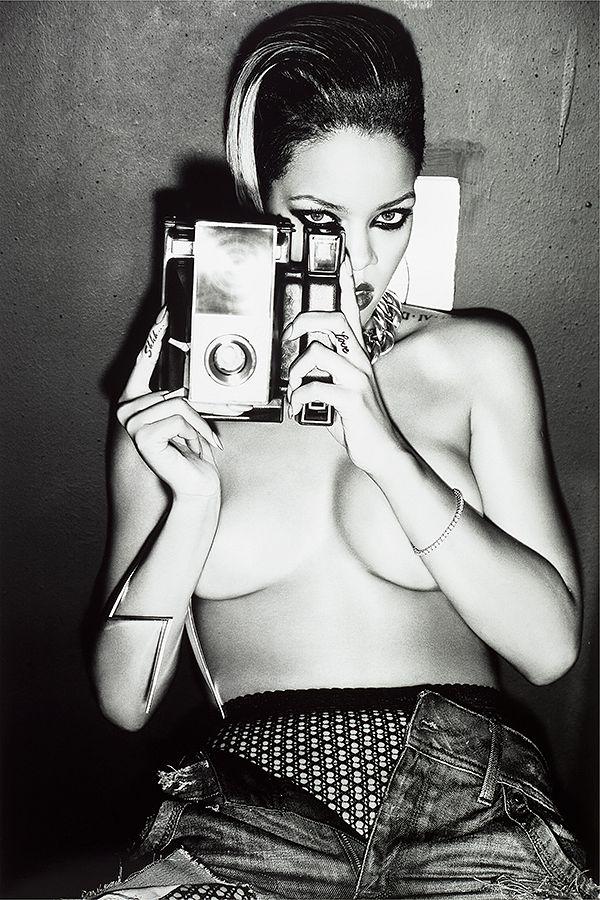 Ellen von Unwerth, Your Turn, Rihanna, 2009. Photographs London.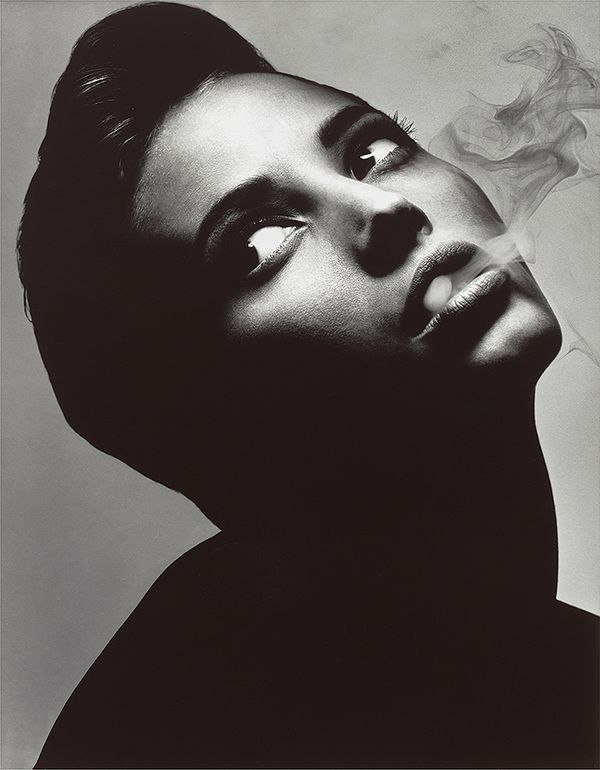 Albert Watson, Christy Turlington, New York City, 1990. Photographs London.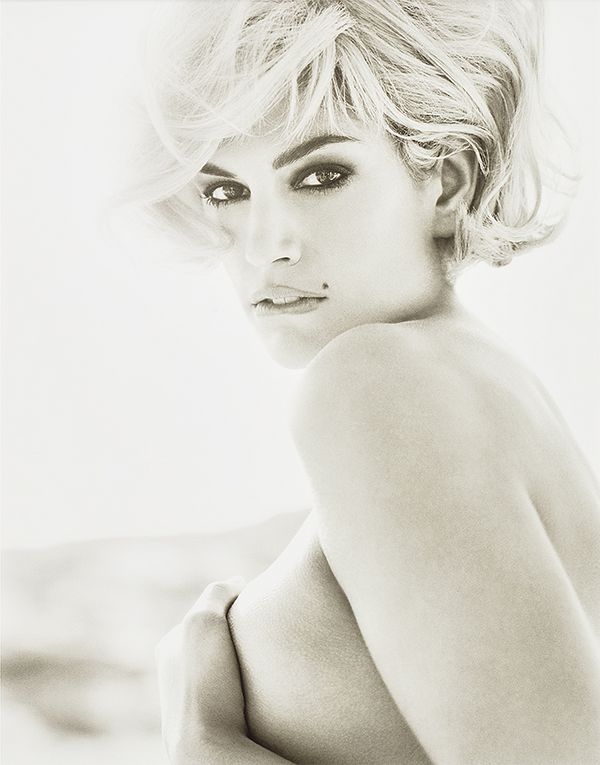 Herb Ritts, Cindy Crawford - Blonde, Malibu, 1993. Photographs London.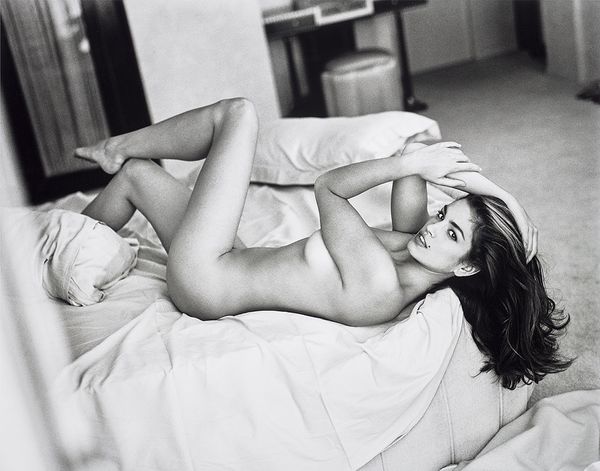 Sante D'Orazio, Cindy Crawford, The Argyle Hotel, Los Angeles, 1991. Photographs London.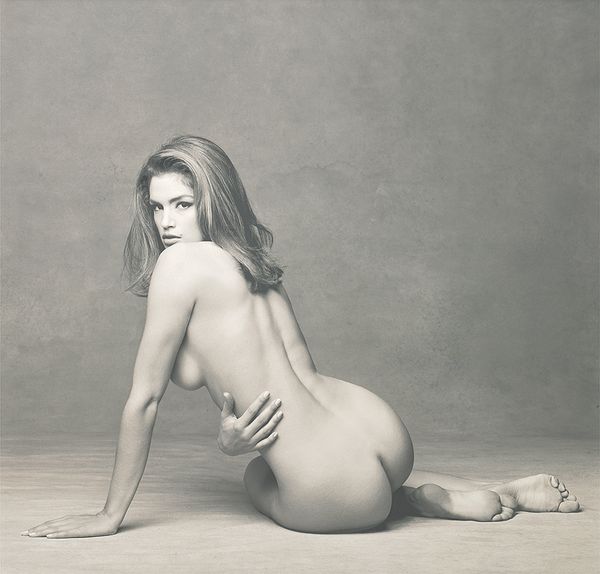 Patrick Demarchelier, Cindy, New York, 1990. Photographs London.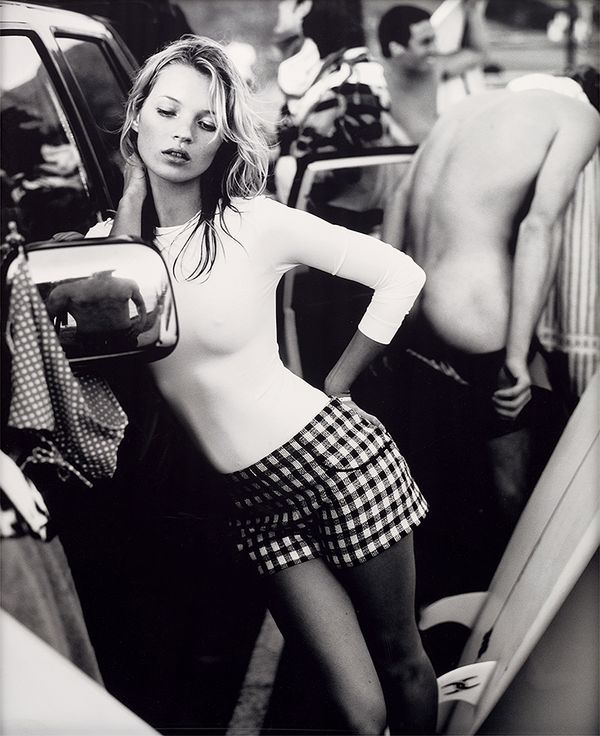 Mario Testino, Kate Moss, Los Angeles, Harper's Bazaar, 1996. Photographs London.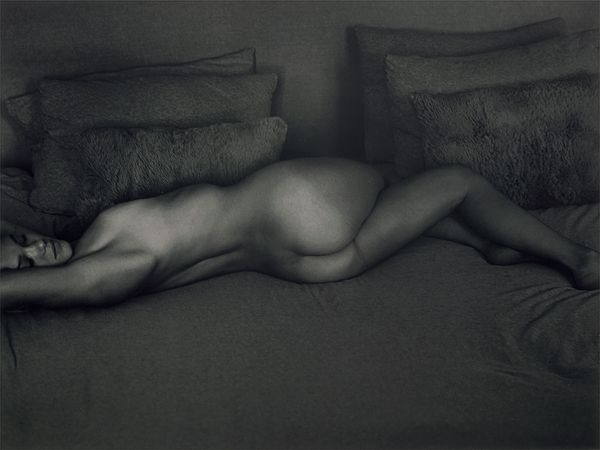 Discover More from Photographs London >
---
Recommended Reading
Ellen von Unwerth: In Conversation >
The Look, Très Chic, The Wife and Her Lover: On one of Irving Penn's greatest masterpieces >