Andy Warhol | Ai Weiwei, National Gallery of Victoria, Melbourne, Australia, December 11, 2015 - April 24, 2016
"As an artist, I value other artists' efforts to challenge the definition of beauty, goodness and the will of the times. These roles cannot be separated. Maybe I'm just an undercover artist in the disguise of a dissident; I couldn't care less about the implications." —Ai Weiwei
From our upcoming 20th Century & Contemporary Art Evening Sale, this expansive work by Chinese contemporary artist Ai Weiwei features twelve replicated zodiac animal heads, originally part of a water clock that encircled the fountain-clock of Yuanming Yuan or the Old Summer Palace, an imperial palace complex outside Beijing. The zodiac symbols were arranged around a fountain designed by European Jesuits a century earlier for the court of the Qianlong Emperor. Towards the end of the Opium Wars, which pressured Chinese imperial rulers to open up their country further to Western trade and influence, the palace was sacked and looted in 1860 by British and French soldiers, under the direction of the 8th Earl of Elgin — coincidentally the son of the man who removed the "Elgin marbles" from Greece.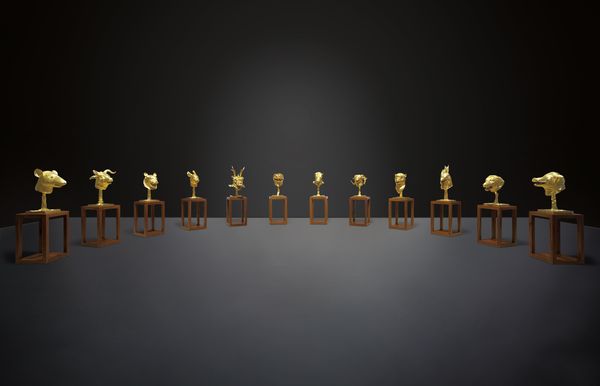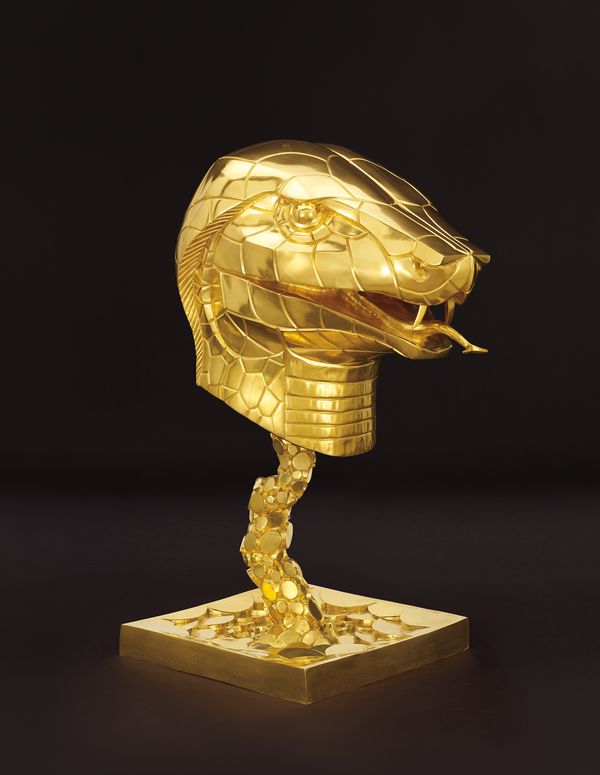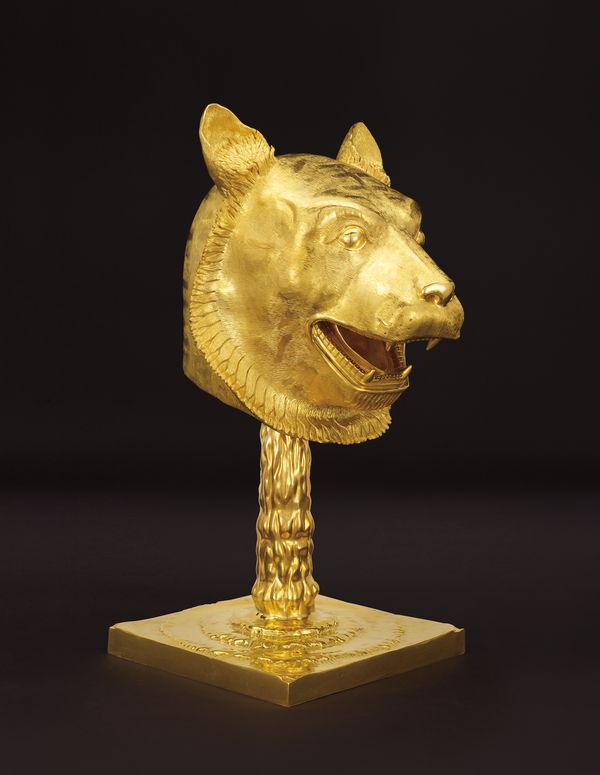 Ai Weiwei Circle of Animals/Zodiac Heads, executed in 2010. Detail views of the Snake and Tiger. Gilded bronze on artist's huanghuali veneered wood bases. This work is number 5 from an edition of 8 plus 4 artist's proofs.
The twelve original zodiac heads were stolen. The plundering of the palace and looting of the twelve animal heads over 150 years ago still remains a source of contention for the Chinese government, which has been working to repatriate all twelve of the heads.
Over the last ten years, prominent Chinese collectors have acquired a large number of items at auction with significant cultural value and have donated them back to Chinese public institutions, including seven of the Chinese animal heads, which now are located in museums in Beijing. In 2009, controversy around these disputed objects arose again, triggered by the news that two of the bronze animal heads, the rabbit and rat, were to be offered at Christie's as part of Yves Saint Laurent's vast collection sale. The offering of the works in the sale was widely protested; the successful bidder was a Chinese art dealer who engaged in the bidding as a public disapproval of their inclusion with no intention of paying.
….art is not the end but the beginning. Art is not the end. The product is never the end but should be the beginning. Otherwise art has no life.

— Ai Weiwei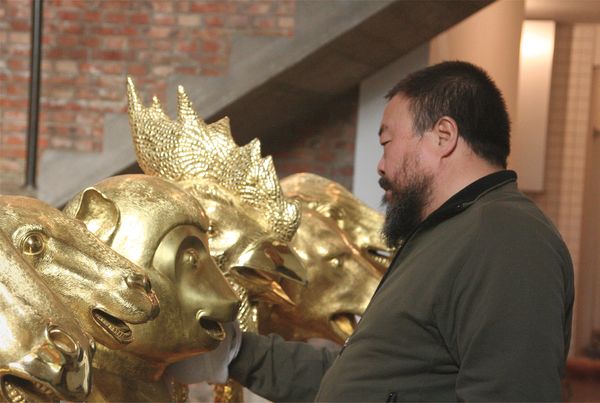 Ai Weiwei with the Zodiac Heads: Gold series at his home studio in Beijing, 2010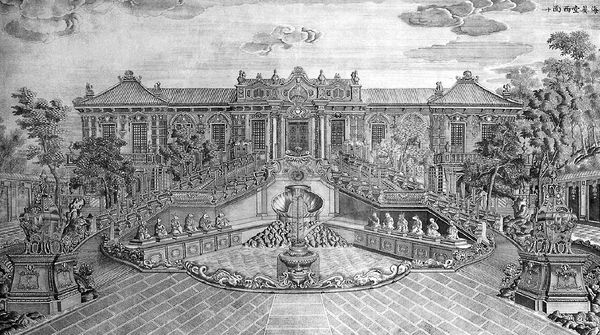 Old Summer Palace, A temple in the ruins of the Old Summer Palace, Beijing, China, circa 1860. The Palace, formerly the residence of emperors of the Qing Dynasty, was destroyed by British and French forces during the Second Opium War in 1860. Photo by Hulton Archive/Getty Images.
One year later, Ai Weiwei began his exploration of the subject matter of cultural restitution, executing a series of the twelve heads in both bronze and gold gilded – plated bronze. Aware of the tension surrounding these historic sculptures, Ai Weiwei chose to re-create and complete the now incomplete ancient zodiac, as five of the original heads (dragon, dog, snake, sheep and rooster) have never resurfaced and are thus believed to be lost. As the artist explains, "without twelve, it's not a zodiac. So the idea was first, to complete it, and more important, to complete it the way I think it should be. Then that becomes solid, because I did it. The new event of my twelve zodiac heads becomes a new factor" (Ai Weiwei quoted in "My Work is Always a Readymade," Ai Weiwei: Circle of Animals, London, 2011). In order to recreate the missing heads Ai Weiwei had to do creative research into the stylistic depictions of animals within the Ming and Qing Dynasties.
Continuing his ongoing exploration into the "fake" or "copy" of an original, Ai Weiwei chose in the present series to coat the twelve animal heads in gold, even though the originals were in fact unadorned bronze. This artistic decision elevates the sculptures' status as objects to be revered and worshipped for their brilliant, gleaming surfaces. Their original theft only further heightens the mystique around these series of sculptures, so desirable that to this day the effort continues to locate and retrieve them. Their singular desirability and authenticity is subverted by their multiple reproductions and modified redesign, as they are executed by Ai Weiwei in an edition of 8 plus 4 artist's proofs.
The artist explains, "My work is always dealing with real or fake authenticity, and what's the value and how the value relates to current political and social understandings and misunderstandings. I think [there's] a strong humorous aspect there. So I wanted to make a complete set [of zodiac heads], including the seven original and the missing five." By touring worldwide these complete sets of twelve zodiac animal heads, Ai Weiwei has shifted their original site specificity and cultural, imperial status towards a universal, democratized and inclusive one, saying "I think the public deserves the best," he said. "Before, only a pope or an emperor could see those kinds of things" (Ai Weiwei quoted in Hirshhorn Presents "Ai Weiwei: Circle of Animals/Zodiac Heads," April 10, 2012).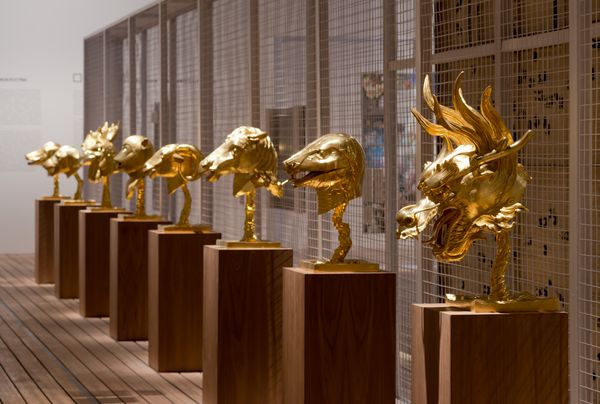 Personal Choice, The Garage Center for Contemporary Culture, Moscow, February 14- April 6, 2014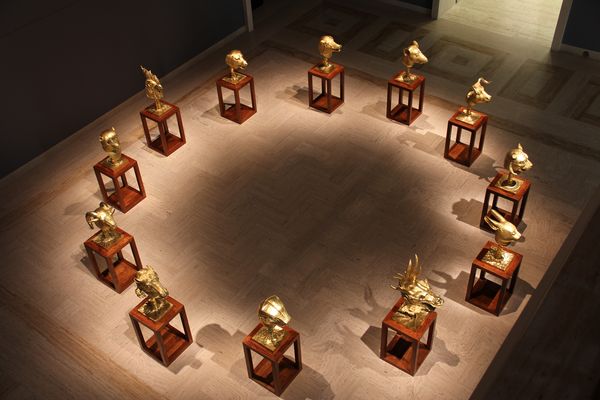 Circle of Animals/Zodiac Heads, Portland Art Museum, Portland, Oregon, May 23- September 12, 2015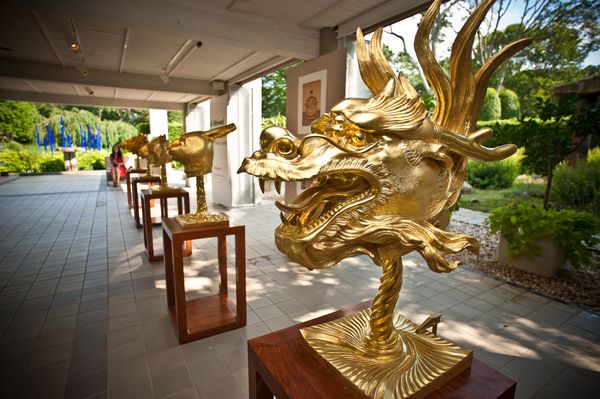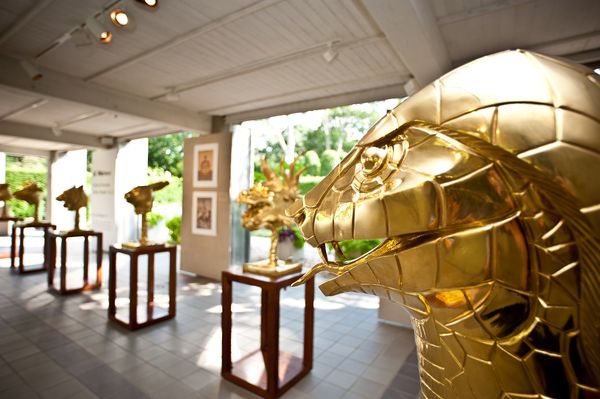 Circle of Animals/Zodiac Heads, The LongHouse Reserve, East Hampton, New York, August 2 - October 12, 2013
Ai Weiwei has spent much of his artistic career calling into question the importance of cultural relics, by re-interpreting epic public works of his artistic forbearers, many of whom belong to the Western European tradition. Even the twelve zodiac heads, as Ai Weiwei pointed out, are not Chinese national treasures in terms of their authorship, saying "It was designed by an Italian and made by a Frenchman for a Qing dynasty emperor, which actually is somebody who invaded China. So if we talk about 'national treasure,' which nation do we talk about?" (Ai Weiwei quoted in Hirshhorn Presents "Ai Weiwei: Circle of Animals/Zodiac Heads," April 10, 2012).
Ai Weiwei's creative defacement of ancient objects, and the calling into question of their associated monetary and nationalist value, transforms them into critically-minded contemporary artworks that interrogate China's acquisitive repatriation of an imagined past. By amending and forging the partially "lost" treasures of China, the artist reveals how venerable claims to national patrimony and artistic tradition can be revisited and critiqued.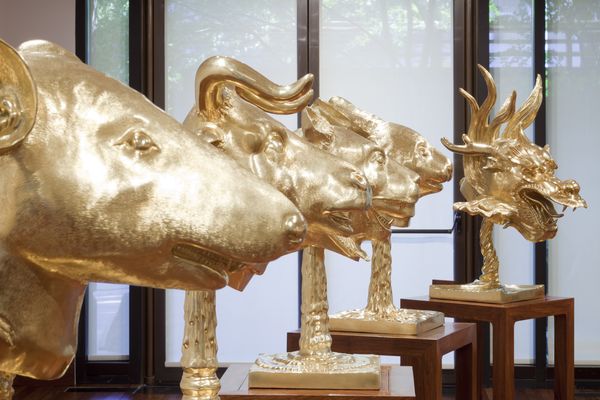 Personal Choice, The Crow Collection of Asian Art, Dallas, September 14, 2013 - March 2, 2014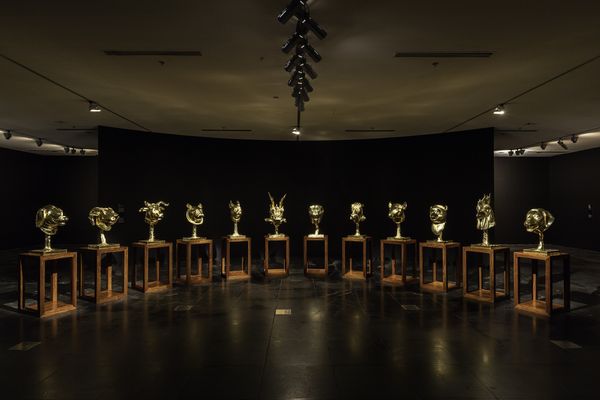 Andy Warhol | Ai Weiwei, National Gallery of Victoria, Melbourne, Australia, December 11, 2015 - April 24, 2016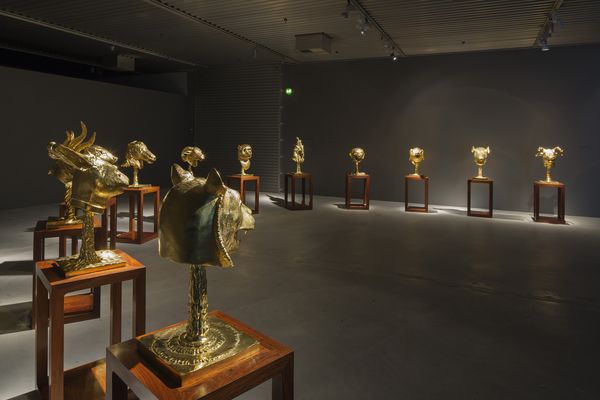 Ai Weiwei Circle of Animals/Zodiac Heads, Arken Museum of Modem Art, Skovvej, Denmark, July 2013 - June 2019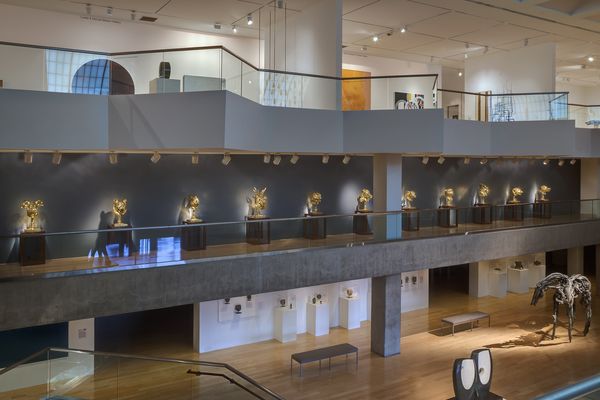 Ai Weiwei Circle of Animals/Zodiac Heads, Palm Springs Museum of Art, Palm Springs, December 20, 2014 - May 15, 2015
From Dallas, Portland and East Hampton to Moscow, Berlin and Denmark, The Circle of Animals/Zodiac Heads: Bronze and Gold series have been exhibited at nearly forty international venues since the official launch of this body of work in 2011, making it one of the most viewed sculpture projects in the history of global contemporary art.