Peter Doig Rosedale, 1991
The Makings of a Master
An exceptional early work appearing for the first time at auction, Peter Doig's Rosedale, 1991, signals the emergence of a young master. Heralding the artist's breakthrough moment after graduating from Chelsea College of Art and Design, Rosedale was painted for and shown in his celebrated solo exhibition at the Whitechapel Gallery, having won the prestigious Whitechapel Artist Prize. 26 years following his debut at the Whitechapel show, Doig received the Whitechapel Gallery Art Icon 2017 lifetime achievement award, distinguishing him as one of the most innovative and significant painters of his time.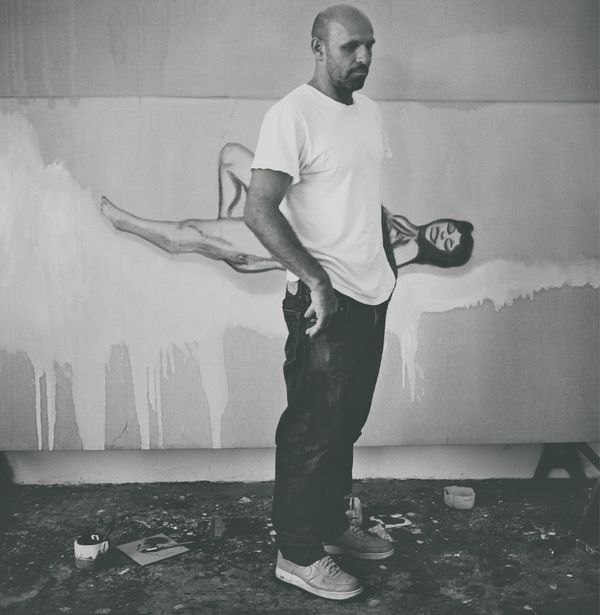 Peter Doig, Trinidad 2011. Photo © Anton Corbijn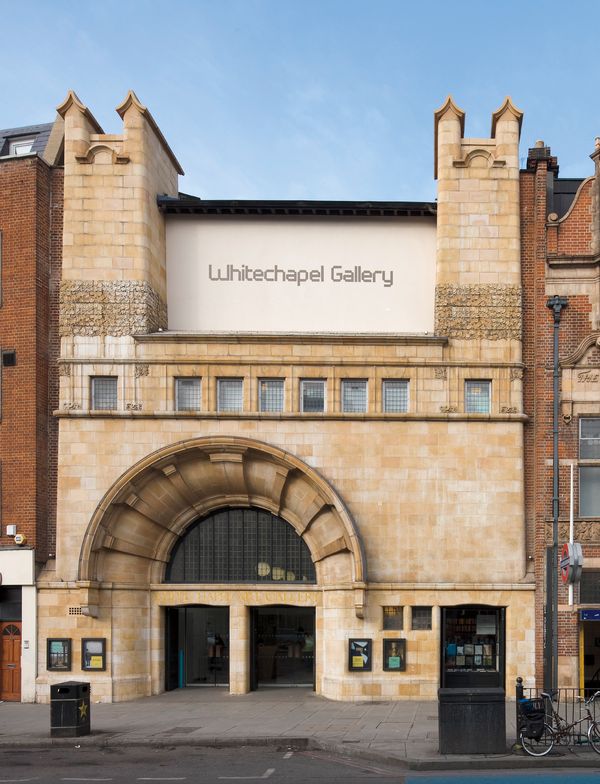 London, Whitechapel Art Gallery, Charles Harrison Townsend 1897 © akg-images/Bildarchiv Monheim
Taking a grand Rosedale manor in Toronto's ravine as its subject, Rosedale's richly detailed surface is comprised of abstract gestures that coalesce to reveal a home through the static of snow and thicket. Doig described painting Rosedale, which he executed based on his own photographs, as "through the screens of nature", painstakingly building up fragments of the house through the dense labyrinth of trees. Riffing on art historical and pop culture references ranging from Gerhard Richter, Jackson Pollock, Pierre Bonnard and Edvard Munch to record covers, vintage postcards and Doig's own archive of photographs and memories of his early experiences in Canada. Doig, through his visual play of impasto and glazes, conjures the cinematic quality of a vintage film reel and the nostalgic glow of memory.
The year 1991 was particularly formative in Doig's career: he was selected for the Barclays Young Artist Award at the Serpentine gallery and won the prestigious Whitechapel Artist Prize. Opening when Doig was only 32 years old, the Whitechapel show would serve as the catalyst for his career. With the exhilarating opportunity to exhibit in the upstairs gallery of the influential institution at the same time as Cindy Sherman's show on the main level, Doig painted a series of large scale paintings for his exhibition including Rosedale (1991), Iron Hill (1991), Young Bean Farmer (1991) and the Architect's Home in the Ravine (1991).
As quoted in Parinaz Mogadassi's "Interiew with Peter Doig" for Purple, April 2011, the artist recalled: "The year after I left Chelsea I was awarded The Whitechapel artist prize, so I got a show of my new work at the Whitechapel Gallery, upstairs. Cindy Sherman's show was on downstairs. I remember walking my paintings, which were still wet and in cheap decorator's plastic, between her incredible crates."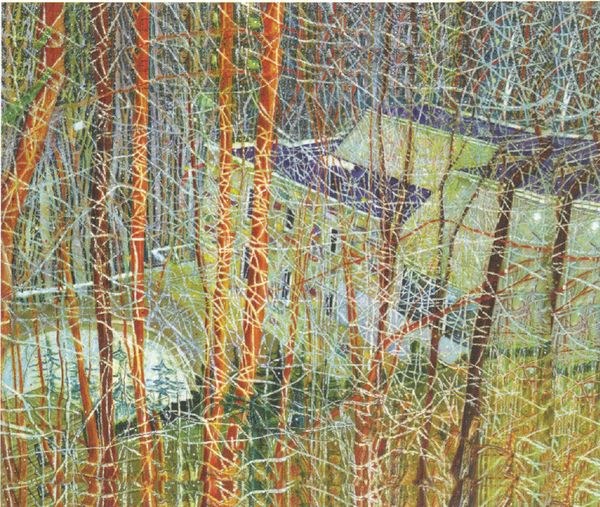 Peter Doig The Architect's Home in the Ravine, 1991. Private Collection.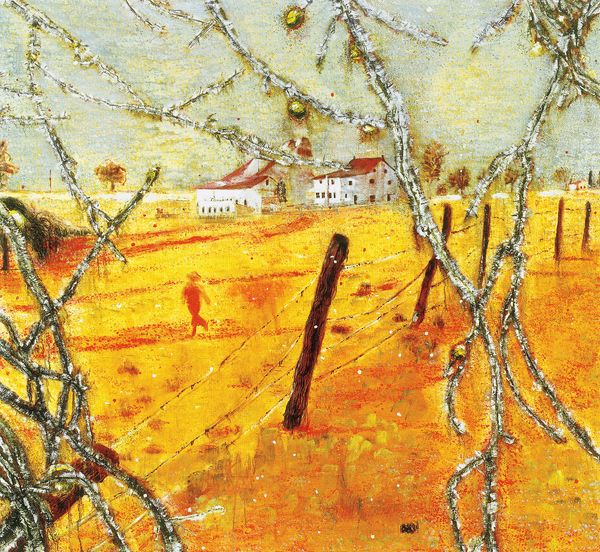 Peter Doig The Young Bean Farmer, 1991. Private Collection.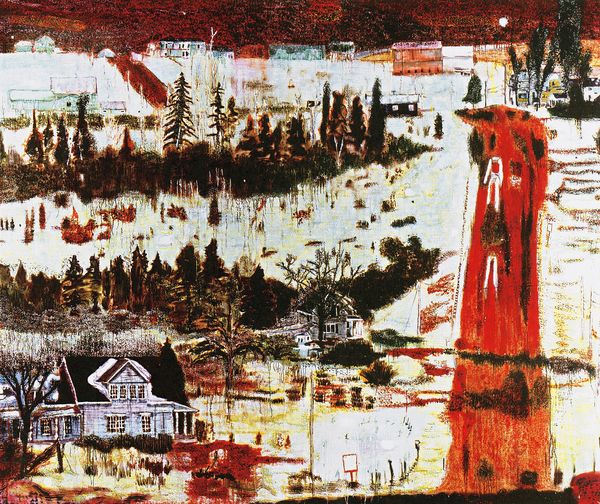 Peter Doig Iron Hill, 1991. Private Collection.
I never try to create real spaces—only painted spaces. That's all I am interested in. That may be why there is never really any specifc time or place in my paintings.
Everybody Knows This Is Nowhere
Having spent his teenage years in Canada, Doig was originally drawn to London as a center for art, film and music. A music aficionado, Doig's formative college years at St. Martins from 1980 to 1983 were accompanied by an eclectic soundtrack of early rap, electronic, rock, post-punk, jazz and blues. London was young, cheap and gritty, buzzing with punk and hip-hop sampling. During this time, Doig embraced a bohemian lifestyle, paying £4 rent for his warehouse in King's Cross and absorbed the London club scene, watching gigs of Kraftwerk, Pere Ubu, The Fall and Kid Creole. Crucially, it was at the clubs that Doig became familiar with new experimental and creative forces. As quoted in the FT, March 2014, he recalls "film-makers like Isaac Julien and Cerith Wyn Evans showed there, [performance artist] Leigh Bowery, [choreographer] Michael Clark, wicked, witty, totally relevant, those people were in clubs."
Reflecting the significance of music to his creative practice, Doig's collection of vinyls, CDs and cassettes were catalogued by curator Matthew Higgs and included in his 1998 exhibition Peter Doig: Blizzard seventy-seven, shown at the Whitechapel Gallery, Kunsthalle zu Kiel and Kunsthalle Nürnberg. Higgs' inventory chronicles "the daily ebb and flow of [Doig's] musical selections," which were as diverse and far-reaching as Kraftwerk, Neil Young, Mozart and Coolio, to name but a few. A continual source of inspiration, Doig's music collection has become a reference within his artworks, such as the imagery of a Duane Allman vinyl sleeve morphing into the figure in the canoe central to Doig's 100 Years Ago series.
Most art had a clean, contemporary, slick look...I purposefully made works that were handmade and homely looking.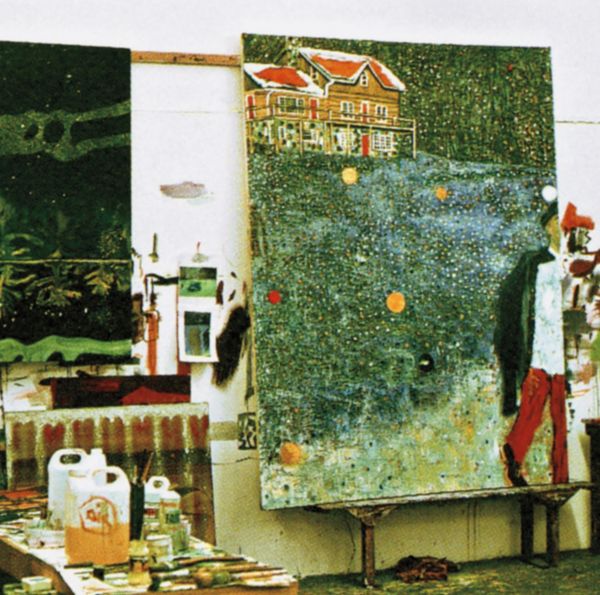 The Artist's Studio, Chelsea 22 School of Art, London, 1990
Doig distinguished himself as an artist while pursuing his Masters of Art at the Chelsea College of Art in 1989, emerging as a painter's painter at a moment when "the death of painting" had long since been established and conceptualism was being championed at Goldsmiths college. His commitment to painting felt fresh and relevant, in sharp contrast to the shock tactics and conceptual installations that were typified by the brazen yBa — which included the likes of Damien Hirst and Tracey Emin.
As Doig himself recalls, "in the late 1980s and early 1990s most art had a clean, contemporary, slick look...I purposefully made works that were handmade and homely looking...I didn't want the surfaces to be beautiful but slightly repellent on close inspection." Doig rejected the flash of popular practices in favor a unique approach to painting that conflated imagery from postcards, magazines, movies and photographs with memories real and imagined. Through a series of abstract painterly processes, Doig would then rework the images, allowing the materiality of paint to transport his work from their original sources. Doig quickly gained critical recognition for his new breed of painting.
Doig's own experience is one of displacement, simultaneously looking forward and back. Living in Canada for episodic stints from 1966-1979 and again from 1987-1989, Doig did not revisit the landscape of his youth as a subject of his practice until moving to London. Reliving memories captured in snapshots and revisiting found imagery of an idealized hinterland, Doig found that the Canadian landscape assumed a new, romanticized quality. Indeed, these pivotal images capture the elusive quality of his homeland. Conjuring visions of nostalgic homeliness so often associated with Canadiana, Doig later jokingly quipped, as quoted in BOMB, Fall 2007, "within the Canadian context, my paintings with the canoe, lake and cabin motifs were interpreted differently. Canadians listen to Neil Young differently than Americans do."
Shutters & Screens
Spanning nearly eight feet in length, Rosedale presents itself like a cinematic scene. The tableau invites the viewer in. Through the static of snow, the viewer searches for the flicker of light from a window. For the Slade Contemporary Art Lecture Series 2015-16 at UCL Slade, London in July 2016, Doig described the subject in this work as "a house in a kind of old posh neighborhood in Toronto called Rosedale, where a lot of the houses are built on quite big lots, and nature has been allowed to create a sort of privacy screen for the people who occupy them. And so I took a number of photographs of these houses, through the screens of nature, and I made a number of paintings of these houses where I tried to paint the house through the trees, rather than if I was actually a voyeur or something like trying to look at this house, rather than painting the house and put the trees over it. So they were quite difficult and time consuming to make these works."
A touchstone motif in Doig's practice, screening is employed in Okahumkee (Some Other People's Blues) (1990), and Concrete Cabin 1991–1992 (New Walk Museum & Art Gallery, Leicester Arts and Museums Service). In Night Playground (1997-8) this develops into gridded fences. This transforms again into gauzy drapes in Doig's later Trinidadian works such as Black Curtain (Towards Monkey Island) (2004). A champion of the medium, Doig's explorations that self-reflectively comment upon the practice of painting have informed a new wave of postmodern contemporary painters including Hurvin Anderson and Lynette Yiadom-Boakye, who draw on disparate references to discuss representation and identity in painting.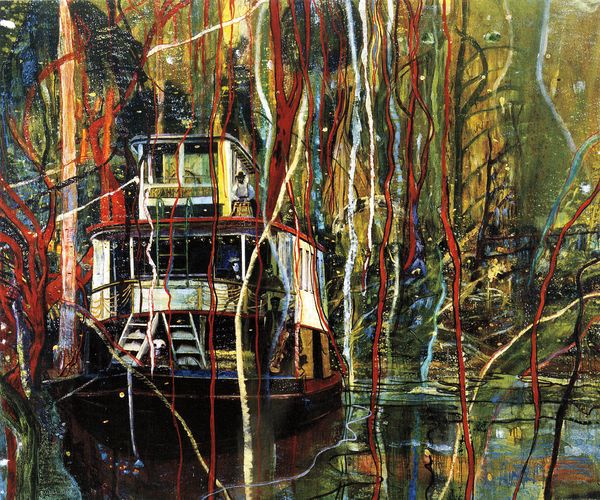 Peter Doig Okahumkee (Some Other People's Blues), 1990. Kunsthalle zu Kiel © Peter Doig. All Rights Reserved, DACS 2017.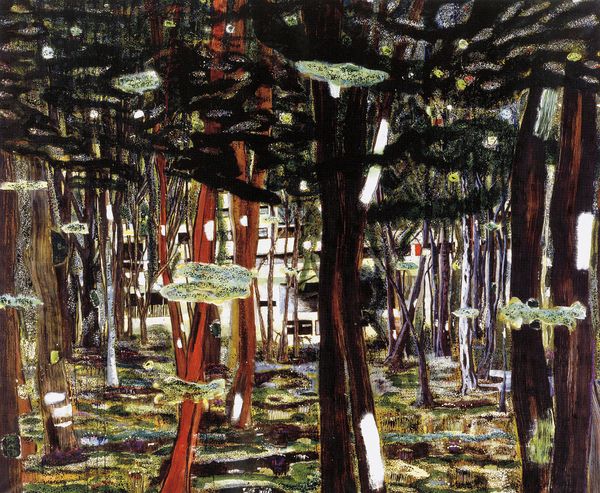 Peter Doig Concrete Cabin, 1991–92. Leicester Arts and Museum Service © Peter Doig. All Rights Reserved, DACS 2017.
Recalling Doig's penchant for culling film imagery, such as the frame of the 1980 cult horror classic Friday 13th transposed in Swamped (1990), Rosedale conjures a less horrific but nonetheless uncanny scene. Peering through the curtain of trees places the viewer clearly on the "outside," anticipating something unknown or foreboding. Author and scholar Adrian Searle identifies that "buildings in Doig's art frequently intimate hidden intrigues, family histories, things best kept hidden." This tension echoes that inherent in Edward Hopper's paintings, which Doig so admired. Peter Doig was quoted: "[Hopper] not only suggests a particular scene but seems to summarize an entire film, in a very specific manner, and yet it divulges so little."
The cinematic is an enduring theme in Doig's work. Indeed in his 1992 article published in Frieze, Gareth Jones stated of Rosedale that "the title recalls the most famous flashback in the history of cinema — the snowdome, a sequence in Citizen Kane where the bloated protagonist of the film utters the word 'Rosebud' and is transported from his deathbed back to a moment of snowy innocence. As in the frozen frame of a video, where the still image never quite conveys what the succession of moving images intended, Rosedale has the incomplete quality of a memory, or of something that can only be partially articulated."
Painting Through the Trees
Standing in front of Rosedale, the viewer is dazzled by the intricate surface of the painting. The freshness of the painting comes from the inventiveness of painterly technique. A study in abstraction, the richly detailed surface is dotted with Pointillist dabs of paint, and gestural drips akin to Pollock's action painting suggest the figurative forms of a landscape and the feeling of snow. Inspired by Pieter Bruegel's snow-filled visions, Doig observes, as quoted in Richard Shiff's 'Incidents' for a Tate Britain, London show in 2008, "when you look at [Breugel's painting] the snow is almost all the same size, it's not perspectival, it's the notion of the 'idea' of snow, which I like. It becomes like a screen, making you look through it." The drifts of snow, created by overlapping passages of mottled impasto and translucent veils in the foreground, create a sense of slippage. The snow effectively dissolves into abstraction as if the viewer is peering ahead to the warm hearth beyond, the eyes attempting to focus through the flurries.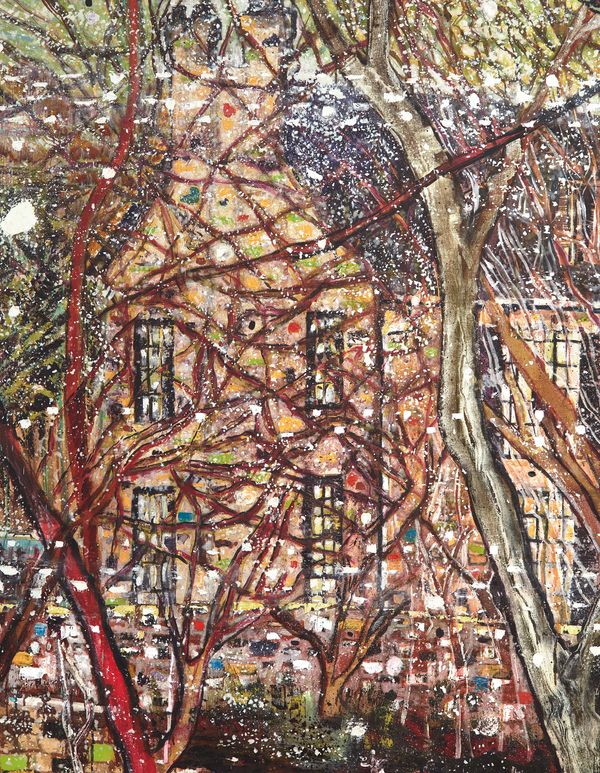 Peter Doig Rosedale, 1991 (detail)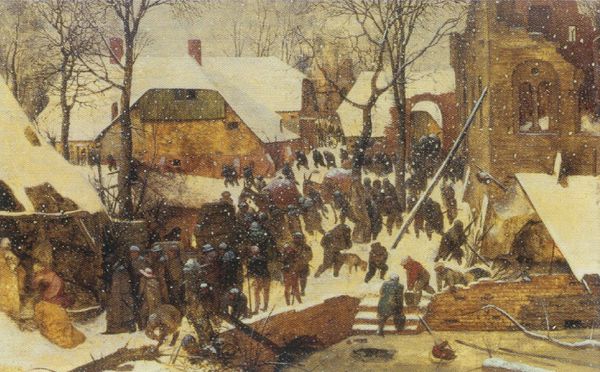 Pieter Bruegel the Elder The Adoration of the Magi in the Snow, 1567. Oskar Reinhart Collection, Winterthur, Switzerland © 36 Bridgeman Images.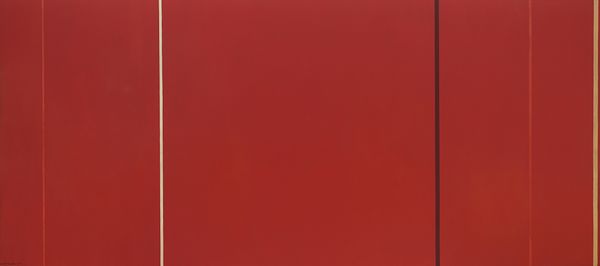 Barnett Newman Vir Heroicus Sublimis, 1950–51. Museum of Modern Art, New York © 2017 The Barnett Newman Foundation, New York/Artists Rights Society (ARS), New York.
Across a vast panoramic expanse, the foreground is punctuated with regular horizontal bands of snow flurries. This geometric gridding infers an erudite knowledge of the principles of Modernist abstraction employed by Barnett Newman. The reference to Newman's "zip" paintings suggests that the linear quality of the painting has the possibility to effect a sublime response in the viewer. As Doig has explained in Shiff's 'Incidents,' "painting is about working your way across the surface, getting lost in it...[The size of paintings] is about the idea of getting absorbed into them, so you physically get lost."
In the distance, the landscape is divided into bars of olive green, ochre and sapphire. These oscillating bands share a dialogue with Mark Rothko's diaphanous planes of floating translucent color. Disrupting the formal geometry of the composition, stark trees are staggered through the mid-ground, recalling the formal ordering of Gustav Klimt's late landscapes. Using the fanned edge of a paintbrush, Doig skillfully captures the effect of strong light filtering through the trees and the patches of snow and shadows on the earth below. Clearly, Doig's experiments in paint have informed his practice. The chromatic lozenges and cloissionist treatment of the low brick wall on the left hand side of the canvas share an affinity with the multicolored dam in Gasthof zur Muldentalsperre, 2000-2002, housed in the collection of The Art Institute of Chicago.
There's one painting called Rosedale, which is a view of a grand Rosedale manor through the trees from a snapshot I took, where I literally picked my way at it. It was a way of seeing into that world.
Different Ways of Looking
Significantly, Rosedale represents a moment of critical consciousness in Doig's practice where he developed a "new way of looking." Back in his studio, Doig painstakingly built up fragments of the house through the dense network of trees in the composition, based on his own photographs taken on location. Departing from the static photograph, the energy of Doig's brush is palpable. Hatched dabs of paint animate the snowy foreground and thicker, deliberate brushstrokes fill in the details of the house through the network of branches. He recalls for Robert Enright in Border Crossings Magazine, June 2006, "I was trying to describe to someone the way I made those paintings: I deliberately painted the buildings through the trees rather than paint the building and then cover them in trees. Even with the modernist buildings, I didn't paint the façade and then put the trees over them, I actually painted them through the trees, so it was more about looking and picking out bits with the eyes. It's a much slower process. There's one painting called Rosedale, which is a view of a grand Rosedale manor through the trees from a snapshot I took, where I literally picked my way at it. It was a way of seeing into that world."
This "different way of looking" developed in Rosedale — looking through dense layers of trees to buildings beyond — eventually induced Doig to create his celebrated Concrete Cabin series first shown at Victoria Miro Gallery, London in 1994. The artist recalled how Rosedale "led me to make paintings of a minor Le Cobusier building…" (Peter Doig, quoted in Slade Contemporary Art Lecture Series 2015-16, UCL Slade, London, Jul 4, 2016, online). Looking at the Concrete Cabin series, on which Doig focused from 1991-1998, one is struck by how many works are now housed in museum collections, including the Concrete Cabin (1991-1992) in the Leicester Arts and Museum Service and Boiler House (1994), a promised gift to the San Francisco Museum of Modern Art. Shortly after painting the present work, the artist travelled to Briey-en-Forêt in northern France to take part in the restoration of Le Corbusier's abandoned Unité d'Habitation. The artist recalled "I went for walk in the woods on one visit, and as I was walking back I suddenly saw the building anew … seeing it through the trees, that is when I found it striking" (Peter Doig, quoted in Adrian Searle ed., Peter Doig, London, 2007, p. 16). Just as abstraction and figuration are at play in Rosedale, there is a tension between the built and the organic, where nature seems to encroach on the manmade structures.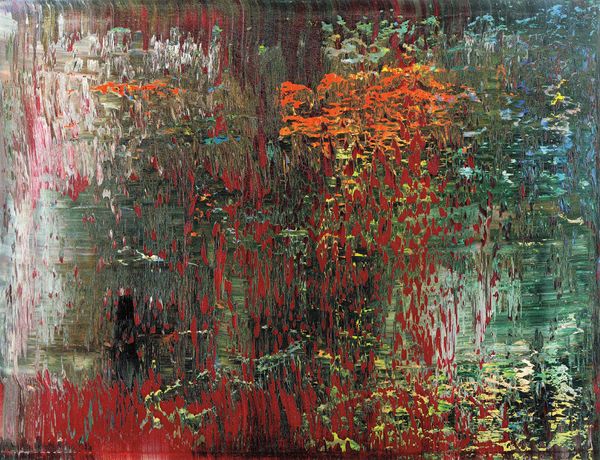 Gerhard Richter St John, 1988. Tate Modern London © 2017 Gerhard Richter.
Expanding on his experience taking photographs of the Rosedale house which he then translated into painting, Doig later turned to video footage, which he translated into stills, and which, in turn, were photocopied before painting. In this radical reinterpretation of photographic imagery, Doig's work produces a fertile dialogue with Gerhard Richter's practice, similarly pushing the balance of figuration and abstraction, representation and reinterpretation. Indeed, Roberta Smith's review of Doig's first solo exhibition in New York draws similar conclusions, suggesting that Doig "fuse[s] the strands of Mr. Richter's split career — his photo-realist works and the frozen gestures of his abstraction — into single works."
Homely / Hygge
In contrast to the utopian ruins of the Le Corbusier compound, Rosedale is a vision of domestic coziness. In London, Doig yearned to create pictures he described as "homely," a concept innately linked to the uncomplicated comfort of home. In this way Doig's houses embody the Danish concept of hygge, a word used to acknowledge the feeling of simple pleasure taken in a moment of coziness. When reflecting on another house painting of this year, The House that Jacques Built (1991), Doig poignantly reflected during his UCL Slade lecture that "[it] reminded me of a house in a Hopper Painting…where the house seems to be as present and human as the couple itself."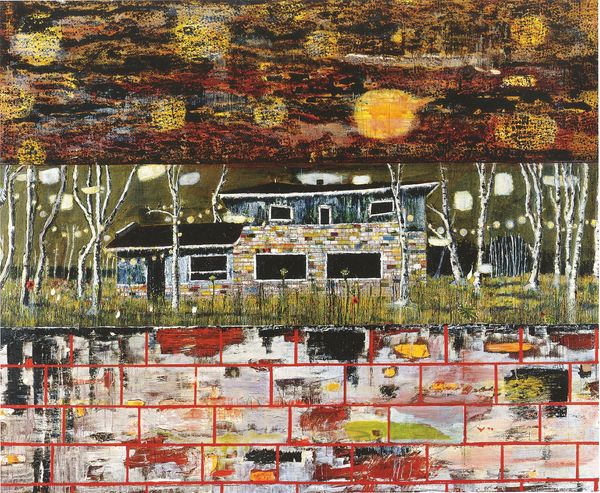 Peter Doig The House That Jacques Built, 1991. Tel Aviv Museum of Art.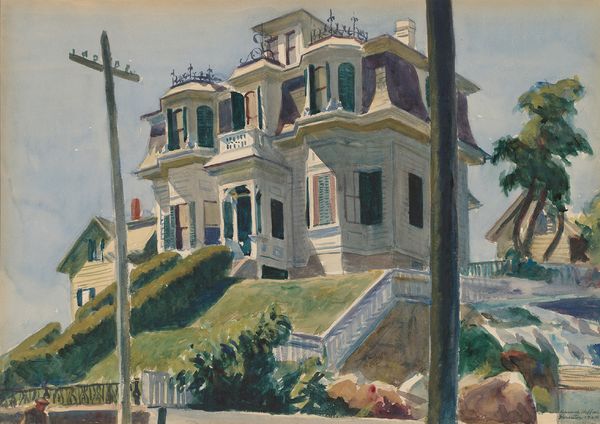 Edward Hopper Haskell's House, 1924. National Gallery of Art, Washington D.C. © National Gallery of Art.
Evoking an uncanny sense of nostalgia, the play of abstract processes produces an otherworldly realm akin to Bonnard's dreamlike imagery. In particular, Doig felt the use of snow "somehow has this effect of drawing you inwards and is frequently used to suggest retrospection and nostalgia and make-believe." Returning to Doig's principle concern with the material possibility of paint, Rosedale prompts a philosophic enquiry into the way we see.
As Searle identifies, "Doig is of course, playing an ironic game with painting itself. Blobs of snow are also a blizzard of paint. Briars and vines are tangles of drips and brush strokes. A painting's surface can never be truly penetrated, because it is, quite literally, all there is to see, however much we might entertain the idea that the landscapes and figures and buildings are actually multiple, parallel worlds to our own, and inhabited by people much like ourselves, who move from place to place, appearing and disappearing from sight, just as we do to others, and others do in relation to us."
In this way, Rosedale is a celebration of the inherent possibilities of paint and its ability to convey emotional expression.