Lucie Rie Large vase with faring lip and integral spiral (detail), 1970s
The Venezuelan-born Fina Gomez (1920-1997) had a classical approach to art through painting, sculpture and architecture. In 1961, Gomez's devotion to the arts saw her create a foundation to promote the cultural exchange between South America and Europe. The following year, she presented the exhibition '100 years of painting in France' at the Museum of Fine Arts in Caracas, it was here that she met the ceramicist Christina Merchán and was first exposed to l'art de la terre.
It was on her next visit to Europe that she again met with Merchán and began to embark on the passionate journey of assembling a unique and world-class ceramic collection.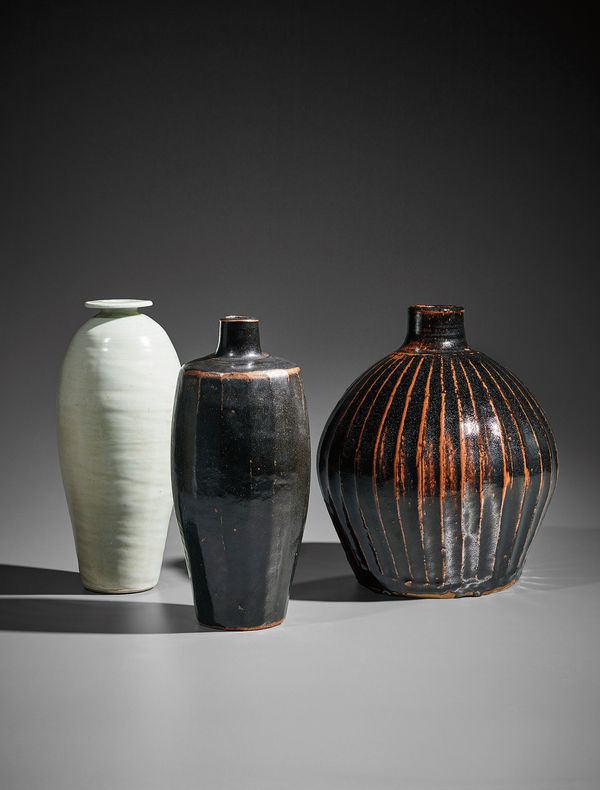 Bernard Leach Porcelain and stoneware vases, 1966-1969
Fina Gomez mixed her taste in ceramics with the art of friendship. She did not disassociate the makers from their work and was profoundly happy to discover and meet exceptional artists. One needs to merely cite the vases of Bernard Leach, of which the most remarkable examples are present in this collection. Was it down to chance, or her flair? Was it the influence of Christina Merchán who had already taken up stoneware before they met? Or perhaps it was attributable to her Anglo-Saxon knowledge that was so rare in France?
[Gomez's] talent for collecting revealed itself to be as impressive as the ceramicists whose work she collected.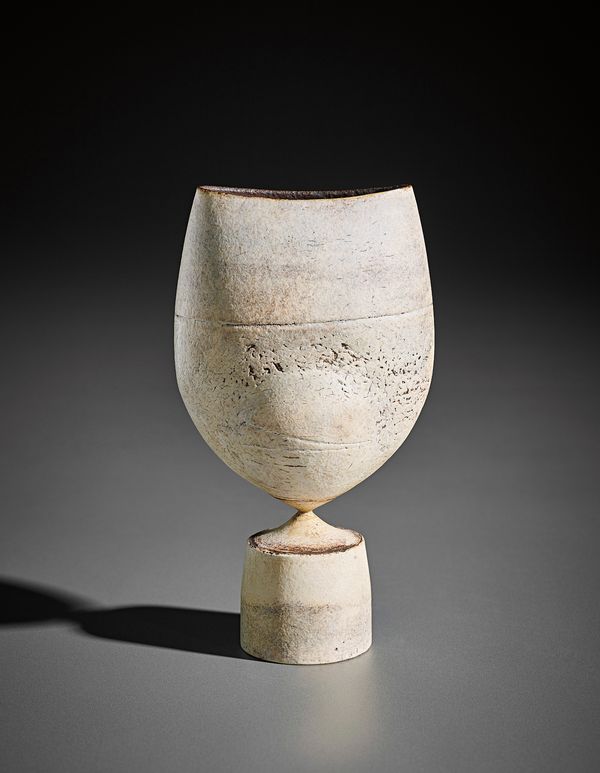 Hans Coper 'Cycladic' pot with spherical volume and oval lip, 1968
From the beginning of the 1960s, while she was living in France, Gomez discovered a modern movement where forms were made from stoneware, simplified, in a subdued palette, inspired by Chinese and Japanese works — in short, a movement which was preached by Bernard Leach. During this time, the majority of ceramicists in France still worked in earthenware, using powerful colours, a fashion which was reintroduced by Pablo Picasso after the war. It was through Francine Del Pierre that Fina Gomez met Bernard Leach and Shoji Hamada; and through Leach she discovered La Borne, a village in Berry known for its long tradition of stoneware, where, from 1940, great French ceramicists such as Elisabeth Jouila and international ceramicists such as Gutte Eriksen would meet.
Thanks to the Biennale of Ceramics in Vallauris, Gomez went on to meet the Swiss ceramicist Chappallaz. Later, she multiplied her trips to London, where she already knew Lucie Rie, whose subtle poetry called for appreciation and fascination, and where she acquired pieces by Hans Coper. The Parisian gallery DM Sarver helped her follow the rapid adoption of all French ceramicists belonging to the movement created by Leach. Through the gallery she also discovered Pierre Bayle, who succeeded in making antique vases in Terra sigillata fashionable again. The pure forms and lively colours of Turkish-Danish Alev Siesbye's bowls were also fully embraced by Fina Gomez.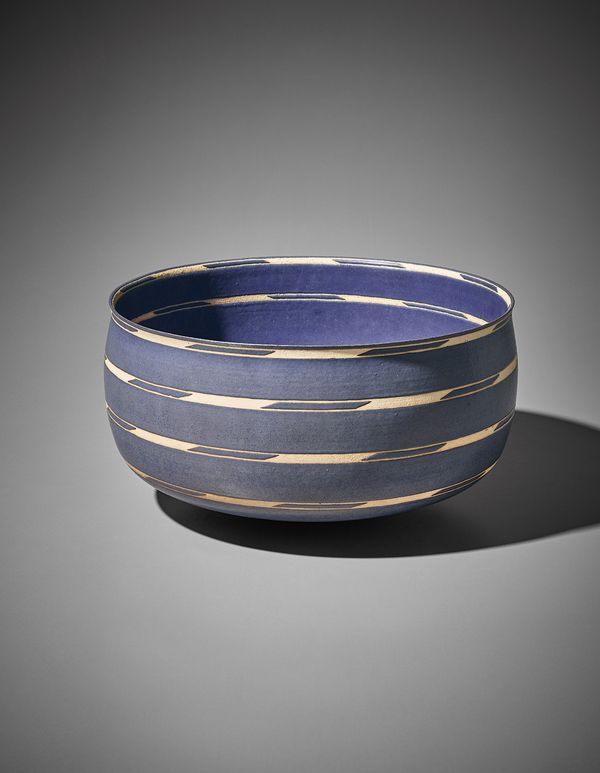 Alev Ebüzziya Siesbye Bowl, 1985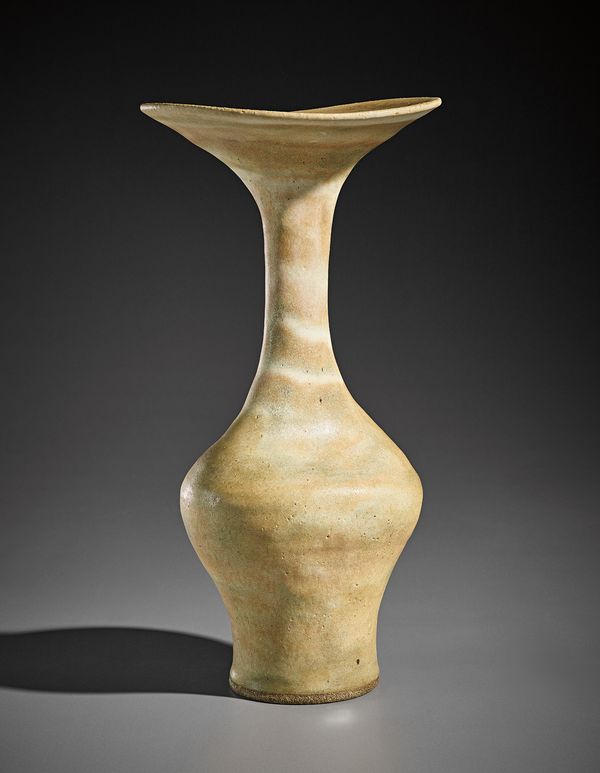 Lucie Rie Large vase with faring lip and integral spiral, 1970s
Over more than thirty years, she would lay her refined eye on works that have become historic pieces. Her appreciation gave them an existence. Other works unloved by her faced no other fate but to disappear. In hindsight, her choices are evident, but when she started that was far from being the case: her talent for collecting revealed itself to be as impressive as the ceramicists whose work she collected.
Antoinette Hallé is Head of Cultural Heritage Conservation and Honorary Director of The Sèvres Ceramics Museum.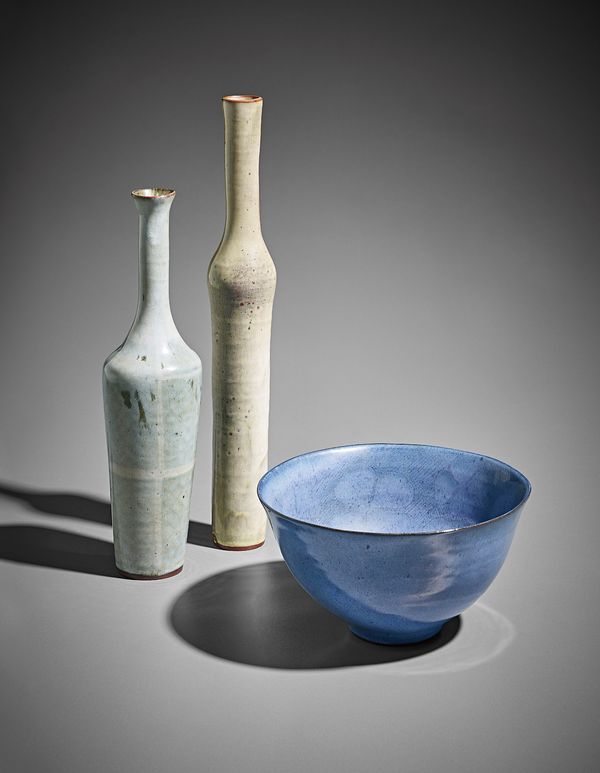 Francine Del Pierre Glazed earthenware bottles and bowls, 1965-1967
The French ceramicist Francine Del Pierre, well-known in her lifetime, perfected the ancestral and rudimentary pottery technique of coiling. She managed to perfect the discipline in such a way that she was able to stack the clay with great finesse and lightness. Her use of decoration was poetic, depicting motifs of flowers and meadow herbs.

Del Pierre turned to ceramics aged 31 whilst she was the editorial secretary of a newspaper. She spent her summer in the south where she encountered a santonnier (a maker of Saton figurines), and had a revelation to work with clay. She decided to live with two young students, Albert Diato and Gilbert Portanier, and to settle in a workshop in Vallauris. There they founded the workshop 'The Triptych'. Eventually, the group drifted apart. Francine returned to Paris where she met Fance Franck, and the two never parted.

In the early 1960s, Del Pierre was set up in an atelier situated on Rue Bonaparte in Paris. After meeting Bernard Leach she gained an interest in Asia, as he introduced her to the influential teachings of the Japanese Living National Treasure, the master potter Shoji Hamada, who suggests that the true path will be found by working in solitude in one's atelier.

Shoji Hamada was the leader of a new wave of 'studio pottery' founded by Bernard Leach, presenting the idea that ceramics had become too industrialised, their qualitative and aesthetic results being sometimes questionable. Leach was an advocate of the great tradition of Japanese and Chinese ceramics, whose foundation rested upon the idea of the absolute artist, being both, designer and producer, artisan and creator. The artist alone controls all the stages of production in the atelier and in solitude. This doctrine is a way of life, a search for the absolute that induces a disciplinary intellectual and physical transformation.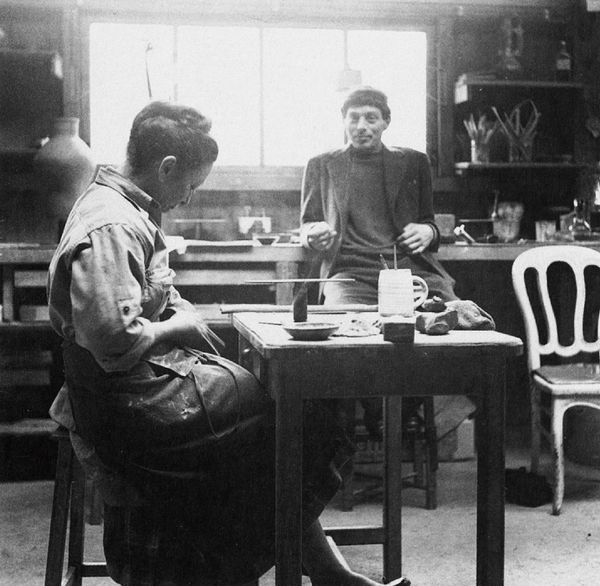 Hans Coper with Francine Del Pierre in her studio, Paris, 1956
The style of Francine Del Pierre was based on strict intellectual constraints of 'studio pottery'. Everything was produced with her own hands, making her own enamels and preparing her own earthenware. She was constantly in search of new forms which obeyed strict aesthetic rules. Although aspects of utility are present within her work, she was always pushing boundaries and would remove elements, such as handles, which she deemed too utilitarian. The influence of Chinese goldsmith trade was omnipresent in her work.

However, Del Pierre was French at heart and the return to floral motifs, applied in a Chinese style, marked a strong presence of 'French taste' in her work, something that had already made Sèvres a success in the 18th Century. This extraordinary singularity of her work, remarked by Leach early on, propelled her into the international scene which many potters of Vallauris were unable to access. She exhibited in London at Gallery Primavera founded by Henry Rothschild, in Zurich and in Rotterdam.

Del Pierre died prematurely in 1968. Thanks to the intervention of the Minister of Culture, André Malraux, Francine is the first ceramicist whose work has been honoured by a retrospective at the Museum of Sèvres, just after her death.
—Jean d'Albis of the Fance Franck, Francine Del Pierre Foundation, Paris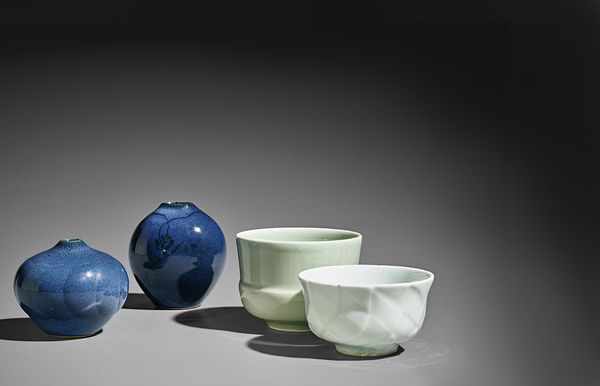 Born in Alabama, 1931, Fance Franck came from a milieu of university scholars. Orphaned in her early childhood, she was then raised by her aunt in Texas. Interested in literature, she studied at the Rice University, Texas and then Harvard, where she chose a combination of poetry and contemporary literature.
Franck moved to New York and became close friends with Johns, Rauschenberg and Twombly.
In the early 1950s, Franck moved to New York and attended classes at the Greenwich Pottery School. Whilst in New York she became close friends with Jasper Johns, Robert Rauschenberg and Cy Twombly. Together they would often spend their weekends at her country home on the outskirts of New York. She also socialised with the composer John Cage and choreographer Merce Cunningham.
Franck met Francine Del Pierre in Paris and became her disciple, learning the craft of ceramics and 'studio pottery' under her tutelage. The opportunity to fulfil her ambition to work with porcelain arose after meeting Serge Gauthier, the director of the Sèvres factory during the 1960s, which was a relationship she always maintained. Franck continued her meticulous research into glazes. Working together with the French chemical firm Elf-Atochem, her studies of copper reds had a profound effect and led to the rediscovery of a Ming dynasty process called 'le rouge frais', which had not been used since the 15th Century. During the Ming dynasty, this colour had been extremely difficult to obtain and had been exclusively reserved for the Emperor. Supported by The Percival & David Foundation of Chinese Art, she published the formula to profit ceramicists worldwide. She also created porcelain in her atelier on Rue Bonaparte, with the assistance of staff from Sèvres.
Towards the end of her career, Franck became very interested in Japan and learned the language. Assisted by a grant, she worked in Japan for three years with the manufacturer in Arita, a town renowned for its porcelain. Her work would remain forever influenced by this Japanese experience, notably through her use of Tenmoku glaze.
—Jean d'Albis of the Fance Franck, Francine Del Pierre Foundation, Paris
This distinctive collection comes under the hammer during the Design sale on 27 April in London.