George Nakashima's living room, as photographed for the March 1952 issue of House and Home.
Written by Natalia Torija Nieto
Whether for or against the use of modern machinery, wood craftspeople active in the United States during the postwar period were part of a movement that continues to transform the definition of American Modernism.
These champions of wood — including George Nakashima, Vladimir Kagan and T.H. Robsjohn-Gibbings, among others—worked under very different circumstances but under the same climate of discordance between what was or was not considered truly modern. They pushed against the advent of innovative materials like plastics, plywood and veneer, opting instead for the humble and timeless use of timber.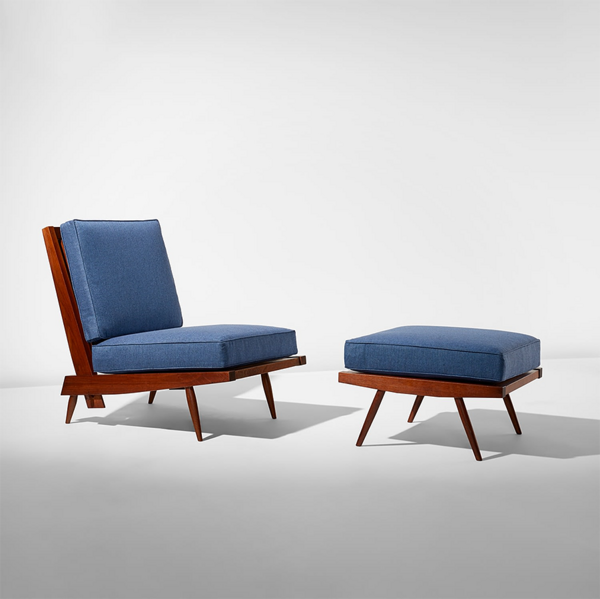 George Nakashima, "Cushion" chair and ottoman, 1954. Design New York.
By the 1950s, the International Style spearheaded by a group of — mostly — Bauhaus emigrés had been lauded for the better part of two decades in the architecture and design publishing world. At the same time, a radical backlash warned of the "threat" posed by this group through the authorship of House Beautiful's editor Elizabeth Gordon. In the April issue of 1953, Gordon brazenly accused these architects of "promoting unlivability" and "cold, barren design," advocating instead that "good modern combines the best technological knowledge with sensitive understanding of people's requirements."
In the years to come, Gordon continued her quest to thwart this movement. In direct response to Arts & Architecture's Case Study Houses (1945-66), for example, she launched the Pace Setter House Program (1946-65) in favor of regionally designed "organic" architecture. However it wasn't until Gordon's July 1959 Scandinavia issue, and the following summer 1960 issues on the Japanese concept of shibui, that something clicked in the American mindset. The magazine presented the two cultures' understanding of the modern dweller's basic needs and planted the seed for an appreciation for the understated yet refined beauty in the home.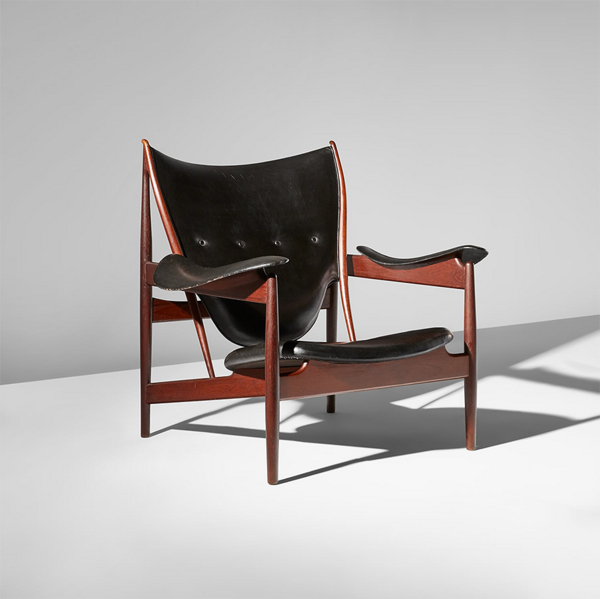 Finn Juhl, "Chieftain" chair, model no. FJ 49 A, designed 1949, executed 1960s. Design New York.
On the one hand, Scandinavian and particularly Danish design was very influential in the U.S. Finn Juhl, who debuted on this side of the pond with a short-lived collaboration with Baker Furniture in the early 1950s, made a version of his seminal Chieftain Chair (1949) available to American buyers. And the furniture of Hans J. Wegner, while not as readily available, was featured widely even making the cover of House Beautiful in November 1954 with The Chair (1949), "probably the most stolen-from design in the world," as author Marion Gough noted. Both designers understood the inviting and relaxing appeal that was sought after in modern furniture by blending principles of ancient folk tradition with current aesthetics.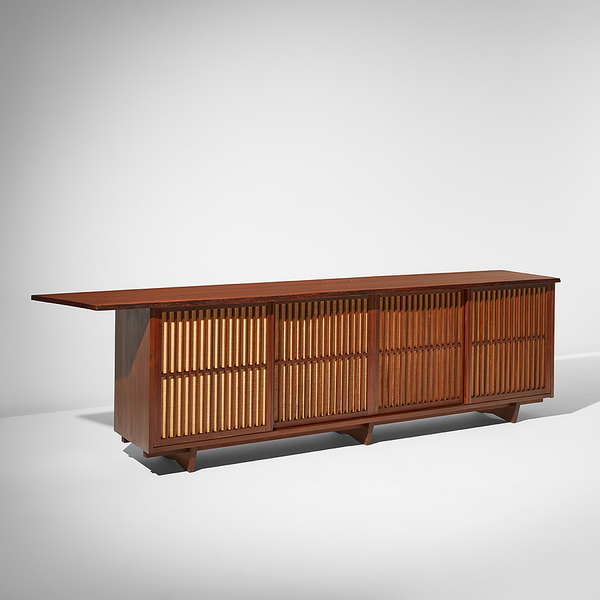 George Nakashima, Custom sliding door cabinet, 1961. Design New York.
On the other hand, perhaps one of the most exemplary figures working towards the idea of shibui in the U.S. was George Nakashima. By the 1960s, the trained architect had established himself as a woodworker, an artist-craftsman dedicated to the material by hand, but without fighting the machine. After a short stint for Knoll in the 1940s, Nakashima fully dedicated himself to his workshop in New Hope, Pennsylvania employing fellow woodworkers, only partly interrupted with a collection for Widdicomb-Mueller which debuted in the October 1958 issue of House Beautiful. Here, an experiment in proportion is evident as is the use of organic forms that speak more to Scandinavian influence and less to the architecturally-shaped pieces he would eventually become known for. After this foray into mass production, however, Nakashima turned to his shop never to set foot in the factory-made world again.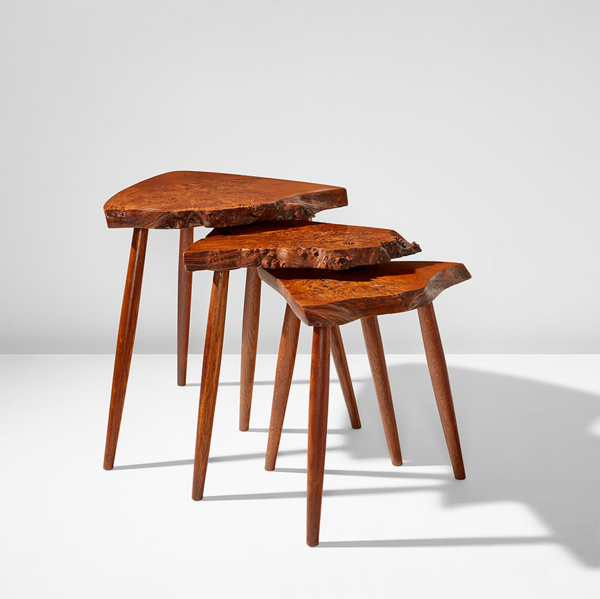 George Nakashima, Set of three "Amoeba" nesting tables, 1962. Design New York.
"The illusion of simplicity," wrote Gordon, "comes from the fact that [the Japanese] have put their development effort where it will count the most: the making of an integrated whole." Nowhere is this more evident than in Nakashima's work. One of his earliest and "simplest" designs, the Slab Coffee Table from the 1940s broke new ground by introducing the free-form grain and edges of a solid plank of wood balanced on an architectural base, resulting in a beautiful, functional design. The house he built only after first completing his woodshop next door, was featured as part of an editorial on "The Unique Homes of Interesting People," in House Beautiful's April 1963 issue.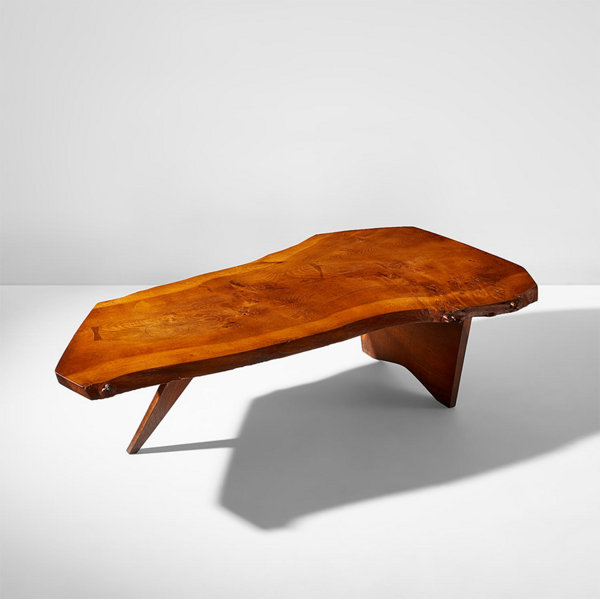 George Nakashima, "Slab" coffee table, 1962. Design New York.
Terence Harold Robsjohn-Gibbings (1905-1976), a British interior designer and critic working in the U.S. around the same time, likewise designed some pieces for manufacture at Widdicomb in the 1940s. While not a woodworker himself, he drew from architecture as far back as Ancient Greece and up to Frank Lloyd Wright and was featured prominently in the media including in the May 1952 issue of House Beautiful which introduced his Mesa Table and Cocktail Sofa. Needless to say he too was opposed to the International Style.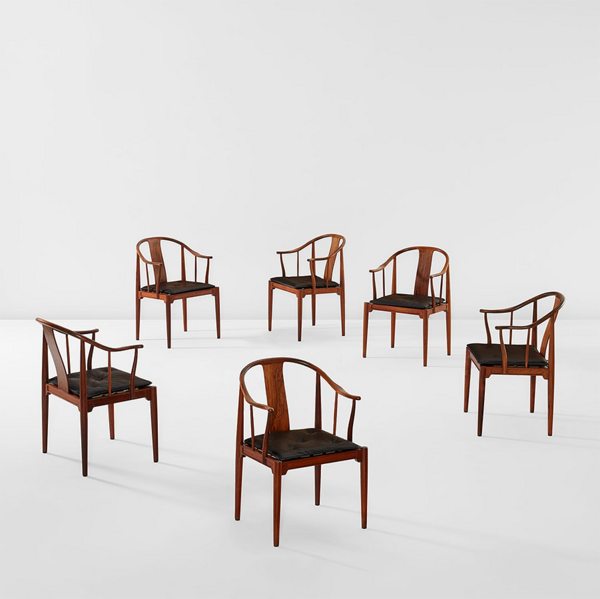 Hans J. Wegner, Set of six "China" armchairs, model no. 4283, designed 1944, executed 1969-1970. Design New York.
Good modern combines the best technological knowledge with sensitive understanding of people's requirements."

– Elizabeth Gordon, Editor of House Beautiful, 1941-1964
The younger Vladimir Kagan (1927-2016) is perhaps the odd one out: "I'm totally un-House Beautiful. I don't practice what I preach," he said in a 2015 interview. "I'm more is more. I never get rid of anything or downsize. I have a strong urge to build a minimalist living environment, though." The designer — sought after by celebrities from Marylin Monroe to Brad Pitt — was taught by his father, a master cabinetmaker, to "honor the handcraft" ("ehre das handwerk"). And he did, in his own way. Kagan's curved, sculptural furniture with nods to space-age googie architecture from the 1950s remains as timeless as ever because of its iconic style.
House Beautiful is the longest published home magazine in the U.S. During Gordon's time as editor, the readership more than tripled, making it a significant influence that arguably helped shape the Modern American interior, considering, of course, that she did not shy away from calling it "propaganda."
---
Recommended Reading