Ruby highlights from Jewels & Jadeite , A Superb Burmese Ruby and Diamond Bracelet
Estimate: HK$ 2,000,000-2,800,000 (US$ 250,000-350,000);A Pair of Burmese Ruby and Diamond Ear Pendants
Estimate: HK$ 420,000-650,000 (US$ 54,000-85,000); An Elegant Burmese Ruby and Diamond Necklace
Estimate: HK$ 1,400,000-2,200,000 (US$ 180,000-280,000)

By Vivienne Becker
Just to look at the ravishing rubies in Phillips' Hong Kong sale is to feel the heart quicken, the pulse race and imagination skyrocket, splintering into a myriad of Red references, memories, and visions, of color and light. All color is emotive, and in a jewel or gem it's the most powerful emotional trigger, the key that unlocks our responses, that lures us in or leaves us cold.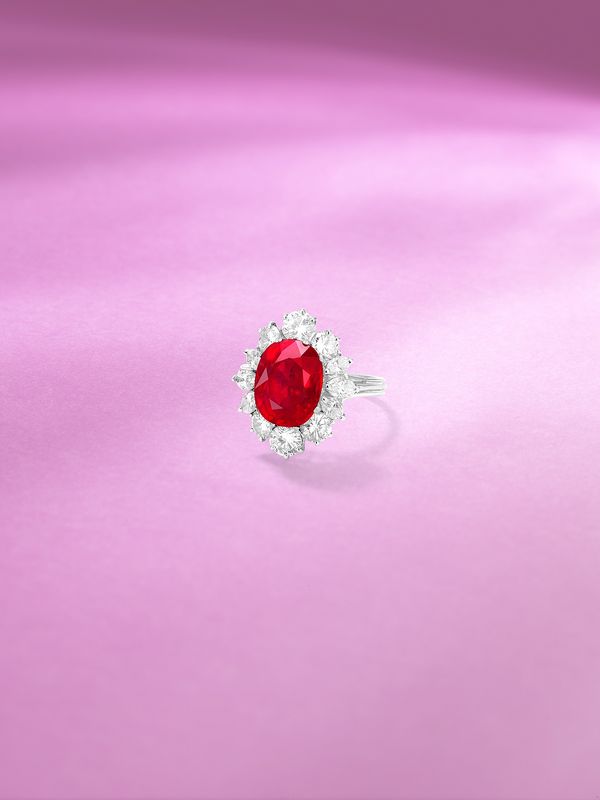 Perhaps, ruby red, the intense pulsatingly red of the sublime jewels in the sale, is more emotionally stirring, more intriguing, alluring and more contradictory than any other color in the gem world. It's the color of high energy that gets the blood pumping, the color of vitality and the life force; the color of heat, seduction and flaming passion; the red heart emoji a universal modern-day signal or the red of roses that sends an age-old message of love and romance. Yet at the same time, it's red that flashes with danger, a warning not to let that fiery passion go unbridled. So we decided to delve into the Meaning and Messages, and iconic symbols of the color red…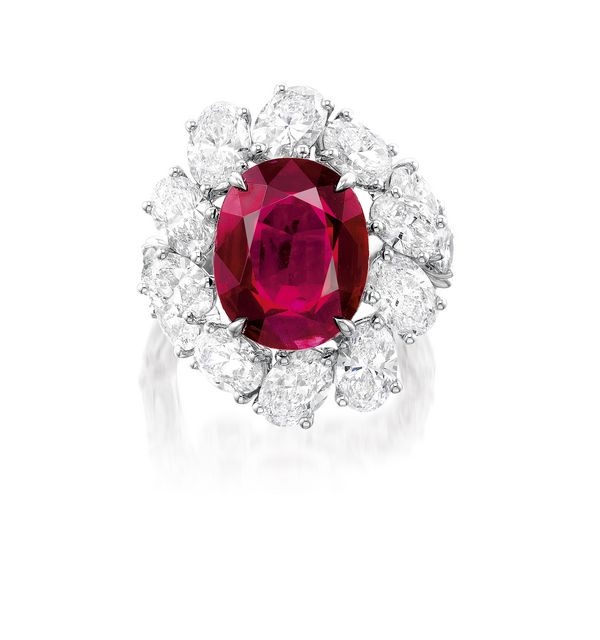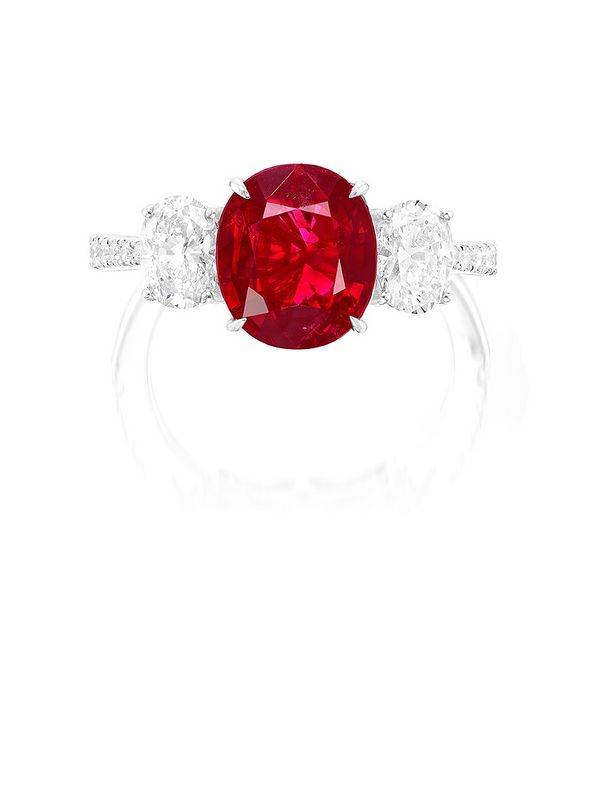 A selection of rings from Jewels & Jadeite Hong Kong demonstrate how a simple diamond setting can accentuate the saturated color of a ruby.
Lot 590, A 9.03 carats Mozambique Ruby and Diamond Ring
Estimate: HK$ 240,000 - 400,000 (US$ 30,000-50,000).
Lot 547, A 3.10 carats Burmese Ruby and Diamond Ring
Estimate: HK$ 240,000 - 380,000 (US$ 30,000-48,000)
Jewels & Jadeite, 27 November
A Color with Many Meanings
The Lady in Red: she's the one oozing confidence, the extrovert, demanding attention, daring you to approach; Chris de Burgh says he's never seen so many men asking her to dance.
Red Lips: another sign of confidence, sensuality, strength and independence, once the symbol of women's suffrage, and always and universally a signal of unforgettable, powerful femininity: Snow White, Paloma Picasso, Marilyn Monroe. And unforgettable images too, the Rolling Stones emblem, or Tom Wesselmann, Mouth #14 (Marilyn), 1967 proclaiming the opening of Phillips' Los Angeles.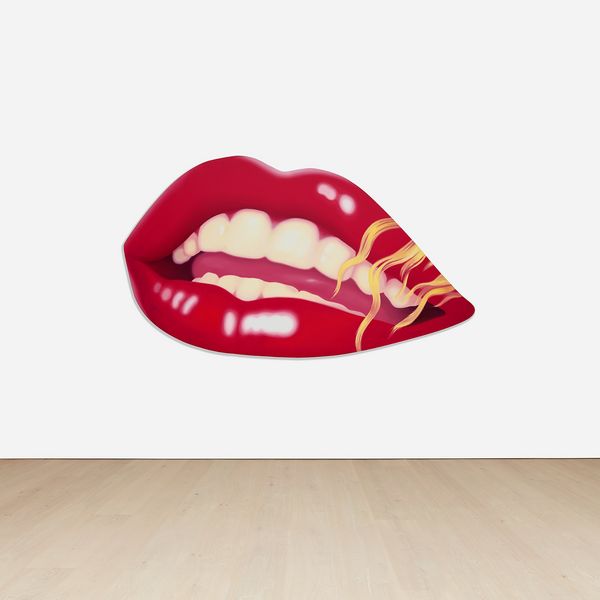 No shade of lipstick can compete with the power behind a pair of red lips as seen in Tom Wesselmann, Mouth #14 (Marilyn), 1967
Lot 12, Tom Wesselmann, Mouth #14 (Marilyn), 1967. Sold for $3,236,500.
20th Century & Contemporary Art Evening Sale, New York, 15 November
Red Ferrari: the ultimate classic sports car, a magnet for both men and women, and the national color of Italian racing cars. The color, too, of the shirts worn by Garibaldi and his soldiers. The color of red hot chili pepper, the ancient and enduring Italian amulet.
Dorothy's Ruby Slippers: the magic sparkling ruby red shoes worn by Dorothy Gale in the Wizard of Oz, her saviour, protection, her way home, the symbol of hope, triumph, and imagination. The Ruby slippers, created by Gilbert Adrian, have achieved cult status, the embodiment of Hollywood glamour, of dreams of stardom, magical and illuminating. A mismatched pair is in the Smithsonian Museum, Washington. D.C.
The Red 'Follow Me" Soles of Louboutin Shoes: utterly seductive, instantly recognizable, with more than a glint of danger, and a style that is elegant sophistication mingled with a provocative edge and attitude. More than anything, the red soles tell of luxury. There are stories about the genesis of the ruby red sole, inspired by Warhol, or by red nail vanish which Louboutin grabbed from a girl painting her nails and slathered it on a sole. Red, says Louboutin, is more than a color. "It is a symbol of love, of blood, of passion."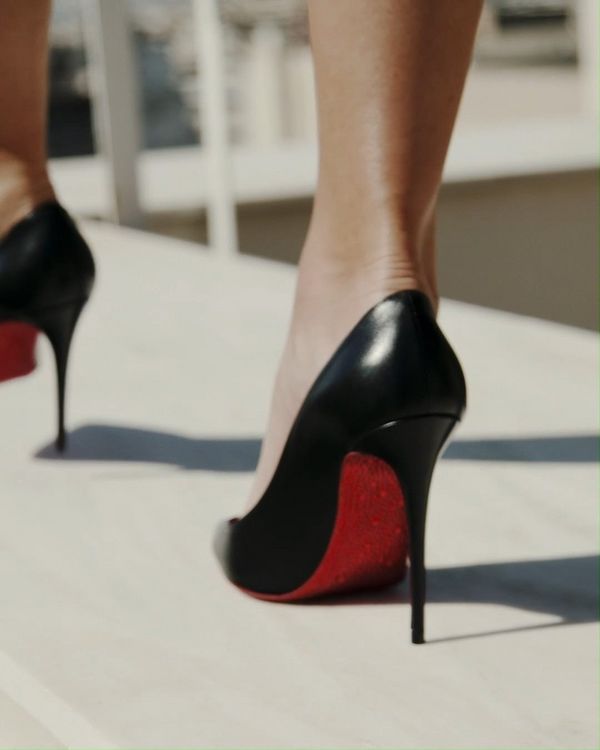 The splash of red on the Louboutin sole led to its status as the 'It' shoe and an empowering symbol of femininity. (via Christian Louboutin Instagram, @louboutinworld)
The Matador's Red Cape: the muleta is pure theatre, tradition and high drama, as the bull is actually color blind and it is the waving, fluttering movement of the cape that provokes him to charge. The matador holds his sword under the cape which comes into play in the final stage of the bullfight.
Red for Babies and Brides: in China, the color red augurs good luck and prosperity, and gifts of money for a newborn are given in a red envelope, while red eggs are part of the ritual celebration for a new baby. In Japan, a bride traditionally dresses in a red kimono, symbolizing happiness and good fortune. And in India too, brides dress in red.
Red to Ward off Trouble: Since antiquity, the color red was believed to ward off evil spirits and even today, a red string bracelet is often worn for the same reason. Again, because red is the color of blood, the life force, good fortune and vitality.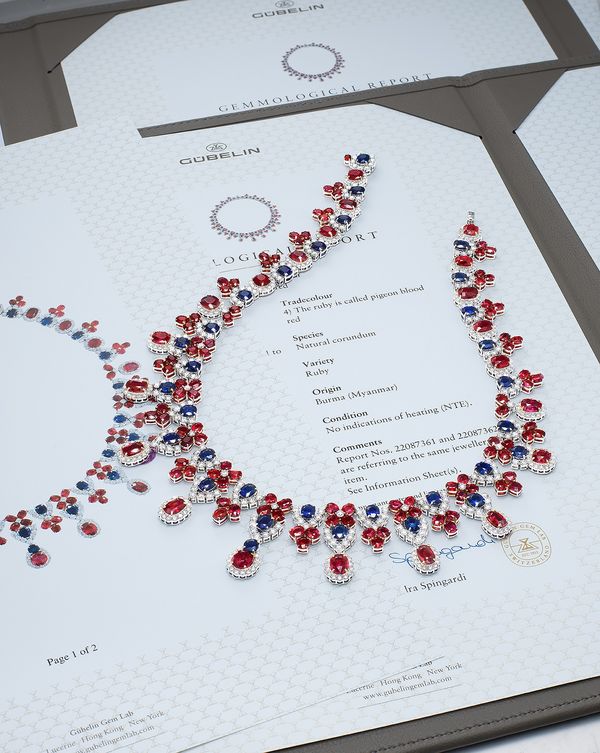 Perhaps we are drawn to red because of its evocative color, its deeper meaning, symbolism, or references to pop culture; but when it comes to jewels, it might be much simpler than that. As shown in the Jewels & Jadeite sale, rubies have a timeless allure that when worn, can make the wearer feel as beautiful and elegant as the jewels themselves. That might be reason enough.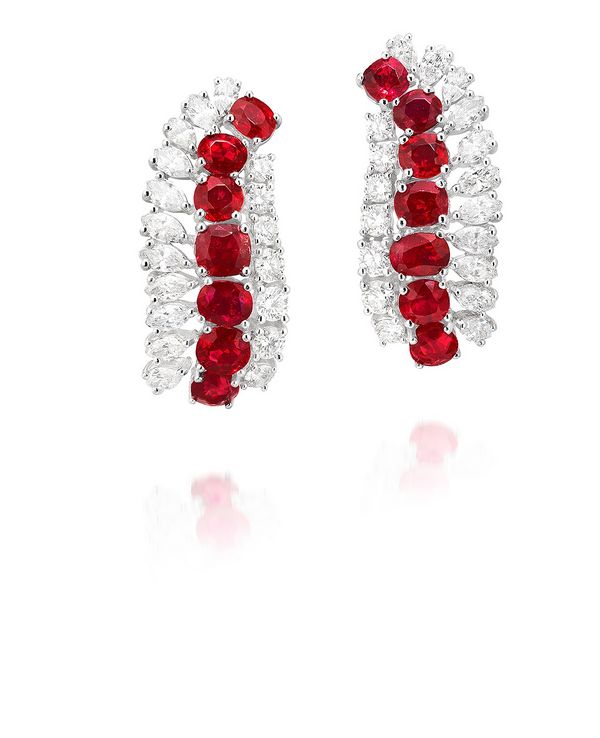 ---
Jewels & Jadeite
Hong Kong 27 November 2022
Click here for more information.
---