Yayoi Kusama, Red Shoe, 1979
Lot 211, Estimate HK$3,000,000-5,000,000
20th Century & Contemporary Art and Design Day Sale in Association with Yongle, 30 November
Born in 1929, Kusama's upbringing was wrought with the conservatism and patriarchy of wartime Japan. After carving out her own unique space with solo exhibitions in the island country, Kusama flew to New York in 1958, during the height of the city's abstract expressionist art scene and a thriving pop art movement. After seven decades of honing her own brand of counterculture, minimalism, and feminism, Kusama is considered the most successful living female artist in the world.
In hot anticipation of Phillips Hong Kong's upcoming 20th Century & Contemporary Art and Design sales in Association with Yongle, and Asia's largest retrospective for Kusama at the M+ museum in Hong Kong, Yayoi Kusama: 1945 to Now, we dive into seven things for seven decades; this is everything you need to know about the living legend Yayoi Kusama.
Yayoi Kusama is the most expensive living female artist
In May of this year, Phillips New York hosted their most successful auction in company history, with a new world auction record set for Kusama's Untitled (Nets). Part of the artist's coveted early series of white Infinity Net paintings, Untitled (Nets) hammered down for US$10,496,000 against estimates of US$5 - 7 million.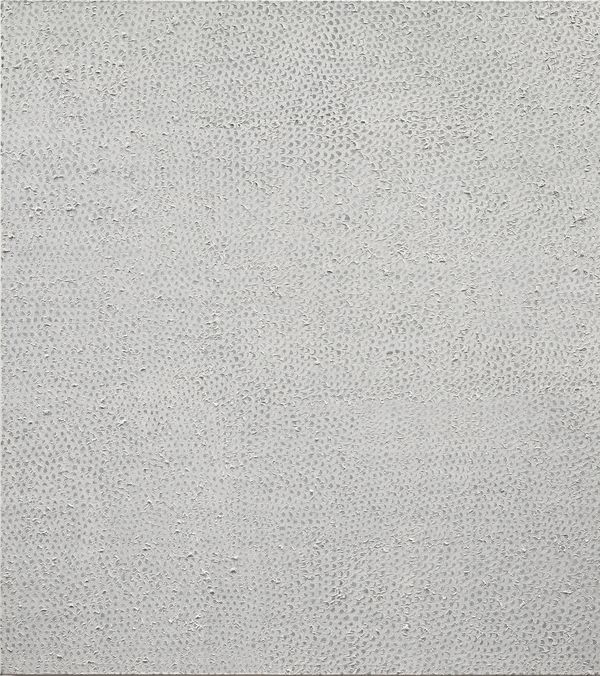 Although Kusama's paintings are a sight to behold, the artist is perhaps better known for her extraordinary and otherworldly sculptures and installations. Her iconic print and affection for the humble pumpkin are the features of multitude sculptures installed around the world, including the Matsumoto City Museum of Art in Nagano, Kusama's birthplace.
She lives in a psychiatric facility in Tokyo, voluntarily
"I fight pain, anxiety, and fear every day, and the only method I have found that relieved my illness is to keep creating art." — Yayoi Kusama
Since early childhood, Kusama has suffered from visual and aural hallucinations, as well as obsessive neuroses.
Now 93 years old, Kusama lives in a psychiatric institute in Tokyo, after voluntarily checking herself into the facility in 1977. She goes to work at her studio every day, just across the street from the institute, and returns by dinner.
Inspired by her hallucinatory experiences, Kusama's Infinity Nets is not only the artist's longest-running series (made public when she first exhibited in New York in 1959), but its rhythmic motion and sense of infiniteness, "without beginning, end, or centre", has also become her form of art therapy.
A remarkable example from the artist's Infinity Nets series, INFINITY-NETS (GMBKA) is among the highlights of this season's 20th Century and Contemporary Art Hong Kong Evening Sale. Through her markings - both relentless yet reverberant – Kusama immerses the viewer completely in her dense field. Painted in 2013, the acrylic on canvas has a pre-sale estimate of HK$12 - 18 million.
She's had a lifelong aversion to sex - but represented free love
"I began making penises in order to heal my feelings of disgust towards sex. Reproducing the objects, again and again, was my way of conquering the fear. It was a kind of self-therapy, to which I gave the name 'Psychosomatic Art'."—Yayoi Kusama
Kusama developed an aversion to sex after her mother forced a young Kusama to spy on her father while with his lovers. She identifies as asexual, although her work often explores phallic forms and sexuality juxtaposed with elements of humour, like her soft sculptures in Phalli's Field Infinity Room.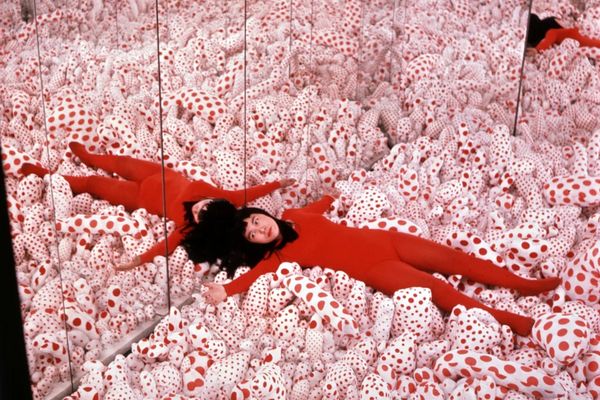 Yayoi Kusama in her Phalli's Field infinity room in 1965.
Image: Eikoh Hosoe/Courtesy of Ota Fine Arts, Tokyo/Singapore; Victoria Miro, London; David Zwirner, New York
When it comes to Kusama's own relationships, the artist describes her relationship with the American visual artist Joseph Cornell as romantic yet platonic. The pair remained close until his death in 1972, which affected Kusama deeply.
Kusama's pumpkins give Warhol's soup cans a run for their money
"The first time I ever saw a pumpkin was when I was in elementary school and went with my grandfather to visit a big seed-harvesting ground…and there it was: a pumpkin the size of a man's head… It immediately began speaking to me in a most animated manner" —Yayoi Kusama
How do you like your pop art goods - organic or processed?
Kusama and Andy Warhol were, in fact, peers in New York's thriving pop art scene. Where Warhol had his soup cans and the Factory, Kusama had her anthropomorphic pumpkins and reminders of her family's seed farm in Matsumoto prefecture.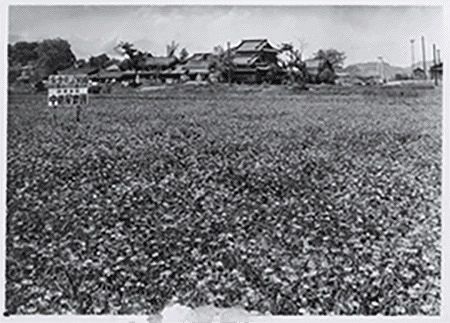 A flower field in the seed nursery owned by Yayoi Kusama's family in Matsumoto, Japan.
Image: © YAYOI KUSAMA
Kusama's diet of pumpkins during World War II may explain at least a part of her attachment to the generous gourd, but the artist's pumpkin motif truly came to harvest through vivid hallucinations in her youth. The pumpkin first appeared in Kusama's travelling exhibition in Nagano and Matsumoto, Japan, 1946, when she presented Kabocha (Pumpkin).
In this artist's proof, a silkscreen printed in 1990, we can see Kusama's pumpkin in all its dotted glory, against a landscape of the artist's signature infinity net.
She was a fashionista well before her Louis Vuitton capsule collection
"When you understand the beauty of fashion, and the beauty of small planets, you realise that fashion is a marvellous form of expression."- Yayoi Kusama
In 2012, the living legend collaborated with French fashion house Louis Vuitton and its Creative Director Marc Jacobs to reveal the Infinity Dots capsule collection.
But Kusama has often shared her long-standing fondness for fashion through her art, often depicting shoes and hats to evoke the joyous feeling of accessorising.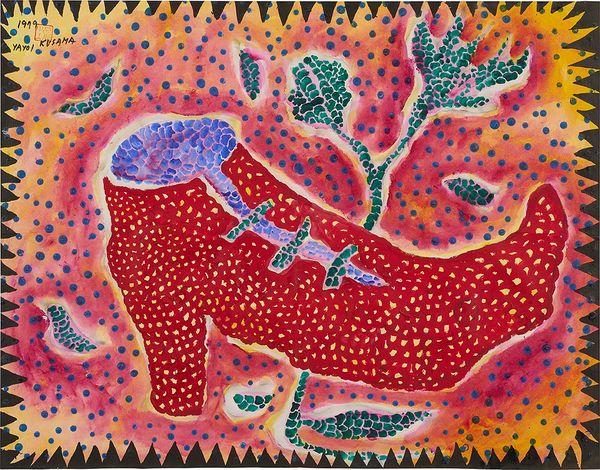 The delight in wearing red high heels knows no bounds for Kusama, as we see in the vibrant work Red Shoe, created just six years after Kusama moved back to Japan from New York. The captivating illustration of the red, high heeled boot comes to life with a rhythmic overture of swirling polka dots and undulating leaves.
She used polka dots to get out of her head - and stop the Vietnam War?
"Our earth is like one little polka dot, among millions of other celestial bodies." — Yayoi Kusama
Kusama's polka dots date back to hallucinatory experiences in her youth and became her signature as she navigated the New York art scene. A stark contrast to the dramatic marks popularised by abstract expressionist Jackson Pollock, Kusama's polka dots are comparatively calm, collected and offer a rhythmic optical sensation.
Her repetitive strokes also help her to eliminate the intrusive thoughts brought on by mental struggles. They are considered a means for her - and vicariously for the viewer - to "obliterate the self" and become one with the universe.
In 1968, Kusama wrote a letter to then-President Richard Nixon campaigning for an end to the Vietnam War. She proposed to adorn his "hard, masculine body" with polka dots so that they might "forget [themselves] and become one with the Absolute."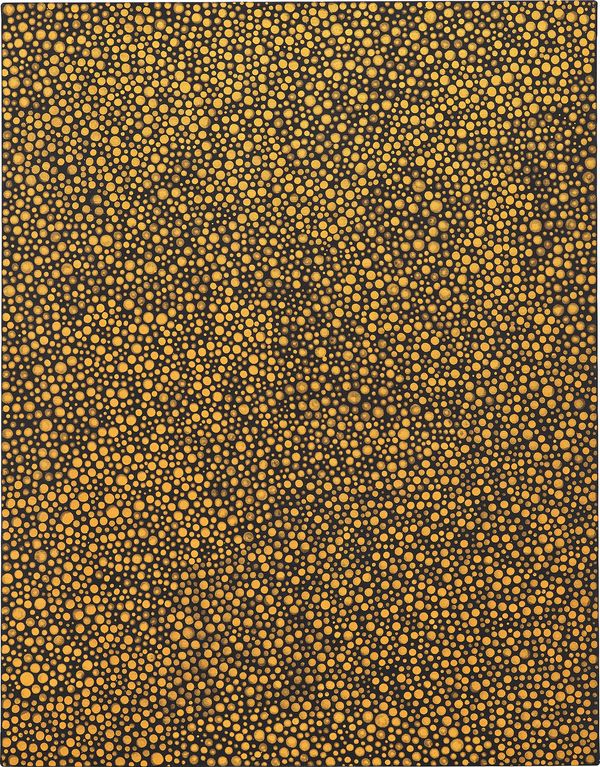 Coming to auction for the first time after spending more than two decades as part of an important Asian collection, Gold Accumulation (1), offered in Phillips Hong Kong's Evening Sale, is an exquisite example of this iconic motif.
The work's significance in Kusama's canon cannot be understated; it was included as one of only two acrylic paintings in Galerie Pierre's exhibition, Love Explosion: Yayoi Kusama After Ten Thousand Tribulations in Taichung.
The circles of varying opacities evoke a soft, pulsating motion, immersing the viewer completely in its gold, globulous web.
M+ will host the largest retrospective for Kusama in Asia, outside of Japan.
Hong Kong's M+ museum is the proud host of Kusama's largest retrospective in Asia outside of Japan from 12 November 2022 to 14 May 2023.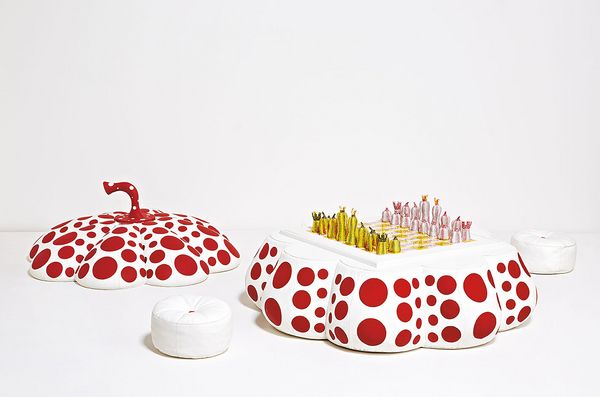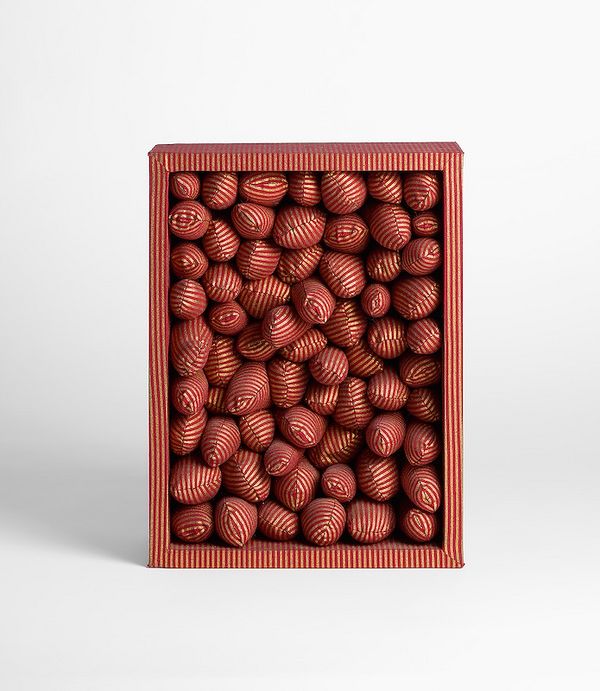 Titled 1945 to Now, the exhibition will allow viewers access to more than 200 works, including paintings, drawings, sculptures, installations, and archival materials that are a testament to Kusama's long and storied career.
---
20th Century & Contemporary Art and Design Day Sale in Association with Yongle
30 November
Click here for more information.
20th Century & Contemporary Art Evening Sale in Association with Yongle
1 December
Click here for more information.
---