Mrs. Young Sook Park's Moon Jar is a work of heft and a light-grace. It seems both to settle on its base as well as float into a lunar arc. It is grounded and airy, with a contradictory resonance of stillness and motion. It is a pot of certainty and paradox.

It is impossible, perhaps, for any contemporary Korean ceramic artist to represent the Moon Jar as a form without a deliberate acknowledgment of its complex, textured place in the country's long ceramic history. This is both a national history, and also an international one, as the Moon Jar has fascinated many living makers, especially in the UK. The contemporary Moon Jar, whether made in Seoul by Young Sook Park or Adam Buick, working in rural Wales, will always consciously refer back to the early Korean exemplars.
A perfect union happens when the top and the bottom surrender their indivdual selves and reach a compromise to exist forever as 'one'.

— Young Sook Park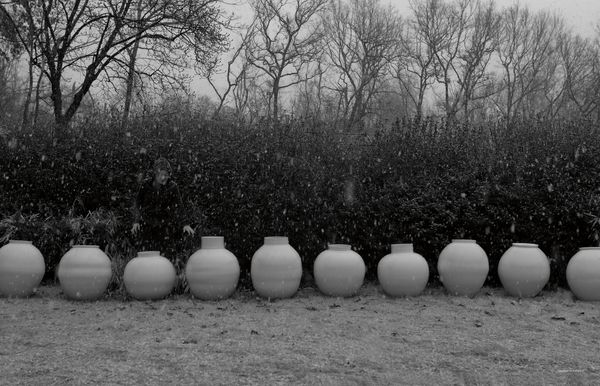 Moon Jars were originally made during the Joseon Dynasty (1392-1910). They are curvaceous, plain white porcelain jars resembling a full moon. They were made customarily to contain flowers or wine, but they are also ritual, votive vessels. The finest historical examples date to the 18th century, and during the first half of the 18th century the Royal kilns at Gwangju, Gyeongyi province specialised in producing examples of exceptional quality, all made in a characteristic, milky-white porcelain. Moon Jars, due to their size, were made in two halves, joined together so that the line of the join is often visible.

The line is visible in one remarkable example, purchased by Bernard Leach in Seoul in 1935 and bonded to Plymouth for customs examination in a consignment of 'old Korean Pots' that he gathered together for his personal collection. He described this work as a 'very large white jar' (18 ½ inches tall and 56 inches in circumference) with a value of 10 yen. Leach eventually asked Lucie Rie to look after the pot for him, and it remained in her Albion Mews studio throughout the Second World War — altogether for some fifty years, when she bequeathed it to Janet Leach. This Moon Jar stood quietly in a corner of Rie's showroom, displayed as a counterpoint to her own modernist ceramics. Famously sold as the signature lot of 'the Janet Leach collection' in 1998, the Moon Jar was acquired by the British Museum. Following, it was commented that "Leach's acquisition of this masterpiece is significant, for behind the apparent simplicity of colour and form lies a complex philosophy and iconography deeply rooted in Korea's culture."

Leach's Moon Jar played out a particular narrative: it represented the apogee of work by the anonymous craftsman and thus took its place in the pantheon of Korean 'folk craft'; and it echoed the reticence of European modernism, such that its loan to Rie seemed inevitable. It may also have carried an emotional message: a gift to a deeply-loved friend.

The Moon Jar's public and museum life enabled it to become a lodestone for contemporary ceramic artists in the United Kingdom — notably Akiko Hirai and Adam Buick, and for a more limited period, Gareth Mason who has referred to its 'haptic wisdom'. These makers presented examples of their 'translations' of the form in a major exhibition at the Korean Cultural Centre in 2013, framed by the British Museum's Moon Jar. The show made explicit the tangible connection from the historic exemplar to the contemporary reworking of the form, including the more radical work of the Korean potter Yee Sookyung.

Korean Moon Jars are held in many of the great public ceramic collections; in the National Museum of Korea and The Fitzwilliam Museum Cambridge, for example. The British Museum has recently acquired a large Moon Jar by Adam Buick as a 'partner' to the Joseon dynasty vessel in the Korea galleries. The Victoria and Albert Museum displays a fine example, made in 2008, by Young Sook Park.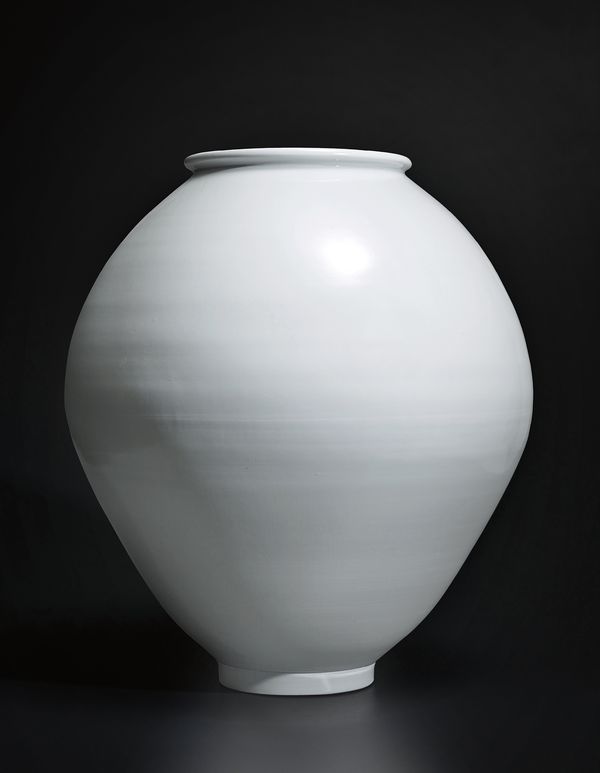 Young Sook Park 'Moon Jar', no. 16, 2007
Like the version seen here from our sale, it reflects, quite deliberately, its antecedent form. It is an honouring pot. She echoes the full shape of the moon, yet in this version, the form is tapered and slightly elongated. The glazed white of the porcelain seems in certain lights to have a complex, shifting, celadon-blue-grey hue. The tight-fitting glaze is faintly and randomly speckled here and there. The joining of the two halves is just barely visible: a marker of the consummate technical skill of the potter. Yet this is a work whose virtuosity is displayed with modesty.
The Moon Jar in Young Sook Park's deeply skilled hands is both a singular example and a type. It is a symbol of purity through reticence, of an august serenity that has respected the past and yet might appeal to a present hope for calm and reflection. The Moon Jar plays a vital part in her repertoire of vessels: perhaps now at the core of her practice. Her Moon Jars, in graduated sequences of sizes up to the largest-possible, are universally recognized to be the purest representations of a singular and deeply symbolic form. This is a pot of tranquil force; a pot of the night sky.

Professor Simon Olding is Director, Crafts Study Centre at the University for the Creative Arts.