Salvatore Scarpitta, Red Freight, 1961. 20th Century & Contemporary Art Evening Sale, London.
"Burri makes wounds, but you heal them," Willem de Kooning once told Salvatore Scarpitta. Deeply affected by both artist's experiences during World War II, two canvases bring that connection more clearly into focus — one torn and scorched, the other wrapped and bandaged — as part of Phillips' upcoming 20th Century & Contemporary Art Evening Sale in London. Viewed together, the works speak to how both Italian artists responded to the experiences of war, harnessing a fundamental interest in materiality, compositional simplicity, and the emotive power of abstraction to convey the unspeakable.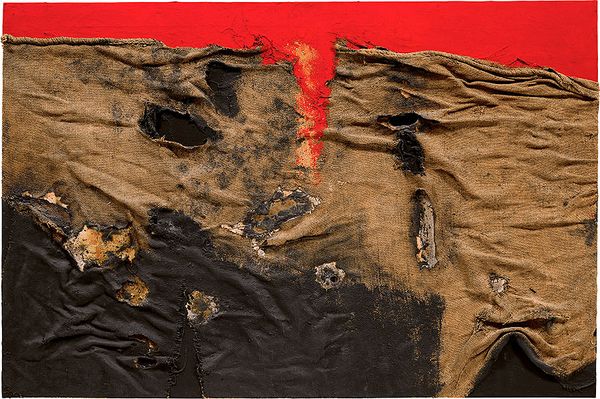 Alberto Burri trained as a surgeon before the war, instilling in him a practical understanding of the body's vulnerability and of the tactile qualities of flesh and tissue — themes that would become emblematic in his later work. He served as a medic and saw action at Yugoslavia's bloody front line in 1942, before his internment in an American prisoner of war camp in 1943. Like many other prisoners of war, Burri turned to art as a means of surviving the monotony and maltreatment of daily life in the camp, using whatever materials he found at hand. When he returned to Naples in 1946, Burri understood for the first time the scale and impact of the destruction the war had ravaged. Like the body on the battlefield, the city itself was blown apart, piles of dusty rubble and burnt-out apartment blocks littering the streets, while the skeletal remains of bombed Renaissance churches tore at the sky.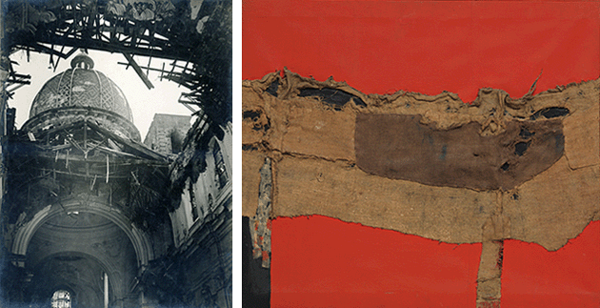 Left: Church of San Pietro Martire, 1943. Image: Carlo Maggio / Alamy Stock Photo. Right: Alberto Burri, Sacco e Rosso, 1954, Tate, London. Image: © Tate, Artwork: © Fondazione Palazzo Albizzini Collezione Burri, Città di Castello / DACS 2022.
Inflicting real damage onto his materials, Burri's burlap Sacco e Rosso are deeply emblematic of both the individual body and the scorched realities of a European post-war world. A vital all-purpose material, burlap was used in the war effort in the construction of makeshift tents and camouflage, for the transportation of supplies and in the building of barricades on the front line. Burri's stitched, torn, and burnt Sacchi are transformed under the artist's hand from ubiquitous textile into powerful original medium, a metaphor that would have been viscerally felt in collective European memory of the 1950s.
Undoubtably Burri's most prized works, Sacco e Rosso are exceptionally rare today. The present Sacco e Rosso unfolds in sweeping passages of deep black, raw burlap, and blood red as color, form, and medium are perfectly synthesized in the composition. Riven with pockmarked wounds and burns, the coarse burlap gathers in elegant folds, its torn and frayed edges amplified in the contrast. Held in the same collection for over 30 years, this Socco e Rosso is one of only 15 in existence, one of which is held in the permanent collection of Tate Gallery in London.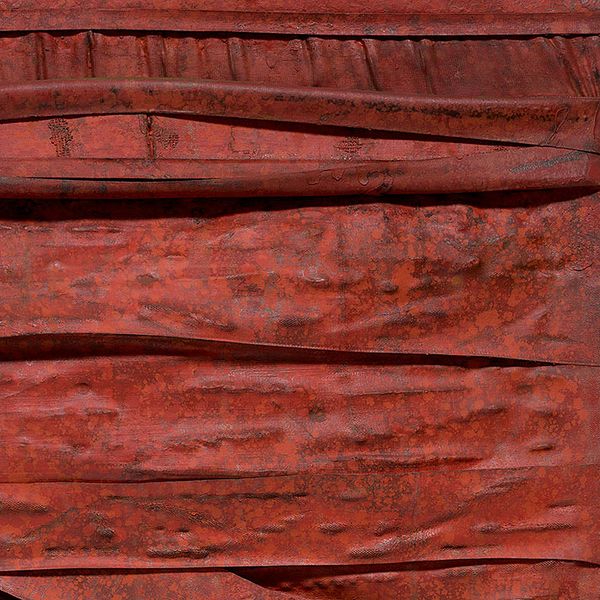 Like Burri, Scarpitta had seen active service during World War II, although this was somewhat complicated given his status as an American citizen in Italy. American by birth and raised in Hollywood, in 1936 Scarpitta returned to his ancestral Italian home, studying and working in Rome throughout one of the city's most artistically dynamic and exciting periods. Conceived, as he put it, under the cloud of World War I, Scarpitta came to maturation in the long shadow of World War II, where the "dramatic scenes and images of wounded or dead soldiers" that he had witnessed as a child came back to him with renewed force.
Serving in the United States Navy, Scarpitta was also enlisted as a so-called "Monuments Man," charged with identifying, recovering, and cataloguing art looted by the Nazis during this period. Such careful attention to the material life of paintings no doubt had a significant impact on Scarpitta, and it is certainly possible to read his careful wrapping of these post-war paintings as a direct echo of this important restitutional work, and as a sign of protection and recovery in the face of destruction and violence.
The war had changed me... I wanted to come into contact with the hidden, most difficult nature of things. — Salvatore Scarpitta
Scarpitta's 1961 Red Freight is a rare and arresting example of the artist's iconic three-dimensional wrapped paintings that brought him international renown. Composed of wide, sculptural bands of deep, wine-red strips of canvas dried leather-hard and wound in a sequence of alternating horizontal and diagonal directions like bandages across a body, the work captures the balance between tension, depth, and plasticity that characterizes Scarpitta's most powerful work.
Adding an especially emotionally charged element, the work's title, Red Freight, compounds visual associations between the composition and the wooden boards of the red Deutsche Reischban freight trains repurposed under the Third Reich to transport weapons, goods, and — more tragically — people as the Nazi program of industrialized genocide intensified across Europe. In this respect, the corporeal dimensions of Scarpitta's wrapped canvases take on an added poignancy. In its visual proximity to the wounded body, Red Freight not only underscores the impact of the events of World War II on Scarpitta's artistic development, but also points to the optimistic note of healing and regeneration that these works strike in their post-war context.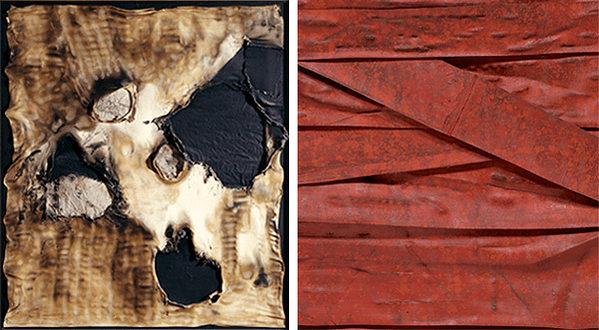 Left: Alberto Burri, Combustione plastica (Plastic combustion), 1958, Citta di Castello, Fondazione Burri, Italy. Image: Luisa Ricciarini / Bridgeman Images, Artwork: © Fondazione Palazzo Albizzini Collezione Burri, Città di Castello / DACS, London 2022. Right: Detail of the present work.
Within its scars and sutures, Burri's Sacco e Rosso carries itself with a quiet resilience and dignity equally evocative of the world from which it emerged. Ground-breaking at the time of its execution, in his Sacchi works Burri pioneered a highly personal style of Art Infomrel, and helped set the stage for Italy's radical Arte Povera movement. Exhibited as early as 1952, Burri understood the significance of these works, and examples of his Sachhi are now held in the most eminent international institutions, including The Solomon R. Guggenheim Museum, the Musée National d'Art Moderne, Centre Pompidou, and the Tate Gallery in London.
Six years after Burri's earliest exhibited Sachhi, Scarpitta presented his first "bandaged" paintings, which deeply impressed themselves on the legendary art dealer Leo Castelli when he visited the artist's studio the same year. Spurred by this meeting to return to the United States, Scarpitta exhibited at the Dwan Gallery in Los Angeles shortly after the present work's execution in 1961. Red Freight has also been included in significant retrospectives over the decades, including the 1977 survey exhibition at the Contemporary Art Museum in Houston, and the Leo Castelli Gallery's extensive 1982 show Salvatore Scarpitta, American Cycle 1958-1982.
Discover More from 20th Century & Contemporary Art >
---
Recommended Reading
Auction Results: Phillips Spring 2022 >
Phillips 2021: A Record-Smashing Year >